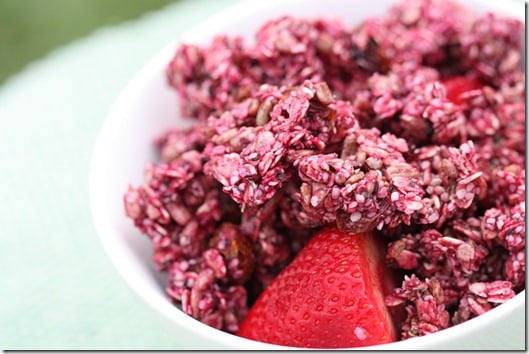 It's an exam night, friends, so this post is going to be short and sweet. But I could not resist sharing my new favorite, high-raw granola recipe, inspired by the beet granola I had at Superfoods Bar in NOLA last week! The beautiful hue says it all: this granola recipe is not only delicious and packed with nutrition, but it also makes use of one of my favorite vegetables, beets, for sweetness and color. Though I'd never have thought to put beets in a granola recipe, I've also never shied away from odd and unexpected food combinations (chocolate avocado breakfast salad, anyone?) so I supose it shouldn't surprise me that I love the way this recipe turned out.
Here's how to do it: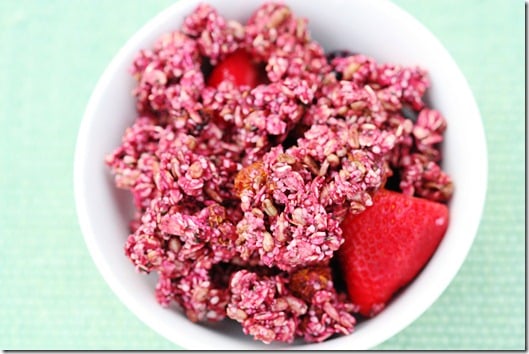 High Raw Beet and Hemp Granola (high-raw, vegan, gluten free, soy free)
Makes 2 1/2 cups
1 cup rolled oats
1/2 cup sunflower seeds
1/2 cup hemp seeds
1/3 cup goldenberries (substitute raisins or cranberries if they're easier to find)
1 medium to large beet, roasted, steamed, or raw (if you don't have a high speed blender, I would use roasted or steamed) and chopped
6 large, pitted medjool dates, soaked for four hours or more and drained
1/2 cup water
1 tbsp coconut oil
1 tsp cinnamon
Pinch of salt
1) Blend the beet, dates, water, oil, cinnamon, and salt in a blender till smooth.
2) Mix the oats, seeds, and goldenberries. Pour beet and date mixture over them.
3) Line a dehydrator sheet with Teflex or a baking sheet with aluminum foil. Spread with granola.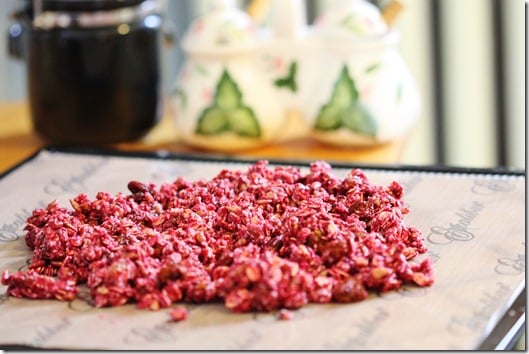 You can either:
a. Bake at 375 for 10-12 minutes, or until browning but not burning.
b. Dehydrate at 115 degrees for about 6-8 hours, or until totally dry and crispy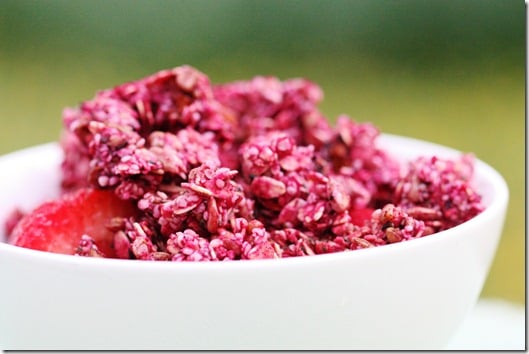 Serve over fresh berries with almond milk, or over sliced banana, or over a smoothie, or as a snack, or…however you want!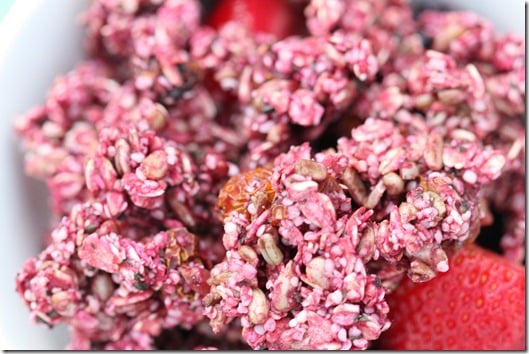 Some nice bonuses of this recipe":
1) Absolutely no refined sugar, and no agave for those of you who avoid it. Nothing but dates and beets (and you can reduce the dates if you want, though this version is fairly moderate on sweetness).

2) Heart healthy Omega-3 fatty acids from the hemp seeds, which balance the Omega-6s in the sunflower seeds. Protein and satiation fat from both.

3) Incredible antioxidant power from the goldenberries.

4) Soluble fiber from the rolled oats, which may help to ease digestion.
If you want to make this all raw, you can use dehydrated buckwheat instead of the oats. But they certainly are a great "quick fix" for those who don't have buckwheat to soak!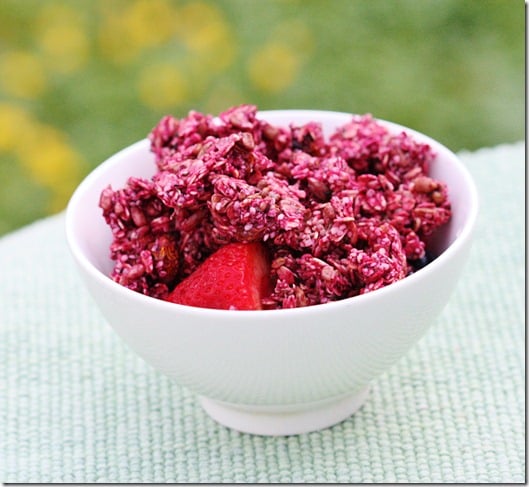 This may be the loveliest looking granola I've ever made.
I hope you all find a chance to make this recipe soon. There's nothing I love so much as when I can sneak a beloved vegetable into an unexpected recipe, and this is the perfect example! I was so inspired, in fact, that I suspect you'll be seeing more beet sneak attack recipes very soon…
xo