Last year, two of my friends published a very special raw, vegan ebook. It's called Tiny Treats: Vegan Recipes that Will Tantalize Your Tastebuds and Nourish Your Soul. The authors are Lisa Pitman, the luminously kind and energetic activist behind Vegan Culinary Crusade, and Nicole Axworthy, the extraordinarily talented and dynamic chef who writes A Dash of Compassion. I've known Lisa and Nicole through their work for years, and got to meet them both at the first Vida Vegan Con. They are every bit as inspiring in person as they are through their words. And they are amazing, amazing dessert chefs.
Tiny Treats features 25 whole foods vegan recipes. All of the recipes therein are free of wheat, refined flours, refined sugars, soy, eggs, and dairy. They're also high raw, visually beautiful, and easy to make.
The flavor combinations range from very creative (lavender chocolate chip cookies) to more traditional, like the carrot cake petit fours you see below.
Photo © Lisa Pitman and Nicole Axworthy
As you can see, the photos are stunning, drawing you in before you even have a chance to sample the delicious food. I've so enjoyed sampling some of the cakes, cookies, bars, and toppings. Today, I wanted to share what may be my favorite of the recipes in the book, in part because it's so incredibly simple: the chocolate coating or chips. This was my first attempt to make homemade chocolate; I've wanted to for a long time, but had been intimidated. Now I see that there was no need for me to be; with Lisa and Nicole's guidance, the process could not have been easier. Allow me to reprint, with their kind permission, the recipe.
This recipe is used in a number of treats in this book, either as a chocolate coating or as chocolate chips. Here, we make use of raw cacao butter, which has not been heat processed or treated with chemicals yet adds an extra-ordinarily rich flavour and smooth texture that can't be achieved with anything else. You can purchase it online or at some health food stores. It's well worth the investment!
Homemade Vegan Chocolate Coating or Chips, from TINY TREATS by Lisa Pitman and Nicole Axworthy
Author -
1/3

cup

30g natural cacao powder, sifted (if making chocolate chips, use 1/2 cup

or 40g)

1/3

cup

80mL melted cacao butter

3

tbsp

45mL agave nectar

1/2

tsp

2.5mL pure vanilla extract

pinch

of sea salt
For coating: Place all ingredients in a shallow bowl over a pot of simmering water on low heat and whisk together until smooth. Follow instructions in recipe to coat.

For chips: Place all ingredients in a shallow bowl over a pot of simmering water on low heat and whisk together until smooth.

Line an 8x8-inch square pan with parchment paper. Pour the mixture into the pan and rotate the pan to spread it out evenly. Place in the fridge or freezer until solid.

Once solid, cut the block into tiny chunks, about the size of mini chocolate chips. Store in the fridge or freezer until ready to use. Makes one batch of chocolate coating or about 1 cup chocolate chips.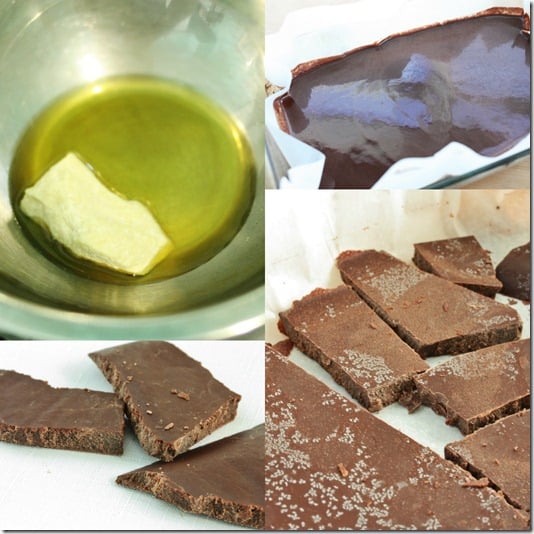 As Lisa and Nicole mention, raw cacao butter is a key ingredient in this recipe. It was definitely a pricey investment, but I was able to get 16 oz. for about $16.00 on Amazon, which would yield at least five servings of this recipe. That's about $3.20 worth of cacao butter and about $1.50 worth of cacao powder per batch, a total of $5.00. If you consider that the recipe makes enough to fill an 8 x 8 pan, that's quite a bit of chocolate—and well worth the money.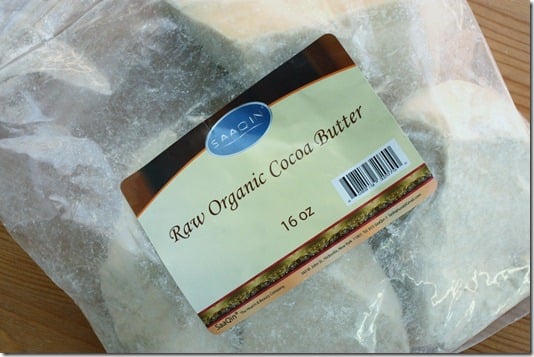 My favorite thing about Lisa and Nicole's ebook, however, is not the simplicity of the ingredients, nor the beauty of the desserts, nor the lovely introductions to each recipe. It is the fact that a third of the sales are being donated to Elephant Nature Park.
This animal sanctuary is not only a rescue and rehabilitation center, but also a home for endangered Asian elephant species. Many of the elephants at the sanctuary have suffered injury or trauma, and Lisa and Nicole would like
Many of the beautiful creatures at this sanctuary have suffered significant torture and injuries, and Lisa and Nicole plan to sponsor two elephants at the park (they have a special love for Malai Tong and Pha Mai). This ebook is vegan activism at its finest: a marriage of social consciousness, the celebration of food, and sensual delight, all in one place.
I really encourage you to check out Lisa and Nicole's blogs, and to purchase a copy of Tiny Treats. Homemade chocolate is just the beginning: so many (tiny) treasures await you in the book!
xo