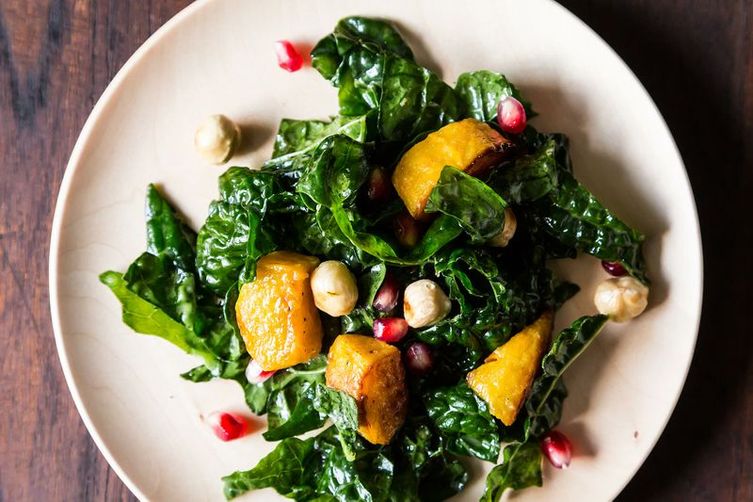 All photos courtesy of James Ransom for Food52.
It's that time of year again. Time for us all to be bombarded with endless headlines about slimming down, eating clean, fasting, dieting, portion control, and the like. I greet the tsunami of body makeover messaging that accompanies the New Year with a grain of salt at this point, though it used to drive me bonkers. This year, as the slim down plans and the "3 weeks to a new you" tips roll by, let's all stay focused on business as usual.
For me, business as usual means the creation of beautiful food. Which is why I was excited when the Food52 editors asked me to write about winter salads. Even the most enthusiastic of salad eaters will occasionally complain to me that salads just don't cut it in winter months. While there's nothing wrong with steaming or roasting your winter veggies, I still think there's a lot to be said for eating dark, leafy greens in both cooked and raw form. If you're turned off by the idea of a big bowl of cool veggies, you'll love my tips for adding cooked grains, winter squash, and other hearty add-ins to your salad meals.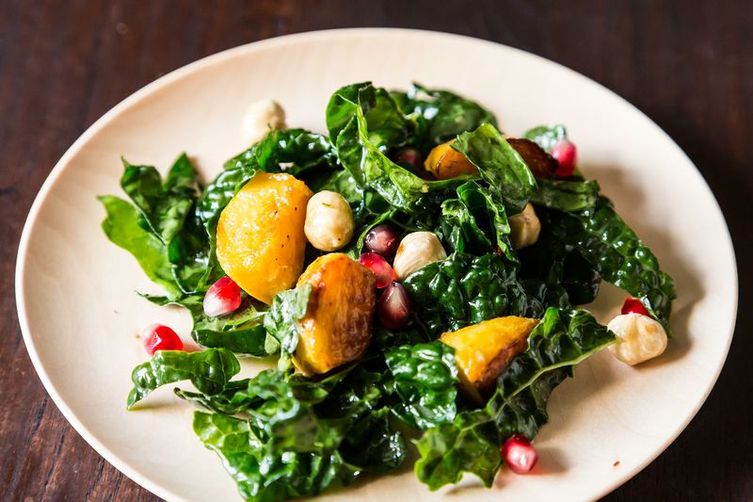 In today's Food52 post, I'll tell you all about my tricks for turning a winter salad into a hearty, satisfying dish. And I'll share a salad of kale, kabocha squash, pomegranate seeds, and toasted hazelnuts, which is absolutely wonderful. It was inspired by my bitter, salty, sour, sweet salad (which, alas, did not win the salad'tude contest, but HUGE thanks to those who voted!!), and it's a marvelous combination of textures and flavors. As an ardent champion of meal sized salads, this post is near and dear to my heart. I hope you'll head over to Food52 to check it out, and perhaps comment on some of your favorite winter salad recipes!
xo