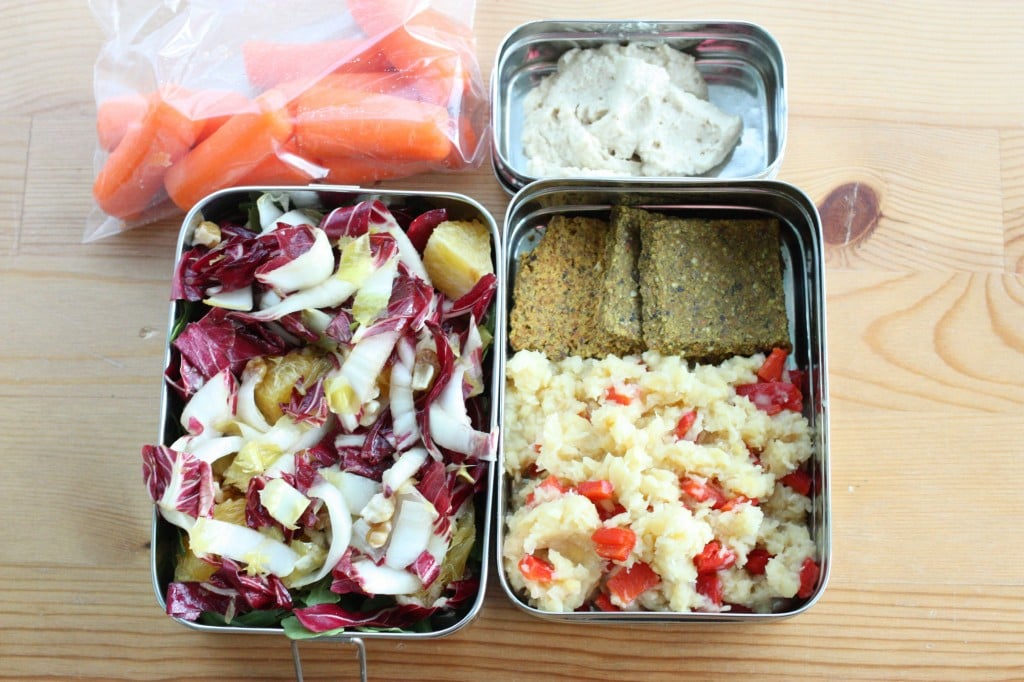 The salad you see on the left in the photo above is the radicchio, endive, orange, and walnut salad I shared yesterday. In that post, I mentioned I'd have at least one serving idea for you, and I do: this is how I packed up some of the leftovers in my take-to-work lunchbox on Monday. It's a goal of mine to share more of my packable lunches this year and next, and that goal has only been strengthened by diving into nutrition work again. Many of my clients report that it's easy enough for them to plan a healthy meal at home, but when they have to start planning meals to tote to work or school day in and day out, it becomes harder to meet nutrient needs while also pleasing the tastebuds. So, let's chat about packing up a healthy, convenient, and satisfying vegan lunch.
When I went back to school a few years ago, it marked a change in the kind of lunches I could prepare for myself. Left to my own devices, as you all know, I'm a huge fan of big, voluminous salads, tons of raw veggies, piles of greens, and so forth. At my old job, I was lucky enough to have a roomy office fridge in which I could store any food I'd brought for the day, which meant that it was easy to carry giant, meal sized salads to work. As student life commenced, I initially tried to replicate those same habits, stuffing giant salads into my backpack and trying not to mind that they left barely any room for my books, laptop, and sometimes my gym shoes as well. It didn't take too long for me to realize that my usual lunch packing habits just weren't sustainable for a more peripatetic schedule. I needed to find ways to pack lunches that would be:
1. Filling
2. Nutrient dense
3. Not too voluminous
4. Able to withstand a few hours without refrigeration
5. Delicious (of course)
To these priorities, I also added the need for filling and nutritious snacks, since on most days I'd leave for campus early and not return to my place until close to dinnertime.
In the end, a lot of my favorite raw food lunch staples (for example, parsnip sushi, or collard wraps) didn't hold up well to these requirements; they'd get watery or mushy as the day went on, and they often didn't quite fill me up as much as I needed them to on the go. So I focused more on grains, legumes, leftovers that wouldn't leak in my bag, and nutritious, substantial snacks. My workplace this year is equipped with a fridge, so I once again have the capacity to pack stuff and then store it in a cool place. But I've retained a lot of my student lunchbox habits simply to conserve space, and it's working out well so far.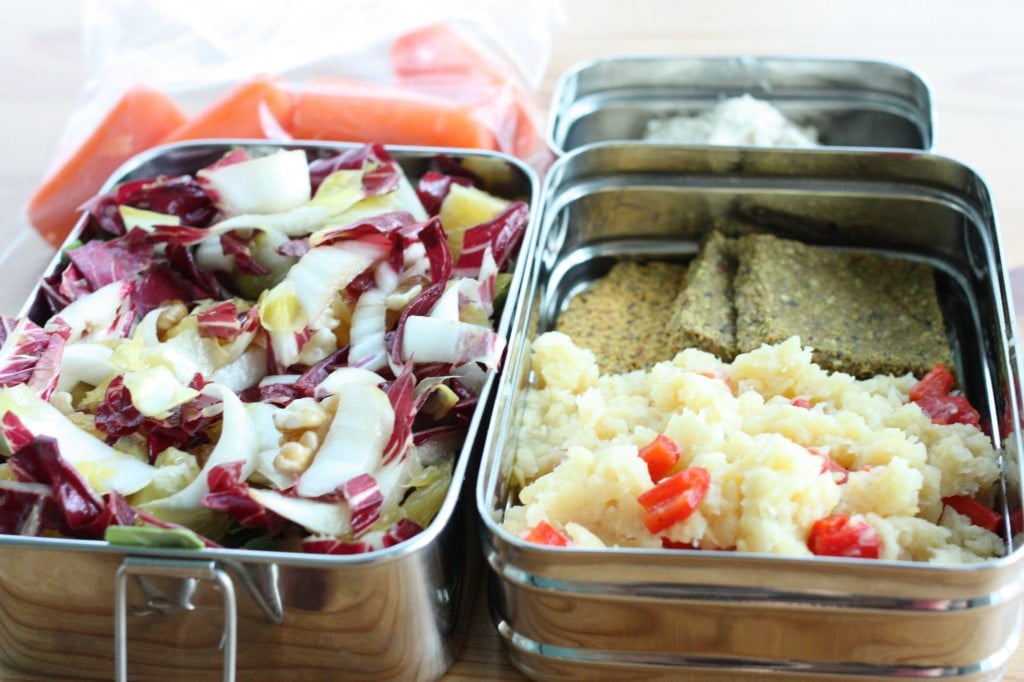 Here's what you see in the lunchbox above, starting on the right and moving clockwise: raw crackers, prepared over the weekend, with ginger and nori (my stab at a homemade version of Lydia's luna nori crackers–not quite worthy of the blog yet, but improving), cooked red lentils mixed with roasted red peppers for some extra flavor (I find that red lentils get quite pale in color when they're cooked, which is why they look almost white), leftover radicchio, endive, orange, and walnut salad served over arugula, and then carrots and hemp hummus on top for mid afternoon snacking. Filling, nutritious, easy to pack, and lots of variety in taste and texture.
Here are six tips I've accumulated along the way:
Batch cooking is crucial for lunchbox success! Over the weekend (or on any weeknight in which you expect a little free time) use your rice cooker, pressure cooker, or a large pot to make big batches of rice, quinoa, millet, farro, barley, and other grains, and/or lentils, black beans, chickpeas, black eyed peas, and other legumes of choice. I also make a creamy salad dressing or two (often tahini, sometimes nut butter based), and I bake some sweet potatoes.
If you're *really* short on time, don't be ashamed to get canned, BPA-free beans and/or some of the ready-to-eat quinoa and organic brown rice that can be found in health food stores. It's easy to microwave these at a moment's notice. Speaking of the microwave, if you're craving sweet potato but haven't found time to bake it, you can pierce it and microwave cook it for about 6-7 minutes; it's certainly not as tasty, but it'll do in a pinch.
When you pack your meal, remember to get a good balance of macronutrients on your plate: some healthy fats (avocados, nuts/seeds, oils), some complex carbs (root vegetables and potatoes, grains, legumes), and some protein (legumes, hemp, soy foods, nutritional yeast). I'm not a believer in sitting around and calculating a magical ratio of these three groups via online programs and such, but it's been my observation with clients (and in my own meal planning) that folks feel most satiated when all three macronutrients have been represented within each meal.
Be sure to pack adequate portions of food. Most of my nutrition clients are actually more prone to skimping on portions than they are to overdoing it; the result is significant afternoon hunger, which leads to a lot of picking and snacking and erratic dinner patterns.
Speaking of this, another common pattern I see in nutrition work is that folks tend to pack very volumnious, low calorie lunches (like salads that aren't quite meal-sized). They'll feel full right after, thanks to all the fiber, but hungry only a few hours later. The moral of the story? Don't shy away from adequate amounts of calorie dense foods: you need the sustenance for a long day of work, learning, and living.
As I mentioned above, I learned quickly as a lunch packer that I'd not be able to eat quite the same volume of leafy greens as I like when I'm working from home. One thing I like to do, though, is to chop greens into my grains, or mix them into leftover soups and stews that I pack. I love purchasing frozen, organic chopped spinach or kale, heating it, and then mixing it into a rice dish, for instance, or leftover tofu scramble that I'm packing, or a soup I've prepared and packed in a thermos. It's a really easy solution if you're struggling to get greens into a midday meal. In the photo below, I've mixed chopped spinach into brown rice, and dressed it all with lemon and olive oil and dill.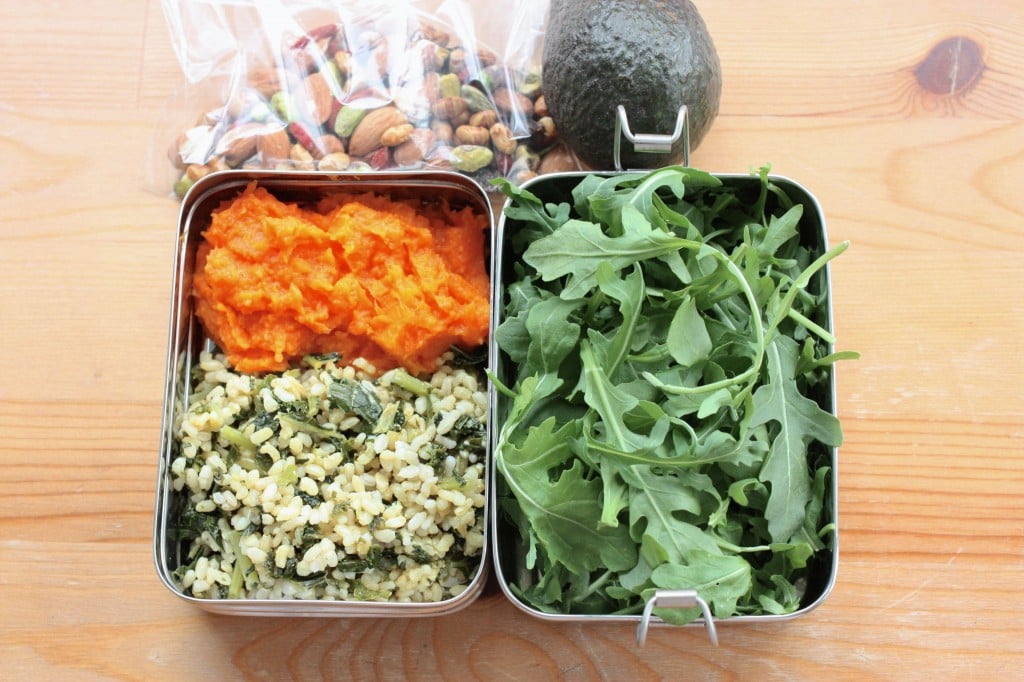 You've probably seen a bunch of my lunchboxes on Instagram or on this blog already, but if you'd like some inspiration, here's a little collage: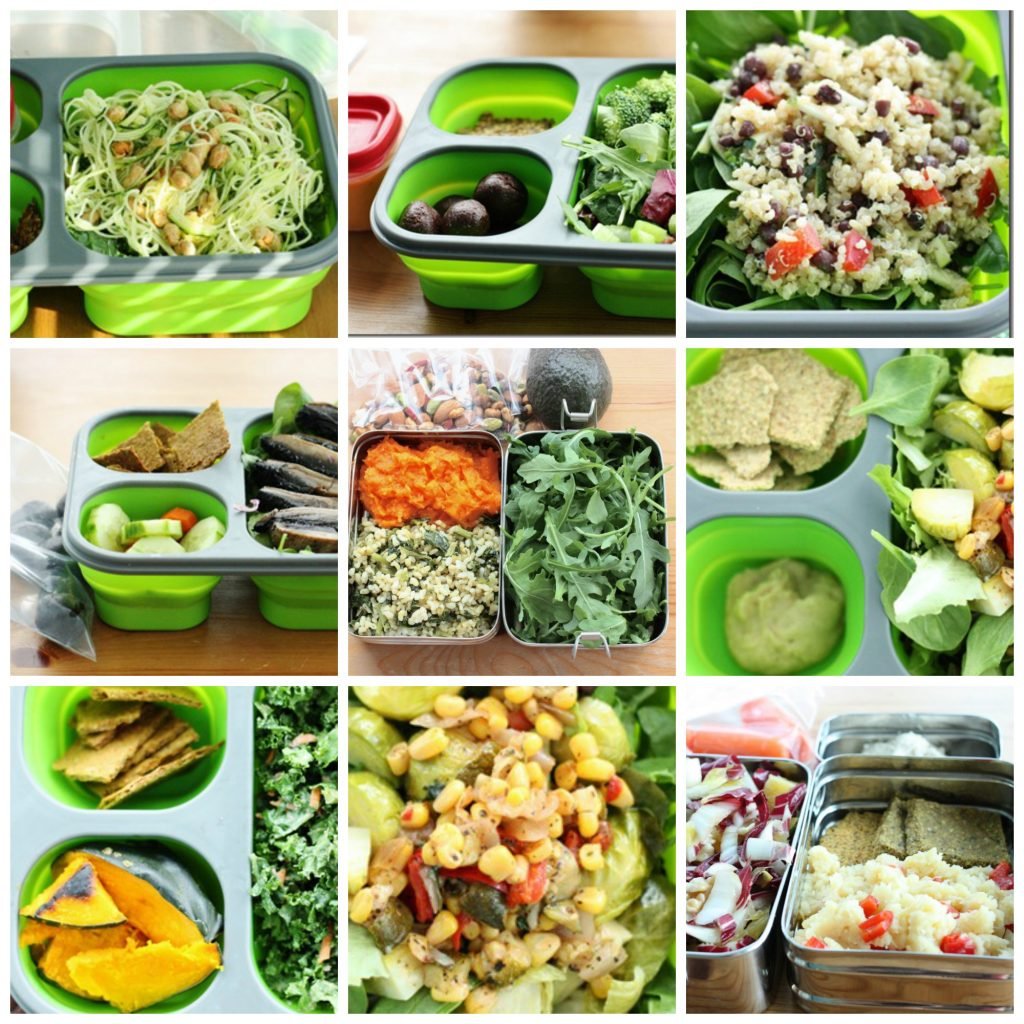 As you can see, quite a bit of variety in spite of space constraints!
I'm often asked on Instagram which lunchbox I use. I have two that I really like:
1. Stainless Steel ECO Three-in-One Lunchbox
Pros: Compact and neat looking. Perfect for stuffing into crowded backpacks or bags. In spite of not having the biggest dimensions, it can still fit a good amount of food.
Cons: Not suitable for anything liquidy or prone to leaks, since the seal isn't very strong. Not as much volume as other lunchbox options.
2. SmartPlanet Collapsible Silicone Lunchbox
Pros: Lots of volume, compared to other lunchbox options. Collapses after you eat, which means it's super transportable as soon as you've had your lunch! Pretty leakproof, too.
Cons: Takes up a lot of space, and can be awkward to pack when your bag is full.
I also have a soup thermos for soups and stews. When I pack that, I'll still pack some other stuff (a nice salad, some quinoa, roasted veggies, etc.).
You can likely tell from the photos above what sort of stuff I tend to pack: salads, grain dishes, legumes, crackers, dressings, avocados, hummus, snack bars, fruit. Other packable ideas!
A brown rice tortilla or an Ezekiel sprouted tortilla stuffed with hummus, avocado, and tomato, along with sides of choice
Leftover curry, soup, or stew topped with avocado slices or toasted nuts/seeds
A collard wrap with any fillings you like (I find that hummus holds up better that nut pate) and sides of choice
Almond butter and banana on gluten free or sprouted grain bread, served up with some veggies
A small baked sweet potato (these pack beautifully!) stuffed with some legumes and/or hempseeds and sides of choice.
As for snacks? Apples or bananas with individual squeeze packets of nut butter, snack bars, trail mix, hummus+veggies, rice cakes with nut butter, raw snack balls, raw flax or juice pulp crackers, avocado slices with carrots. Sweet potato slices also make a good, grounding snack.
Of course, the most important tip I can give you is to adapt your packed lunches to fit your lifestyle. Don't get overly attached to rules or plans or guidelines you think you have to follow; the best lunch is really the lunch that will deliver healthy and tasty food in a way that's realistic for you. If you're wondering what I mean when I refer to the tendency to get attached to rules, it's what I touched on earlier in this post. I used to insist–insist–on eating a big salad for lunch every day. This was partially a healthy expression of my genuine adoration of salads. But there was a touch of dogma, too; I'd heard certain health gurus say that one should eat a big salad for lunch each day, and I took that directive 100% literally.
Eating a big salad, or a generous portion of leafy greens, is of course a worthy midday goal. The problem is that I'm all too prone (less so as I continue with my recovery) to turn perfectly reasonable, healthy guidelines into iron clad rules. It's only in the last few years that I've started to know the difference between these two categories. Enjoying greens with most meals is a great suggestion/guideline. But it's not a rule, and the world won't end if not every single meal is heaping with greens.
To illustrate this point, I recall a conversation I once had with an ex-boyfriend, who wanted to know why we had to eat a giant salad with dinner all the time. At first, I was defensive, and started to explain how healthy it is to eat greens with every meal, how rich salads are in micronutrients, etc. But the more I thought about it, the more I realized that he was right, at least insofar as he was trying to point out that I was a little too attached to certain habits. Being a student has been good for me, in that it has encouraged me to be more adaptable, to go with the flow, to prioritize my needs and to let go of routines that have hardened into rules. I hope to take a flexible attitude with me into the future, no matter what the future brings!
Whether you're a student, a professional, or simply on the go, I hope that this post is helpful. Questions about lunch packing? Comments? Fun plant based lunch ideas to share? I'd love to hear them! Happy hump day.
xo