On Friday night, I attended a special event at one of my new favorite yoga studios, Dupont Circle's Tranquil Space. This studio and Down Dog Yoga in Georgetown have become my favorite places to practice, unwind, and come home here in D.C. (They're incredibly different, so it's easy to enjoy them both individually, and they work in alternating ways with my schedule.) Tranquil Space reminds me a lot of my beloved Laughing Lotus in NYC: the quality of instruction is hands on and thoughtful, workshops and special classes abound, there's a lot of creative diversity in the teaching, and, most of all, the studio walks a lovely line between crunchy and classy.
What makes me even more at home at Tranquil Space is the support that Kimberly Wilson, TS's founder, shows to animals. On Friday night, she hosted a benefit for farm animals featuring The Washington DC Humane Society, Pig Sanctuary, and Farm Sanctuary. On the premise was at least one four-legged friend: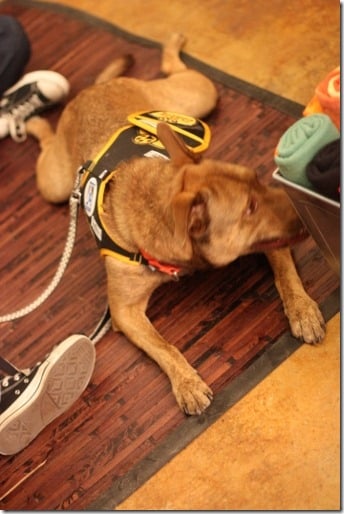 Also present was Gene Bauer, the founder ofFarm Sanctuary, whom I'd met before, but never spoken to until this evening. Mr. Bauer is affable, enthusiastic, and intelligent, and his work speaks for itself. Farm Sanctuary (in Watkins Glen, NY) was started in 1986, and it helped to galvanize the movement of animal havens that now grace our country from coast to coast. Mr. Bauer is also friends with Kris, Brendan, and other good friends of mine, so we had plenty to chat about.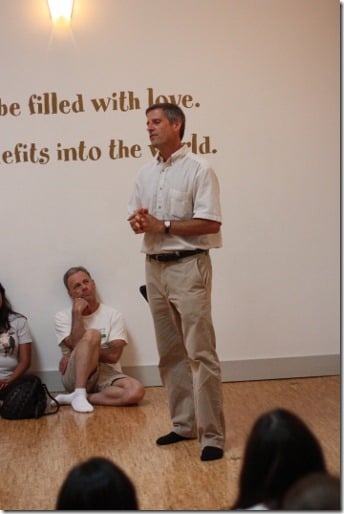 When he rose to speak to a room full of receptive yogis, Mr. Bauer highlighted many things: the growth of the animal rights movement, the explosion of veganism in the last few years (he recalled how, when he was eating vegan in 1985, soy milk was so scarce that most vegans poured juice over cereal; compare that to the non-dairy options today!), and the significance of compassion. Most of all, he spoke about how each of us can set an example for positive change (be that toward a vegan lifestyle, or simply toward increased awareness and reduction of animal food) without alienating the people we're trying to reach. To illustrate this point, he used a quote I loved: "bring them to their senses, not to their knees."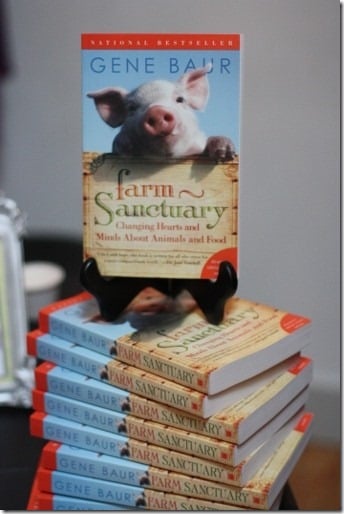 I can't think of a better way to capture what it means to be an "advocate." And this certainly got me thinking about how I should write, and how I should share my ethics with the world. Mr. Bauer mentioned that one important strategy is to always talk to people at their own level: you can't approach someone who's just learned to cook and talk to them about the nuances of making a perfect soufflé; you can't bombard someone who's just learning to be vegetarian with information about going all raw.
You can't, in other words, forget that other people's journeys are their own. This is something I often remind myself of when I'm talking to family and friends: I can chat with my mostly vegetarian, mostly whole foods eating friends about a raw entrée, but it's not something I can do with my Mom, who still eats an omnivorous diet, but is working on making it healthier. Instead, I talk to her about whole grains vs. refined, and almond milk vs. conventional dairy. That's a triumph in its own right, and worth celebrating.
The next speaker was a representative from the Washington Humane Society, who speaks to children about animal rights and animal cruelty. Apparently, she's often sent to inner city schools, where she faces the task of trying to make compassion for animals feel relevant and real to kids who have often been denied compassion themselves: kids who have slipped through the cracks in social services and foster care. What an unbelievably challenging job. One thing the speaker noted was that the suffering these kids have confronted at home is in fact often the key to unlocking their sympathy for animals. She also noted that, when she started animal rights work, she often found herself frustrated with people, and interested only in the lives of animals. "To be an animal person," she noted, "you have to be a people person, too."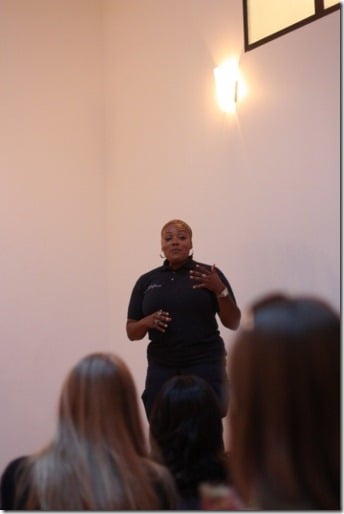 This was the other take home message of the night: interest in animal welfare should never preclude the capacity to extend compassion and sympathy to other people, too—even when you're butting up against ignorance or cruelty. I so admire the men and women who do animal rights work without ever losing their patience or sympathy or basic courtesy to human animals. I hope I manage to do the same.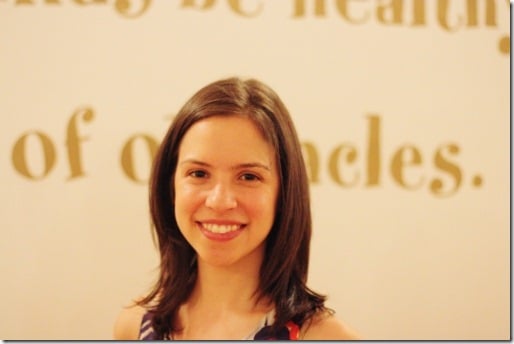 What do you think of bringing people to their senses, rather than their knees? How do you manage to set an example while also remembering to be compassionate?
xo