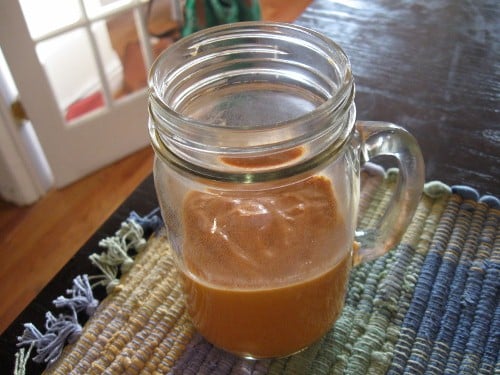 Is it Monday already?
I think I'm the only person I know who hasn't spent the last 24 hours in LOST withdrawal. Never got into it–though I'm sure I'll change my tune one day when I Netflix the whole series five years after the fact, as I'm wont to do.
I don't think I have to tell you all that I am obsessed with salad. And the obsession extends to all things salad-related: salad bowls, salad spinners, salad bars, and salad dressings. Especially salad dressings. If you've spent any time here at CR, you've seen some of my favorite dressing creations: carrot miso, maple cinnamon vinaigrette, spicy Thai, raw ranch, and crowd pleasing Asian are just a few of them. And of course, who could forget my zucchini dressing, most beloved of all my veggie-based dressings? I'm always looking for new dressings to spice up my salads, and tonight's creation wins in the "best newcomer" category — for this week, at least 😉
A while back, my friend Diana made a tomato tahini soup for me. It was love at first sip, and I've been looking forward to the summer so that I can make it (and make it again, and again, and again). That recipe really demands fresh, in season tomatoes (preferably heirlooms). But this recipe is doable with any old tomato — you can use tomatoes out of season (if you must), or you can use cherry tomatoes (which have just begun to make a regular appearance at my Sunday farmer's market), as I did. You can even substitute canned, organic tomatoes, if you'd like to. No matter what tomatoes you use, a little tahini, nutritional yeast, ACV (apple cider vinegar), and a whirl in the blender will transform them into a heavenly salad dressing base. Observe: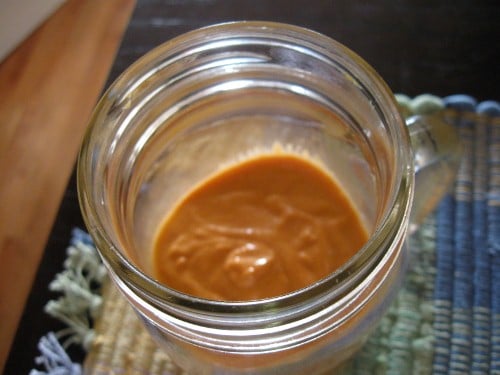 Tomato Tahini Dressing (yields 1 1/2 cups)
14 cherry tomatoes (a heaping cup)
8 sundried tomatoes
3 tbsp apple cider vinegar
1/4 cup tahini
1/4 cup nutritional yeast
1 tbsp + 1 tsp nama shoyu or tamari
2 tbsp olive oil
3/4 cup water
Blend all ingredients in a blender on high, till they're creamy and smooth. Check the consistency: if it's too thick, you can add 1/4 cup water or so to thin it. You can also adjust the acid by adding more ACV if you like.
This dressing is superb: super tangy, but given a nice mellow flavor from the tahini.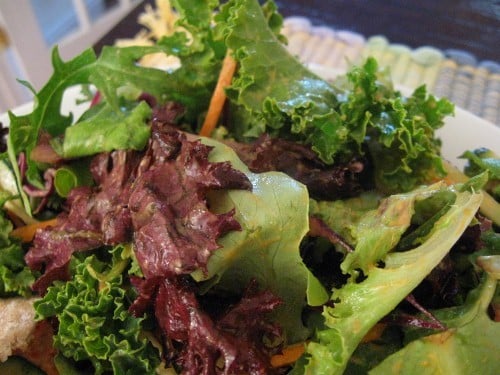 It's a beautiful dressing for any greens. A few nights ago, it was the dressing of choice in this week's featured nutrient-dense salad of the week (yes, I did just create a new CR tradition):
Spinach, beets, juice pulp crackers, fermented macadamia "goat cheese" (the last of my leftovers!) and tomato tahini dressing in action.
Yum.
Speaking of Ms. Diana, I ask you to observe the feast she made for me last week: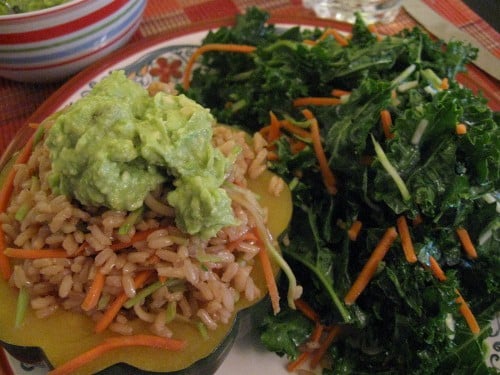 That's acorn squash stuffed with brown rice, veggies, and guac, next to a big 'ole kale salad. Diana knows her audience: she makes Gena food better than I do!
Speaking of guac, I had a chance to revive one of my favorite summer combos at lunchtime today: guac + sprouts, served up in a gigante salad:
Hello, beautiful. How I've missed you.
And finally, speaking of avocados: they are without question my favorite source of healthy fat (though let the record show that I enjoy many sources of healthy fats, including, but not limited to, nuts, seeds, nut butters, and oils). My pal Katie happens to be hosting a little initiative this month called "hug a fat," which you can read more about on her blog! While I don't have a photo of me hugging an avocado to share, I hope that the photos above are an adequate testimony to my love affair with this dreamy fruit. Kudos to Katie for spreading love for healthy fats!
On that note, I bid you go-make-some-tomato-tahini-dressing.
xo