Greetings from San Fran!
Warning: I'm in a rush to meet Chloe, so this post will be rife with grammatical errors.
Let's start at the very beginning—the very, very, very beginning. That's 5:00 a.m. NYC time yesterday, when I left for the airport. Bleary eyed, I made my way through a thankfully short security line. It was early, but I had over six hours of travel ahead of me, so I tried to procure a fruit smoothie. This particular terminal (AHEM, Continental) was short on smoothie options. I finally found a place that made them, but when I got the finished product (banana, strawberry, ice, or so I thought) it was obvious that the berries had been soaked in some kind of syrup or other, because it was sugary sweet. Yuck. Out the smoothie went—my hesitation to waste food does not apply to high fructose corn syrup, thanks–and in the time I had left I scrambled for a 'naner: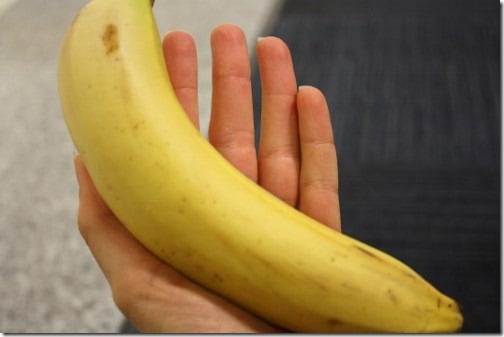 …which was actually much more underripe than this photo lets on. Ick. Major pet peeve of mine, starchy, green bananas. I pretty much can't touch them unless they're very, very ripe. So that was a bust, too, and I boarded the plane a little hungry. Fortunately, I had The Passage to keep me highly entertained, boy did it ever. No hating, FSG: I'm allowed the occasional beach read!
A short 5.5 hours later, I arrived upon the shores of the west coast. Welcome, provincial Gena, to virgin land!
I was so excited that I couldn't stop myself from snapping photos out the cab window:
I know, "Lookie here, it's a big highway!!!" But seriously, the vegetation and setting were so dramatically different from the East Coast scenes I'm used to, that I couldn't help myself.
I arrived at the very lovely Westin St. Francis, and was ushered up to my supercomfy room:
Room with a view! Gotta love Travelocity package sales:
At this point, it's safe to say that I was legitimately hangry. Lunch was only an hour and a half away, and for a moment I wondered whether getting late breakfast would spoil my appetite. And then I remembered that my appetite is nearly unspoilable. Off I went, in search of a breakfast/snack.
Whenever I visit a new city, I always make it my first order of business to Google the nearest juice bar to my hotel. True to form, I know exactly where to find a Juice Zone:
Though I'd been excited about a juice—and usually it's the first thing I'll chug after flying—I wasn't feeling it this morning. So I went with a small, all fruit+ice smoothie (made from real fruit this time!) and one of my dehydrator free energy bars. These have stood the test of time in my fridge and freezer! I made them ages ago, and I'm still enjoying them.
Coffee also had to happen.
Many of you write to ask what I bring with me when I travel. Here's a good sampling of the usual stuff:
Snack bars (mine and some Larabars), Vega and/or Sun Warrior in case I want it to put in a smoothie, nut butter and chia seeds for oats, and some trail mix (I brought bags for me, Chloe, and Knud!).
Moments later, I was on my way to the "metro" for my super exciting date: lunch with the staff of VegNews! As some of you know, I'm a regular VegNews columnist, as well as a longtime fan and reader. I also read the Cafe VegNews blog pretty religiously, and always drool with office-lunch-envy at their remarkable meals. I couldn't have been more excited to finally be partaking of one of these midday feasts myself! I snapped some scenic photos en route:
My first (and, so far, my only) gripe about San Francisco: inefficient trains! I know that I'm a New Yorker, thus likely to pick on any subway system that isn't my own—and believe me, I do pick on them–but really. Passengers can signal for stops? Is that a joke?! This is public transportation, people. It ain't door to door livery service. Get real. And when did the train decide it could just make its last stop early, half a mile before its stated destination?!
However, when I did finally arrive at VegNews HQ, it was to a magnificent feast. A giant raw salad, Vietnemese sandwiches, and rice paper spring rolls. I hoped for salad and rolls. Good choice, Gena:
The rolls, stuffed with rice noodles, greens, and tofu, were so light and delish!
I ultimately went back for seconds. And, um, thirds.
For a more detailed photo of the meal, check out the fabulous Cafe VegNews blog! I was so grateful to the staff for treating me like a VIP. And of course, it was an honor to sit down with the staff I've come to respect and adore. Especially VegNews' managing editor, the lovely Elizabeth Castoria: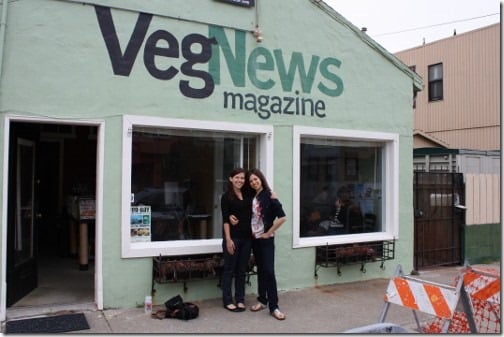 Us outside of VegNews HQ. I called it the vegan hobbit house. With lots of awesome vegans in place of annoying hobbits a la Peter Jackson.
After feeding my belly, I made my way to San Francisco's MOMA for a little food for the soul:
My mom, as you guys know, is a painter. I texted her quickly to say, "At MOMA, looking at modern art that I don't understand and thinking of you." She, who is quick to tease me about my lack of understanding of visual art, simply texted back, "Just enjoy the shapes and colors, Gena."
And that I did. There were so many things I loved:
And a few things I didn't love as much:
The two highlights were William Kentridge's whimsical diorama/video of Die Zauberflote, which I watched twice, and Nicholas Nixon's series The Brown Sisters, which is a collection of photo portraits that Nixon has taken of fours sisters each year since 1975. The series depicts the passage of time in the most poignant of ways:
After that, it was back to my hotel for a quick gym workout, a shower, and a (more competant) subway ride out to the Mission, a very vibrant San Fran neighborhood:
It's adorned with lots of street art and ethnic markets bearing specialty produce. I wanted to just shop, but my destination was the lovely Gracias Madre, a relatively new organic, vegan Mexican restaurant that's owned by the same folks who own Cafe Gratitude. I was meeting the awesome Elizabeth once again, along with her awesome friend Peter, and we were all very excited to eat!
Check out the menu, also online:
So fresh, delicious, local and homemade! Peter started with a beer, and I had a sip of Elizabeth's tasty horchata:
Can you tell through the blurry photo how happy and hungry I am?
For my meal, I got a mixed green salad with roasted Be Love Farm beets, pecans and a chipotle vinaigrette, served with grilled Acme bread and cashew queso blanco. It was divine. Great, great cashew cheese!
I also got the house tacos, made from soft, homemade corn tacos (are they tortillas if they're soft?), which were literally the best I've ever eaten. And I had them with three fillings: summer squash, roasted with cumin; sauteed greens, and sauteed peppers. It came drizzled with cashew cheese and with some (really yummy) black beans:
And I did away with pretty much all of it! I also got photos of Elizabeth's posole, which was wonderful:
And her roast eggplant dish, also incredible (a little garlicky for me):
And Peter's tasty empanada with mole sauce:
I guess no trip to Cali is right without great Mexican fare, and I certainly had my fill. What a delicious and satisfying meal!
After that, we made our way to Monkey Bar for some drinks. Of course for me, "drinks" usually means tea:
Cool ambiance!
Even cooler company: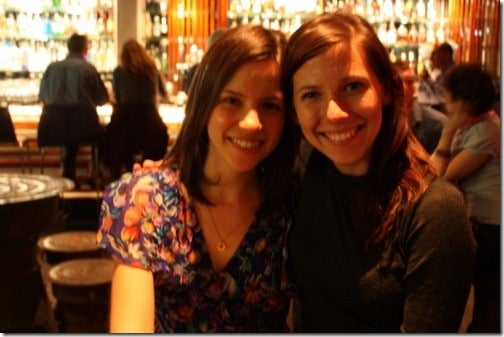 Elizabeth has been such a gracious and lovely hostess. I'm so, so glad I got to hang out with her and meet Peter – thanks to both of you for showing me such a delectable first day in town!
With that, day one on the West Coast came to a sleepy end. On today's agenda: farmer's markets, tourist activities TBD, and another wonderful restaurant meal tonight. Stay tuned—and now I'm off to meet Chloe!!!!!!
xo