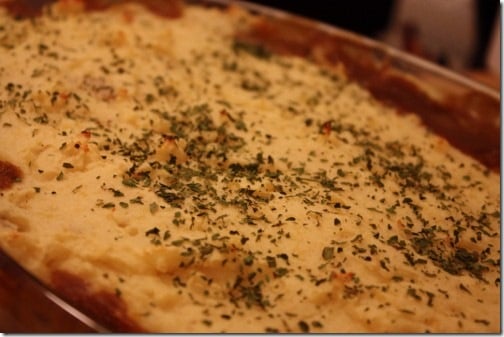 Hey all! Hope you're recovering from a wonderful Christmas celebration (or from a nice day of rest). My day was cozy and quiet, just as I was hoping it would be. And it was all the nicer because I'd been able to share a vegan dish with my mom for Christmas even dinner: vegan shepherd's pie.
For the last five years or so, I've taken the liberty of cooking Christmas dinner for my Mom and me. I've always enjoyed the meals, and for the most part, Mom has too. There have, however, been a few meals she didn't relish: I'm thinking, for example, of the raw beet ravioli with cashew cheese and massaged kale salad we split two years ago. It all tasted good, she said, but it was a little "cold."
Of course it was cold. It was raw.
Looking back, I see that I have a tendency to bombard my mother with food that I like, but I'm not certain she'll like. Given that eating 100% vegan on any holiday is already a concession for her, I decided that this year, I'd focus more on her palate than on mine. I'd find a dish she loved, and veganize it. The choice wasn't very hard: my mom has one favorite comfort food dish that stands out above all others, and it's shepherd's pie.
Traditional shepherd's pie is, as you probably know, made with ground beef, carrots, and beans or celery, and it's topped with mashed potatoes and then baked. When I was growing up, my mother made a very traditional version for parties and entertaining friends. I still remember the sight of her putting dots of butter on top of the potatoes before it all went in to the oven. My mom was always adamant about the fact that her shepherd's pie was a "special treat" dish—too much of a production, she said, to serve on just any old night. Now, all these years later, I hope I've persuaded her that it can be done without too much fuss, and with plant-based ingredients.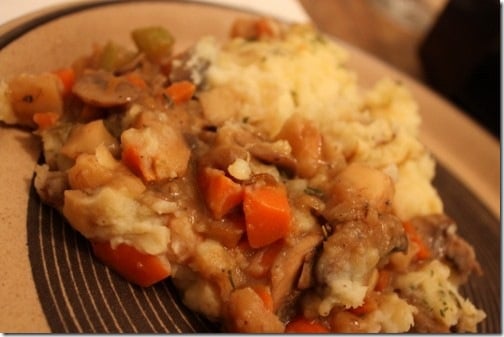 Traditional Vegan Shepherd's Pie
Recipe Type
:
entree, holidays
Cuisine:
vegan, gluten free optional, soy free, nut free
Author:
Prep time:
Cook time:
Total time:
1 1/2 cups low-sodium vegetable broth
1/3 cup red wine
3/4 ounce dried porcini mushrooms
3 pounds russet potatoes, peeled and cut into large dice
2 tablespoons Earth Balance, divided
1/3 cup soy or almond milk
Salt and freshly ground black pepper
1 tablespoon olive oil
1 white or yellow onion, chopped
3 medium sized carrots, peeled and diced
2 stalks celery, diced
4 cloves garlic, minced
8-10 ounces baby bella or button mushrooms, stems removed and slices
Salt and pepper
1 small rutabaga or celery root, peeled and diced
2 large parsnips, peeled and diced
1 tablespoon minced fresh sage leaves (or 1 teaspoon dried sage)
1 tablespoon minced fresh thyme leaves (or 1 teaspoon crushed thyme)
3 tablespoons chickpea or all purpose flour
In a medium bowl, whisk together broth and wine. Stir in dried porcinis and set aside to plump up; give it at least 20-30 minutes. Strain mushrooms, reserving liquid.
Bring a pot of salted water to boil in a large pot. Add the potatoes. Boil for 15 minutes, or until the potatoes are very tender. Drain the potatoes and return them to the pot. Add two tablespoons of the Earth Balance and the soy or almond milk. Use a potato masher or ricer to mash the potatoes. Season to taste with salt and pepper. Set the mashed potatoes aside.
Preheat oven to 350F degrees. Lightly oil a 9 x 13 casserole dish.
In a large pot, heat the olive oil over medium heat. Add the onions, carrots, and celery. Sauté for 8 minutes, or until the onions are clear and the carrots are tender. Stir frequently and add water by the tablespoon if the vegetables start to stick. Add the garlic and baby bella or button mushrooms, along with a generous pinch of salt. Cook, stirring constantly, until the mushrooms have released all of their juices and reduced in size (about 7 minutes).
Add the parsnips and celery root to the pot. Next, add the porcini mushrooms. Whisk the flour into the reserved broth and wine, then add the liquid to the pot, along with the sage, thyme, and 1/2 teaspoon salt and 1/4 teaspoon black pepper. Bring the mixture to a boil, then reduce the heat to low. Simmer the vegetables for 12-15 minutes, stirring often. When the parsnips are tender and the broth has reduced significantly, season the mixture to taste with extra salt, pepper, and herbs. Transfer it to your prepared casserole. Spread the mashed potatoes over the vegetable layer.
Transfer the dish to the oven, and bake for 30 minutes, or until the vegetables are bubbling and the potatoes are gently browning. Serve.
Leftover pie will keep in an airtight container in the fridge for up to 4 days. Leftovers can be frozen for up to 1 month.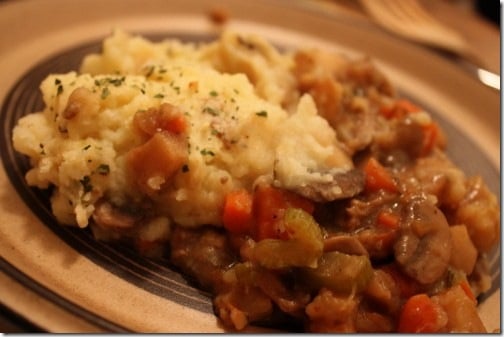 As you can see, there's lovely texture contrast between the hearty, mushroom-filled vegetable mixture and the soft, creamy potatoes. To serve, you can add a fresh green salad to the meal (or whatever green veggie sides you love).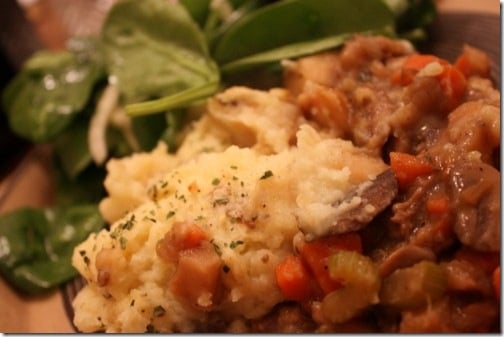 The pie was is so good: earthy, comforting, very flavorful, and bursting with root vegetable goodness. It's perfect for preparing in advance and baking the day of your holiday gathering, or even for freezing ahead of time. It serves a crowd, and it's guaranteed to please eaters with different tastes. By the end of the night, Mom seemed thrilled with her eats. And I, in turn, was thrilled to have given her a meal that she loved.
I hope you enjoy this recipe, and I wish you all a happy holiday, again!
xo