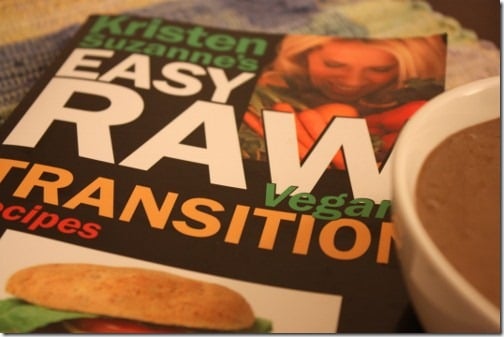 First things first:
GO PACKERS!
Massive game last night! And only one way things could get bigger. Can't wait for the Superbowl victory–right, Elise??
When you start to read about raw foods and "going raw," you hear a lot of talk about "transitioning." This of course refers to the process of going from cooked foods to raw foods (in some cases, raw vegan foods—don't forget that not all raw foodies are also vegan!). If you want it, you'll find all sorts of supportive advice on how to "transition" painlessly—some of this will be in the form of elementary tips ("warm up your veggies in a dehydrator!") and some of it will sound a lot like something you'd find in a a self-help or spirituality book ("prepare yourself to experience 'emotional detox'…")
These latter kinds of dialogs never really resonated with me, mostly because my own discovery of raw eating was more a practical and nutritional journey than a spiritual one. I didn't feel sudden freedom from negativity, or spiritual awakening, or bliss, or anything like that. I had moments of high energy in the first few weeks that were kind of euphoric, but mostly, I was just psyched to be feeling so good, and to be learning so many new cooking techniques. It was as if a whole new world of vegan food had just revealed itself to me, and I was excited.
But was it akin to finding God? No, not really. As I've said before, I don't think that raw foods are a magic pill or a panacea; I think they're just one way to maximize nutrition and feel really great. I wasn't looking for magic, and maybe that's why magic didn't find me, but it didn't matter: I felt awesome, and that's what was important.
Perhaps because of the fact that my expectations were modest, I didn't find that my transition into raw was all that rocky. I did experience some headaches and some fatigue after the initial few weeks, and maybe these were "detox"—detox is a word that's hazily defined in raw circles, and usually overstated—but after that, I felt great. And it didn't feel emotionally taxing, either: if anything, I was so happy that I'd stumbled on the raw scene.
Of course, you might point out that I'd been a vegan for a long time before I was raw, so of course I never had to cope with the difficulty of living without animal foods. That's true, and one thing I always try to keep in mind when I write CR is that a lot of my readers who are exploring raw foods aren't coming from the same place I was when I found them: I was eating a mostly whole foods vegan diet already, with lots of fresh veggies. Some of my readers are coming from food backgrounds that are 100% cooked and 100% omni, so of course getting into green smoothies and meal sized salads is going to feel like more of a jump. I hope that my site feels welcoming to all of you who are in this position; I was a vegan before I was raw, but I'm not impervious to how hard any food transition can be. And my whole practice as a nutritional counselor is geared toward easing those rocky little crossings.
My friend Kristen is another raw educator who is highly sensitive to how difficult transitions into raw or vegan foods are. And though she's best noted for her work in the raw food world, I've always admired Kristen because she strikes such a terrific high-raw balance. As you know, I like to call my lifestyle a "semi-raw" one; Kristen probably falls closer to the raw end of the diet spectrum than I do, but she and I share a laid back and non-neurotic attitude about how raw we eat, and it's one of the things we've always bonded over. (For those of you that don't know, Kristen is one of the closest friends I've made through blogging.)
It didn't surprise me, then, when I found out that Kristen's newest raw cookbook would be about easy raw, vegan transitions. The book—Kristen Suzanne's Easy Raw, Vegan Transition Recipes—provides cooked, whole foods recipes, transition (semi-raw) recipes, raw recipes that don't "feel" raw (like smoothies and guac, which are familiar to all eaters), and raw recipes for new raw foodists. I think that all of Kristen's e-books are amazingly helpful, information-packed, and approachable for budding raw foodists, but this one, which features favorite recipes from her previous collections, really takes the cake. It's totally unintimidating and the recipes are all delicious, and I'd gladly recommend it to anyone who's serious about becoming higher raw.
When I told Kristen I'd happily review the book for her, I knew that it would sort of be unnecessary. I mean, Kristen's food inspired me a lot as I was going raw, and since then I've made her recipes countless times (I make her Harvest Soup at least once every two weeks, usually once weekly). And I don't really need any "sneaky" raw transition recipes, so I suspected I'd be making the usual sorts of raw recipes I'd make from her site: soups, smoothies, salads.
I was right about all that. But that didn't make reviewing the book any less fun. First, I made her banana protein shake, which features hemp seeds, frozen banana, and carob (three of my favorite recipes). It was so rich and delicious that I served it in a bowl, just like my recent green pudding:
Next, I sampled Kristen's "Kick Ass Raw Soup." Why? Well, it sounded really good to me (red pepper, hemp seeds, kale, cucumber, apple, dulse—all of my favorite stuff). But moreover, one of the things that Kristen and I tend to commiserate over is our mutual love of cursing, and all things profane. Seriously, guys: we may seem nice and sweet and articulate on our blogs, but we both have potty mouths. And we love it. Of course I had to make a recipe with "a**" in the title.
I served the soup with some sweet potato hummus (recipe coming!) stuffed collard wraps: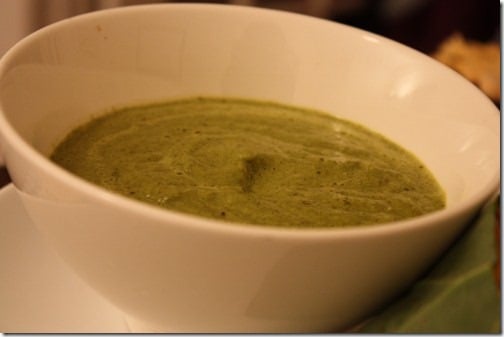 Note: this is a VERY green soup. I love that (as I write this, I'm chuckling at the fact that I love extremely kale-y green soups, but not green smoothies), but if you're sensitive to it, I'd suggest omitting the kale, or just using one leaf. I think I made it supergreen by using three GIANT leaves, but that was just fine by me.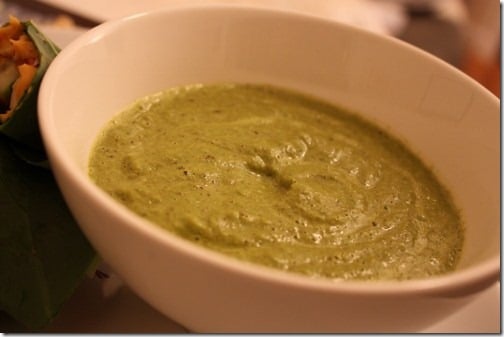 These recipes are fast, tasty, and absolutely accessible—just like all of Kristen's food. If you're exploring raw, or even if you're not, I highly recommend checking Kristen's Easy, Vegan Transition Recipes out! I'm a fan.
For those of you who went from cooked to raw, or omni to vegan: how would you characterize your own "transition"? Was it easy? A nightmare? What sorts of emotions and challenges did you face?
I'll be back tomorrow with an awesome recipe for quinoa breakfast porridge!
xo