Observe, if you will, that rhyming blog post title. Just when I start to think I can't possibly get any dorkier, I outdo myself.
When last we spoke, I was summing up a few days' worth of outstanding vegan finds in the Big Easy. It's amazing how much travel has changed for vegan diners! Cities that were once short on vegan options now offer them in abundance. New Orleans—the city that brings us gumbo, jambalaya, etouffee, and beignets—is a perfect example of an American city that is becoming all the more welcoming to plant-based diners. As a frequent visitor and the friend of someone who calls Cresent City home, I am so excited to watch this transformation in action!
I woke up on Wednesday morning with a craving for the crispy and tasty graw-nola that I'd purchased the day before at Superfoods Bar. This granola has a pink hue because it's made with beets: needless to say, I will immediately get down to re-creating it when I return to D.C.. Stay tuned. For now, I can tell you that it's very tasty, and not at all sugary. The only problem was that I'd eaten quite a bit of it as a snack on Tuesday afternoon, so I didn't have quite enough to satisfy me as breakfast. I mixed it in with some Whole Foods granola that Chloe had on hand, which—along with a banana, a bunch of berries, and almond milk—made for a lovely breakfast.
So much color and crunch!
An hour or so later, I was off to try my very first Pure Barre class with Chloe! Heather, I thought of you the whole time (even though I know you teach Mind Body Barre)! As we pulled up to the studio, I have to admit, I was a little nervous.
I took a Physique 57 class years ago and wanted to cry because I was so out of tune with the movements, the music, the style. I was totally unprepared for the rigor of the tiny movements, and I didn't really warm up to the instructor, who seemed a bit standoffish and cold. While Pure Barre shares a number of techniques with Physique, it was a totally different experience: the instructor was fun and approachable, the class felt a lot shorter than 55 minutes (or whatever it was), and I was in a different frame of mind about rising to the challenges of the workout. Most importantly, four years of steady and dedicated yoga practice have changed my strength in significant ways! Chloe said it didn't look as though I was working much at all, and while that's a total exaggeration (I was working plenty), I did feel as though yoga had given me the tools I needed to complete the sequences.
Most importantly, yoga has taught me how to hit an uncomfortable or intimidating moment in a workout and simply power through it. Down Dog, especially, is a rigorous studio, and I have plenty of "I can't do this!" moments in any given class. I've learned to breathe, stay calm, and will myself to go on when this happens (a skill, by the way, that is useful both during and outside of exercise!). I called upon those resources whenever this class felt challenging, and it was very helpful. Thanks to Pure Barre for my first, complimentary class! I hope to try the NYC studio soon.
For lunch that day, and my last meal before returning to NYC, Chloe and I decided to visit Carmo, a "tropical café" in the CBD (Central Business District).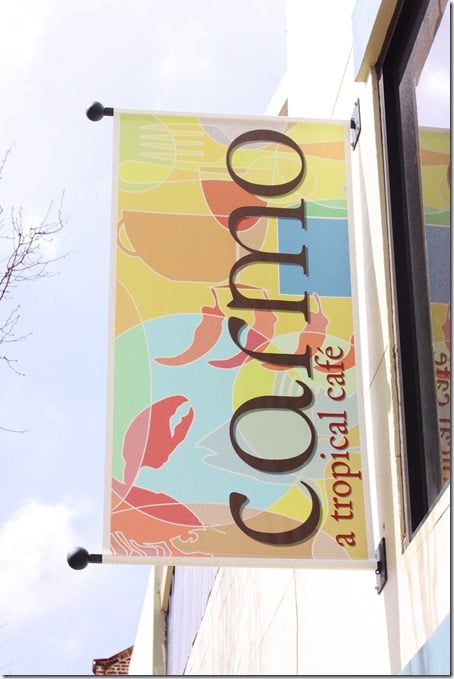 Chloe's husband (and my source for all things social media), Knud, had recommended the spot, and my quick perusal of the online menu made me eager to try it! Salads, soups, and vegan substitutes galore. When Chloe and I arrived, we were instantly charmed by the cozy interior (with extra seating a-plenty):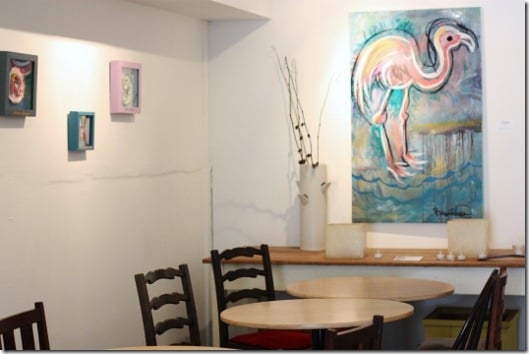 For her meal, Chloe ordered the day's stew, which was black beans and sweet potatoes with sausage (authentic or vegan) atop rice. She thought it was delicious, though a little thicker than she was expecting:
As on Monday, I was hungry enough for a double salad header. I went with a small Carmo salad—pineapple, peppers, greens, avocado, almonds, mango dressing, and rice—and a large quinoa and black bean salad with greens.
Both were very tasty; Chloe and I were especially impressed with the two dressings! One had almost an aquamarine color, so I wondered if it contained spirulina, though I doubt it—maybe just a ton of herbs. And it was perfectly spicy—not too much, not too little. The mango dressing on the Carmo salad was one of the best dressings I've recently tried, and I will definitely try to imitate it soon!
My only gripe here was that both of these dishes were grain dishes, not salads. In fairness, I didn't read the fine print on the Carmo salad enough—I thought it was mostly greens, not a rice dish. Both both could have afforded to be heavier on the fresh veggies, and lighter on the grains. I definitely appreciate that adding big grain portions to salads is a way of helping people to feel satisfied with a vegan lunch, and that's awesome, but I also think it's important for vegan restaurants to share the message that vegetables can be satisfying and nutritious in their own right.
That said, these are quibbles, given how healthy and delicious the salad flavors were. And what a terrific alternative to the many non-vegan lunch spots in the area! I look forward to revisiting Carmo and trying out additional offerings!
With that, and some afternoon quiet time, my trip to NOLA drew to a sad close. As I write this post from NYC, I already miss Chloe, Frankie, and Knud, and I can't wait for my next visit. That said, nothing makes me happier than a flight into New York City. I've got a two more days here before I return to the District, so I'll do my best to savor them in spite of copious amounts of studying on the agenda.
Tomorrow, I'll be posting pictures and diner's notes from dinner with Brendan after the NYC Vegetarian Festival last weekend. See you then!
xo