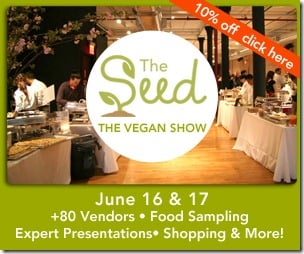 First things first: I was having a couple of tech issues with the blog in the last few days, so if your browser has been showing you sesame seed cookies for 5 days straight, go ahead and scroll back through the last few (tasty) posts! Things should be up to date now.
Today is a day of giveaway madness! First, I'm announcing the giveaway of my friend Cory's wonderful new ebook, 50 Healthy Juice and Smoothie Recipes. The winner is Cat, who wrote:
Wow – all those smoothies sound so good! And… Isn't it odd? I think I know what dinosaur kale is and I've only been green smoothie-ing for a few months!
Cat, I hope the win helps you to continue with your green smoothie adventures! Congrats on winning. And to the rest of you, I'd encourage you to consider purchasing the ebook for yourselves. It's reasonably priced, and it'll put new life into your blending efforts!
On to another giveaway—this one for my friends who are in NYC, or can travel there this month. On June 16th and 17th, a very special event will be sprouting up (bad pun) at the gorgeous 82 Mercer event space here in Manhattan. It's called The Seed, and it's a bountiful, educational, and community-building celebration of vegan lifestyle. What makes The Seed special? For starters, this lineup of offerings:
17 Leading Experts Presenting, Including World Champions
Food Samplings Form Top NYC Vegan Restaurants
7 Cooking & Other Demonstrations
3 Movie Screenings with Film Directors Q&A
+80 Vendors
Workshops
Spectacular BUST Magazines Craft-tacular
Musical Entertainment
Amazing Raffle Prizes
And Much More!
I'll be honest: what gets me fired up for any vegan event is and will always be the promise of incredible food. So you can imagine my delight to hear that one of the principle food vendors will be One Lucky Duck & Pure Food and Wine, and that I'll get to see Sarma there (we're very overdo).
But if you're hoping to get more information about animal rights, plant-based approaches to health, vegan athleticism, dessert making, or raw living, look no further. I and 16 other speakers will be sharing guidance, tips, humor, and information on different parts of the vegan lifestyle, from fashion and personal care to cooking and health. I'll be doing one panel with JL and Yoli Ouiya focused on blogging. We're calling it "Planting the Seed of Veganism Through Blogging," and in it, we'll cover such topics as
What is your unique voice when it comes to veganism?
Do you blog for business or pleasure? How did your blog become a business?
What does a typical blog day/week look like for you?
Do you consider activism when posting? (food, animals, eco/green, etc)?
What three things have you learned since starting your blog that you think are important for new bloggers to consider?
JL, Yoli and I all have different approaches to blogging as a means of sharing our passions and inciting awareness, so it should be a really cool discussion.
I'm also doing a solo presentation entitled "The Semi Raw Life." The title says it all, but here's the "official" description:
Historically, "going raw" has been treated like an all-or-nothing choice. If you take the plunge, you'll reap the benefits of raw food, but you'll also kiss oatmeal, soup, and rice goodbye forever, along with all of your other cooked favorites.

Gena Hamshaw, a certified clinical nutritionist and the author of the popular blog Choosing Raw, is here to tell you that loving raw foods needn't mean giving up all cooked foods. It's possible to enjoy raw foods in balance with gently cooked foods, too; in fact, avoiding black-or-white thinking may help you to sustain your love affair with raw food over time. Learn the tricks for integrating raw and cooked foods into each meal with this interactive and inspiring workshop!
When I started blogging, I imagined that I'd only be writing about my adventures in raw food. What I've learned through the years is that my true interest is sharing tips for helping people to integrate raw foods into their lifestyles flexibly. I hope this workshop will show them how!
Other incredible speakers at the conference include the brilliant women of Our Hen House, Brendan, Kathy Freston, Colleen Patrick Goudreau, Dr. Joel Fuhrman, Dr. McDougall, Melisser Elliot, Hannah Kaminsky, Fran Costigan, my hero Jenny Brown of the Woodstock FAS, intellectual extraordinaire James McWilliams, the fabulous Chloe Jo Berman, and my friend Victoria Moran. For a full lineup of speakers, check out this link.
If you're in NYC, or you can get here, I really encourage you to join me on this special day! And to make the deal sweeter, I'm offering 6 lucky CR readers a free, one-day pass to the event. To enter, you may do one or as many of the following. Each counts as a separate entry, and you must leave a comment for each action!
1. Leave a comment telling me what you want me to cover in my presentation!
2. Tweet about this giveaway, including a link to this post!
3. Visit The Seed website and tell me which speaker you're most excited to hear.
4. Follow The Seed on Twitter.
5. Follow Choosing Raw on Twitter.
6. Follow Choosing Raw on Pinterest (new account!)
I will announce my six winners next Monday, June 4th!
What a great day this will be!
Good luck in the giveaway!
xo