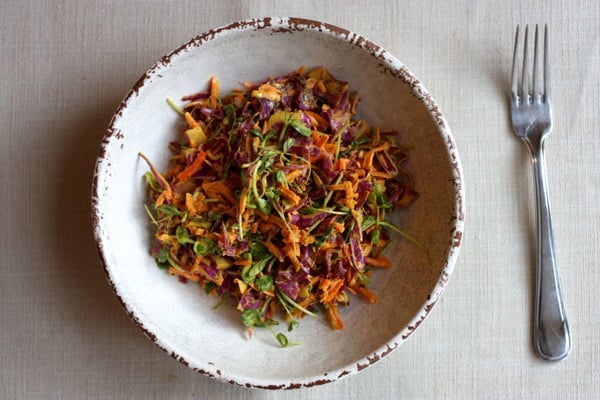 Turmeric is without a doubt one of my favorite superfoods. This magical spice, which comes from the curcuma longa plant, boasts potent antioxidant and anti-inflammatory properties. It's been used medicinally for about 4,000 years, and it has been shown to have potential use in treating digestive diseases, cancer, osteoarthritis, and inflammatory skin conditions. Medical and nutrition literature is chock full of papers on turmeric, its primary compound, curcumin, and its therapeutic potential; most recently, I read an article about an in vitro study suggesting that turmeric can help to mitigate inflammation associated with inflammatory bowel disease. And it's not the only study of its kind; numerous studies have linked turmeric to a potential reduction of IBD activity.
One tends to see turmeric used primarily in tofu scramble, soups, stews, and curries. I like to use it in other, more offbeat applications, too. A favorite? My turmeric and pumpkin seed pate.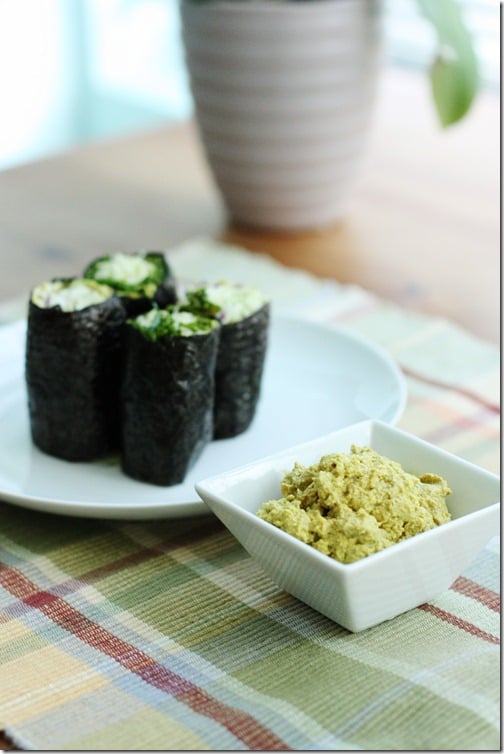 Also delightful (and perfect for this time of year) is my turmeric milk, warmed up on the stove: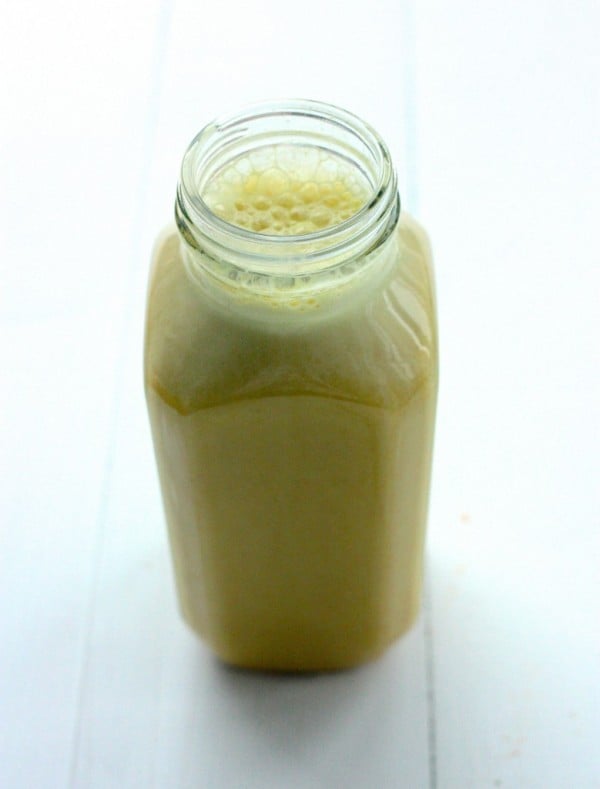 And finally, my anti-inflammatory turmeric tahini dressing, which is a CR reader favorite.
And you'll see a slight variation of this dressing put to happy use in tonight's recipe, a gorgeously colorful and nutrient dense turmeric slaw.
This slaw is a perfect way to use up your seasonal bags of carrots and cabbage from the market, and to squeeze in whatever sprouts you're growing or finding locally. The moment I tasted it, I loved it, and I hope you will, too.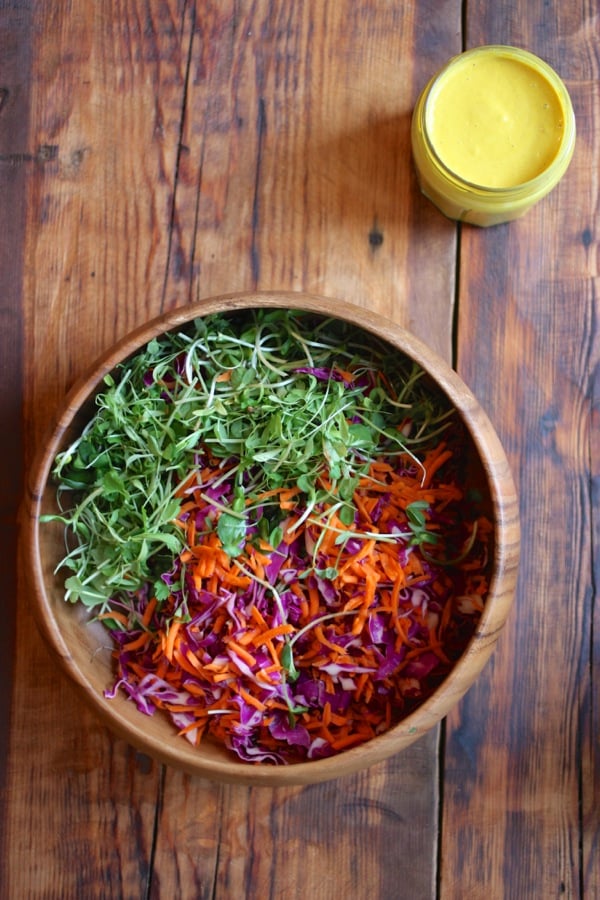 Turmeric Slaw (vegan, gluten free, soy free)
Author -
For the slaw:

3

heaping cups carrot

shredded

3

heaping cups red cabbage

finely shredded

1

cup

sunflower sprouts

chopped in half

1

cup

pea shoots

chopped into thirds

1

cup

cilantro

broccoli, or radish sprouts

1/4

cup

cilantro

minced (optional)

For the dressing:

1/2

cup

tahini

2

medjool dates

pitted

2

teaspoons

turmeric

ground, or 2 tablespoons freshly grated turmeric

1

teaspoon

ginger

ground, or 2 tablespoons freshly grated ginger

1/2

cup

carrot or orange juice

fresh is best, but bottled is fine

1/4

cup

water

3/4

teaspoon

sea salt

or to taste

3

tablespoons

lime juice
Blend all of the dressing ingredients together till smooth. If the dressing is too thick, add a little more water as needed.

Combine all of the slaw ingredients in a large mixing bowl. Toss them with about 2/3 cup dressing, or enough to coat the slaw well without turning it soggy. Use your judgment.

Serve, garnished with hemp seeds or chopped peanuts.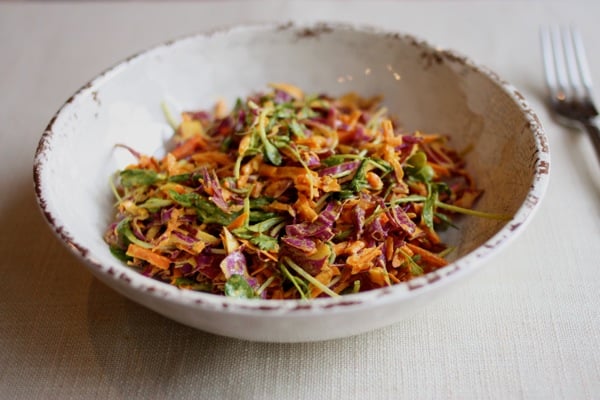 Just look at all of the color. To amp up the green, try adding more sprouts, more fresh herbs, or even a cup or two of shredded greens. Kale and collards would work really well here.
This is an ideal side dish, but it also makes a great salad component. Tonight, I had a heaping cup of my leftovers over a bed of arugula, and I topped all of that off with a heaping cup of quinoa, some sweet potato, and a few tablespoons of hemp seeds. The slaw would also be great with a hot bowl of soup, stuffed into a tasty veggie wrap, or as a side dish for vegan burgers or sloppy joes. Next time I make it (soon, I hope!), I may serve it with jasmine rice. I imagine they'll pair beautifully.
 Enjoy the slaw, and I'll see you all soon.
xo