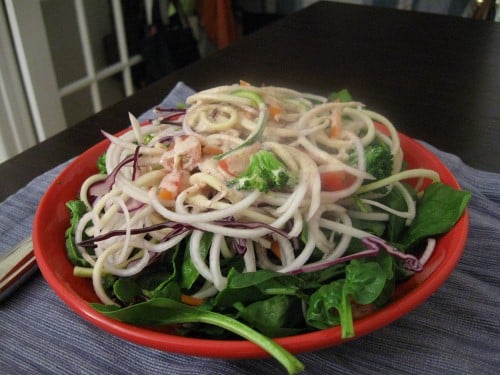 (Yawn).
Hey friends. I'm here for a quick and sleepy post: three nights of working late and the World Series have left me a wee bit sleep deprived.
Not too sleep-deprived, though, to present you with a winning recipe. The following is my idea of "takeout" during a busy week. No, it's not sushi (though I love me some raw nori), nor Indian, nor Chinese. Much to people's surprise, and perhaps to my own detriment, I'm not such a fan of many popular global cuisines, try though I might (I attribute this in part to my inherent shyness around garlic, onions, and spice, which often appear in the beloved foods of other cultures). I'm also not a fan of dirty takeout boxes, the smell of lo mein noodles (serious childhood aversion), or, well, cooked food, so I'm one New Yorker who doesn't hop on the takeout train.
So what do I do when it's 8:45 p.m., and I've come home exhausted from the office with nothing in mind but a peaceful meal with the Yankees? I use up what I have as quickly and creatively as possible.
A few nights ago I had, among other odds and ends:
•    Turnips
•    Spinach
•    Carrots
•    Cabbage
A quick peek in my pantry revealed that, along with the usual suspects (seaweed, spices, Larabars, dried fruits, almond butter, coconut oil, raw carob powder) I had a container of Futter's all-raw Brazil nut butter that Mizz VeggieGirl had kindly bestowed on me.  Brazil nuts don't make their way into my diet very often, but when they do, I'm always pleasantly reminded of how buttery and sweet they taste. That they're also a great source of protein, magnesium, and an exceptional source of selenium, is an added bonus. This little jar had been languishing in the pantry for a while, and I figured that there'd be no better way to use it up than in a sauce for some spiralized turnip noodles. With that, turnip pasta with creamy Brazil nut sauce was born.
The recipe:
For the pasta:
2 extra large turnips, spiralized
Shredded carrots (eyeball this to serve you adequately)
Shredded cabbage (ditto)
A handful of spinach
Brazil Nut Sauce
6 Tbsps Brazil nut butter (1/2 cup brazil nuts can also be substituted)
6 tbsps water
2 tbsps apple cider vinegar
2 tbsps nama shoyu
½ tsp sesame oil
Blend all of the ingredients in a blender, magic bullet, or VitaMix on high. Pour about ¼ cup sauce over veggies, adding more if you need it to evenly coat them. Enjoy!
This sauce would work nicely with other nut butters: tahini, almond butter, cashew butter. The brazil nut butter makes for an especially delicate and light flavor.
See that? With nearly no time and very few things on hand, it's possible to whip up a simple and innovative raw meal. Without a spiralizer, the turnips can easily be sliced on a mandolin or even a box grater. From start to finish, this dinner took me about fifteen minutes.
Yup. My kind of TV dinner.
Hope you're all getting geared up for Raw Wednesday! Consider this my early contribution. Can't wait to hear about yours 🙂
xo