Hey all!
Hope you're enjoying great weekends. I'm here with a quick post to report on two lovely memorial day meals. The first was an NYC blogger lunch yesterday afternoon. Gina, aka the Fitnessista, was here in NYC for a visit, and I was lucky enough to meet her and a few other bloggers for lunch at Caravan of Dreams.
Other bloggers present were Ashley, Melissa, Brooke, Megan, and Katie.  It was great meeting these fellow NYC girls (and seeing Melissa) and getting to know Gina, who is every bit as warm, beautiful, and enthusiastic as she is on her blog! It was also great to meet her friend Megan, who's a fellow raw gal.
Here's a shot of my lunch, which is my favorite Caravan dish: the Thai Avocado Salad:
And a group shot: Melissa, Ashley, Megan, Gina, Me, Brooke, Megan, and Katie: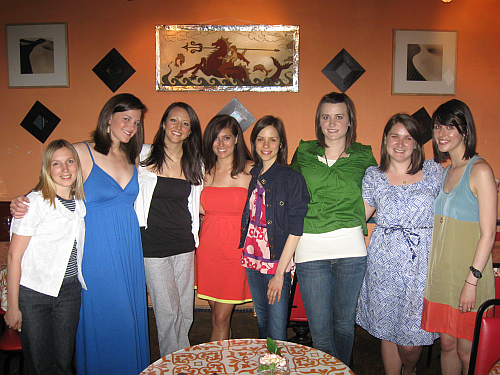 Tonight, I celebrated my new promotion with Melissa, who was sweet and generous enough to treat me to dinner at Pure! Melissa and I have both been a bit deluged in work and life lately, so it was really delightful to celebrate the end of her finals, my new title, and her upcoming trip to South Africa with a relaxed and delicious meal. To start, we split the sushi rolls, which we both forgot to photograph. Then we each had a salad. I had the S&M salad, which I've blogged about before, and Melissa tried this salad, which is a new addition to the summer menu:
An assembly of heirloom tomatoes, watermelon, and a balsamic reduction, it looked and tasted amazing.
Here's a photo of the two of us:
It was a great meal and a great night. I am very, very fortunate to have Melissa as a friend.
Speaking of Melissa, she's hosting a great giveaway on her blog: a sampling of the popular Blueprint cleanse! Check it out! Also be sure to check out Zesty's amazing blog makeover giveaway!
And now it's home for some work before I hit the sack. I'll be back with a recipe or two later this weekend. In the meantime, thank you all for your great feedback on my last post. I'm so glad that I've inspired some of you to feel confident about your food choices, and I hope I'll continue to encourage your confidence! Keep it up, everyone.
xo