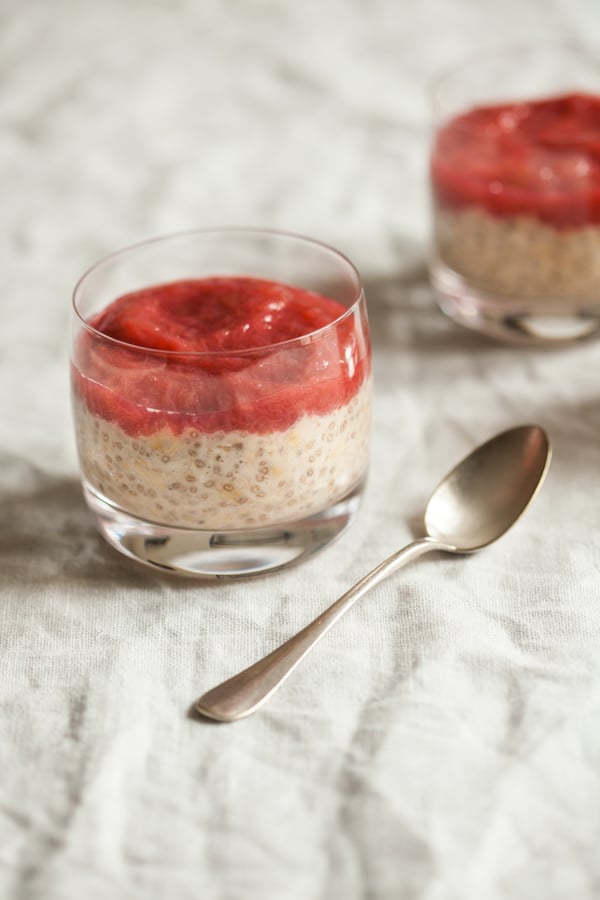 We all have certain ingredients that we instinctively shy away from, whether for good or silly reasons. Rhubarb is one of those, for me. I think it's because I've never known what to do with it aside from making a pie or a crumble (or my strawberry rhubarb crumble bars), and because balancing its naturally tart flavor with just the right amount of sweetness takes a little practice.
When I recently got my hands on some organic spring rhubarb (thanks to my friends at Frieda's produce!), I decided not to incorporate it into a complicated baking project or dessert. Instead, I thought I'd try to do something easy with the stalks–stewing them quickly on the stovetop and then scooping them onto some hearty breakfast cereal. These vanilla chia overnight oats with easy stewed rhubarb are the result. In spite of the fact that they're colorful, sweet, and feel like a treat, they're simple to prepare and would be a really low-stress option for Mother's Day or another special brunch occasion.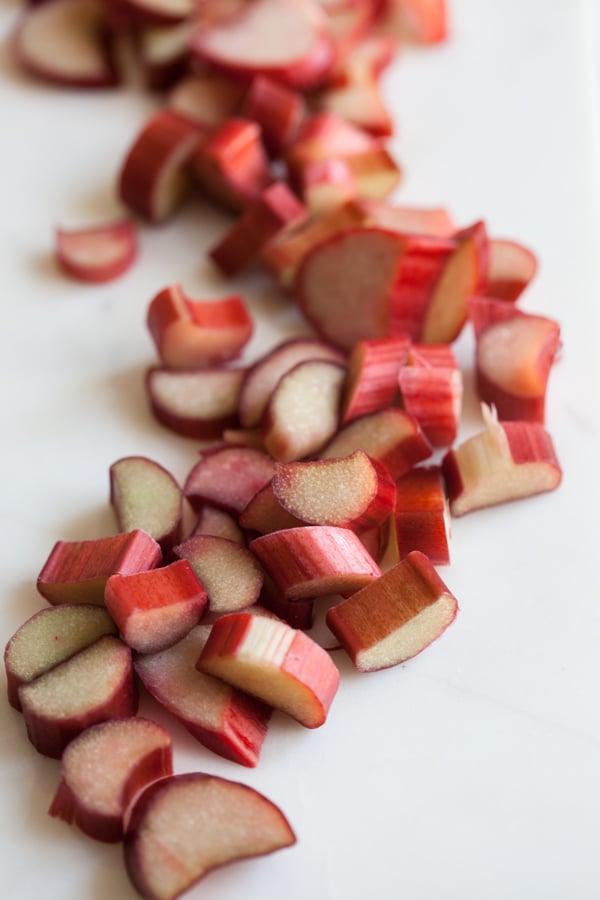 It's hard not to love the electric, pink/red color of the rhubarb stalks. And if you're worried that making the stewed rhubarb will be time intensive, it's really not. For me, it came together in no more than twenty minutes. What I didn't use for the breakfasts, I used on toast later in the week, so even if the overnight oats in this recipe don't appeal, the easy stewed rhubarb might!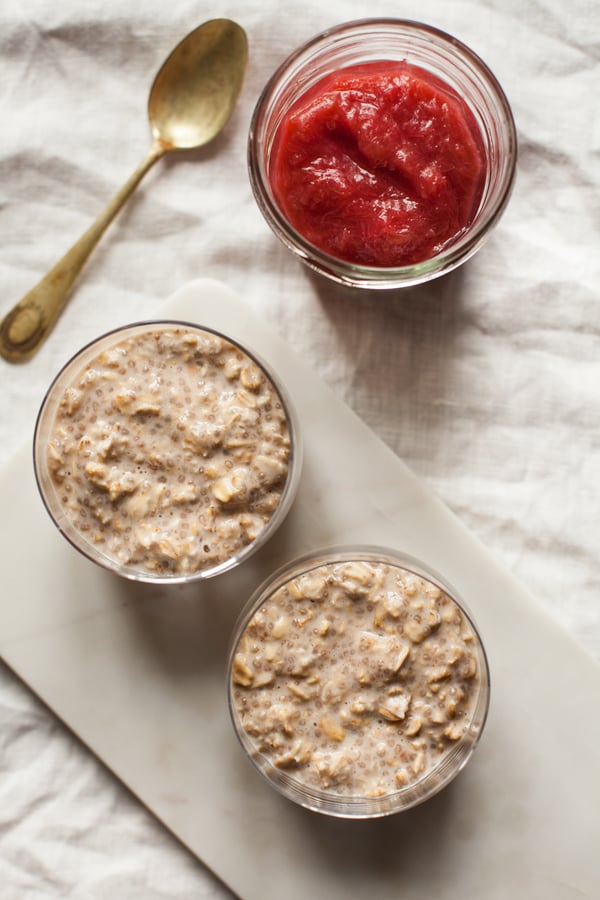 The overnight oat recipe I'm sharing here, by the way, has essentially become my go-to: in a single serving size, it's half a cup of dry rolled oats, 2 teaspoons chia seeds, a scant cup (about 7/8 cup) almond milk, and a half teaspoon of vanilla extract. I've doubled it here, and if you like, you can quadruple the recipe to serve 4. There are plenty of fancy ways to prepare overnight oats, and of course you could add spices (like cinnamon or cardamom) or mix-ins (like dried fruit or seeds) to the recipe. But lately I'm appreciating this simple base, served alongside fresh or stewed fruit.
Another note about the overnight oats is that you don't have to serve them cold. You can soak them overnight and warm them up them quickly in the morning if you're craving a hot breakfast.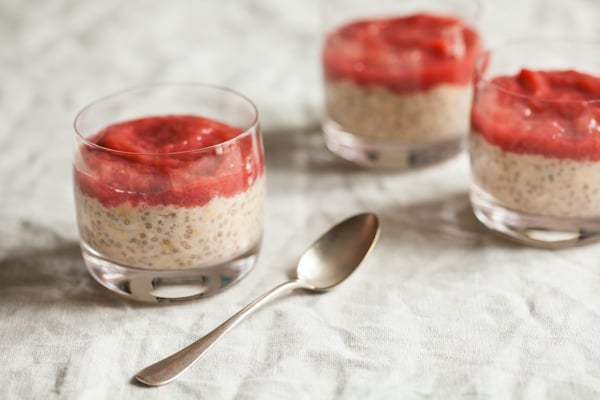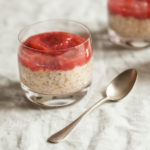 Vanilla Chia Overnight Oats with Easy Stewed Rhubarb
Author -
For the vanilla chia overnight oats:
1 3/4

cup

non-dairy milk of choice

almond, soy, rice, hemp, etc.

2

pitted medjool dates or 2 tablepsoons maple syrup

1

teaspoon

vanilla extract

1

cup

rolled oats

1 1/2

tablespoons

chia seeds
For the stewed rhubarb:
3

cups

chopped rhubarb

1/3

cup

water

1/3

cup

sugar

you can use organic cane sugar, brown sugar, coconut sugar, demerara sugar, or sucanat
To make the overnight oats, blend or whisk the non-dairy milk with the dates or syrup (use a blender if you're using dates for sweetness) and the vanilla extract. Transfer the oats and chia seeds to a glasslock or other airtight storage container and pour the milk over them. Stir everything well. Cover and place in the fridge overnight. In the morning, add an extra splash of almond milk if the mixture is very thick.

To prepare the stewed rhubarb, place the rhubarb, water, and sugar in a small saucepan. Brig it to a boil as you stir, to dissolve the sugar. Reduce the heat to a simmer and simmer, uncovered, for 15-20 minutes, or until it has thickened to resemble a loose/runny jam. Taste and add an extra pinch of sugar if it's a little too tart for you.

To serve, scoop the overnight oats into two bowls and top each with some spoonfuls of the stewed rhubarb. Leftover stewed rhubarb will keep for a week in an airtight container in the fridge, and it can be used on toast or stirred into traditional hot breakfast cereal.
This is such a perfect spring breakfast. I love the contrast of mellow, mildly sweet oats with the tart, bright flavor of the stewed rhubarb. When I made it, I doubled this recipe for four portions, and it made for a bunch of easy morning meals as the week went by. If you'd like to try the recipe with some berries or another fruit, simply add your chopped fruit to the saucepan and reduce the sugar a little.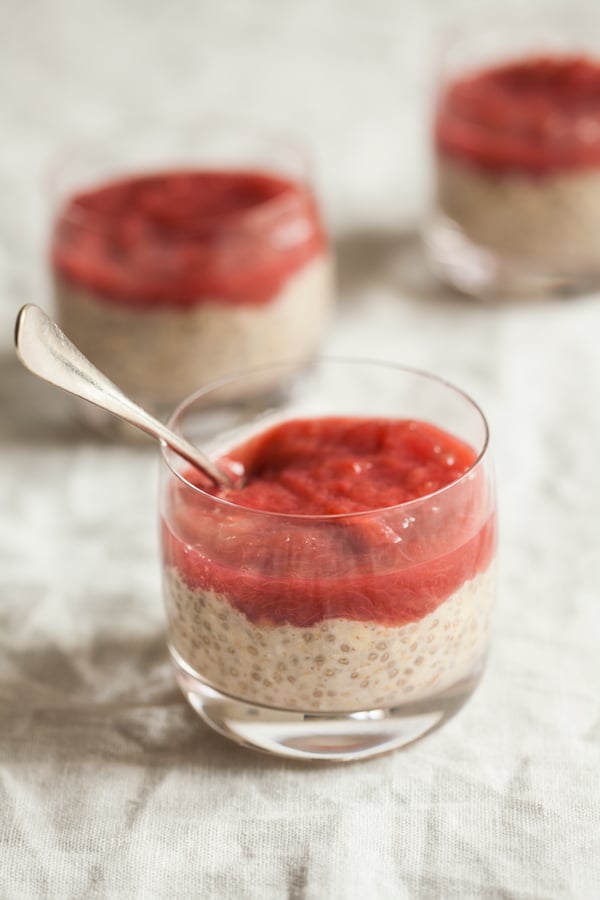 It's another busy day here, but thinking about an easy, nourishing, sweet breakfast is getting me started on an upbeat note. I hope you'll try this recipe, friends, and if you do, I hope you like it! As always, I'd love to hear how it turns out.
See you soon for weekend reading.
xo