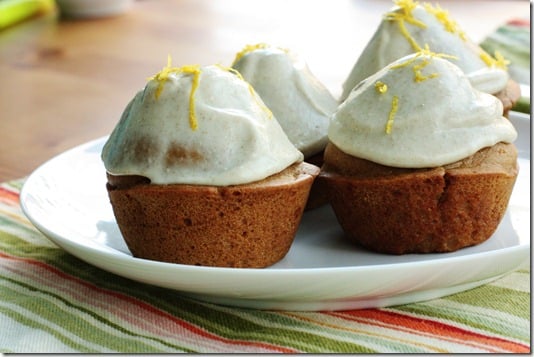 In light of yesterday's fabulous dialog (thank you, CR readers) I thought that it was a good day for cupcakes. Vanilla lemon ginger cupcakes, that is, with coconut cashew frosting. If that's not enough of a hard sell, they're also gluten free (though they don't have to be) and sweetened with coconut sugar, which many of my readers who eat low glycemic diets prefer. In short, there's something for everyone.
But I didn't actually make these for everyone; I made them for Valerie, who celebrated her birthday on Saturday. Happy birthday, Valerie! May the year be every bit as sweet and uplifting as these scrumptious treats.
Gluten Free, Vegan Vanilla Lemon Ginger Cupcakes with Coconut Cashew Frosting
Makes 10
Before I get to the recipe, note that you have three options for flour. You can either use two cups of whole wheat pastry flour, two cups of all purpose GF flour mix, or 1 cup of sweet white sorghum flour, one cup of tapioca starch, and a teaspoon of xanthan gum. It's up to you. Valerie is allergic to gluten, so I used the third option; it's the most complex, but I find that it works a little better than standard GF flour blends for delicate stuff. If you'd rather not deal with flour complication at all, and you aren't allergic to gluten, go with WWPF.
2 cups flour of choice (or the sorghum + tapioca + xanthan blend)
1/2 teaspoon sea salt
1 teaspoon baking powder
1 teaspoon baking soda
2 tsp powdered ginger
3/4 cup coconut sugar
1 cup almond milk
1 tsp ground chia seed or 1 tbsp ground flax seed, mixed with 3 tbsp water
1/3 cup coconut oil (melted)
2 tsp vanilla extract
Juice of 1 lemon
Optional: 2 tbsp lemon zest, divided
1. Preheat oven to 350.
2. Whisk dry ingredients together. Whisk wet ingredients together. Pour the wet ingredients into the flour mix, and then use a hand mixer to get it mixed well (a whisk is fine too). Try not to mix it too much. Gently fold in 1 tbsp of the zest.
3. Pour mix into ten cupcake molds. Bake for about 18-20 minutes (this will depend on your oven) or until they're golden and a toothpick inserted comes out clean. Decorate with frosting, below, and sprinkle with lemon zest.
Raw Cashew Coconut Lemon Frosting (inspired by the whipped cream from Sweetly Raw, by Heathy Pace)
1/3 cup coconut butter
3/4 cup cashews (dry)
1/4 cup chia seed gel (just chia seeds and water, plumped up; you can follow Heathy's instruction here)
1/4 cup agave nectar
Dash salt
1 tbsp lemon juice
1 tsp vanilla
1/2 cup water
Blend all ingredients together in a high speed blender (if you use a regular blender, soak cashews first and use 1/3 cup water only). Allow to sit in the fridge for a few hours to thicken before using! If it's too watery, try blending again with some more cashews; if it's too thick, try adding a little more water. Use kitchen intuition!
Pre-zest: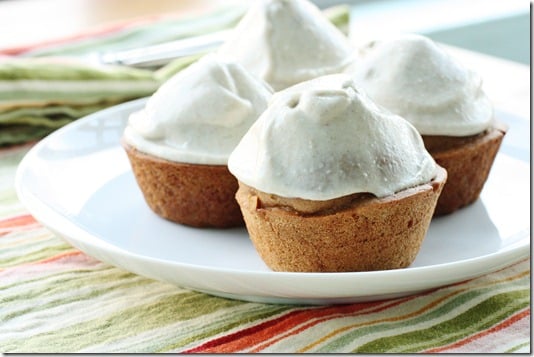 Post-zest: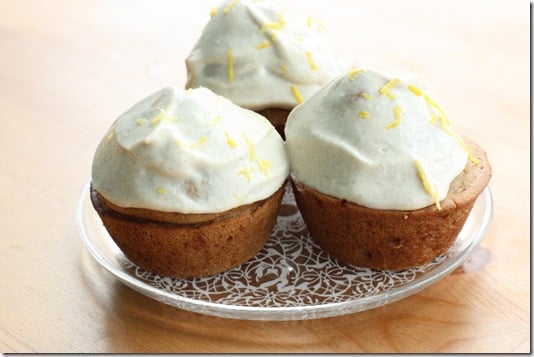 And deliciously moist inside:
Speaking of moist, the one downside of these muffins is that they do harden up as the days go by. And they also harden up when they get cold! I made them in the afternoon and stuck them in the fridge, because I wasn't sure when I would see Val. When I took them back out, I was horrified to find that they'd gotten firm. Fortunately, leaving them out for a bit seemed to remedy this, but Valerie also told me that gluten free baked goods can sometimes firm up over time.
Which means you have to eat them fast
Hope you get a chance to try these; the lemon and ginger really make them special! And I'll see you back here, new salad dressing recipe in tow, tomorrow.
xo
NB: I am submitting this recipe to Ricki's October 11-15 Wellness Weekend.