Last night, the lovely Ms. Valerie and I decided to give Open City a try for our long overdue ladies' dinner. I've been to Open City countless times for coffee (they make a mean dark roast, and pretty stellar soy cappuccinos) but never for food. Since Valerie is gluten free, I figured this would be a good destination for us: Open City features a pretty sizeable GF menu, including pizzas and quinoa dishes, as well as plenty of vegan options for moi.
Since it was a dry, breezy night in DC—what a rarity!—we decided to sit in the patio area: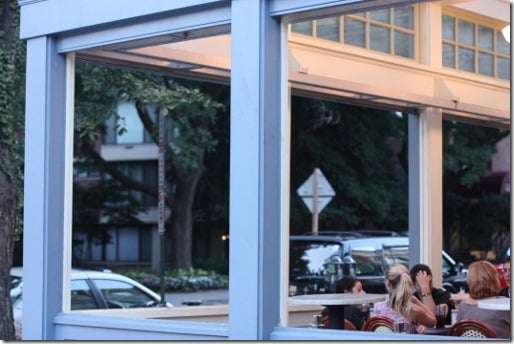 Where we were quite graciously served by Lara, who was super helpful when it came to all of our food questions ("are you SURE there's no butter in that? The quinoa is TOTALLY gluten free, right?") and had some good suggestions, like the blueberry iced tea (yum):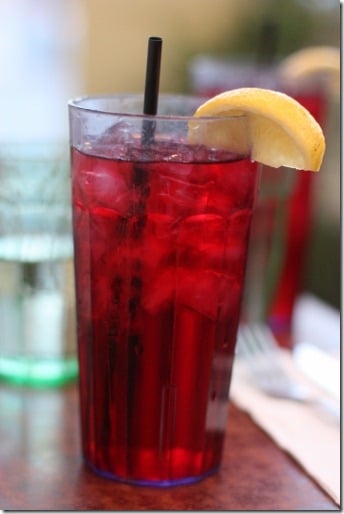 We began by splitting a hummus platter, and we were both impressed with the hummus:
For our main courses, we each got a large house salad with smoked paprika vinaigrette. This dressing was absolutely amazing; I have to try to recreate it!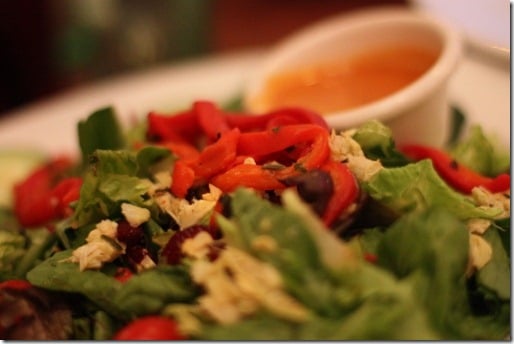 We also split the quinoa with broccoli and summer corn. It wanted salt, to be sure, but it was tasty enough, and quite honestly I was just excited to see such a healthy and non-traditional option on a DC menu:
Finally, we each got a side of roast veggies. These were too oily for my taste, but I liked the selection (eggplant, peppers, summer squash):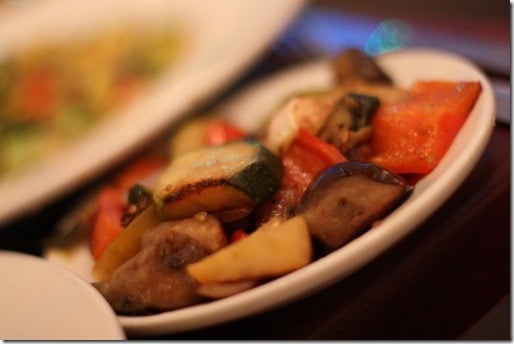 Again, the restaurant gets points for an easy-to-veganize menu: tons of veg-friendly sides, whole grains, whole grain sides, BIG salads, breadless pizzas, and more. Plus, they even have some really tasty vegan baked goods (I've tried the muffins for myself)!
A for effort, Open City.
Lara, our server, told us that she's actually been a vegetarian for twelve years now, and is striving to be vegan. We had a quick chat about protein, and she confessed that she finds it hard to work in the restaurant business while also maintaining a vegan diet. I told her that it can be helpful to bring lunches and snacks to work, no matter where you work. And since she's also working on her protein, I mentioned that she can make smoothies at the restaurant with little packets of Vega or another protein powder. She was really exuberant and motivated, and a delight to chat with. Lara, I hope you take the big leap!
Overall, I think Open City is a solid option for vegan diners, and an even better option for GF diners. It's a crowd pleaser, and no matter what, you can always finish the night off with a silky sip of espresso.
xo