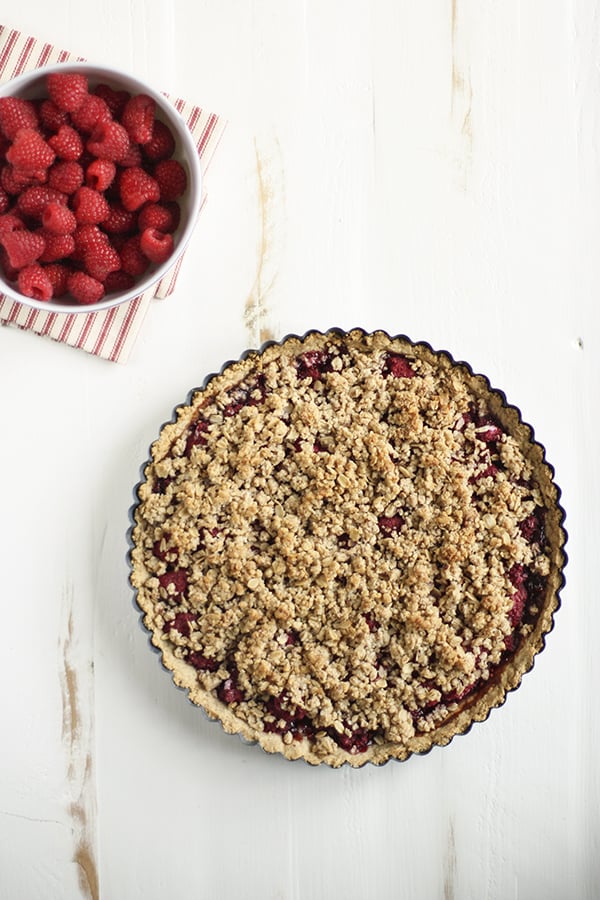 Like many people, I feel fairly ambivalent about Valentine's Day. Aside from the fact that it's a fun occasion to make all sorts of delicious dessert recipes, I could take it or leave it. This year, however, Valentine's Day is infused with a few more warm fuzzies than usual, because Steven and I happened to have met at exactly this time last year. We're both feeling a little nostalgic, and consequently, I've been even more inspired than usual to whip up something festive for February 14th.
Left to my own devices, the Valentine's Day treat of choice would probably be of the chocolate variety. A few years ago, I made no-bake chocolate tartlets that were so good that a spinoff ultimately landed in my cookbook. The year before, writing sleeplessly from the front lines of organic chemistry, I made a super quick, super easy batch of raw, chocolate covered strawberries. Steven, though, is allergic to chocolate, and since we enjoy dessert sharing, I thought I'd take the fruity direction instead.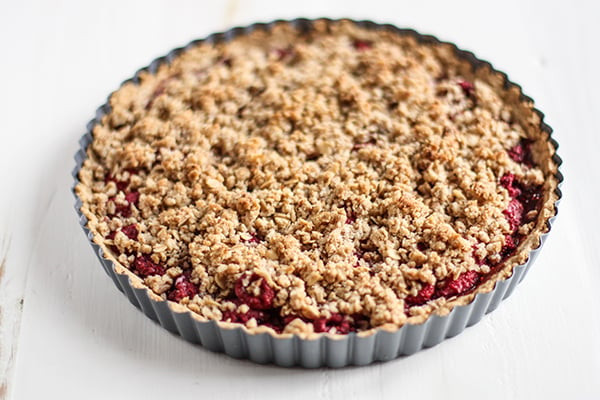 I settled on this wonderful raspberry crumble tart. It's many things: vegan, gluten free, beautiful to look at, surprisingly easy to prepare. Most importantly, it is truly delicious, and it took nearly all of my will power to let it cool and remain uneaten while I waited to take pictures.
What makes me so excited about this recipe is actually the crust; I've had great luck with traditional pie crusts (using regular flour and coconut oil) and with raw crusts, but this was my first go with a wholesome mixture of almond and oat flour. I wondered if it would be too crumbly, and it is a little crumbly, but for the most part it held up really well. It may become a go-to pastry crust for me, and the texture is especially good for flattening into a tart pan.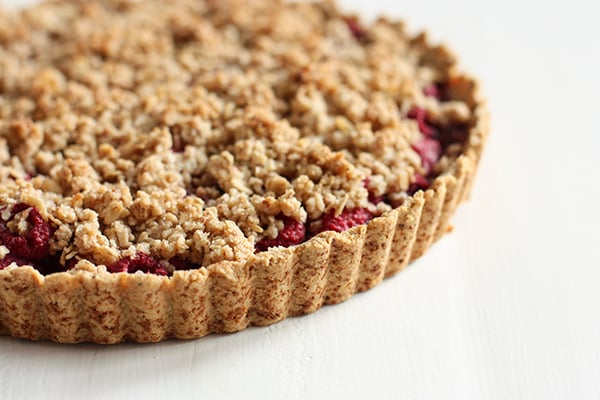 A note about the preserves used in this recipe: I modeled it after traditional fruit tarts, which often have a layer of preserves over the tart crust. I love the sweetness and texture that the preserves add to the tart, but if you'd prefer to make a lower sugar version of the recipe, you can omit them (or just use less). There are plenty of natural and organic preserves out there, and you can also make your own. Alternately, I offer up my raspberry chia jam as an option in the recipe, too. (I love the stuff, but didn't have time to make it for the tart.)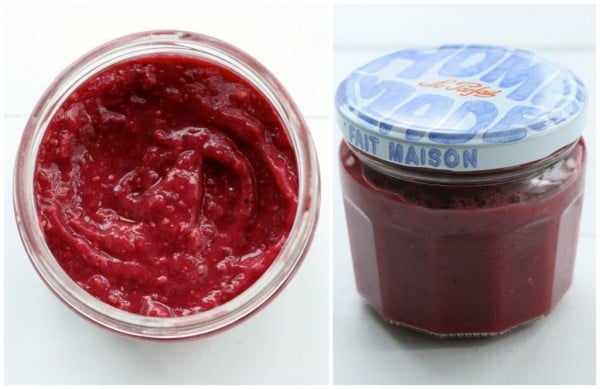 Vegan and Gluten Free Raspberry Crumble Tart
Author -
*For the Crust*:
1 1/3

cups

oat flour

2/3

cups

almond flour

2

tablespoons

vegan sugar of choice

organic sugar, evaporated cane juice, demerara sugar, or coconut sugar are all fine

1

teaspoon

flax meal

1/2

teaspoon

salt

1/4

cup

coconut oil

solid or melted will work

2

tablespoons

plus more as needed ice water
*For the Filling*:
1/4

cup

raspberry preserves (you can use homemade

store bought, or you can use my raspberry chia jam

2 1/2

cups

raspberries

1

scant tablespoon tapioca starch

1

teaspoon

agave or maple syrup
*For the crumble topping*:
1/3

cup

almond flour or almonds

ground into a rough meal in the food processor

1/2

cup

rolled oats

3

tablespoons

vegan sugar of choice

organic sugar, evaporated cane juice, demerara sugar, or coconut sugar are all fine

1/2

teaspoon

ground cinnamon

1/8

teaspoon

salt

3

tablespoons

coconut oil

melted
First, prepare the crust. Oil an 8 or 9 inch tart pan with coconut oil, and line the bottom of the tart pan with a circular piece of parchment paper.

Combine the oat flour, almond flour, sugar, flax meal, and salt in the bowl of a food processor fitted with the S blade. Pulse a few times. Add the coconut oil and pulse quickly, until the mixture is just starting to look crumbly. Keep pulsing and add the two tablespoons of ice water slowly; as soon as the mixture holds together well when you squeeze a small amount in your hand, it's done (you may not need much water).

Transfer the crust mixture to your lined and oiled tart pan. Press the crust into the bottom and sides as evenly as possible, using the heel of your palm around the edges. When it looks smooth and all of the area is covered, transfer the tart pan to the fridge and chill the crust for 30-60 minutes.

Preheat the oven to 350F. Toss the raspberries with the tapioca starch and agave/maple syrup. Remove the tart from the fridge, and spread the preserves over the bottom. Place the fresh raspberries on top.

To make the crumble topping, place all ingredients into your food processor and pulse until the mixture is forming nice big crumbs. Distribute the crumble topping over the raspberries.

Bake the crumble tart for 35-40 minutes, or until the crust and topping are turning light brown. Serve (garnished with

raw whipped cream

, if you like!). Leftovers will keep, covered, for up to 4 days.
I love the nutty, sweet, and gently tart flavor of this dessert. It's not exactly seasonal right now, and I imagine it'll be even better with fresh raspberries in the summer, but boy, is it good.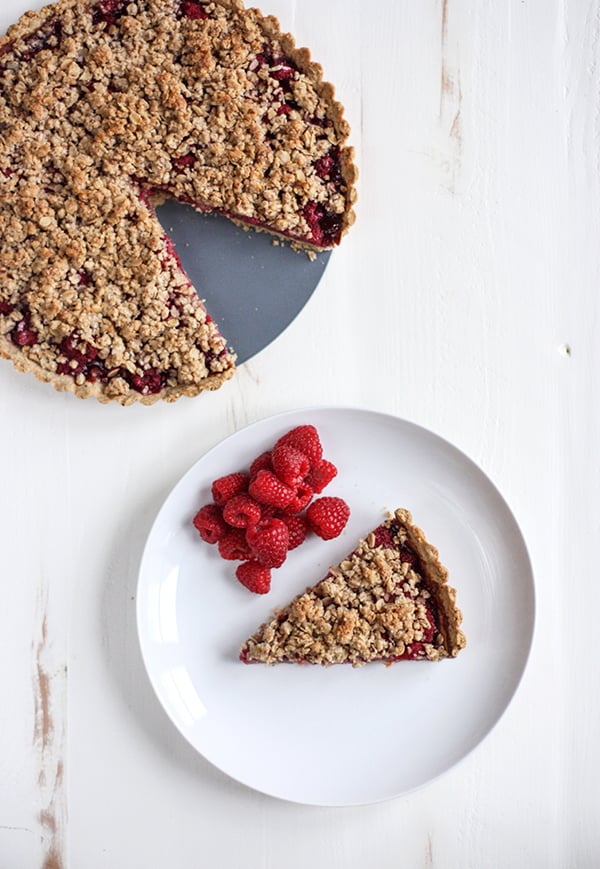 Perhaps you'll put aside a little time this coming weekend for a baking project. If you do, I suggest you sweeten your Valentine's Day with this wonderful treat.
I wish you all a lovely weekend. See you on Sunday for the usual reading roundup!
xo