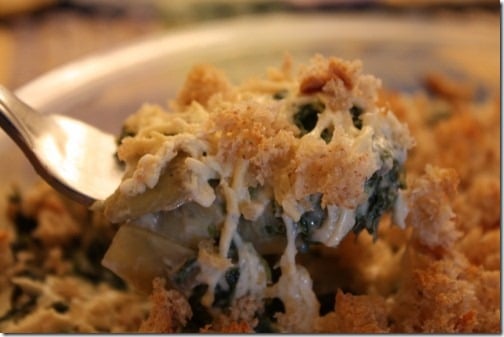 Great response to the nori cigars! I thought of you guys as I snacked upon a few of them on my bus ride to D.C. yesterday, along with an apple, veggies, and dip. One reader asked me how the leftover gingery sunflower pate can be used: great question! I love nut pates precisely for their versatility, and the answer is that you can do almost anything you'd like with the leftovers: stuff it into collard wraps, top a salad with it, use it as a dip or spread, or put it on your favorite sandwich in place of mayo. These are only a few of your options! I encourage you to get creative.
So far in my Super Bowl recipe round up, we've had a three layer, semi-raw dip, a raw soup, raw nacho "chips" (made with kale) and my vegan artichoke pesto pizza. Yum! Today, I'm sharing the most decadent recipe so far: hot and cheesy vegan artichoke and spinach dip.
I'm pretty proud of this one. It's not particularly healthy, and it's not the sort of thing I'd make if I were sitting around at home and wondering what to snack on. But cooking isn't always just about us, and our priorities as eaters. It's a shared experience, food, and part of learning to enjoy it means understanding that sometimes, a wonderful meal is a meal that you shape around the tastes of the people you dine with. Anyone who's suffered from an eating disorder can tell you that social isolation is one of the uglier consequences; you spend so much time avoiding food that you also avoid a lot of social occasions, and when you do cook, you're so imprisoned by rules and hang-ups that you can't make anything that doesn't fall within your own narrow little range of "safe" options.
One of the nicer things about learning how to cook, for me, was learning to surrender a lot of my vestigial rules—to throw a nice big hunk of Earth Balance into a fry pan, or agave into a muffin recipe, or a glug of olive or coconut oil into a roasting pan. I'm in earnest when I say that my palate hews to the healthy side of the food spectrum, and that simple tastes and textures are always my preference. But I also know how to prepare something decadent when the occasion calls for it, and to enjoy it. Eating shouldn't be a monochromatic experience: it should cover a wide range, from simple to special, from light to luscious, and from routine to rich.
Consider this one a special recipe. Hot, cheesy, and oozing with cashew cream and melted Daiya, it's the perfect treat for a superbowl party—or for any comfort meal. And even though we're all about range today, keep in mind that it's made with only the best ingredients: raw cashews, almond milk, nutritional yeast, and a vegan "cheese" that happens to have a short ingredient list and and be allergen free. More importantly, it's 100% without animal cruelty.
When decadence tastes like this, it's easy to be indulgent.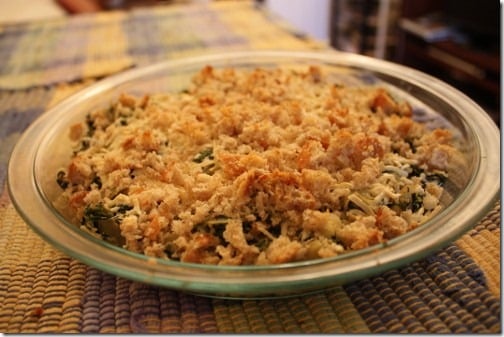 Vegan Artichoke and Spinach Dip (Vegan, can be gluten-free with gluten free bread)
(serves 6-8)
For the dip base:
2 9 oz. packages frozen artichoke hearts, or the equivalent in canned artichoke hearts
2 9 oz. packages frozen spinach
1 1/2 heaping up daiya mozzerella style cheese
1) Defrost all the veggies.
2) Chop artichokes into small pieces.
3) Drain spinach very well by placing it into a round strainer and pressing down on it with a bowl that fits into the strainer till it's nice and dry.
For the cashew cream sauce:
1/2 cup cashews (generous 1/2 cup), soaked 1 hr or more
1 cup almond milk
1/4 cup nutritional yeast
1 small clove garlic
1 tbsp lemon juice
1 tbsp dijon mustard
2 tbsp mellow white miso
2 tbsp tahini
1/2 paprika
Sea salt and cracked black pepper to taste
Blend all ingredients in a high speed blender till very smooth. I always blend before adding salt and pepper, then season to taste.
For the breadcrumbs:
2 large slices whole grain bread of choice, torn into pieces (use GF bread if you're gluten free)
1 tbsp Earth Balance
Place all ingredients in a food processor and pulse till broken into crumbs.
Assembly:
1) Pre-heat oven to 350 degrees.
2) Place the artichokes and veggies in a bowl and mix them with 1 1/4 cup cashew cream sauce. Mixture should be nice and wet; if you need to, add more sauce.
3) Mix in 1 cup daiya cheese.
4) Turn vegetable mixture into a small casserole. Top with another 1/2 cup daiya (add more than that if you like)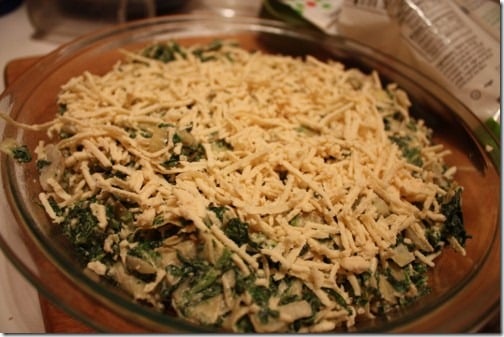 …and the bread crumbs.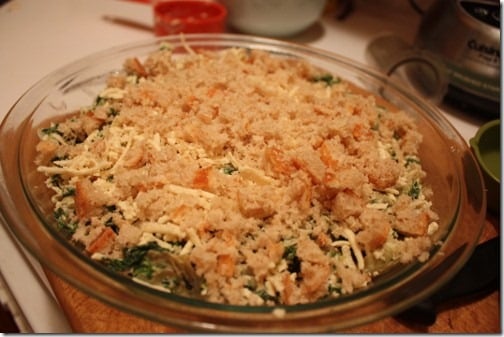 5) Bake for 30-35 minutes, or until crumbs are brown and cheese is bubbly.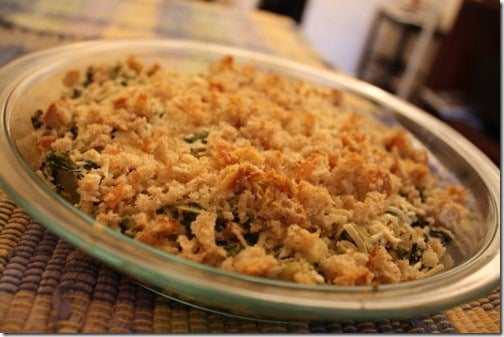 6) Serve. Watch your guests melt in joy.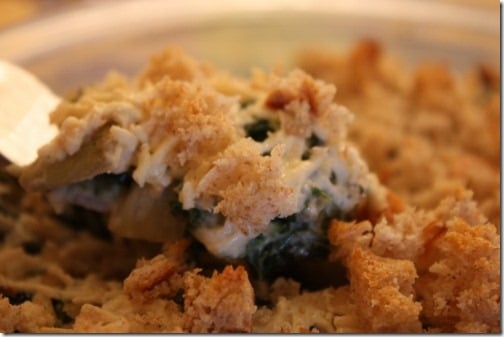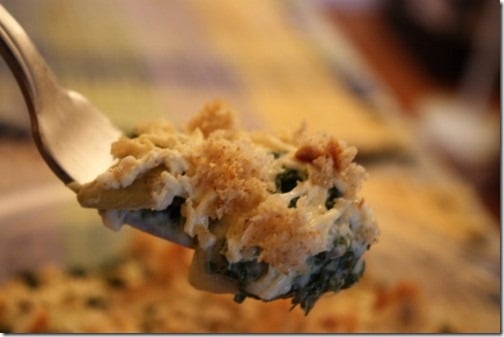 Hope this one goes on your game day menus!
Before I go, I wanted to mention that Casey and Marlena–two health-minded counselor friends of mine, are leading an emotional eating program that commences on Monday. Freedom From Emotional Eating Program is a 10 week program designed to show you how to love your food, love your body and satisfy your emotions so that you are happier, healthier and more fulfilled. The program gives you the guidance, education, support, compassion and real life strategies to heal. Focus on what you really want out of your life! Learn more about what they're up to at www.emotionaleatingfreedom.com
With that, a cozy day commences in a rainy D.C.. Happy weekend, all.
xo