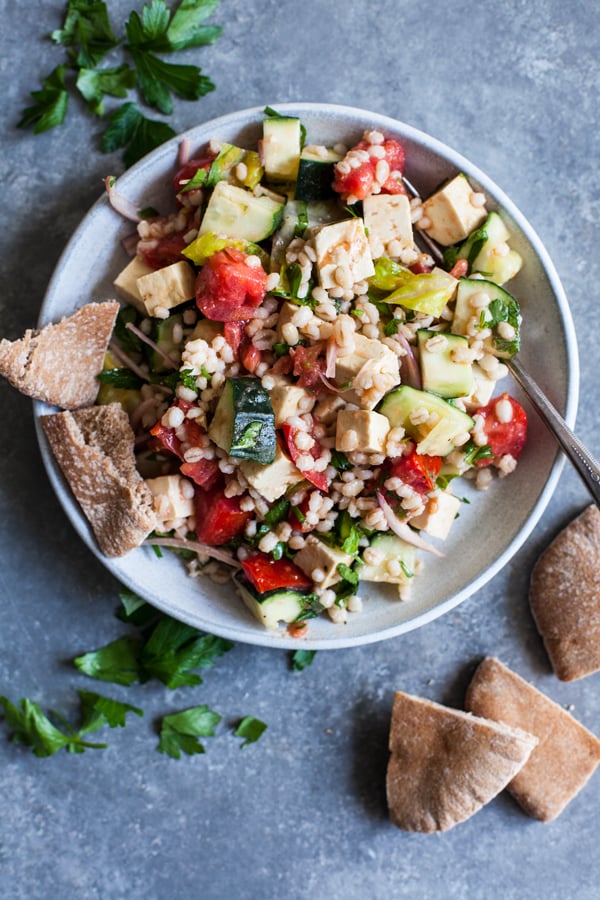 Here's what I love about summer salads: their freshness, color, and simplicity. The thing I don't love about summer salads is that they're often a little less substantial than wintery ones. No matter how wonderful it is to dive into a bowl of really fresh vegetables and fruit, it usually takes some grains and legumes for me to consider a salad meal-sized.
Greek salad is a good example. I'm crazy about the combination of tomatoes, cucumbers, and herbs, and the flavors speak to my heritage. But even if I find a way to replace the feta, Greek salad isn't quite hefty enough to fill me up, unless I pile on the pita. This vegan barley Greek salad with herbed tofu is a slightly more filling and nutrient dense spin on a quintessential summer dish, and it was love at first bite when I tossed it together over the weekend.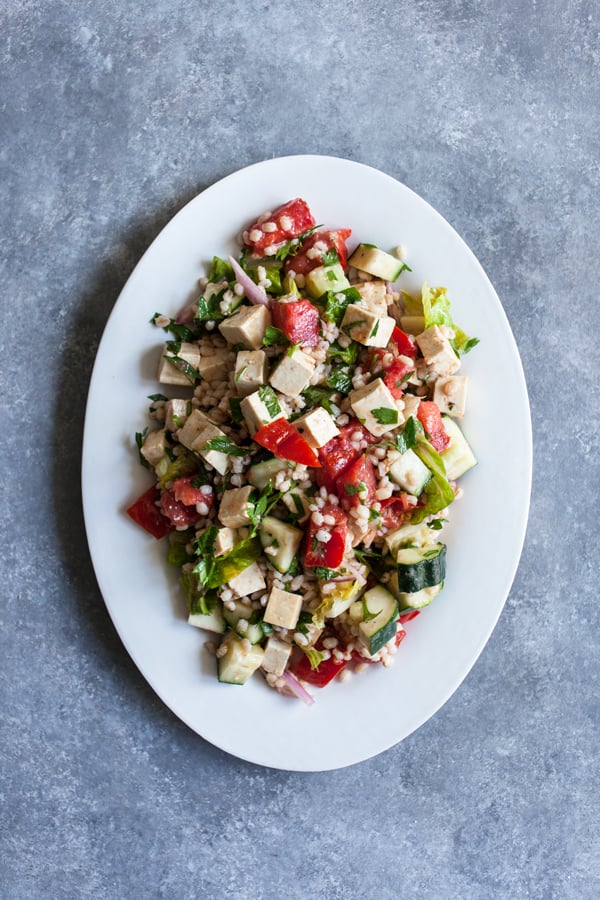 The key to this salad is a variety of textures: juicy tomatoes, crispy romaine and cucumbers, chewy barley, and dense tofu. It's a great mixture, and—thanks to the tofu brine, the sweetness of really fresh tomatoes, and a simple Greek vinaigrette—it's also packed with flavor.
The herbed tofu feta here is a very straightforward variation of my regular tofu feta recipe—basically, I just added dried oregano. Fresh oregano is also fine, and you can get creative with your choice of herbs here: dill, thyme, and basil would all be lovely. You can make tofu feta with any salty marinade, but I really like using miso, because it adds some umami as well as salt. You drain the tofu of marinade before tossing it with all of the other ingredients, but a lot of the flavor remains, so the dressing for this salad can afford to be sparse.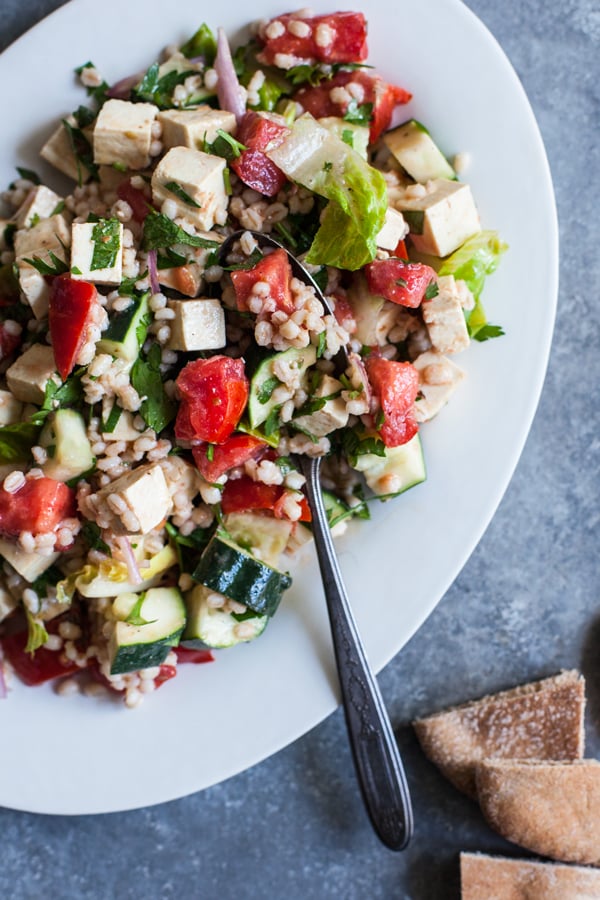 If you make the salad, there's plenty of opportunity to play. You can use cherry or grape tomatoes in place of beefsteak, add herbs other than the parsley and mint I used, load on the olives or capers, etc. I recommend tossing it and serving it right away, but if you need to store it in the fridge for an hour or two, that's just fine.
And if the tomatoes release a lot of their juices, it's just an opportunity to throw a big handful of torn pita bread into the salad, allowing it to soak up all of the goodness 🙂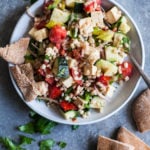 Vegan Barley Greek Salad with Herbed Tofu Feta
Author -
3/4

cup

dry pearl barley (substitute rice or sorghum for a gluten free option)

1/2

small red onion

thinly sliced

2

large tomatoes

diced (substitute 2 cups halved cherry tomatoes)

1

large or 2 smallish cucumbers

diced (about 2 cups)

1/4

cup

chopped mint leaves

1/2

cup

chopped

flat leaf parsley

2

cups

loosely packed

chopped romaine lettuce

1/3

cup

drained

pitted and halved Kalamata olives or 1/4 cup drained capers (optional)

1

batch herbed tofu feta

recipe below

1/4

cup

olive oil

2

tablespoons

red wine vinegar

1/4

teaspoon

fine salt

1/8

teaspoon

freshly ground black pepper

Toasted or soft pita wedges

for serving (optional)
Herbed tofu feta:
1 14-

or 15-ounce block extra firm tofu

pressed for an hour or two if possible and cut into 1/2-inch cubes

3

tablespoons

white miso

¼

cup

freshly squeezed lemon juice

about 2 lemons

2

teaspoons

red wine vinegar

¼

cup

water

1

small clove garlic

finely minced or grated

2

heaping tablespoons nutritional yeast

¼

teaspoon

fine salt

⅛

teaspoon

freshly ground black pepper

2

teaspoons

dried oregano

or 2 tablespoons fresh oregano leaves
Prepare the tofu feta about 4-8 hours before making the salad (I think it's easiest to prepare it the day before and allow it to marinate in the fridge overnight). In a small mixing bowl, whisk together the miso, lemon juice, and vinegar; you'll have a thick, smooth paste. Add the water and whisk till smooth, then whisk in the garlic, nutritional yeast, salt, pepper, and oregano. Place the cubed tofu in an airtight container (preferably one that's wide enough to allow tofu to rest in a single or double layer) and pour the marinade over the tofu. Shake to distribute the marinade over the tofu, then cover the container and transfer it to the fridge for at least 4-8 hours (preferably overnight).

Cook the barley according to package instructions. Allow it to cool to room temperature before proceeding with the salad.

In a large mixing bowl, combine the cooked barley, tomatoes, cucumber, mint, parsley, romaine, and olives or capers if using. Drain the tofu feta of its marinade and add the cubes. In a small mixing bowl, whisk together the olive oil, red wine vinegar, salt, and pepper. Pour this dressing over the salad ingredients, and toss gently, until everything is well combined. Serve with pita wedges, if desired.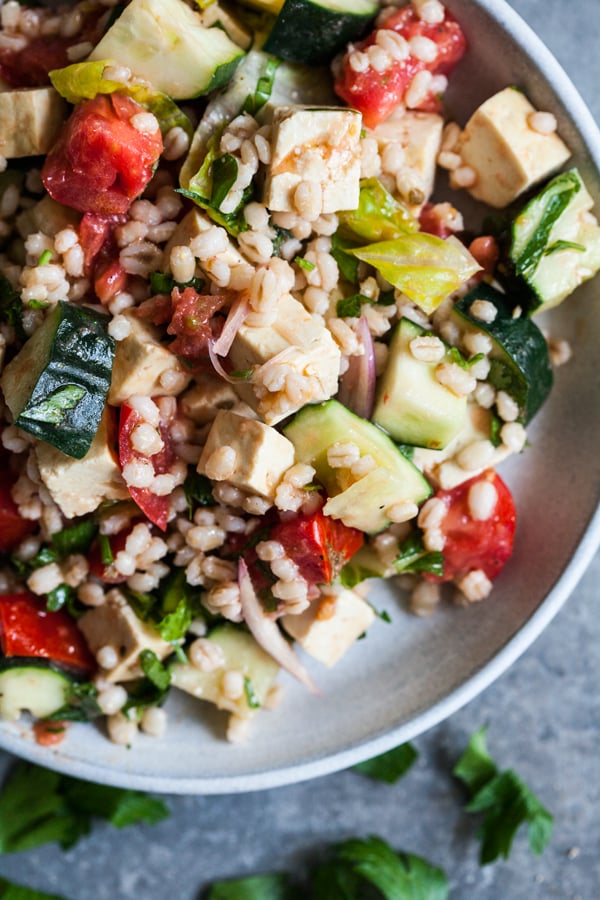 I really love the tofu feta in this recipe, but if you're allergic to soy, you can replace it with 1 1/2 cups of cooked chickpeas (a can, rinsed and drained before adding). For a gluten-free alternative to the barley, I'd recommend another toothsome and hefty grain, like rice or sorghum, but millet would also be good. I tend to use pearl barley for its quick cooking time, but you can definitely use hulled barley in its place.
I love increasing the texture and heft of salads with the additions of grains; in fact, these days I rarely prepare salads without some sort of whole grain or another. I'll be enjoying this one many times over before the summer is over, and I hope you'll enjoy it, too.
I've got a busy week of new class and nutrition counseling ahead of me, but I'll be checking in on Friday with a stellar, classic cookie recipe. Have a wonderful week!
xo