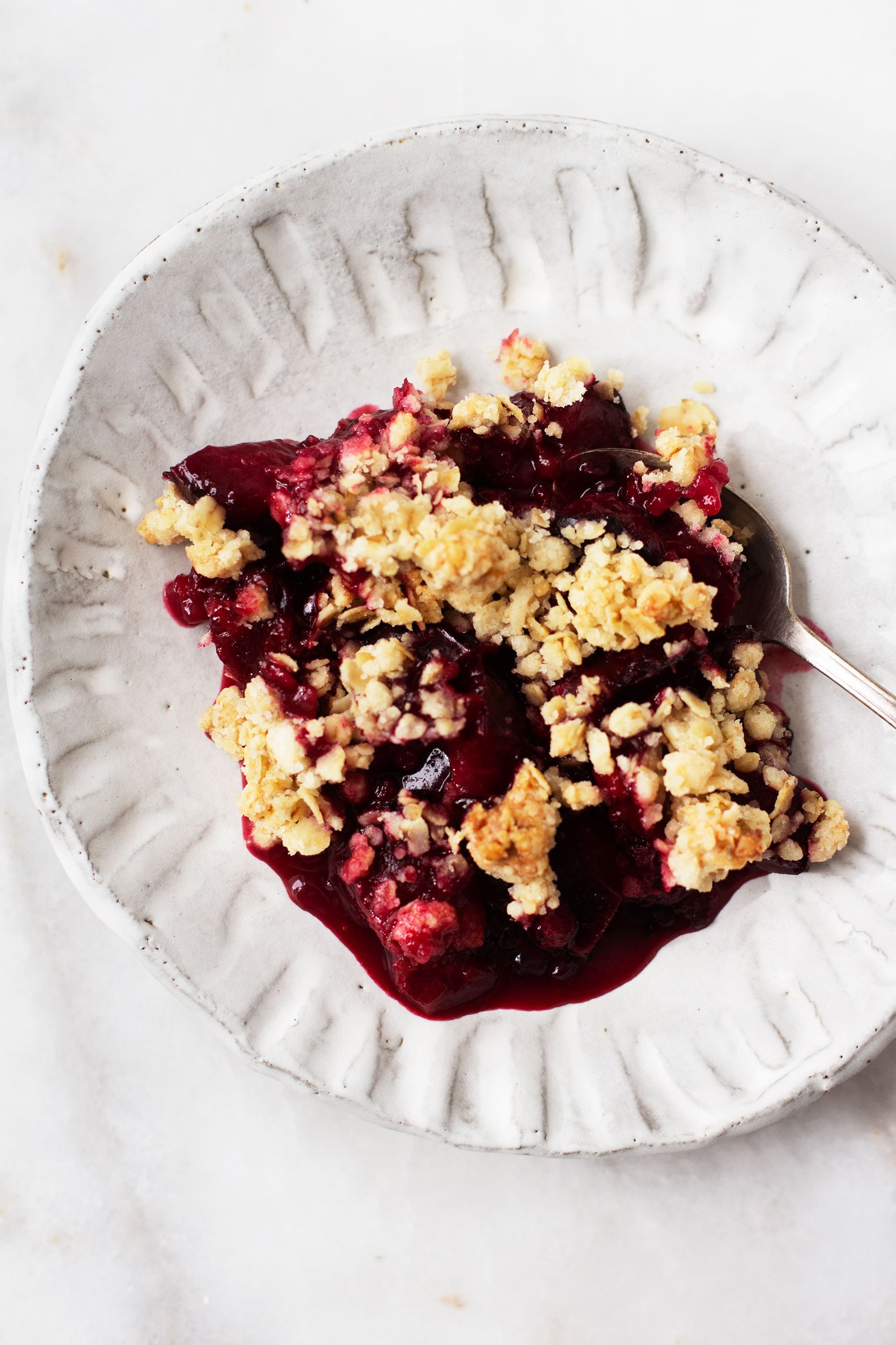 Plums are a fruit that I didn't grow up eating or cooking with until pretty recently. But I'm discovering them more and more each summer and early fall. They've become one of my favorite fruits to bake with, and there's no better way to show them off than with this fresh, juicy vegan blackberry plum crisp.
I always get confused over the difference between crisp and crumble, and I think I've finally got it memorized: the streusel topping of a crisp contains oats, whereas the topping in crumble is just flour, sugar, and butter (and maybe nuts). I like both, but this is a crisp, and it's true to its name. The oats crips up during cooking, which is a nice contrast with the juicy fruit underneath.
One of the nice things about rustic fruit desserts like this one is their flexibility. They can withstand swaps and substitutions. If you don't have plums or blackberries, you can try peaches and raspberries. Or mixed berries. Or apples and berries. Have fun with the recipe, and let it adapt to the season and whatever you're bringing from the market to your home.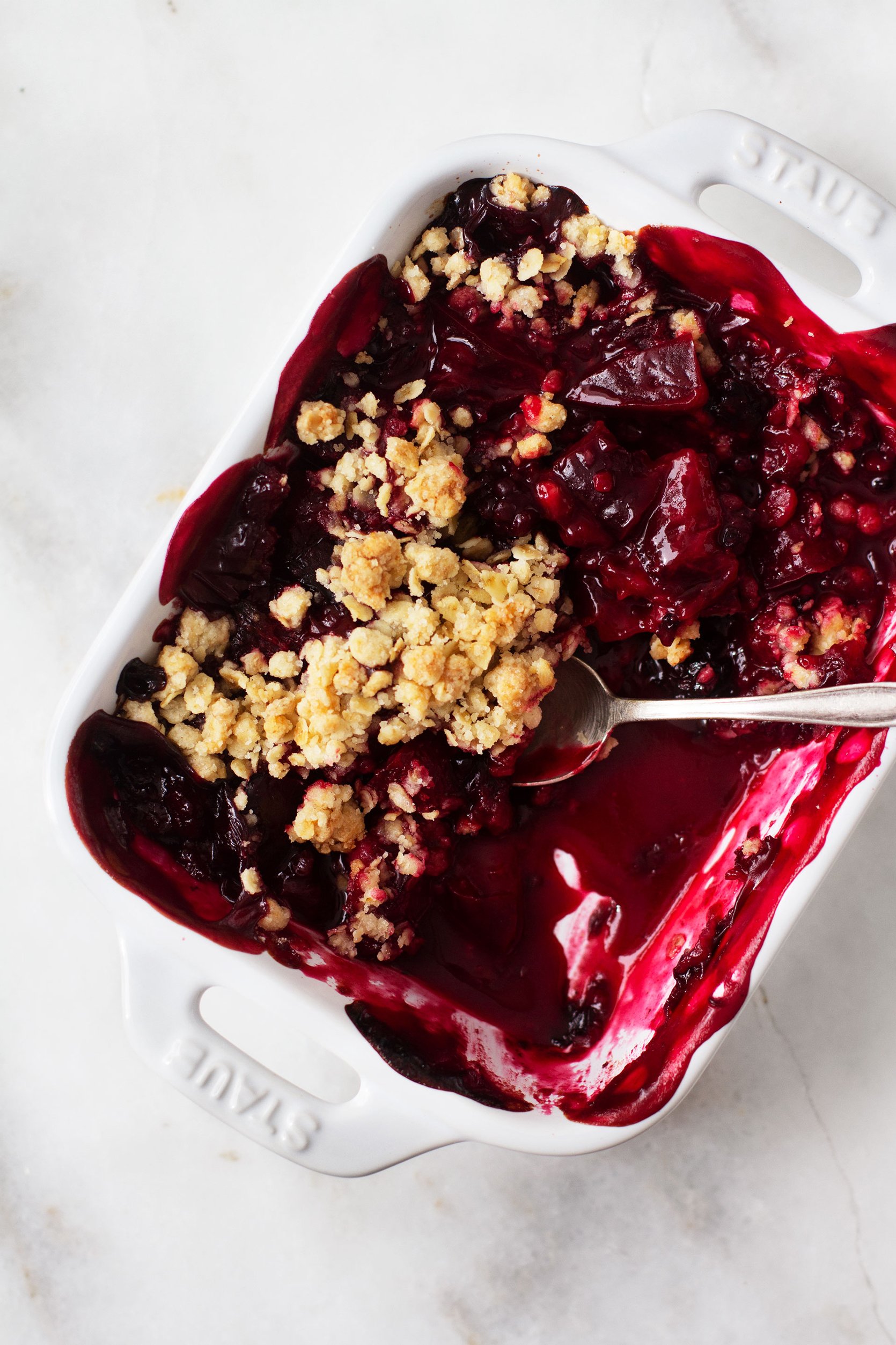 Vegan blackberry plum crisp ingredients
Flour
I used unbleached, all-purpose flour here, which is my go-to for most baking. If you follow a gluten-free diet, you can absolutely use a gluten-free, all purpose flour blend that you've tried and liked before (I like King Arthur's Measure for Measure flour). You could also add a little extra fiber and wholesomeness to the recipe by doing a 50/50 blend of all-purpose and whole wheat flour. Rye flour and spelt flour could be used in place of whole wheat, too.
Fat
I've made this recipe with both vegan butter and solid coconut oil for a fat source in the topping. They both work well! I love the flavor of vegan butter, and it's generally my preference for baking. But solid coconut oil is perfect for this recipe. It becomes solid when it's cold, so you can store it in the fridge prior to using it in the streusel topping.
Oats
I think that rolled oats (sometimes labeled as "old-fashioned oats") have the best texture for crisp toppings. You can use quick oats in a pinch, but they may get a little less crispy than rolled. I don't recommend steel cut oats for the recipe.
Fruits
Plums can be replaced with any stone fruit: peaches, apricots, cherries, or nectarines. The blackberries can be replaced with any other berry. I especially like peaches and raspberries together, so that's an excellent combination to try. In the fall and winter, you could replace all of the fruit with apples and/or pears.
Making a vegan crisp (aka the beauty of messy desserts)
The beauty of a crisp is the simplicity of making it. Simply toss your fruits together with the sugar and a couple tablespoons flour. Use a food processor to make the streusel topping (it's also fine to use a biscuit cutter or your hands—the best kitchen tool of all!). Pile the fruit into an oiled baking dish, top it with the streusel, and bake till brown and bubbly.
Crisps and crumbles and cobblers are usually pretty messy looking, but I think that's part of their beauty and appeal. The first time I made this recipe, the top was a little too brown and the fruit had nearly bubbled out of my baking dish. It was a total mess, and I wondered if I should remake it. I've made neater batches since, using a slightly bigger baking dish and adjusting oven time. But they've all been equally tasty.
It's hard to beat a summer dessert that's both this delicious and this low-key. The fact that crisps are packed enough with fruit and oats to be a pretty reasonable breakfast option is a nice perk. But I like this crisp best when it's topped with a scoop of vanilla ice cream. Or a big spoon of banana soft serve.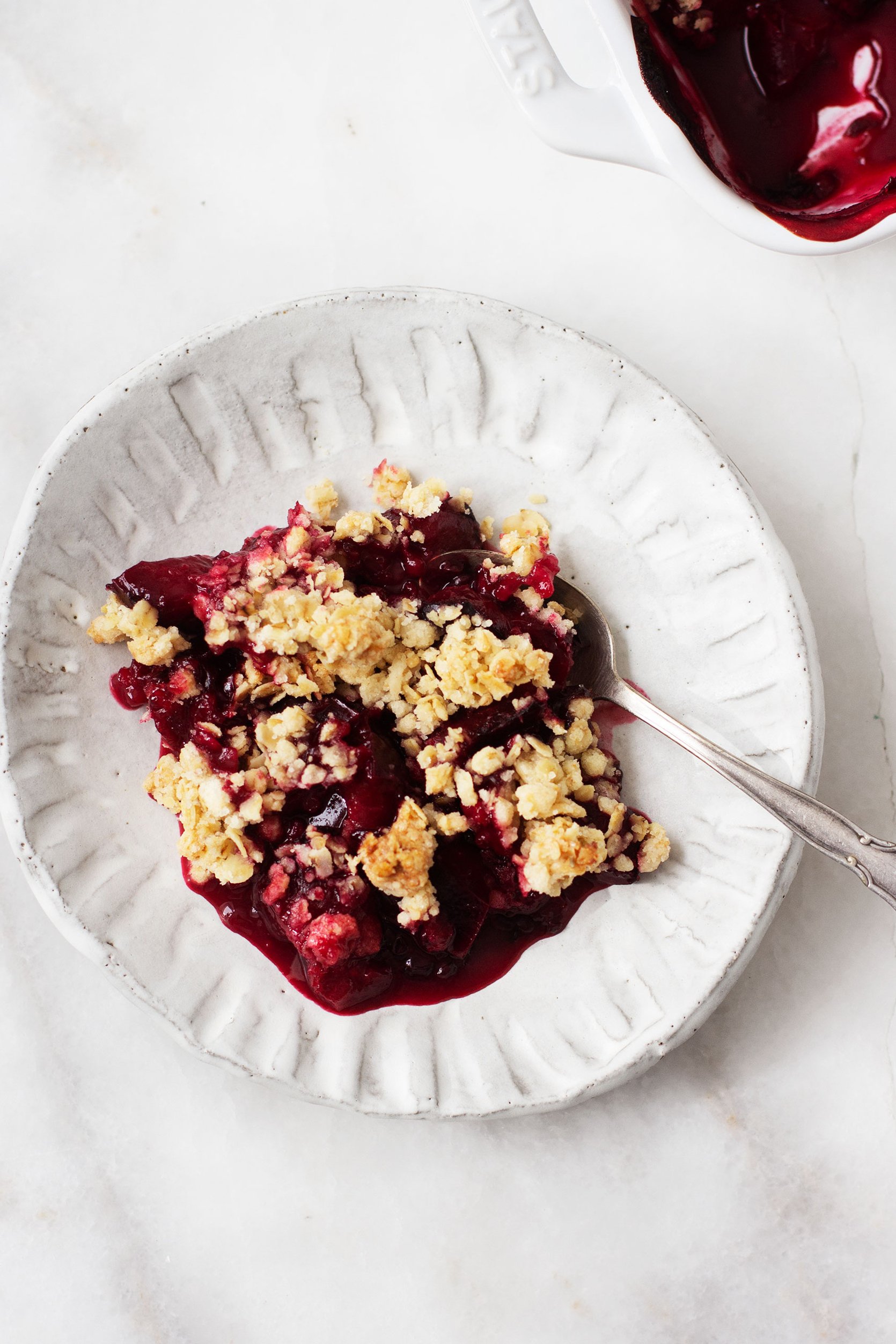 Vegan Blackberry Plum Crisp
Author -
1 1/2

pounds

sweet plums, pitted and cut into bite-sized pieces

1

heaping cup blackberries (about 1/2 pint)

1/3

cup

+ 3 tablespoons cane sugar

1

cup

+ 2 tablespoons unbleached, all purpose flour (or gluten free, all purpose flour)

1

cup

rolled oats

1/2

teaspoon

salt

1/2

teaspoon

ground cinnamon

8

tablespoons

vegan butter or solid coconut oil (refrigerated before use)

1-2

tablespoons

cold water
Preheat your oven to 350F. Lightly oil a deep, 9 inch pie dish or an 8 x 8 or 9 x 9 square baking dish. In a large mixing bowl, toss the plums and blackberries together with the 3 tablespoons sugar and the 2 tablespoons flour.

Place the 1/3 cup sugar, the 1 cup flour, oats, salt, and vegan butter or coconut oil together in a food processor. Add 1 tablespoon of the cold water. Pulse until the mixture has formed large crumbs. Add another tablespoon of water if it's too crumbly. When it's all crumbs, you're done. Alternately, you can mix the crumble topping together by rubbing it all together with your fingertips until it has that nice crumb consistency.

Place the plums and blackberries in the dish and distribute the crumb topping over them. Bake for 40-60 minutes, or until the filling is very bubbly and the top is browning. Allow the crisp to cool somewhat before serving, so that the filling isn't too runny. Leftovers will keep in an airtight container for up to four days.
Leftover crisp can be stored in an airtight container in the fridge for up to 4 days. It can be frozen for up to 6 weeks.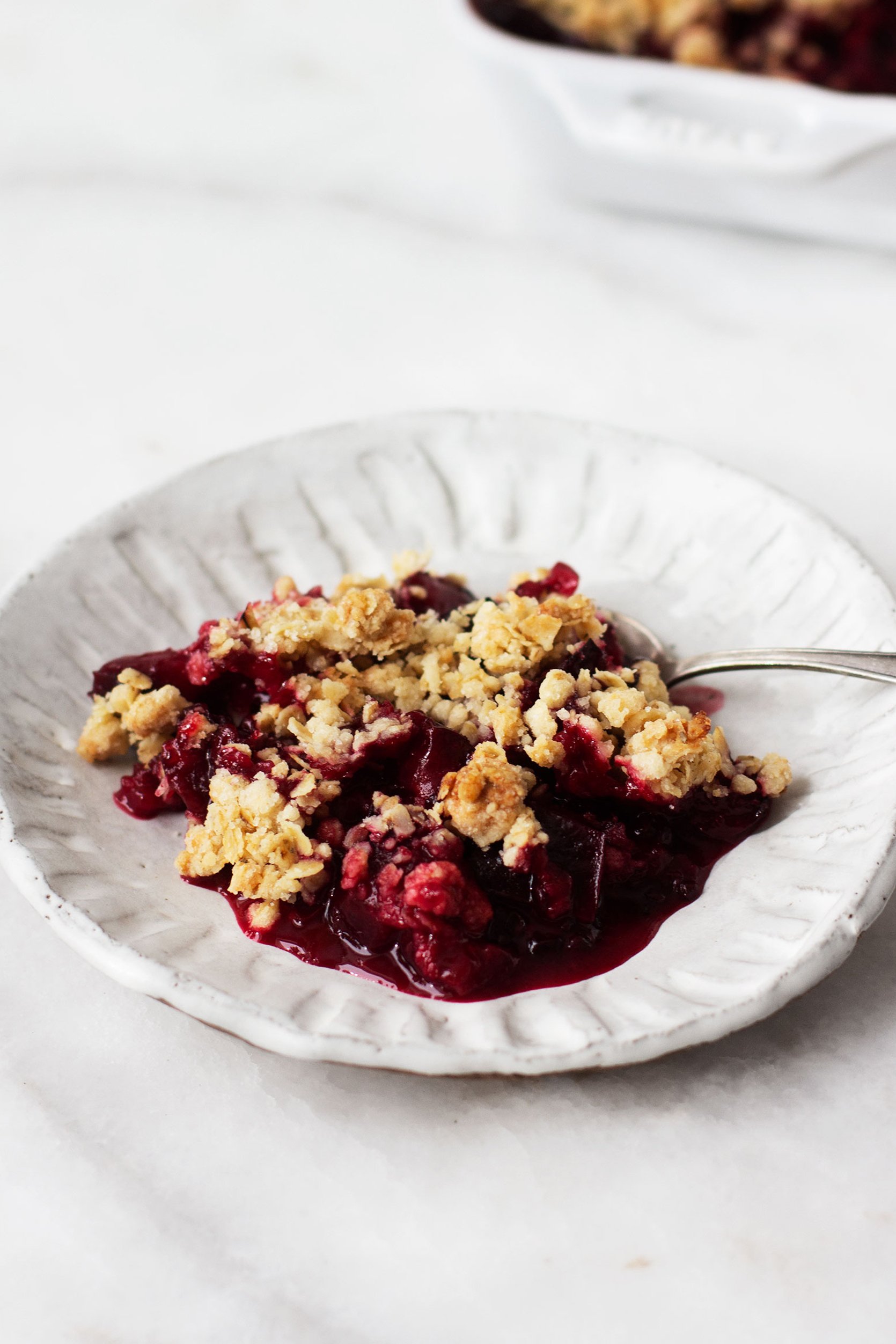 If you love plums already, then I'm reasonably sure you'll like this vibrantly colored, juicy vegan blackberry plum crisp. If you're more of a pie crust person, you can also try my vegan plum and spelt galette, which is another favorite of mine during plum season.
A new season
I'm making my way back to grad school (again!) this fall. This time, it's to begin my masters in nutrition science. My start date for classes is right around the corner. I'm excited, but I'm nervous, too. The last year has been such a gift, a chance to dive back into writing, blogging, and counseling with purpose and pleasure. It's hard to leave it behind. But I realize that the education I'm getting— more thorough understanding of nutrition science and how it works—is precious.
This fall, I'll have courses in nutritional ecology, nutritional biochemistry, and human development. I'll report back to you on what I'm learning from time to time. I also plan to share with you some of my strategies for meal prep and planning as a part-time student. This was something I really wanted to do more constructively during my post-bacc, but those years were so chaotic that I never really shared in a way that was helpful. I think I can do better now!
On that note, everyone, have a great night. And enjoy the beautifully messy crisp.
xo