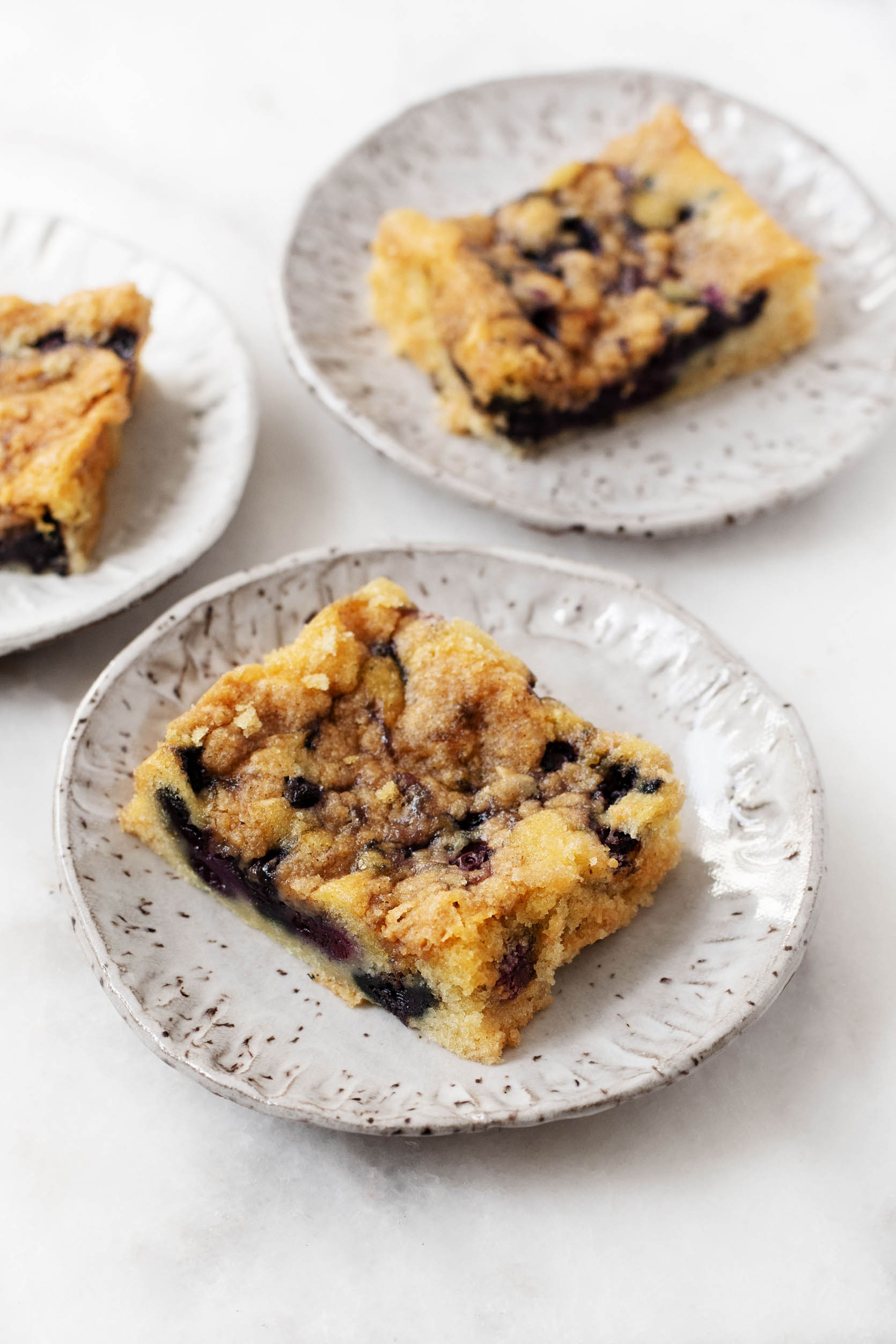 There are so many sweet ways to show off summer's bounty of fresh fruit. This vegan blueberry buckle is one of my favorite desserts for June and July, when blueberries are in season. It's also simple to make, easy to freeze, and a guaranteed crowd-pleaser.
Keep it simple: an ode to buckles
Tomorrow is July 4th weekend, and friends of mine are hosting a get together. They're wonderful cooks and hosts, and I wanted to bring them a seasonal dessert. I had very ambitious plans to make a slab pie, in spite of the fact that it would demand a lot of pastry rolling.
Life got in the way. After a few days of being low and run-down, I knew I had to change plans. This is something I've learned to do recently, adjusting my cooking plans to fit my life and my energy. In the end, switching plans was for the best, because this delicious vegan blueberry buckle was the result.
I got a copy of Cory Schreiber and Julie Richardson's Rustic Fruit Desserts earlier this year. It's a wonderful book, full of seasonal recipe tributes to iconic American fruit desserts. It's not vegan, but many of of the recipes can be veganized.
Schreiber describes a buckle as "cake batter poured in a single layer, with berries added to the batter…once baked, the cake has a 'buckled' appearance. Think of a buckle as halfway between a cake and a fruit crisp. Buckles are great for breakfast!"
I used Schreiber's expert guidance as I whipped up this my vegan blueberry buckle. Buckles are typically topped with some sort of streusel, or crumb, which means that they resemble cake and crisp at the same time. (Think coffee cake, but with an emphasis on the fruit.) They're the best of both worlds, and they're so easy to make.
Buckles vs grunts vs slumps…oh my
I've learned about a whole new world of dessert traditions as I make my way through Rustic Fruit Desserts. Until now, I thought that fruit dessert really meant pie or crisp. On the contrary, there are so many different ways to bake with fruit. Here are some of the inventions I've learned about, aside from buckles:
Cobblers
A baked fruit dessert that's topped with either a biscuit or a cake topping. I've made the biscuit version before, but cut in rounds (as in this peach cherry cobbler) and dolloped in a rustic style (this classic vegan cherry cobbler). I love cobbler.
Slumps/Grunts
The same idea as a cobbler, except that the dessert is cooked on the stovetop! In a cast iron skillet, usually, that's covered. The idea is that the biscuit (or dumpling) topping "slumps" into the fruit as it cooks. The "grunt" is the noise that this dessert supposedly makes as it cooks.
I've never tried a slump, but I love the bits of biscuit that get softened by fruity cooking liquid in a cobbler, so I'm excited to try!
Brown Betties
A baked, fruity concoction that's made with layers of sweetened, buttery bread crumbs. Yum! I've never made a brown betty, but it doesn't take much to sell me on the idea of a bread-based dessert.
Crisps & crumbles
It took me ages to figure out the difference between a crisp and a crumble. They're both baked fruit desserts with streusel toppings. The difference in names seems to be in part a question of local terminology. According to the King Arthur website, crisp is used more commonly in the US, crumble more commonly in the UK.
Other resources that I've found also indicate that crisps contain oats in the streusel topping, while crumbles don't. I'm more of a cobbler and buckle person than a crisp/crumble person, personally, but I love the latter for their ease. I especially love making vegan crisp with juicy apples and pears in the fall.
Vegan blueberry buckle tips
A few things to keep in mind while making your vegan blueberry buckle:
Fruit
You can use either fresh or frozen blueberries in the buckle! Using frozen ones will allow you to enjoy the dessert year-round, even if it's a treat to make it with fresh berries in summer. If you don't have blueberries, try raspberries or chopped strawberries instead.
Flour
I like unbleached, all-purpose flour best for this recipe. If you prefer to use some whole grain flour, you can use whole wheat pastry flour or white whole wheat flour. These are my favorites for incorporating some whole grain goodness while also achieving a light, tender texture in the cake portion of the buckle.
If you need to make the buckle gluten free, try using a gluten-free flour baking blend that you've used before and trust!
Prepping
Sometimes having a single component of a dessert ready ahead of time makes a big difference! You can make the streusel topping of the vegan blueberry buckle up to two days ahead of time. Store it in an airtight container in the fridge. And simply crumble it on top of the rest of the buckle when you're ready to bake.
Storing
Speaking of storage, store the buckle in an airtight container in the fridge for up to three days after making it. If you'd like to store it in its original baking dish for transporting to a gathering, you can do that, too! Alternately, you can freeze slices of the buckle for up to six weeks.
Reheating
The buckle can definitely be served cold, but I think it's especially nice when it's warm and topped with vanilla ice cream. Simply pop it in a 350F oven for 10-15 minutes to reheat.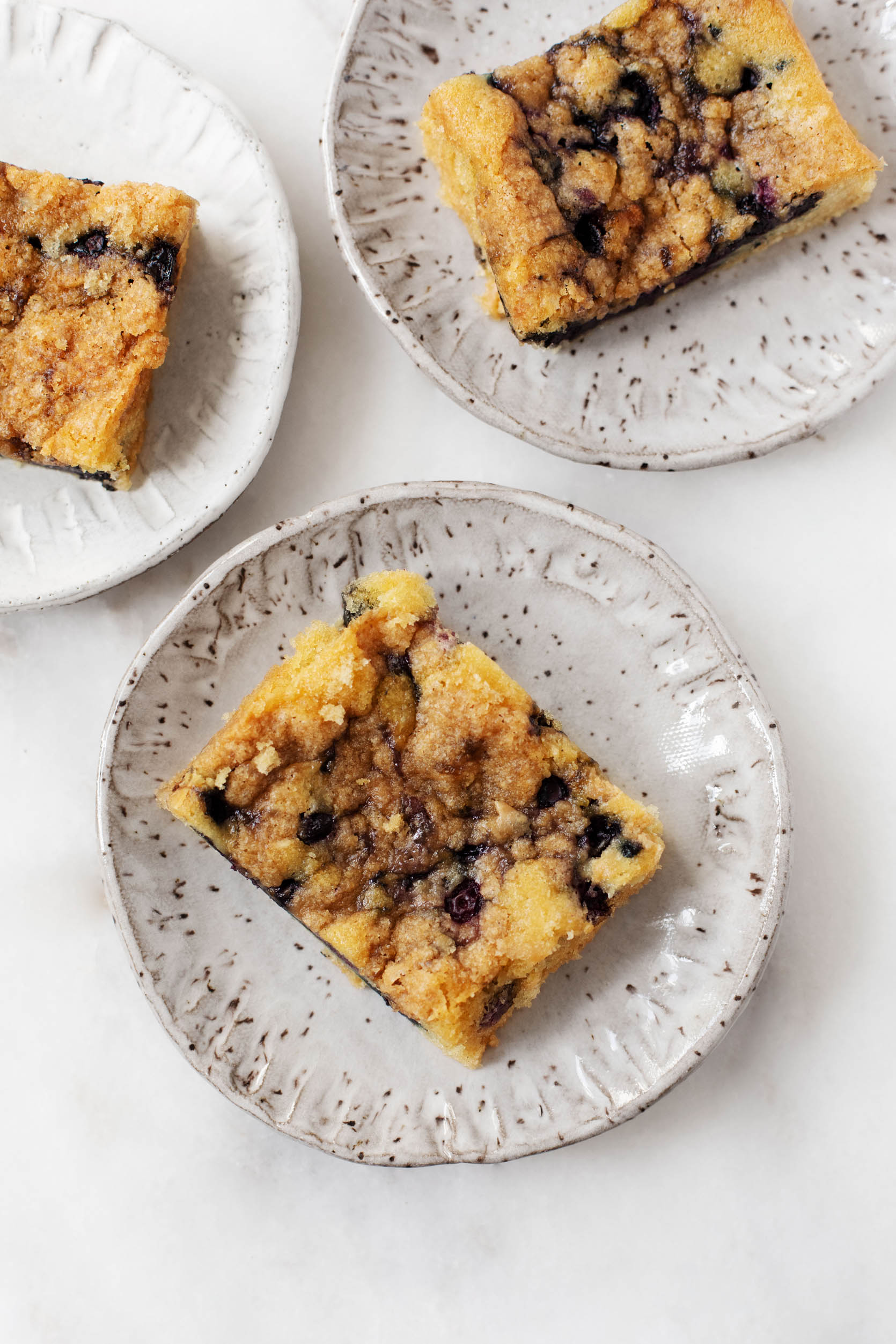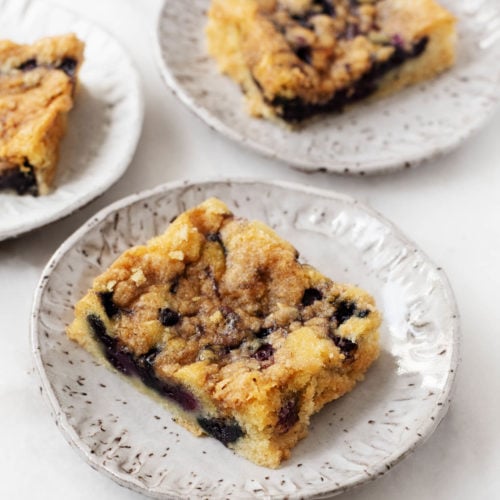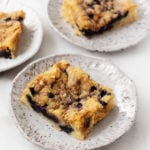 Vegan Blueberry Buckle
Author -
For the crumble topping:
1/2

cup

(60 g) unbleached, all-purpose flour

1/3

cup

(71 g) light or dark brown sugar

1/8

teaspoon

fine salt

1/2

teaspoon

cinnamon

4

tablespoons

(56 g) cold vegan butter, cut into pieces
For the buckle:
1 1/2

cups

(180 g) unbleached, all-purpose flour

3/4

cup

(145 g) cane sugar

1

teaspoon

baking powder

1/2

teaspoon

baking soda

1/2

teaspoon

fine salt

1

tablespoon

lemon zest

3/4

cup

(177 mL) non-dairy milk

1

teaspoon

apple cider vinegar

1/3

cup

(79 mL) neutral-tasting vegetable oil (such grapeseed, safflower, or canola)

2

teaspoons

vanilla extract

2

cups

(10 oz, or 283 g) blueberries
Preheat the oven to 375F. Grease and flour an 8 x 8 or 9 x 9 inch square baking pan.

To make the crumble topping, mix the flour, sugar, salt, and cinnamon in a mixing bowl. Add the butter. Use a pastry cutter or your hands to incorporate the butter into the flour, until the butter is the size of peas. Place the topping in the fridge while you make the cake.

To make the cake, whisk together the flour, sugar, baking powder, baking soda, salt, and lemon zest in a large mixing bowl. In another bowl, whisk together the non-dairy milk and vinegar. Stir in the oil and vanilla. Add these wet ingredients to the dry ingredients and stir until they're just combined.

Pour the batter into the prepared baking pan. Distribute the blueberries on top of the batter, then sprinkle the crumble topping over the blueberries. Transfer to the oven and bake for 40-45 minutes, or until the cake is golden and the crumble topping is browning. Allow the cake to cool for at least 1 hour in the pan before cutting and serving.
Inspired by Cory Schreiber and Julie Richardson's Rustic Fruit Desserts.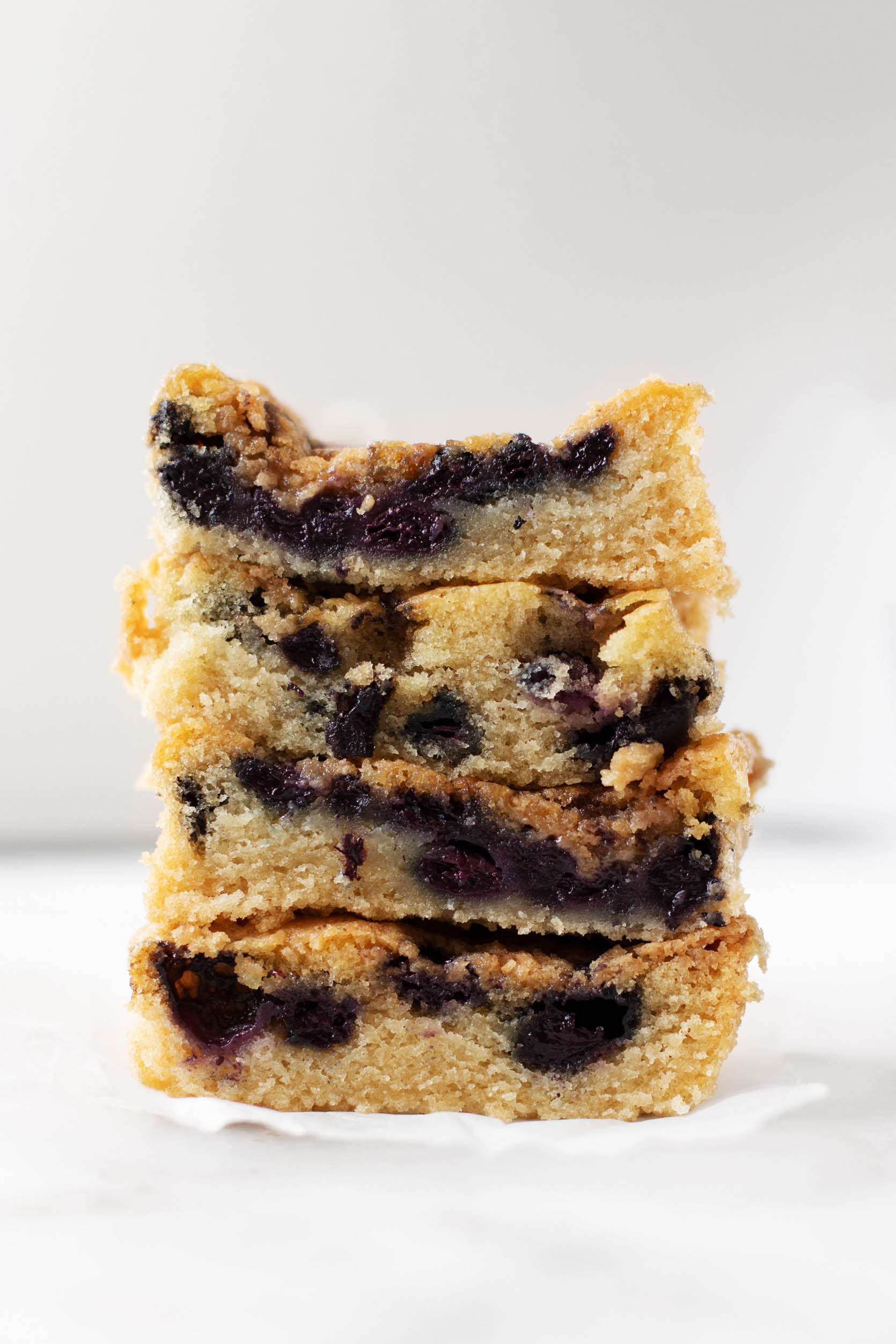 I haven't tried my vegan blueberry buckle for breakfast yet, per Schreiber's invitation! But it's not a bad idea at all. As I said, this isn't a very big departure from coffee cake, which is another thing that I love to make with summer fruit.
If you want to make this an à la mode dessert, but you don't have any vegan ice cream at home, you can try serving it with a nice big scoop of my vegan cashew whipped cream. It's a topping that you can whip up easily if you have some raw cashews at home!
There will be plenty of opportunity to make pie this summer, but for now, I'm so happy to have a delightful vegan buckle on my hands. Enjoy, and long weekend to you all. Later this week, a new (savory) breakfast recipe that I'm super excited about.
xo