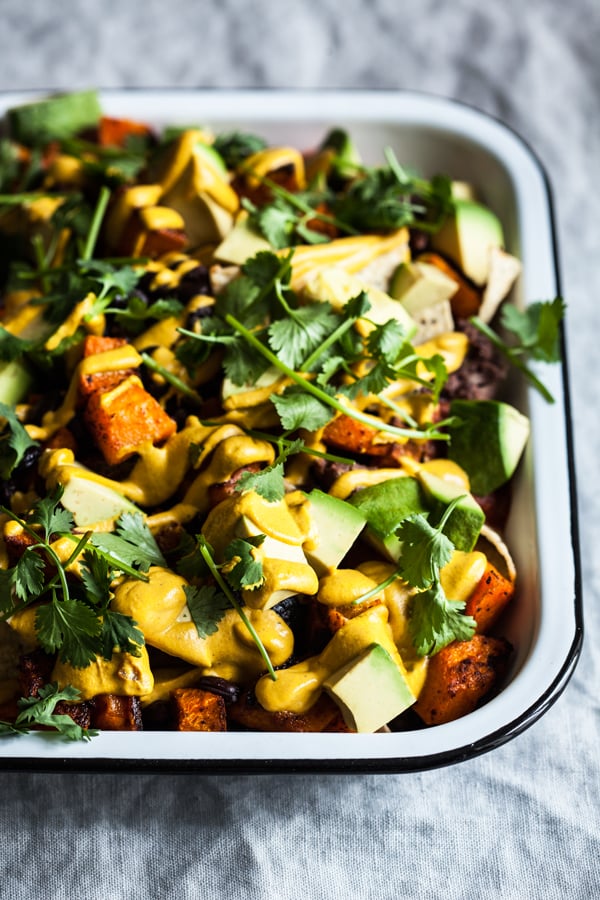 I've never been a big football person, but I've always been close to or lived with someone who was. I was a reluctant spectator for a while, but I've come to look forward to Superbowl Sunday each year, even if I don't have a stake in the game. If nothing else, it's an opportunity to gather and whip up food that's snack-worthy and crowd-pleasing. This year, I'm planning to share a tray of hearty vegan butternut black bean nachos.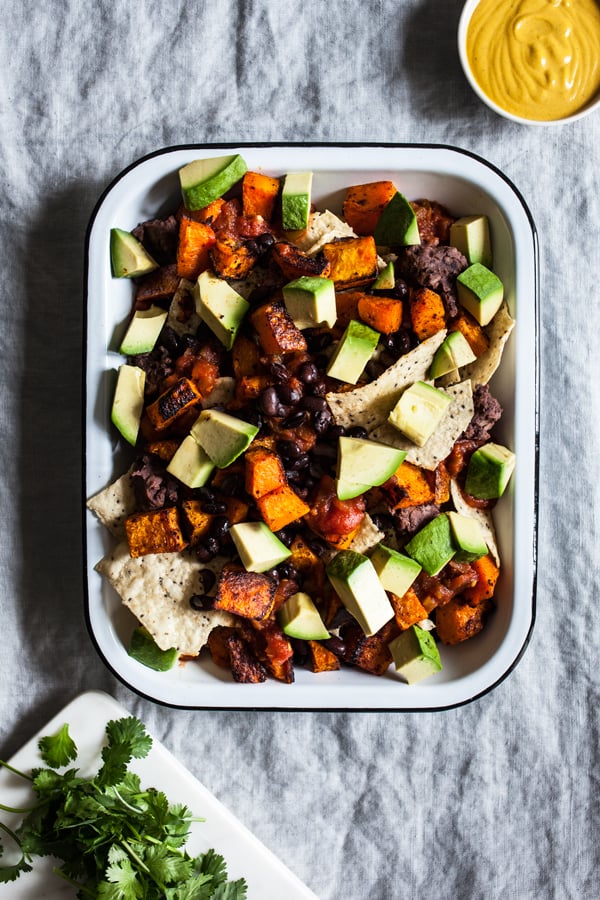 I've seen a lot of nacho recipes that use sweet potatoes or another vegetable as the base–in other words, as a replacement for the chips. I love the idea of adding lots of veggies to traditional nachos, but I have to admit that I'd be sad to lose the chips. For me, their crunch is part of what makes the dish so great. A while ago I thought that it might be a nice compromise to create nachos that featured a vegetable prominently, but alongside the chips, rather than in their stead.
Butternut squash was a perfect choice. It's substantial enough to hold its own in the dish, in spite of lots of competing textures and toppings. Its sweetness is a nice contrast to tart, spicy salsa and earthy refried black beans. And its a great vehicle for a spice rub prior to roasting. Best of all, if you set some squash aside before you roast the rest, you can use it to make a velvety butternut cashew queso sauce.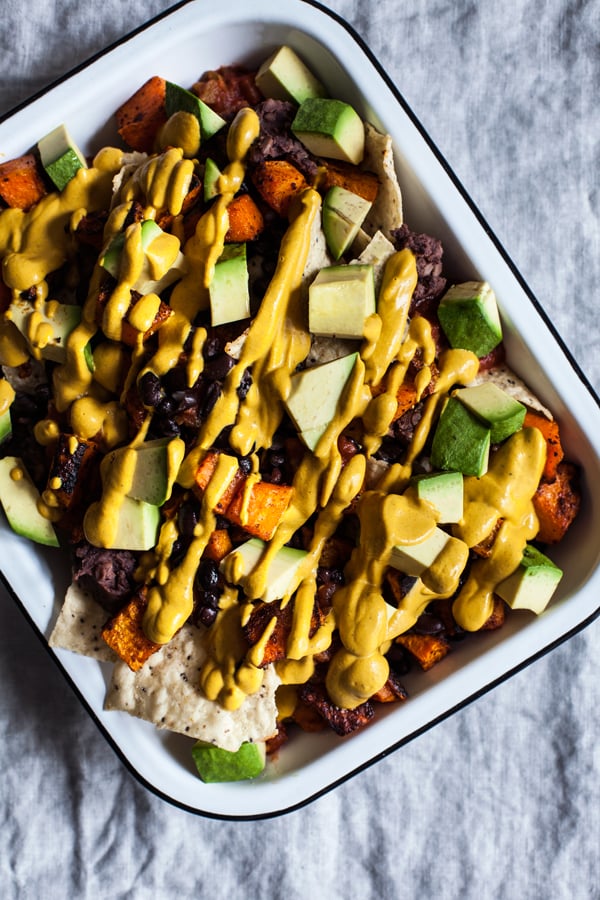 The queso is based on my truly amazing cashew queso sauce, but I think that the addition of squash makes it both richer and a little sweeter. It's less traditional than the other version, but for this dish, it really works, and I think it would be an incredible dip or topping for roasted broccoli, a Tex Mex grain bowl, or twice baked potatoes.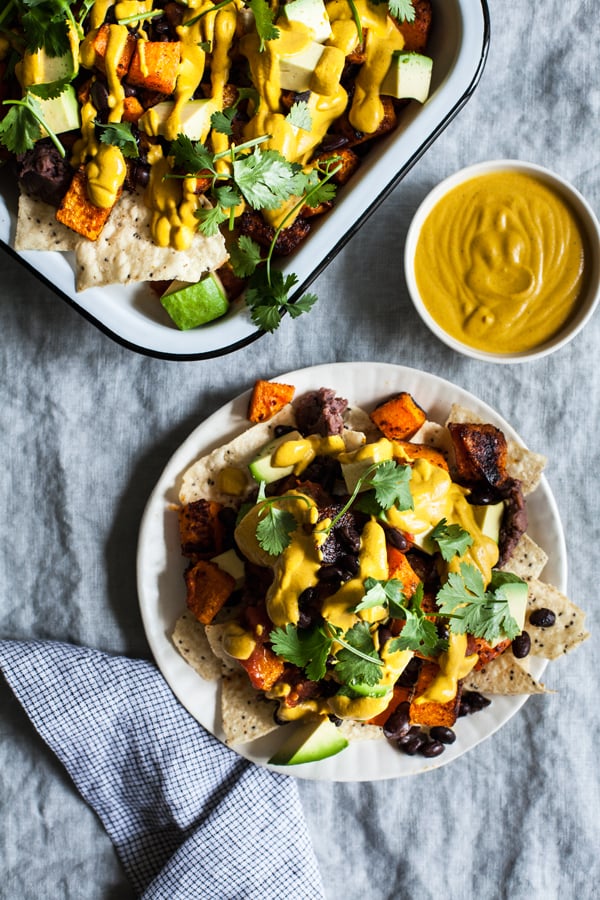 These nachos, like most nachos, are super flexible. I added the toppings that Steven and I like best: avocado, vegan queso, salsa, and plenty of cilantro at the end, for freshness. This time I also tried adding both refried black beans, which are my standby in nacho dishes, as well as cooked black beans, mostly because I had some in the fridge. I liked the contrast of textures and was happy to pack more legumes into the dish. If you make them, feel free to play with the toppings. You can also sub sweet potato for butternut squash (in both the dish and the sauce), or kidney/pinto beans for black beans.
To make the recipe, I used what seemed like an average, medium-sized butternut squash. It was about 2 lbs before peeling and seeding, and about 1 3/4 lbs after. That gave me about 1 1/2 lbs for roasting, another 4 ounces for the sauce. If you have a heaping cup of squash for the sauce and 4-6 cups for roasting, you'll be in good shape — and if you have a little less because your squash was on the smaller side, that's fine, too. You can add more of the other toppings instead.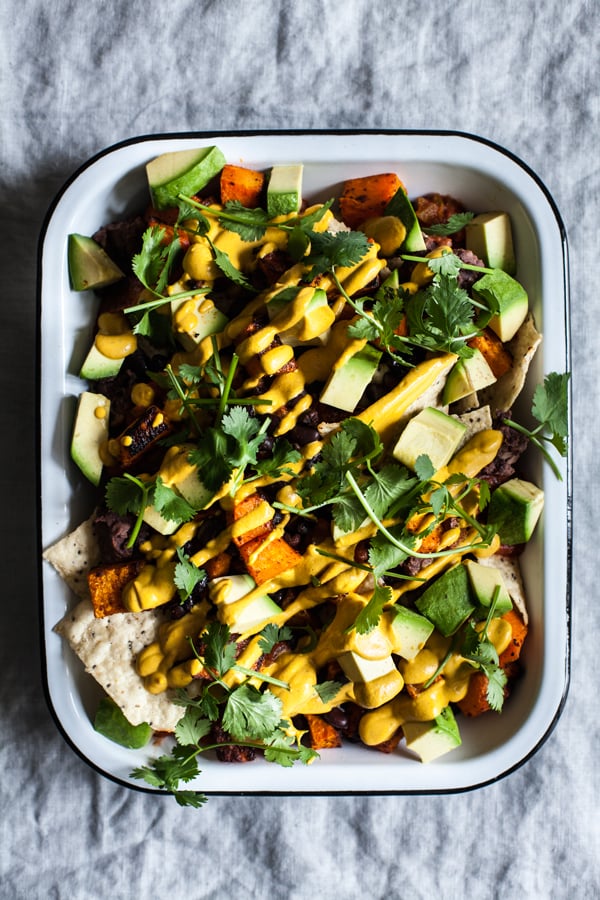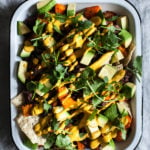 Vegan Butternut Black Bean Nachos
Author -
For the nachos:
1 1/2

lbs

peeled and cubed butternut squash

about 5-6 cups

2

tablespoons

vegetable oil

such as avocado or grapeseed

1

teaspoon

chili powder

1

teaspoon

ground cumin

1/2

teaspoon

smoked paprika

Dash cayenne pepper

4-6

ounces

tortilla chips

enough to pile on a big platter; be sure your chips are certified GF for a gluten-free version

1

cup

vegan refried black beans

for a homemade option, check out this recipe; you can also use a store-bought vegan option, such as Amy's Organic or the 365 brand from Whole Foods

2/3

cooked black beans

1/2 can, drained and rinsed

1

large Hass avocado

pitted and chopped

1

cup

chunky salsa of choice

1

batch vegan butternut queso

below (you can also substitute your favorite vegan melty cheese)

Optional additions: Chopped cilantro

chopped onion, lime wedges, pickled jalapeno peppers, guacamole, lime wedges
For the butternut queso:
1

heaping cup peeled and cubed butternut squash

1/2

cup

about 2.5 ounces raw cashews, soaked for at least 2 hours and drained

3

tablespoons

lemon juice

1/2

cup

water

1/4

cup

nutritional yeast

2

teaspoons

chili powder

1/2

teaspoon

turmeric

1/4

teaspoon

smoked paprika

1/2

teaspoon

salt

more to taste

Black pepper to taste
Preheat your oven to 400F. Toss the 1 1/2 lbs squash with the oil, chili powder, cumin, smoked paprika, and a dash of cayenne pepper (a generous dash, if you love heat). Place the squash on a lined baking sheet. Roast for 35-40 minutes, or until the squash is gently caramelized.

While the squash roasts, make the butternut queso. Steam the reserved heaping cup of squash till tender (10-15 minutes). Place the squash, cashews, lemon, water, nutritional yeast, chili, turmeric, smoked paprika, salt, and pepper in a blender or a food process and blend till smooth. Taste the queso and adjust salt as needed, and/or add a tablespoon or two of water if it's too thick for your liking.

To prepare the nachos, spread half of your tortilla chips onto a big platter. Top with about half of the refried beans, black beans, roasted butternut squash, avocado, salsa, and queso sauce. Pile the remaining tortilla chips on top and repeat with the remaining toppings and as much additional queso as you like. Top the dish with chopped cilantro and/or any other additions you love. Serve!
The squash can be roasted up to two days in advance of making the nachos. The butternut queso can be prepared up to three days in advance. It makes about 2 cups and will keep for up to 5 days in an airtight container in the fridge.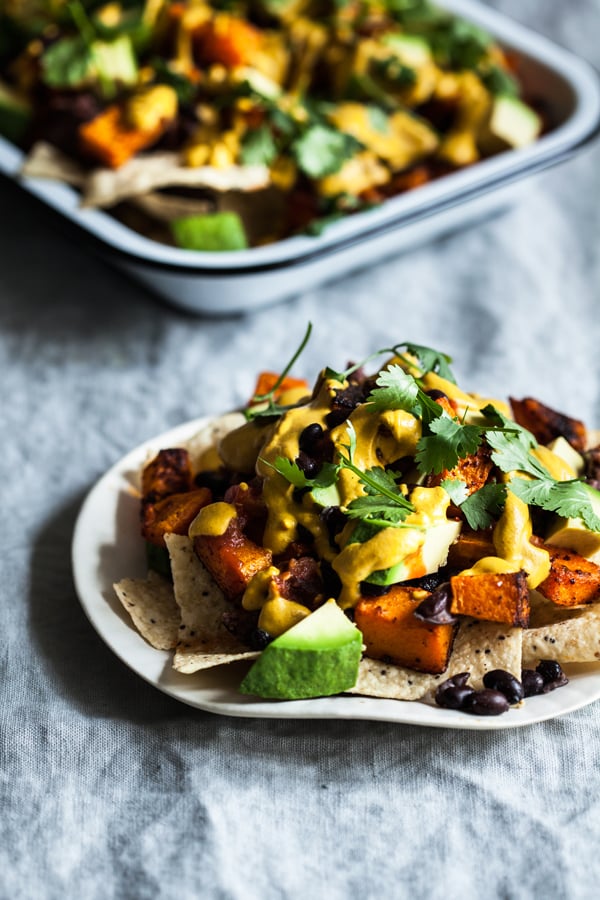 There are plenty of ways to prep the dish in advance or make it easier if you're short on time. You can roast the squash and make the sauce a few days before you assemble the nachos, so that all you have to do when friends come over is pile and layer. If you don't feel like whipping out the blender, you can also roast all of the squash and use your favorite vegan shredded cheese in place of the queso. Even peeling and cubing the squash ahead of time is a good way to cut down on the prep work.
Whether you create this dish for Superbowl viewing this weekend or simply to share with friends and family sometime soon, I hope you'll enjoy all the layers of texture and taste. And maybe the queso will become a new staple sauce. I'm happy to have a nacho recipe in the rotation that features so many nutrient-dense ingredients in one place!
I'll see you on Sunday for the weekend reading roundup. Till then, be well.
xo