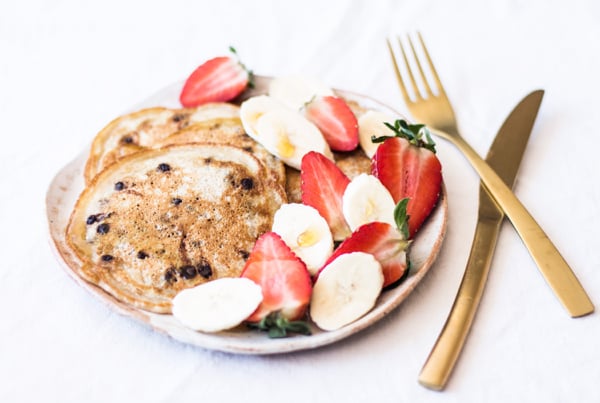 The last time I shared a pancake recipe, it was the easy vegan whole grain pancakes that I prepared for my Mom during our staycation. That was quite a while ago, and I realize that I'm overdue for a delicious vegan breakfast recipe. These vegan carob chip pancakes are easy, tasty, and the addition of carob chips gives them a sweetness and decadence that's fitting for a fancy brunch or special occasion.
I'm not sure if I've mentioned it before, but I'm a huge carob fan. I don't seek it out as a chocolate substitute, per se; I love chocolate, and I get no shortage of it. But in spite of the fact that carob tastes like chocolate, I think it has a particular sweetness and flavor of its own, and it's a flavor I really like. (Plus, it's got trace amounts of calcium, which I think is pretty cool.)
This was my first time making carob chip pancakes (or chocolate chip pancakes, for that matter), and used a simple vegan pancake "template"–one I've used to make pancakes for a long time–adding carob chips at the end. It's nice when we know the proportions of a certain kind of food (pancakes, soup, scramble, whatever) so well that the recipe resides in our memory. That's how I judged proportions on this one.
The kitchen smelled heavenly–as only kitchens in which pancakes are being prepared will–and by the time I'd finished up the batter, I was ravenous! If you make these for friends or loved ones as part of a brunch, I definitely recommend cooking and flipping them after your guests arrive. The breakfast aromas are pretty irresistable, and anticipation makes the pancakes all the more enjoyable.
Vegan Carob Chip Pancakes
Cuisine:
vegan, gluten free optional, soy free optional, nut free
Author:
Prep time:
Cook time:
Total time:
2 tablespoons ground flax seed
1 teaspoon apple cider vinegar or lemon juice
1 1/2 cups soy or almond milk
1 1/2 cups all purpose, whole wheat pastry, light spelt, or gluten-free all purpose flour
2 teaspoons baking powder
2 tablespoons organic sugar (such as cane sugar, Sucanat, or coconut sugar)
1/4 teaspoon salt
2 tablespoons vegetable oil (such as canola, safflower, sunflower, or melted coconut), plus extra for cooking the pancakes
1 teaspoon vanilla extract
1/2 cup vegan carob chips (or dark chocolate chips)
[i]Toppings[/i]: Fresh fruit, maple syrup, Earth Balance, chopped walnuts, etc.
Heat a griddle or griddle pan over medium low heat. Mix the ground flax seed with 6 tablespoons warm water. Set it aside and allow it to thicken up.
In a medium sized mixing bowl, whisk together the vinegar and non-dairy milk (it's good to do this vigorously, so that the mixture becomes a little frothy).
Mix the flour, baking powder, sugar, and salt together in a large mixing bowl and then create a well in the center of the mixed, dry ingredients.
Meanwhile, combine the flax "eggs," the vinegar/non-dairy milk mixture, the vegetable oil, and the vanilla extract. Add the wet ingredients to the dry ingredients. Use a spatula or whisk to mix the ingredients until they form a smooth batter. Gently fold in the carob chips.
Lightly coat the warm griddle with oil (you can also use olive or coconut oil spray). Use a 1/3 cup measure to drop the pancake batter onto the griddle (1/3 cup or so of batter per pancake). When you see bubbles form on top of each pancake (about 2 minutes), and the edges of the pancake can be lifted easily with a spatula, flip the pancake over and finish cooking the other side (another 1-2 minutes). Repeat with all remaining batter, fitting as many pancakes as you can onto the griddle without crowding them.
Top pancakes with fresh fruit, maple syrup, Earth Balance, or any other toppings of choice!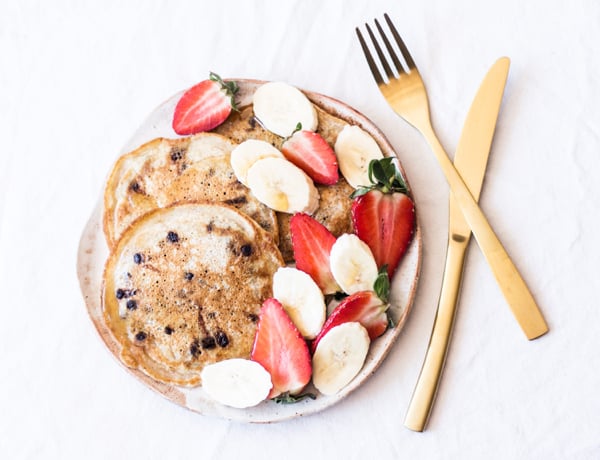 Of course, you don't have to use carob chips in the recipe. You can use vegan chocolate chips instead, or you can use berries, chopped nuts, or another mix-in of choice. If you haven't tried carob, though, it's really worth giving it a try. And this brunch recipe is an excellent place to start 🙂
See you on the morrow!
xo
Photographs courtesy of Lighter.