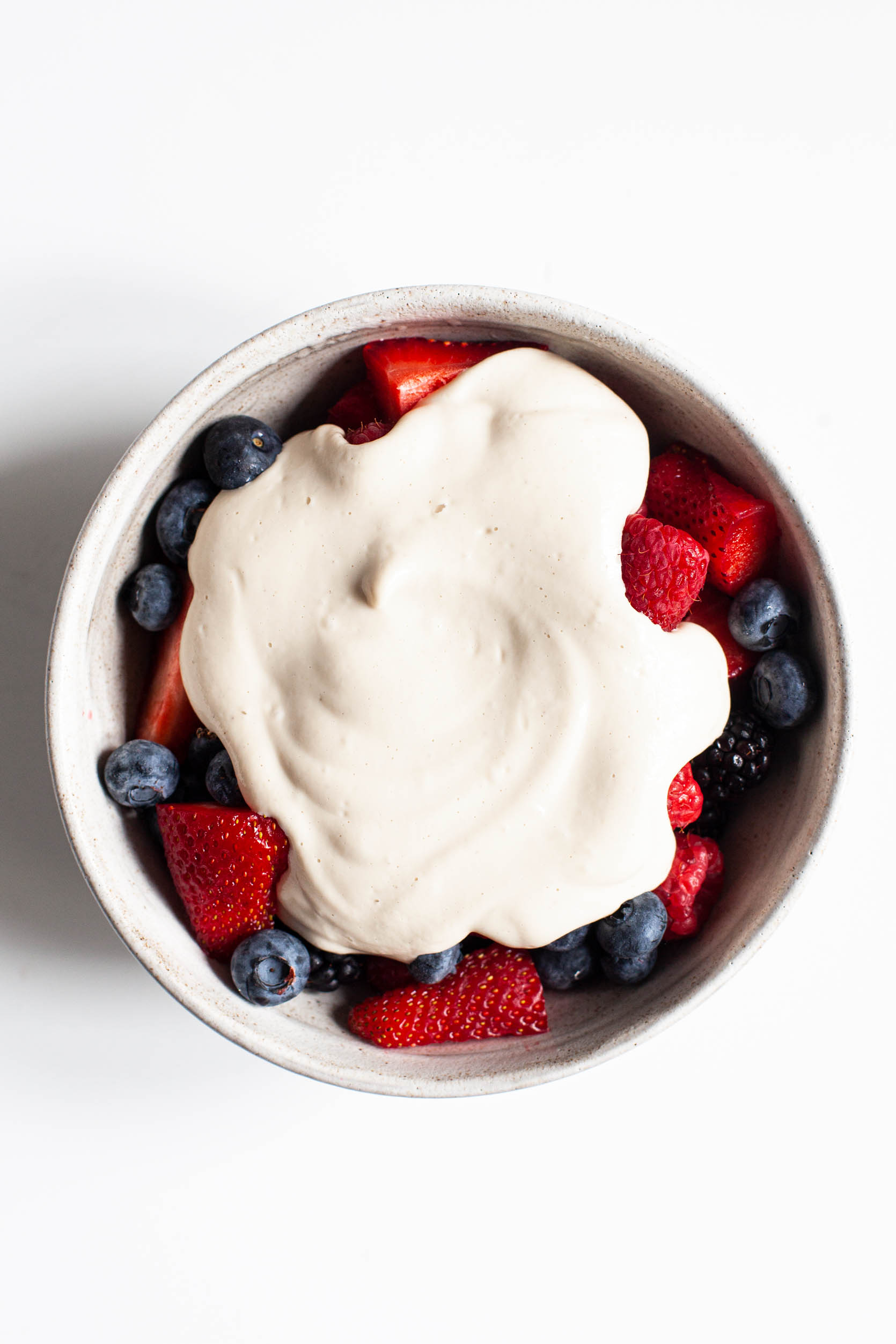 Of all of the many ways to create creamy textures without dairy in vegan cooking, I'll always be partial to cashews. Blended up, they add decadent, creamy mouthfeel to dishes along with healthful, mostly unsaturated fats. I love how their mild, slightly sweet flavor can work in both savory and sweet recipes. This raw, vegan cashew whipped cream is one of my all time favorite ways to show off what cashews can do.
Before I get into the details of the recipe, I should disclaim that this whipped cream is a particular type of whipped cream. The consistency is thick, similar to yogurt or Crème Fraîche rather than light, fluffy (Cool Whip style) whipped cream. This means that a small amount of it goes a long way if you only need some garnish. But it also means that the whipped cream can be almost a treat unto itself. As you can see, I think that spooning some of it over sweet, ripe berries is a perfectly satisfying, wholesome dessert.
For those of you who are fans of my all-purpose cashew cream, you'll see that this recipe is very similar. And it, too, is a template. Feel free to add a pinch of cocoa powder, cinnamon, lemon zest, espresso powder, or any of your other favorite mix-ins to make it shine!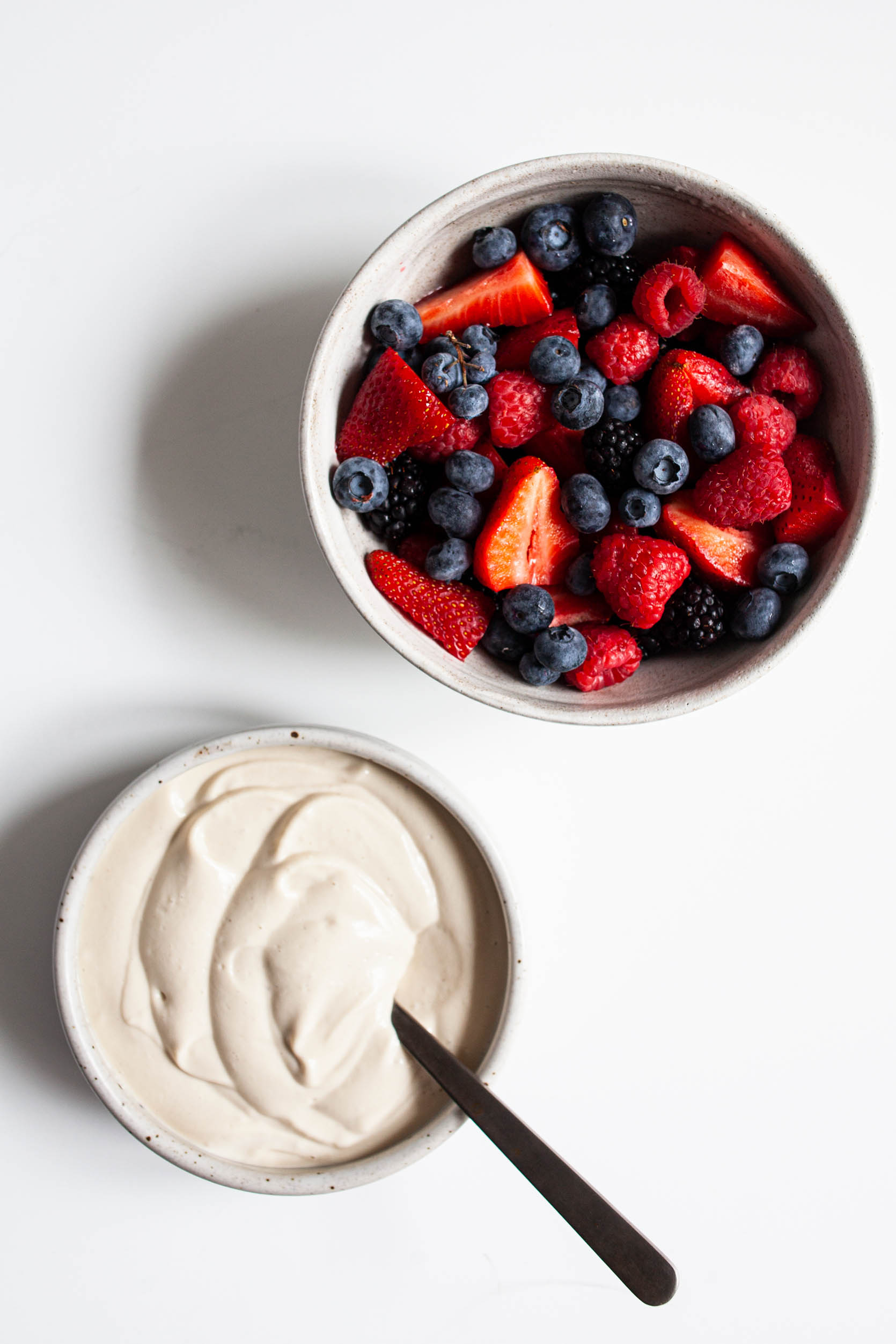 Cashew whipped cream ingredients
Cashews
As with my all-purpose cashew cream and my go-to cashew cheese, I like to use raw, unseasoned cashews for this recipe. I've used roasted and unsalted cashews in a pinch, though I think that the whipped cream tastes sweeter and lighter with raw nuts. I don't recommended salted or seasoned cashews, as they'll make the whipped cream too salty!
The cashews should be soaked before blending. If you use room temperature water, you can soak them for a minimum of two hours or up to overnight. If soaking for a long time, you can put the cashews in the fridge; otherwise, you can leave them at room temperature. If you need to speed the process up, you can soak the cashews in boiling water for only an hour. No matter what, be sure to drain your cashews before proceeding with the recipe.
Maple Syrup
I tend to use maple syrup as a liquid sweetener here, but agave syrup, brown rice syrup, and date syrup all work well.
Vanilla
For wonderfully intense vanilla flavor, the seeds of half of a vanilla bean are a wonderful addition to the recipe. A teaspoon of vanilla bean paste or powder will also work. Most of the time, I use vanilla bean extract. All of these products tend to be on the pricey side, but extract is usually the least expensive.
How to make raw, vegan cashew whipped cream
The process of making the whipped cream is simple! Ddd all ingredients to a high-speed blender (like a VitaMix or BlendTec) and blend till absolutely smooth, about 3 minutes. If you don't have a high speed blender, a food processor will also work, though the resulting whipped cream will be a bit grainier and less silky than the blended version.
Storing cashew whipped cream
I've been asked a few times if this whipped cream can be frozen, and the answer is yes! I often freeze cashew whipped cream, cashew cheese, and cashew cream. You can do this in plastic or silicone bags. You can also use mason jars, though it's important to remember that liquids expand as they freeze, so glass can break in the freezer if it's been filled too much. I always leave a full inch at the top of a mason jar when I freeze sauces or liquids in them in order to prevent any accidents.
If you don't plan to freeze the whipped cream, it's fine to store it in an airtight container in the fridge for up to five days.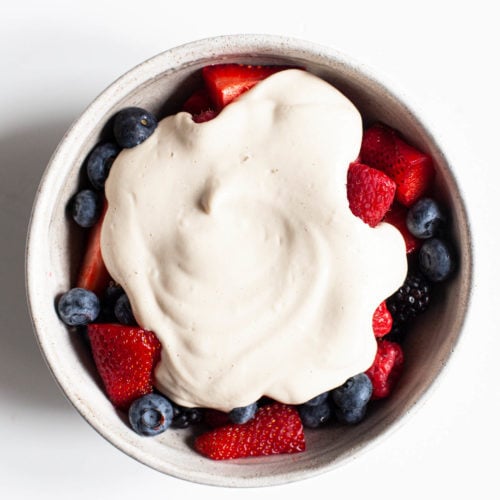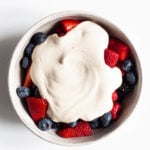 Raw Vegan Cashew Whipped Cream
Author -
1 1/3

cups

raw cashews, soaked for at least 2 hours and drained/rinsed

1/2

cup

water

3

tablespoons

maple or raw agave syrup

1

teaspoon

vanilla extract (substitute vanilla powder or paste)

pinch of salt
Add all ingredients to a high speed blender and blend until absolutely smooth. Serve.
Leftovers can be stored in an airtight container in the fridge for up to 5 days. They can be frozen for up to 6 weeks.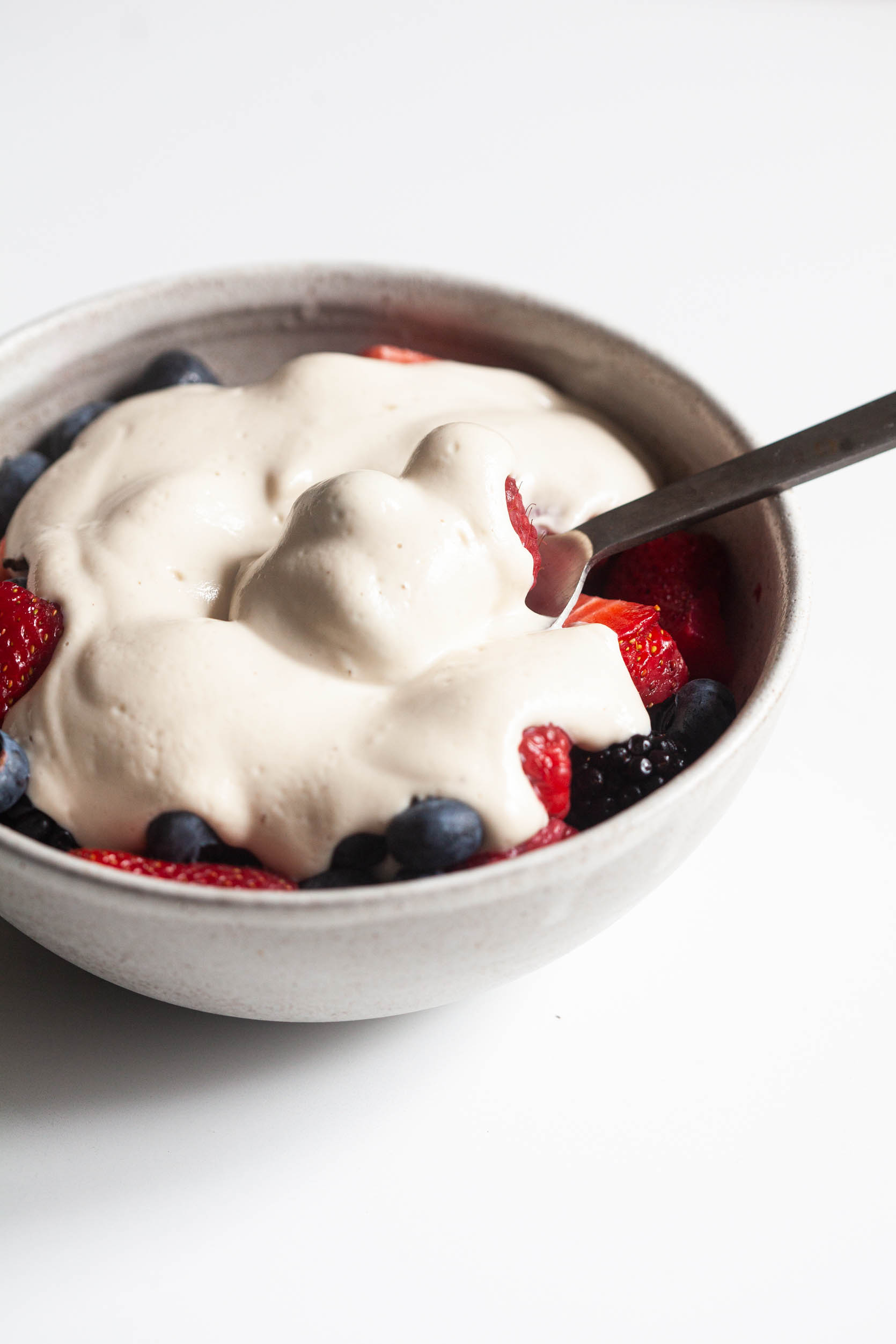 You can use the whipped cream in so many ways. Some of the recipes that I've enjoyed it with are my super summery blueberry buckle, my plum and blackberry crisp, peach and blackberry skillet cake, plum galette, and even my stone fruit baked oatmeal! It's pretty fun to fold it into banana soft serve, too 🙂
No matter how you serve it, I hope you can enjoy this simple, adaptable, dairy-free treat often!
xo
Photos and recipe instructions updated in June of 2020.