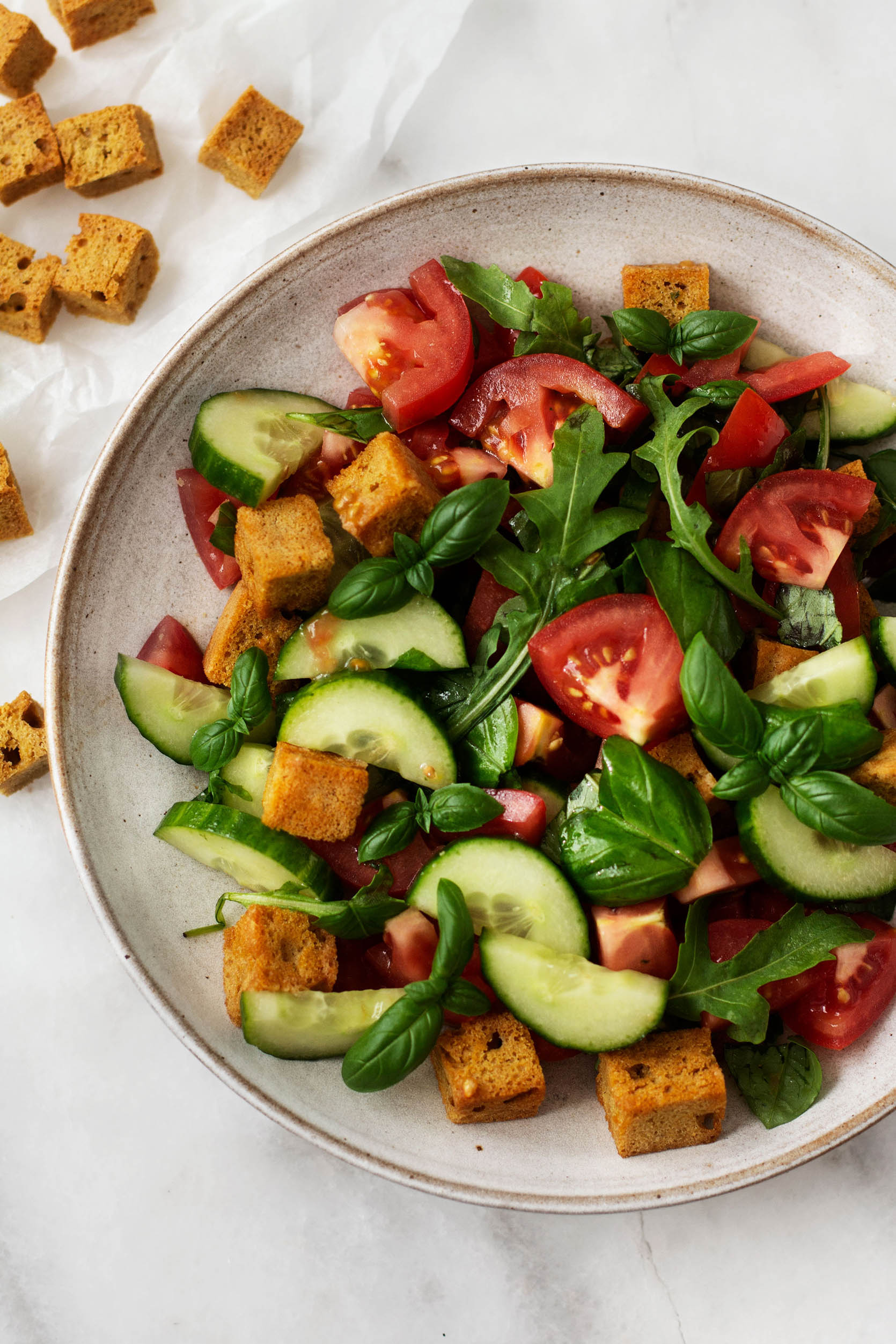 When I shared my go-to vegan cornbread recipe earlier this week, I noted that I usually serve it with something a soup or stew. This week, I tried something new. I toasted it and tossed it into a colorful vegan cornbread panzanella. I'm so glad that I did!
The idea for the salad began when I bookmarked this cornbread panzanella from Food52. It seems like ages ago that I did this. I was waiting both to have cornbread on hand and also for summer to arrive, so that I could prepare the salad with juicy, ripe tomatoes. Finally, it happened. The panzanella was everything I wanted it to be: fresh, filling, and quintessentially summery.
Using Cornbread in Vegan Panzanella
Do you have to use cornbread in this vegan cornbread panzanella? Of course not. A good, crusty whole wheat sourdough loaf, toasted spelt bread, or whatever you have will work just fine in a pinch.
But using cornbread in place of regular, whole grain bread—which is what I've always added to panzanella—does add something special. It's heartier and more filling than regular bread, and it brings just a touch of sweetness to the salad. When you toast the cornbread cubes, they become crispy at the edges but remain super tender in the center, which makes them a perfect vehicle for soaking up all of the delicious tomato juices and dressing without losing their shape.
Vegan Cornbread Panzanella Ingredients
Aside from the cornbread, the recipe calls for tomatoes, basil, cucumber. The dressing is a simple shallot and red wine vinaigrette. I've used regular (Jersey or beefsteak) tomatoes and heirloom tomatoes in the salad. Heirloom tomatoes will add a variety of color and deep sweetness. But any ripe, in season tomato ought to be juicy and flavorful.
As I was putting the recipe together, I thought of all sorts of other ingredients I could add—pickled onions, roasted corn, etc. etc.—but in the end, my tomatoes and cucumbers were so fresh and perfect that I didn't want to crowd them. It was the right call. The tomatoes and the cornbread are what shine in this recipe, and that's as it should be.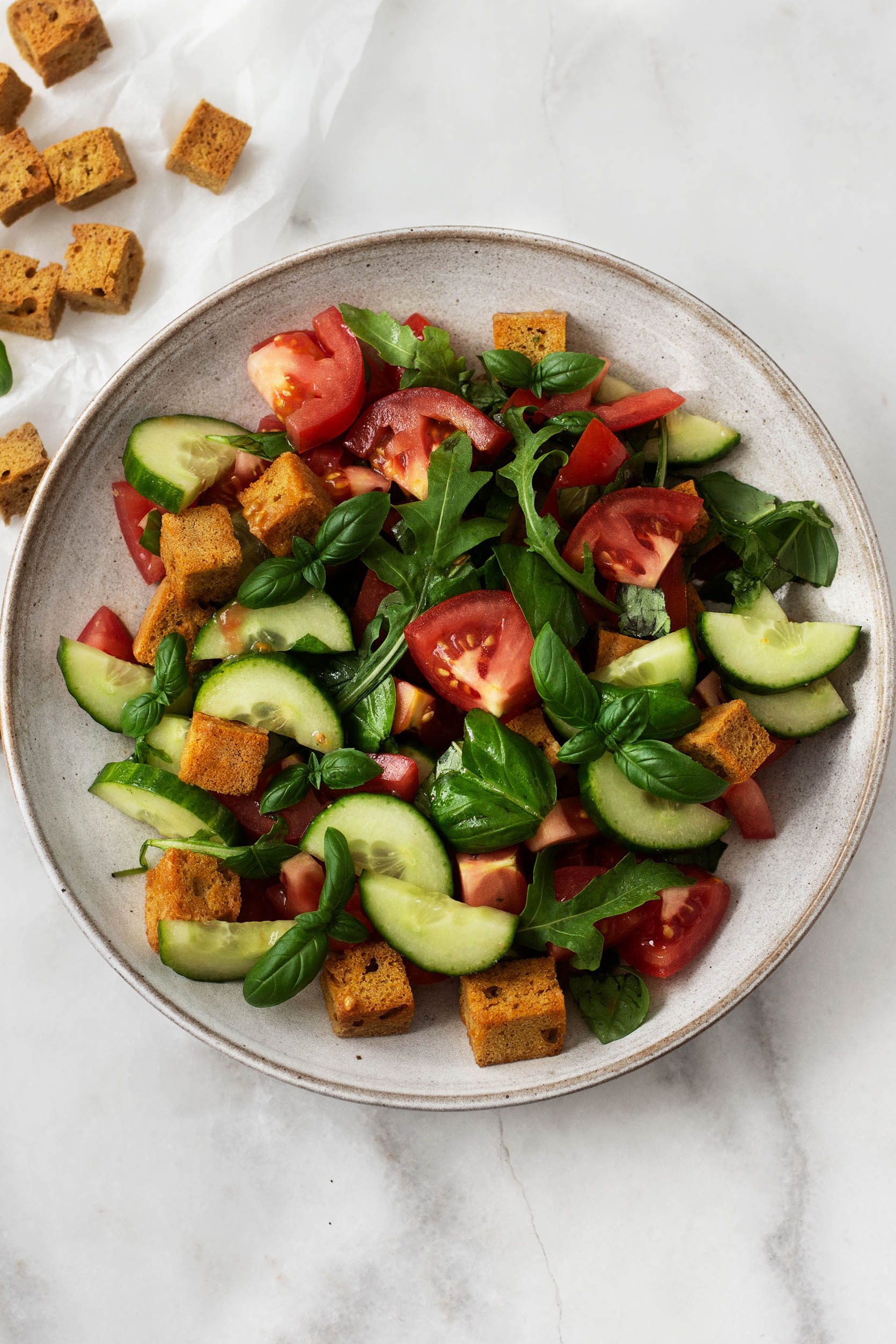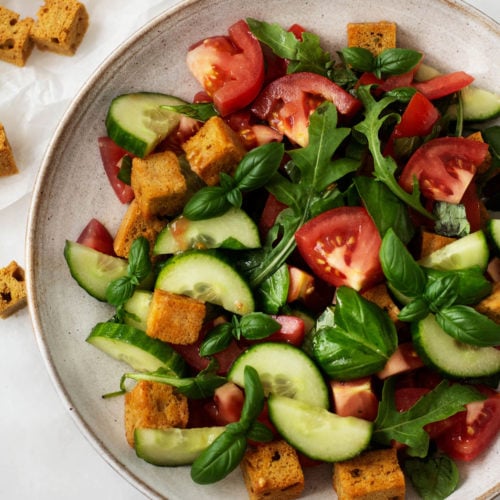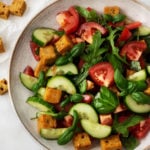 Vegan Cornbread Panzanella
Author -
For the salad:
4

cups

heirloom tomatoes, cut into 1-inch pieces

2

cups

cucumber, seeded and cut into 1/2-inch pieces

2

cups

loosely packed, baby arugula (optional; adds a peppery bite)

1/2

cup

a small handful loosely packed, torn basil leaves
Preheat your oven to 375F. Place the cornbread cubes on a parchment lined baking sheet. Bake for 20 minutes, or until the cubes are golden at the edges, stirring gently halfway through baking.

Whisk together all dressing ingredients in a small mixing bowl.

Combine all of the salad ingredients in a large mixing bowl and add the dressing. Toss gently (I found it easiest to use my hands). Add extra salt and pepper as needed, as well as an extra splash of vinegar if desired. Serve.
Leftover salad will keep well in an airtight container in the fridge overnight. In place of the cornbread, you can use sourdough or any other rustic loaf.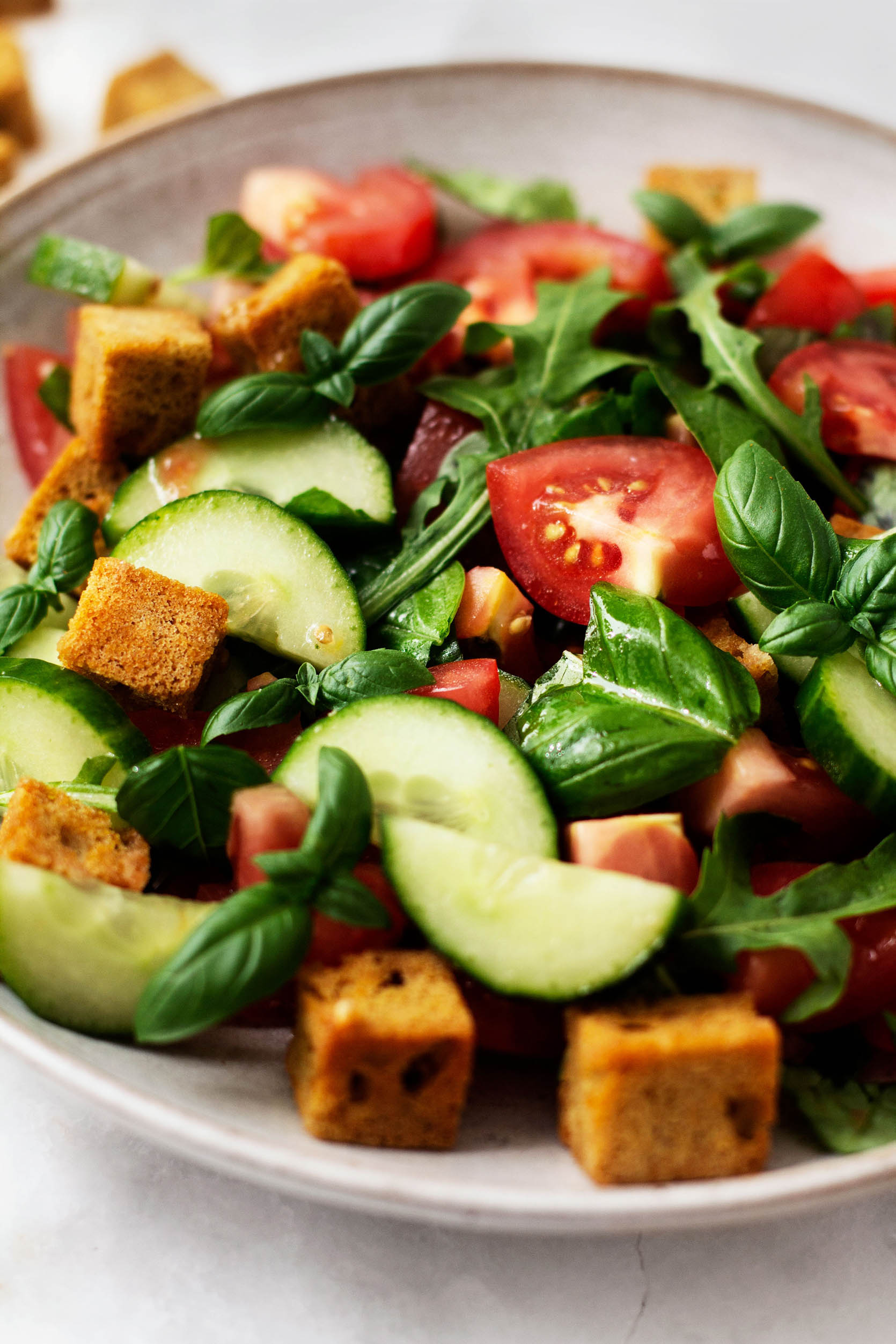 Storing & Serving Panzanella
Vegan cornbread panzanella is a perfect offering for a cookout, potluck, or other summery gathering. The salad is perfect when it's tossed a couple hours before eating. The cornbread will have soaked up the flavors nicely by the time you share it! But I don't recommend combining everything more than 3 hours before eating. You want the cornbread to retain some crispiness. If you need to bring the salad someplace more than 3 hours before eating, you can store the vegetables, cornbread cubes, and dressing seperately, then toss to combine when you're closer to your meal time.
The cornbread can be prepared up to two days in advance, and it freezes nicely for up to six weeks! If you have some leftover, you can serve it with my beloved vegan chick'n bean chili, my cauliflower corn chowder, or my Texas caviar (another good dish for cookouts).
I hope you'll enjoy this one while tomatoes are still at their peak. And, as we head into a long weekend, I wish you all rest, great food, and a celebratory farewell to the final days of summer. See you soon, for weekend reading.
xo