Last weekend, I said a few words about a recent dinner at one of my all time favorite restaurants: Candle 79. As much as I love returning to and writing about old favorites, though, it's even more thrilling to review new vegan dining spots. In the last few weeks, I've had occasion to try a couple of new vegan or vegan friendly restaurants. I wish I could say that the meals were universally good: they weren't, but that doesn't mean it wasn't an adventure to experience them.
Let's start on a positive note. Two weeks ago, M and I were searching for vegan friendly dining spots in Long Island. Hopeless Manhattanite that I am, I barely know Brooklyn dining, let alone where to eat in Bay Shore. Thanks to the genius that is Yelp, however, I quickly found Tula Kitchen–a very well reviewed, very vegan friendly restaurant with an eclectic, cozy vibe. If you're wondering what "Tula" means, so was I. Here's the owner, Jacqueline Sharlup's, explanation:
"Each and every one of us has our own personal goals in life that we strivetowards everyday. The most important things in my life have always been family, friends, love, laughter, health & belief in ones cause. The key to maintaining all of that is through "balance". When i discovered the word "Tula" which is the sanskrit meaning for balance, I knew in my heart that it was the perfect name. To be surrounded by delicious, nutritious food, good company & enjoy oneself implicitly is to be at tula. We thank you for allowing Tula to be part of your balance."
What a nice philosophy! And I think that the idea of balance is omnipresent in the Tula dining experience. The atmosphere is playful, but not silly; the lighting is dim, but not dark; the menu is extensive, but not overwhelming; the food is healthy, but not austere. Most of all, the menu–which you can peek at online–caters to healthy eaters of all varieties, including omnis and vegans.
In my heart of hearts, I'd like for every restaurant menu in the world be 100% animal free. But I'm also a realist, and I know that change is most likely to happen through generous exchanges between vegans and omnis. I love and support vegan eateries, and, if the task of choosing a restaurant falls to me, I will always choose to give my money to an exclusively vegan dining establishment. But I realize that segregating the fine dining world into vegan and non-vegan restaurants can compound the idea that veganism is exotic and "fringe." We need more restaurants that offer tasty and expertly made vegan and non-vegan entrees side by side. Vegans and omnivores won't have to compromise when they dine out together, and–more importantly–omnivores might be tempted to rethink the assumption that a proper meal involves an animal protein. Restaurants like Tula are blazing the trail of restaurant dining that's equally vegan and omni friendly. And I hope that, when vegans bring omnis to Tula, the omnis might be tempted to try some of the vegan fare there in lieu of fish or poultry.
After examining the generous menu for a few moments, M and I were ready to order. He started with a small salad with roasted beets, cherry tomatoes, and glazed walnuts, which was very tasty and not too stingy a portion. (Sorry about the iPhone photography, guys! I'm terrible at bringing my camera out and about with me.)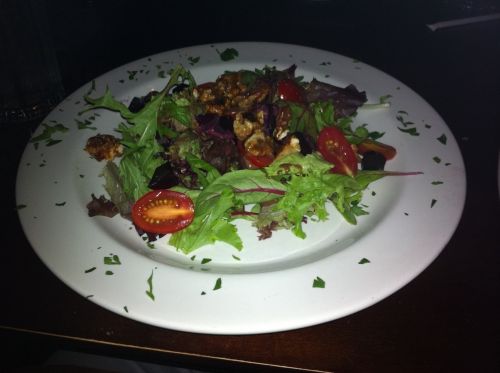 I was going to get a hummus appetizer, until I realized that the owners of Tula have made the genius choice to serve warm pita bread and chickpea salad in place of a normal breadbasket. Free! Free!
Genius idea. All restaurants should do this. Tula charges for a second helping of bread, but in truth, if I always had the option of bread this good on the table, I'd order seconds every time. Yum.
For my main course, I got something predictable: roasted vegetable salad with broccoli, eggplant, summer squashes, red onion & roasted garlic, topped with fresh lemon (there's feta in the original salad, which of course I had them hold). It was truly as close to perfect as any salad I didn't make myself can be: tasty, well seasoned, colorful, and HUGE.
Bless you, Tula, for understanding the concept of generous portion sizes. This hungry vegan lady thanks you:
M took a different route, and ordered the tempeh reuben. I'll admit, I've never had either a normal or a vegan reuben, but I had a bite of his sandwich, and it was stellar. I'm partial to anything with tempeh, it's true, but this was special:
We also agreed that this was by far the best vegan coleslaw we'd ever had; not sure how they made it, precisely (my guess is vegannaise + apple cider vinegar), but it was just like the conventional dish.
We left Tula with full bellies, raving about what a happy find it was. If this restaurant were just a little closer to the Upper West Side, I'd be a serious regular. As it is, I may need to find an excuse to go back. Hmmm. Golf? The ferry to Fire Island? We'll see.
A week later, M and I found ourselves once again on a vegan dining mission. This time, though, we were in D.C. On my first night there for the weekend, M and I had been loading up on groceries at Whole Foods when I was cheerfully greeted my Mallory, a D.C. reader. She'd commented upon my D.C. Dining post with the suggestion that I try Cafe Green, which is a new sister restaurant to the already popular Java Green. Cafe Green has a mixed raw and cooked menu, which I thought I'd love, and M had even tried out there brunch with a raw foods loving friend, who gave the raw pancakes two thumbs up. In short, we have every reason to believe this place would be a winner. Oh, how wrong we were.
Now, I hate bashing vegan restaurants. Really, I do. I think all vegan dining establishments are doing a great service simply by existing, and by showing the world how awesome vegan food is. So it is with a heavy heart that I tell you that this was one of the least satisfying dinners I've had in a long time. I think a number of factors are to blame for the overall failure. It began with ambiance. When I got to Cafe Green, it was noisy, crowded, and really brightly lit. There were two seating options: a table downstairs right next to the bar–and I do mean right next to it–which would have meant our overhearing a lot of painful cocktail hour chit chat. The other option was at a communal table upstairs. While the idea of a communal table is charming, it's just hard for me to get cozy with the reality of it–the noise, the imposition, the efforts to be civil at the end of a long day, when all one really wants is to speak quietly with one's boyfriend.
Of course, no restaurant is to blame for having only a few tables available at 8 on a Saturday night. So I resolved not to fret too much. As it turns out, when M arrived, two stools by the window opened up, so we had a chance to sit in a more private space. But there were soon other things to fret over. The lights were still too bright, the noise still really loud, and that at this point the smells wafting into the dining area from the open kitchen had become a little overpowering. There were also scented candles at each table. Isn't it a basic rule of restaurant design that scented candles are a no-no, because they disturb everyone's senses? I thought so, anyway.
The first thing that struck me upon perusing the menu was that the coconut water was even more expensive than it is at Pure Food and Wine, where it's pricey because it's supposedly certified organic (I have my doubts about that, but at least the claim somewhat validates the cost). It was $8, and not specified as organic! I was so surprised I snapped a photo of the menu: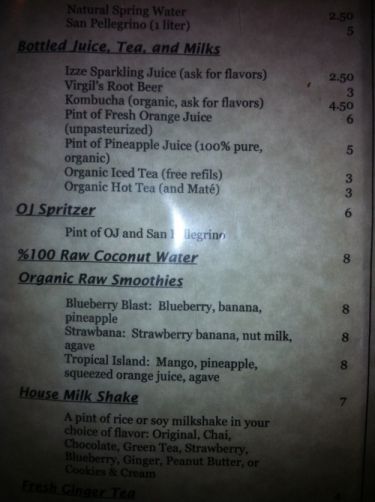 …and ordered the Kombucha instead. It was bottled, not house made, but it hit the spot.
The menu looked pretty great, and raw options were happily abundant. I asked our server if I could start with the seaweed soup, which was described as "cold soup with seaweed, cucumber, radish, peppers and topped with mung bean sprouts." For my entree, I decided on the Mango Kale Delux: "a dinner version of our mango kale salad, topped with avocado and served with a side of raw bread and spread." Sounds awesome, right?
I was promptly told, though, that there was no more raw bread. Given that the elimination of bread would render this only an appetizer portion, I asked what else they could do: perhaps I could just get the regular, cooked cornbread instead? As it turns out, they were out of that, too. The next best option, I thought, would be an order of kale chips. But guess what? They were out of that, too. And when I asked if they might simply give me some of the bread they use to make pizza, I was told that they were out of that as well–which meant, actually, that they were out of all of the pizzas on the menu. In short, 90% of the raw menu, salads aside, weren't being served that night.
OK, I thought. I'll make the best of this. I asked the server simply to bring an entree sized portion of the mango salad, and be done with it.
You should have seen the look on my face, friends, when that salad came. I wish I'd gotten a photo for you; I did manage to find another photo of the salad online, from a restaurant review. But it actually looks generous, as you can see:
…whereas the salad I was served was about 1/3 of this. One. Third. I kid you not. I was amazed. It actually occurred to me to ask our server if he'd brought out an appetizer sized portion by accident, but I knew he hadn't. In about four forkfuls, I was finished with the salad, and still starving. I figured I'd at least start on the soup, which we did manage to get a photo of:
At this point in the evening, disappointment turned to irritation. The soup was literally inedible. It was all apple cider vinegar–so much that my eyes watered as a tried to get it down (and those of you who've tried my recipes and seen how much lemon I use know that I like my food with some acid in it.) Aside from the bitterness, the soup demonstrated practically no artistry: it was water and vinegar with no spices, and strips of red pepper thrown in. The kitchen hadn't even bothered to julienne the pepper nicely before serving. It was totally amateurish, and for someone who loves raw soup, a major bummer.
Still hungry, and totally annoyed, I finally asked for another order of the kale salad. Our waiter was a gem, at least as far as attitude and manners go. But at that moment I think he could have offered some sort of creative remedy to the meal's lack of substance–which was in part the fault of the kitchen for running out of so many items, including the raw bread. He dutifully brought me another infant-sized salad, which I wolfed down, but he offered little apology or recompense.
M's meal wasn't bad. He got some sort of soy chicken cutlet served with vegetables and a tasty sauce. But even that was a stingy portion, and guess how we both knew it? Ten minutes later we were walking up and down the aisles of Safeway, searching for more food. A supermarket run at 10:30 pm is the true sign of a restaurant failure. We were actually so hungry that we couldn't settle on what we wanted. M finally emerged with some Grape Nuts and whole wheat English muffins; I got a bar of vegan dark chocolate and called it a night. The chocolate was good as dessert–the best thing I'd eaten that night–but hardly compensation for a disappointing and expensive dinner.
Look, I'm no sadistic critic. I know that it's hard to keep a kitchen going, especially when a restaurant is relatively new, and I know that raw food requires a lot of prep. It's why Pure is an expensive dining experience, and guess what? That's as it should be. Half of the food there takes more than 24 hours to make. But quite frankly, if you're not up to the task of preparing raw food, and the challenges that come with it, then you should either not offer it at all, or simply offer salads and soups. And if you do offer salads and soups, you should be aware of the fact that simple food has to be perfect: you can't hide bad ingredients or flavors in a minimalist dish–it's part of why I like simple cooking, because it keeps me focused on quality flavors and produce. Diners deserve better than soup that reeks of vinegar or salads that are tasty (which the kale was), but minuscule, and marked at the same prices as other entrees.
In theory, Cafe Green is doing a great service by putting vegan food into the world at all. They're serving both raw and cooked options, and I applaud them for that, and they've tried to create a homey, sweet atmosphere. I can see that, and I'm sorry that I brought with me expectations that were, perhaps, a little too high. But the prices at Cafe Green really aren't cheap, and for what they charge, I think they owe customers a lot better. I think it's likely I visited on a rough night–clearly, the kitchen hadn't anticipated the volume it got, which is why so much food ran low. But there's still no excuse for so many shortages on a Saturday night at dining prime time, and there's really no excuse for inedible soup.
As much as I want to unilaterally support vegan restaurants, I also expect a lot of them! They are, after all, ambassadors of vegan dining, and I expect them to set a professional example. I think that Cafe Green is perfectly poised to do that — I just hope they'll smooth out some of the kinks soon.
All was not lost in D.C., however. On Sunday, M and I hit up Asylum for brunch, where I was able to get a tasty salad and some filling hummus. I'm not such a hard diner to please, I promise: give me decent hummus, and I'm a happy girl.
And M's buckwheat pancakes were pretty tasty, too!
I suppose that vegan dining, like all fine dining, involves a range of success and failure. But hey, when hiccups happen, there's always an 11 p.m. bar of dark chocolate to keep me company.
What was your last vegan restaurant outing? Was it a success?
xo