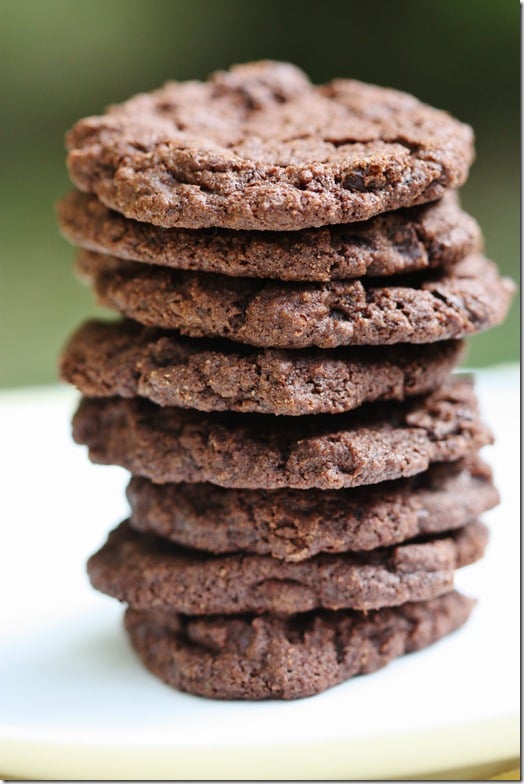 I don't often post on Friday nights. It's such a good night to take a blog break: it's the end of the week, the end of my longest academic day (8 am – 5 pm nonstop, with a four and a half long Orgo lab thrown in), and there's always a good chance that the culinary creativity that I brought from the previous weekend into Monday, Tuesday, and Wednesday has run dry. I usually work through my weekends, but there's a small part of me that likes to set aside either Friday or Saturday for blog pause.
Then there are weeks like this week, which felt inordinately tiring. And sometimes the best way to end those weeks are with my two of my favorite things:words and food. Today, I'll end this endless week with something even better: words, food, and chocolate.
I made these cookies for a party last Friday night, and I'd tested them the week before. My goal was to make a cookie that was super rich, but not super sweet. (When it comes to dessert, I'll always trade chocolate for sugar.) My first batch was to my liking, but actually not quite sweet enough. My second batch, which contained a bit more sugar, was crowd-friendly. If you'd like to taste more chocolate than sweetness here, I'd say to use 3/4 cup sugar (my first test batch was 2/3 cup). If you're a traditional cookie lover, stick to a cup.
The key to this recipe is the use of really good cocoa powder. I used Navitas Naturals raw cacao powder. The stuff is precious and costly enough that I didn't love putting it into a baking recipe (I usually save it for smoothies and almond milk hot cocoa) but I must say, it elevated this otherwise standard cookie recipe to new places. Everyone who tried these cookies commented upon the depth of chocolatey flavor.
When baking cookies, cakes, and anything for which an omnivore baker would typically cream butter, I personally like to cream coconut oil in its solid form instead. Coconut oil is a saturated fat, which means it is a solid at room temperature and a liquid at slightly warmer temperatures. You can use it in either form, but if you use the solid form you can beat it with a hand mixer as you would butter. It'll melt, but by the time it does, it will be well incorporated with your sugar and vanilla. This technique is a great way to use a non-Earth Balance, yet solid fat in your vegan baking.
With that said, Earth Balance is miraculous stuff when it comes to making authentic vegan baked treats. So if that is your tried and true ingredient, go ahead: it'll work absolutely perfectly in this recipe.
Vegan Double Chocolate Chunk Cookies (vegan, can be made gluten free if you know what you're doing, soy free)
Makes about 25 cookies
1 1/4 cups whole wheat pasty flour
1/2 cup raw cacao powder (or cocoa powder)
1/2 tsp baking soda
Pinch salt
1/2 cup coconut oil, solid
3/4 – 1 cup demerara sugar
1 tbsp flax meal mixed with 2 tbsp warm water, OR 1 Ener-G egg replacer (I like the latter for delicate baked goods, like cookies)
1 tsp vanilla extract
1 heaping cup dark chocolate chunks (or dark chocolate chips)
1) Preheat oven to 350 degrees.
2) Sift together flour, cacao, baking soda, and salt.
3) In a large mixing bowl, beat together the coconut oil and sugar with an electric hand beater, starting on low speed then moving to high. Beat in the flax egg and vanilla.
4) Add about half of the dry ingredients to the cookies and keep mixing with your hand mixer. Add the other half, then the chocolate chunks, and mix until everything is uniform.
5) Drop by the tablespoon onto a parchment lined baking sheet and bake at 350 degrees for 10-12 minutes, until crispy at the edges. Remove from oven and let cool before serving.
Just look at those lovely, deep ridges in the cookie: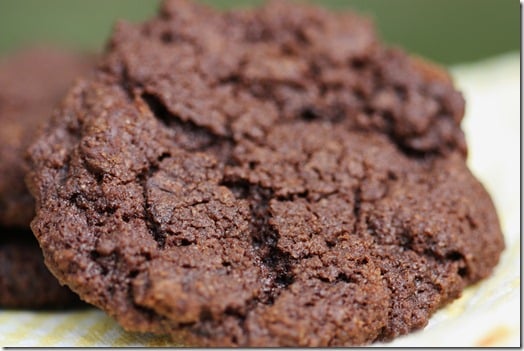 These are heaven on a plate. Or in a stack.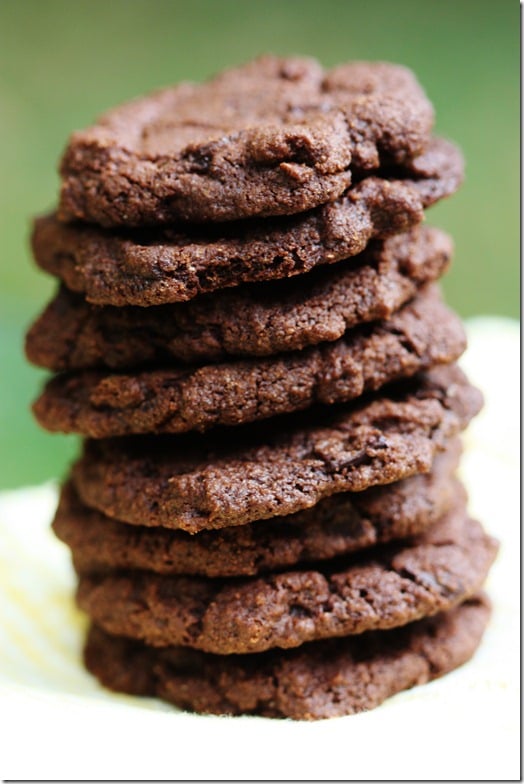 Can you make these gluten free? Absolutely. Do I know how? Not exactly. I find that GF baking is easiest in quickbreads or muffins; I'm still mastering cookies and cake. I'd use a GF baking mix, or, if you happen to know a lot about gluten free baking already, use your kitchen intuition.
If you happen to have had a long week, too—and c'mon, who hasn't—I suggest you whip these up. The only thing more rewarding than a homemade sweet is a homemade sweet that is saturated with chocolate.
OK. Speaking of saturation (ha! bad Orgo puns!!) I've got to hit the books. Happy weekend, everyone.
xo