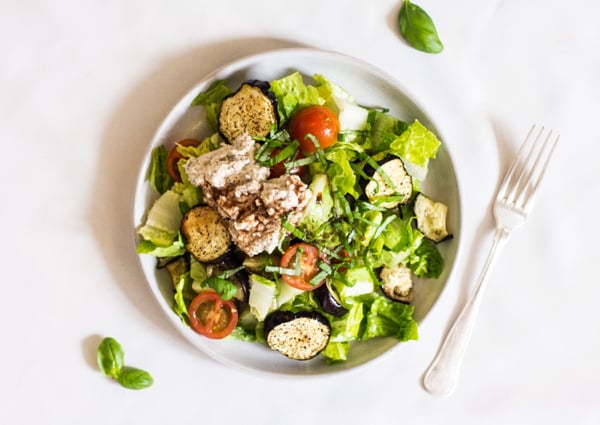 Caprese salad is a mainstay in Italian restaurants everywhere. Typically it features slices of beefsteak tomato and mozzarella cheese, coupled with slivers of fresh basil. Sometimes there's a drizzle of olive oil, sometimes, the salad comes with nothing more than a sprinkle of sea salt and cracked pepper. It's a combination I loved before I went vegan, though part of me always wished for some fresh greens in the dish.
This vegan eggplant caprese salad with lemon pepper Brazil nut cheese is my very unconventional spin on the caprese idea. Instead of thickly sliced tomatoes, it features a combination of cherry tomatoes and thick rounds of grilled eggplant. And in place of mozzarella, I add a deliciously savory lemon pepper brazil nut cheese.
At the height of summer, when heirloom tomatoes are available, I'll try this salad with those, as well as the eggplant. I look forward to that moment. In the meantime, eggplant is just fine with me. It's a vegetable I don't eat enough of, and every time I do, I remember how tasty it is.
I hope you enjoy this fabulous, easy salad. It's an ideal party appetizer, and it's the kind of thing one enjoys showing off as a "veganized" spin on a traditional recipe formulation.
Vegan Eggplant Caprese Salad with Lemon Pepper Brazil Nut Cheese
Cuisine:
vegan, gluten free, soy free
Author:
Prep time:
Cook time:
Total time:
For the salad:
1 medium sized eggplant
Olive oil
5 heaping cups baby romaine lettuce
1 cup cherry tomatoes, halved
Small handful basil leaves, sliced thin
2 tablespoons balsamic vinegar
1 tablespoon olive oil
For the Lemon Pepper Brazil Nut Cheese
1 cup brazil nuts, soaked overnight and drained of water
1 clove garlic, minced
3 tablespoons freshly squeezed lemon juice
3/4 teaspoon salt (or to taste)
1/2 teaspoon black pepper
1/4 cup water (plus extra, as needed)
Prepare the eggplant. Slice the eggplant into rounds about 1/2 inch thick. Place them in a colander, sprinkle generously with salt, and allow them to sweat for about 30 minutes. Pat them dry. Brush them lightly with olive oil. Grill in a grill pan for about 5 minutes per side, rotating 90 degrees halfway through each side to create neat grill marks. When they're tender and crispy at the edges, they're ready. Alternately, you can transfer them to a parchment lined baking sheet and bake them at 375 degrees for 30 minutes, flipping halfway through.
While the eggplant cools, prepare the Brazil nut cheese. Place the nuts, garlic, lemon juice, salt, and pepper in the bowl of a food processor (or a high speed blender). Pulse for a minute. Then, with the motor running, drizzle in the water. Continue adding water as needed, one tablespoon at a time, until the cheese has a creamy yet spreadable texture (it should resemble ricotta). Season to taste with extra salt and pepper as needed.
To prepare the salad, cut the eggplant into bite sized wedges. Combine them in a large mixing bowl with all remaining salad ingredients. Dot the top of the salad with the Brazil nut cheese, reserving extra cheese to serve as a dip, in other salads, or with pasta. Serve.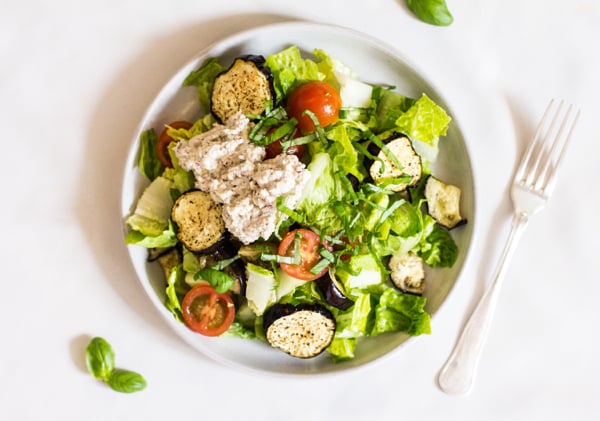 This is a great appetizer, but you can also turn it into a well rounded meal by adding whole grains, legumes, or grilled tofu. It would also be great with some freshly toasted or grilled, crusty whole grain bread.
No matter how you serve it, I hope you'll give it a try this summer, and that you'll enjoy it!
xo