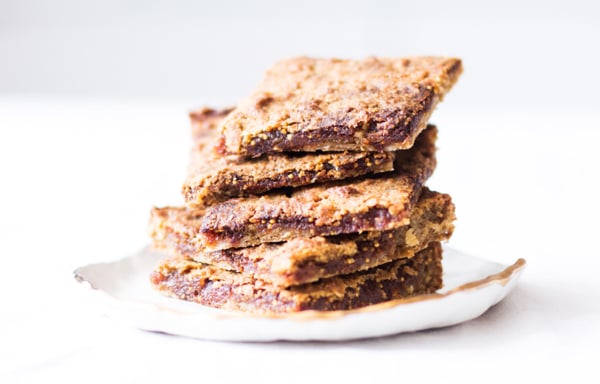 Sometimes I wonder if the very qualities that lend themselves to successful home cooking–adaptability, confidence, being able to think quickly and adjust recipes as needed–are a hindrance to successful baking. In any case, that's often how I feel. When I cook, I can be spontaneous and adjust a recipe to fit the process and my results. It's hard to correct a baking error once it's happened, or to change the direction of a baked recipe once you've gotten started.
Still, every time I gather up the courage to bake, I'm thrilled I did. And these vegan fig bars are the latest reminder that baking is really rewarding, in spite of the fact that it's a more sensitive and scientific process than is cooking.
I had two motivations to bake this past week. The first was a desire to get over my fear of baking, with the hope of a a delicious dessert as the proverbial carrot at the end of the stick. The second was the fact that fellow blogger Sarah was in town, and I wanted to offer her a little treat while she was here. She's an excellent baker, so the bar was set high. But I was determined. And the results were totally worthy.
To be exact, these bars are breakfast-worthy, snack worthy, and dessert worthy. They're so delicious and sweet, and in spite of all the flavor they're pretty darn healthy, thanks to the use of oats and oat flour as a base for the dough. The fig filling is so good that now I'm dreaming about putting it into muffins, spreading it onto toast, stirring it into warm oatmeal…you get the idea.
But first, I'm letting it shine in these delightful fig bars.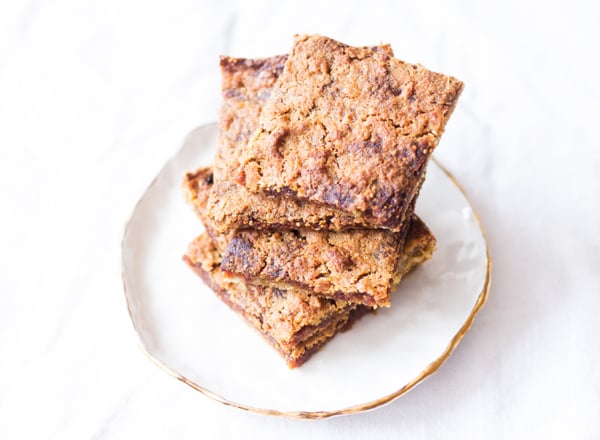 Vegan Fig Bars
Recipe Type
:
snack, dessert
Cuisine:
vegan, gluten free optional, soy free, nut free optional
Author:
Prep time:
Cook time:
Total time:
For the fig filling:
12 large dried figs
6 pitted Medjool dates
2 tablespoons maple syrup or agave
1 tablespoon lemon juice (or the juice of 1 large lemon)
1 teaspoon cinnamon
For the dough:
1 1/4 cups oat flour
1 cup rolled oats
1 teaspoon baking powder
1/4 cup organic cane sugar, sucanat or organic brown sugar
Dash salt
2 teaspoons cinnamon
1/2 cup soy or almond milk
1/2 cup applesauce
1 teaspoon vanilla extract
1/4 cup melted coconut oil, canola oil, safflower oil, or another neutral vegetable oil
Pre-heat oven to 350 degrees. Oil an 8-inch square baking pan and dust it with oat flour.
Place the figs in a small pot with enough water to cover them. Bring to a boil and lower to a simmer; simmer for about five minutes. Remove figs from the pot, drain them, and place them in your food processor along with dates, lemon juice, agave or syrup, and cinnamon. Process until the mixture resembles a smooth fig jam. (Try not to eat all of said jam before you make your bars. You will be tempted. )
Mix the oats, oat flour, cinnamon, salt, baking powder, and sugar together in a large mixing bowl. In a medium bowl, whisk together almond milk, applesauce, vanilla and oil. Add the wet ingredients to the dry ingredients and mix till just combined.
Layer half of the oat mixture into your baking pan. Using an inverted spatula or regular spatula, spread all of the fig paste on top. Spread remaining oat mixture on top of the fig paste.
Bake the bars for about 35 minutes, or until the top is golden. Transfer the baking dish to a wire cooling rack and allow the bars to cool to room temperature. Cut them into 9 squares. Enjoy!
Wrap leftover bars individually and store for up to 4 days in the fridge. You can also wrap bars individually and freeze for up to 3 weeks.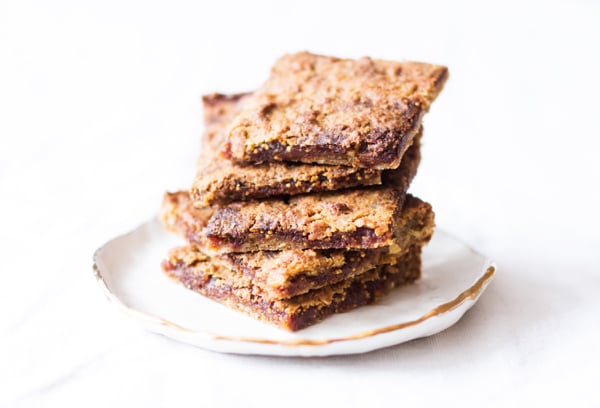 I was able to give some of the bars to Sarah in person last night, over dinner, and she loved them. Now I have a few left to savor on my own–as snacks between my classes, as quick breakfast options, or as evening sweet treats. I'm not complaining. And I think that this delightful baking experience is all the motivation I need to try again soon.
Enjoy the bars!
xo
Images courtesy of Lighter.