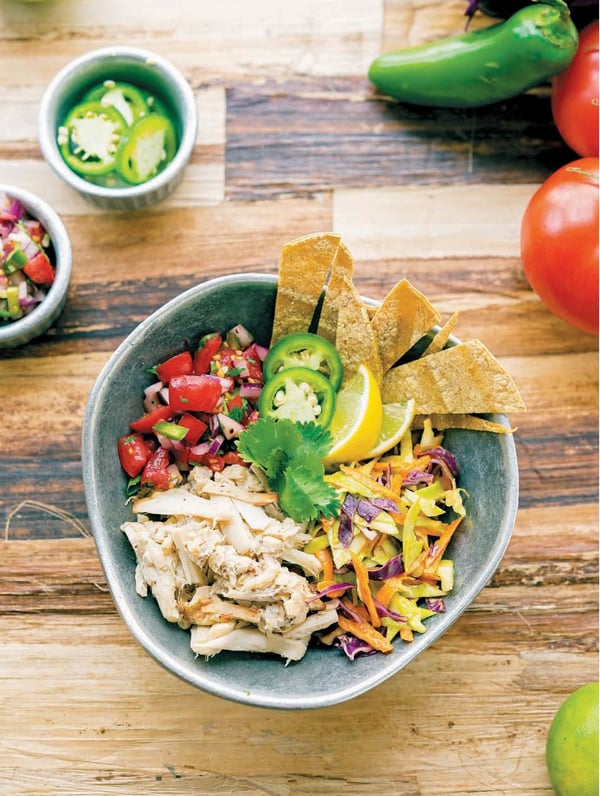 In both my day-to-day life and here on the blog, 2016 was the year of bowls. Lunch bowls became an everyday thing for me, and then they started to take over my Instagram account. In March, I wrote a post detailing how I assemble my lunch bowls, with details about my favorite fixings and the nutritional guidelines I use to help guide me.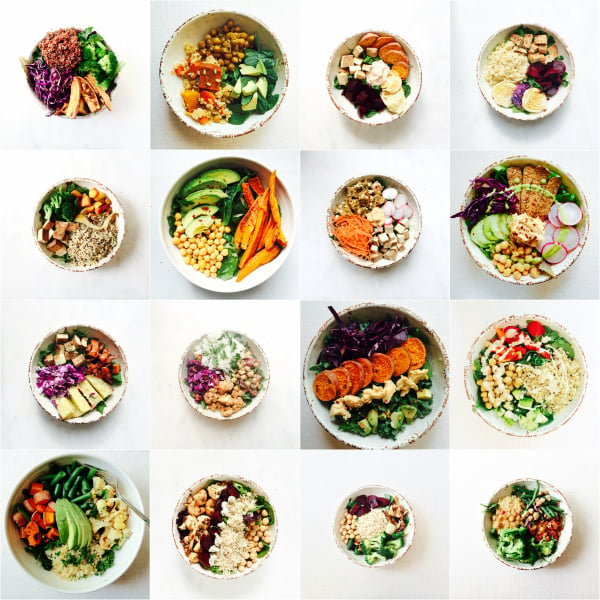 Not long after, I started sharing breakfast bowl ideas, including my cocoa strawberry quinoa bowls and, more recently, my sweet potato breakfast bowls with savory granola.
Why all the love for bowls? Well, for one thing, they're easy. Throw a few staples into a bowl, drizzle it with dressing, and call it a day–a good bowl meal is no more complicated than that! Bowls let us get plenty of variety in a single meal without making our lives complicated or demanding too much cooking effort. And, lets face it, there's just something undeniably cozy-feeling about eating a meal from a bowl.
I'm not the only person who loves bowls. My friend Jackie Sobon–the creative and talented force behind the blog Vegan Yack Attack–has even more persuasive things to say about the power of a great bowl:
You may ask yourself, "What makes a bowl any better than other ways to eat food?" Well, for one thing, bowls are fairly well contained from a logistical perspective. Have you ever tried eating a salad off a plate? It may be one of the messiest ways to eat something; you have to chase food around with your fork, and the last few bites are always the hardest to get. Second, some of the best foods are served in bowls! Imagine trying to chow down on some pho, or maybe creme brûlée, using a plate or saucer. Both of those situations sound like they could be a form of punishment. Last, bowls are a fun way to take a few foods or ingredients that you love–and that may not hold their own on a plate–and put them together in an incredibly tasty and colorful fashion.
Those wise words are from the introduction of Jackie's awesome new cookbook, Vegan Bowls Attack! The book is a love letter to the bowl meals Jackie loves so much, and it's a gift to any vegan–or anyone, really–who wants to take her bowl game to the next level. Divided into breakfast bowls, snack bowls, soup and salad bowls, and entree bowls, the book features 100 smart, colorful, and diverse bowl recipes.
The book also features useful tips on how to prep and assemble bowls, how to batch cook ingredients, and it even contains a chapter full of bowl essentials (like smoky tahini sauce and–for the dessert bowls–date caramel sauce). Some of the recipes I've been eyeing include the kimchi bowl with red curry almond sauce: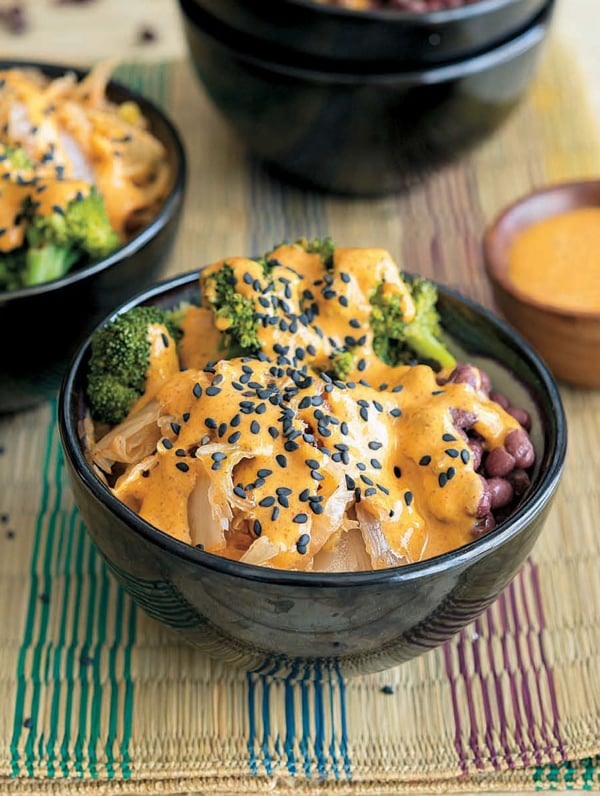 The spicy sushi bowl:
And the amaretto cherry ice cream (yum!):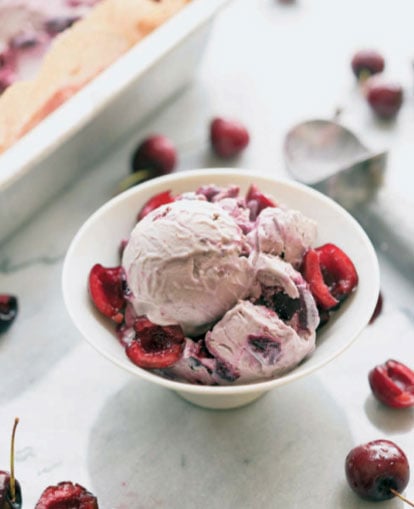 Jackie's vibrant, appetizing photographs make the whole book come to life, and her down-to-earth tone makes creating the perfect bowl feel easy and attainable for any home cook. If you read Jackie's blog, then you already know that she has a special talent for making vegan living feel welcoming and accessible. That same attitude and approach is on full display in this warm, playful collection of recipes.
There are so many bowls from Vegan Yack Attack that I'm eager to incorporate into my routine, but the one that caught my eye first is Jackie's vegan fish taco bowl. I've definitely tried my hand at creating homemade version of poultry and meat dishes, but I have yet to really experiment with plant-based interpretations of seafood.
I love that Jackie uses something super simple–hearts of palm–for the "fish" in this recipe, and her simple cabbage slaw and pico de gallo sweeten the deal. This is a perfectly refreshing, light, and balanced bowl meal for summer!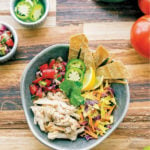 Vegan Fish Taco Bowl
Author -
For the cabbage slaw:
1

cup

70 g shredded red cabbage

1

cup

70 g shredded green cabbage

1

cup

110 g grated carrot. cup (60 g) vegan mayonnaise (soy-free, if necessary)

1

teaspoon

white vinegar
For the pico de gallo:
½

cup

90 g diced tomato

⅓

cup

55 g diced red onion

1

tablespoon

1 g minced fresh cilantro

1

tablespoon

6 g minced fresh jalapeno (optional)

½

teaspoon

lime juice Salt and freshly ground black pepper

to taste
For the assembly:
4

small corn tortillas cut into strips

¼

cup

4 g loosely packed fresh cilantro leaves

2

tablespoons

11 g sliced fresh jalapeno

8

lime wedges
To make the cabbage slaw: Place all of the ingredients in a bowl, stir together until combined, and then refrigerate for 20 minutes.

To make the pico de gallo: Place all of the ingredients in a bowl, stir together until combined, and then refrigerate for 20 minutes.

To make the "fish": Preheat the oven to 350°F (176°C, or gas mark 4) and coat a baking sheet with a thin layer of oil or nonstick cooking spray. In a mixing bowl, using two forks or your hands, pull apart the hearts of palm until they appear shredded. Stir in the lime juice, dulse flakes (see note on page 104), and salt until combined and then spread the mixture out on the baking sheet in a single layer. Bake for 12 to 15 minutes until the edges start to turn golden brown.

To assemble: While the "fish" is baking, place the tortilla strips on a baking sheet, brush with a thin layer of oil, and sprinkle with salt. Bake for 10 to 12 minutes until crispy. Divide the slaw, pico de gallo, "fish," and tortillas among 4 shallow bowls, arranging the components in quadrants. Nestle the cilantro, jalapeño, and lime wedges in with the tortilla strips. Serve immediately.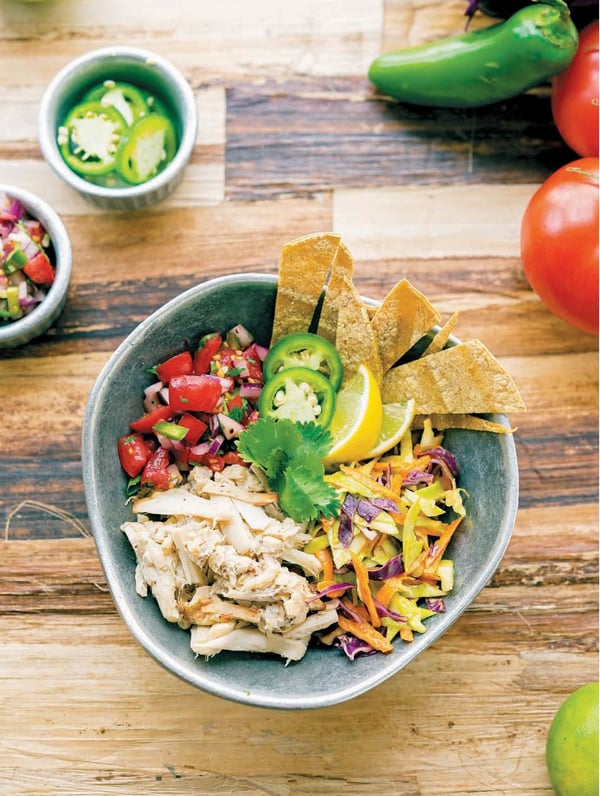 If you're interested in exploring Vegan Bowls Attack! for yourself, you're in luck. Jackie and her publisher have generously agreed to offer one US or Canadian reader of this blog a free copy! Enter below to win; I'll announce the winner on the widget in two weeks.
I know it's been a while since I shared a cookbook review, but I have a few others coming up this month and next, so stay tuned for more news about great new recipe collections!
And for now, I wish you all a wonderful start to the weekend. See you soon, for weekend reading.
xo