I recently decided that, for the most part, baked goods I share on this blog will be gluten free. I say "for the most part" because I do genuinely love whole wheat and spelt flour, and find that some recipes fare much better than with them than with GF flours. That said, each time I bake I get so many overwhelming requests for a GF option that I've started to think it's best to bake GF from the get-go! Yes, I could just say "whole wheat pastry flour or use a GF mix," and that's what I've done historically, but I know for a fact that the modification process isn't always so easy. I often see recipes for baked goods that say "4 eggs, or use flax eggs," and they make me chuckle to myself; flax eggs may be a great replacement, but they're not exactly the same as regular eggs, and it's unlikely that a recipe calling for as many as four eggs will work the same way with flax.
Anyway, my point is that I can't always give GF options to those who need them without testing the alternative recipe myself first, and I don't often have time to make double batches of baked goods. So at the least, I'll do my best to showcase way more GF baked goods here at CR from now on. I myself don't have celiac disease—I was tested back in the days of my IBS crisis just to be sure, and have never discerned a troublesome connection between eating wheat/gluten and my overall feelings of wellness—but I am always happy to experiment with alternative and wholesome flours, like almond flour, legume flours (fava and garbanzo are my faves) and buckwheat or quinoa flour. This is a pleasant baking challenge for me!
I have to say, I'm impressed with these scones. They were a wonderful lesson in how kitchen accidents can turn into triumphs, as I originally intended for them to be cookies. When I baked them, I realized that they were far too crumbly to be cookies. But they were delicious, slightly moist on the inside, and just dry enough on the outside to break apart nicely.
In other words, they were scones.
I love scones. And I'm pleased to tell you that this was my first successful vegan version. Scones are traditionally made by cutting cold butter into flour, as if you were making pastry. As you'll see, my process for these scones is far more similar to the one you'd use to make cookies, which was my original intention. But the resulting baked good is decidedly scone-like, and I guarantee you that it will impress even devoted lovers of traditional high tea. And unlike traditional scones, these scones are vegan, gluten free, free of ultra-refined sugar, and full of healthy fat from almond milk and slivered almonds. Plus, they've got a tiny, nutrient dense surprise inside: goji berries.
Goji berries, also known as wolfberries, are famous in health circles for their high antioxidant content and relatively high amount of protein. They're also quite popular in TCM (traditional Chinese medicine). As with all "superfood/superfruit" claims, I consume with a grain of salt, but I do love choosing out dried fruits that are shown to have more nutrient density than, say, raisins, and so I enjoy using goji berries, goldenberries, and the uber-delicious mulberries in my recipes. This recipe was the perfect place for gojis, which plump up nicely in the cooking process.
Vegan, Gluten-Free Almond Goji Scones (vegan, gluten free, soy free unless you use soy milk, no ultra-refined sweetener, low glycemic…phew!)
Makes 8 scones, or 20 mini scones
1 1/2 tbsp flax meal + 4 tbsp water
1 1/2 cups GF all purpose flour blend
1/2 cup almond flour
1 tsp baking soda
1 1/2 tsp baking powder
1/4 tsp salt
1/3 cup coconut oil
1/3 cup coconut crystals
1/2 cup goji berries
1/3 cup slivered almonds
1/4 cup almond, coconut, rice, or soy milk
1. Preheat oven to 375 degrees. Mix the flax meal and water and set aside.
2. Combine the flours, baking soda and baking powder, and salt in a medium sized mixing bowl.
3. Using a hand mixer or stand mixer, "cream" the coconut oil and coconut crystals together. It's OK if the oil has melted – just mix with the mixer anyway – but it's easiest if it's in its solid form, with a texture similar to butter. Add the non-dairy milk of choice and keep mixing. Add 1/2 of the dry mixture and mix to incorporate. Add the remaining dry ingredients and the goji berries and almonds, and mix to incorporate it all. Your texture should be thick, and it should remind you of cookie dough.
4. Divide dough into 8 portions on a baking sheet that has been sprayed with coconut oil or lined with parchment. Bake at 375 degrees for about 10-15 minutes, or until scones are golden brown (mine took exactly 12 minutes). Serve with fresh jam, or try my recipe for raw strawberry goji jam, below!
Raw Strawberry Goji Jam (raw, vegan, gluten free, soy free)
Makes 1 cup
2 cups strawberries
1/2 cup goji berries, soaked in warm water for at least 3 hours and drained
Dehydrate strawberries for 6 hours or so at 115 degrees. Transfer to a food processor and pulse, along with the goji berries, till smooth but still retaining a tiny bit of texture. Use wherever you'd use "normal" jam!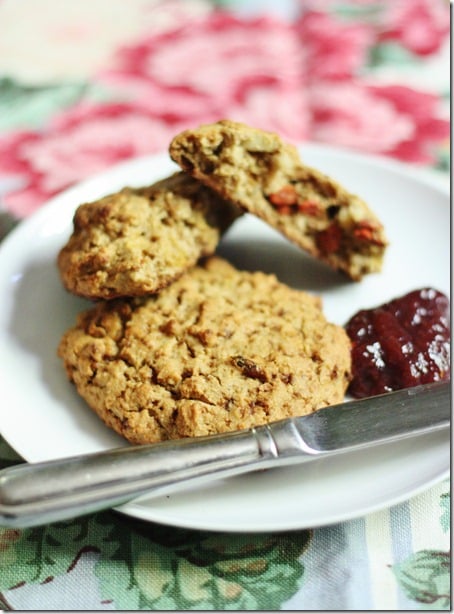 So delicious!
And isn't the texture spot on? This recipe proves that vegan and GF baking is far easier than one might think.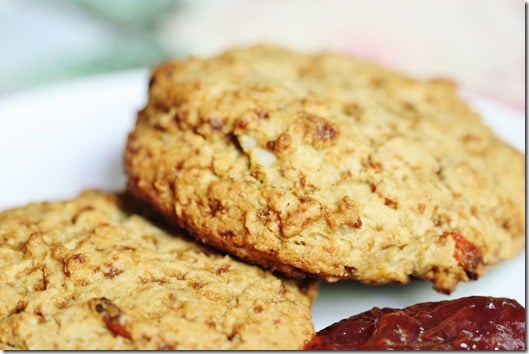 What a wonderful, tasty, and easy breakfast recipe! Perfect for Mother's Day brunches, too. Those'll be here before we know it.
Note that I used coconut crystals as my sweetener in this recipe. After hearing a lot of great things about its low glycemic index score, I've been curious to try the sweetener out. I liked it a lot, and will definitely use it again, though I want to note that coconut crystals are definitely costly. If you need a cheaper alternative, you can try agave or regular demerara sugar, or you can even use a mix of demerara sugar and a stevia baking blend or a xylitol baking blend; this is often what I do when I want to cut down on the sugar in a recipe while retaining the sweetness.
No matter what, I hope you enjoy these wonderful, crumbly little treats.
I'll see you guys back here tomorrow!
xo