They say it takes 21 days to make or break a major lifestyle habit. We should probably take this with a grain of salt, because habits run deep, and change is different from person to person. But I think there's something to the idea that, after a few weeks of trying something new, we can at least see a vision of life lived differently. It took me a lot longer than three weeks to stop craving cigarettes, but after 3 weeks of not smoking, I could at least sense what life as a non-smoker would be like. It felt healthier and stronger, and I knew it was right for me.
When we make a major dietary change–like becoming vegan, or starting to eat a healthier, more wholesome diet–it's totally normal to struggle with cravings or setbacks. Food habits are particularly hard to change, in part because the act of eating is so much more than a physical process–it's emotional, cultural, and social, too. I'm not a fan of restriction, which means that, from within a plant-based model, nothing is off limits to me: sugar, starch, fat, caffeine–it's all good, once in a while or in moderation. But sometimes health or ethical leanings dictate that we give up something completely, and when we do, there's a period of adjustment. When I gave up dairy, it was because I loved it, but it didn't love my sensitive GI system back. Nowadays, I steer clear of all animal foods because it's what resonates with me philosophically. Those are major dietary shifts, and there have been things I missed along the way, but what I've found is that eating a lot of delicious, wholesome new foods can certainly help to make the change easier–and fun.
"Delicious" and "wholesome" are good words to describe the snacks and protein powders from 22 Days Nutrition, a snack and wellness company that's leading the way in making plant-based transition easier. All products from 22 Days are:
Vegan
Gluten free
Soy free
non-GMO
USDA organic
Rich in healthy fats
Full of raw and organic superfood ingredients
Delicious
The company was started by Marco Borges, a vegan athlete and exercise physiologist who was hoping to offer his clients more wholesome, plant-based snacks. He found the market lacking in snack products that were made of whole foods and free of major allergens, so he set about creating his own line of healthy, on-the-go foods. 22 Days Nutrition was born.
If you look at the 22 Days Nutrition company mantra, you'll get a sense of their philosophy: self-empowerment through whole, tasty, and simple food. My persoal favorite?
WE BELIEVE in the idea of embracing great foods, not avoiding bad ones, and that dedication can taste like decadence. 
I love this idea–it reminds me of my own "mantra" as a counselor, which is "add first, subtract later." It's no fun to approach change with a focus on sacrifice. And plant-based, whole foods have so much to offer us–beautiful, fresh ingredients, delicious taste, a rich array of nutrients–that it's easy to focus on what we're gaining when we start to center our diet around them.
22 Days Nutrition recently sent me a bunch of their products to review. It wasn't my first time tasting their food–I've been a huge fan of the energy and protein bars since I first sampled them at a Whole Foods!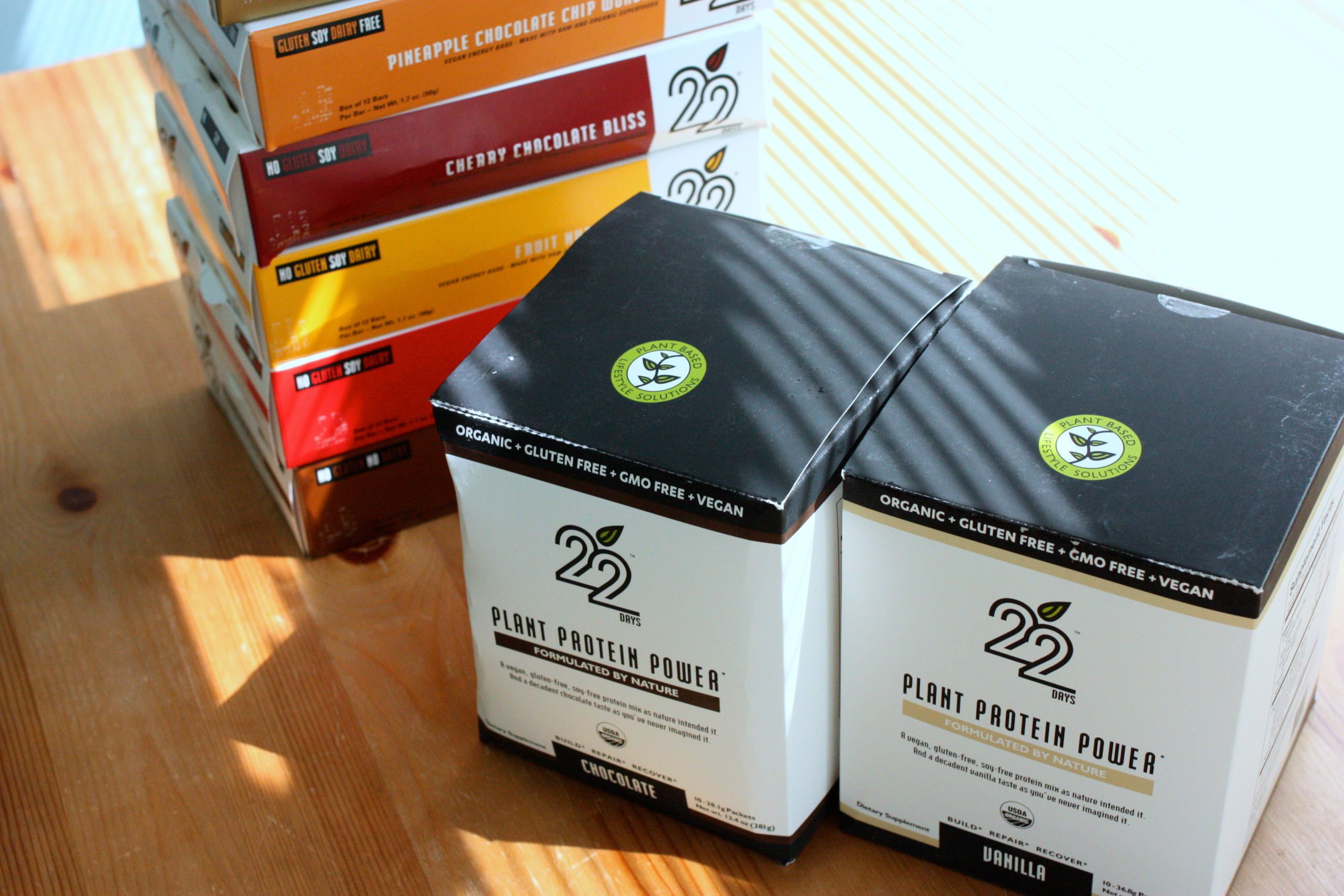 I really like the ingredients in the bars, and I also like that they don't taste like vegan candy bars (not that there's anything wrong with a candy bar…but if I want a candy bar, I'll probably whip up some of my mini almond joys instead!). The sweetness is usually date paste or coconut nectar, and it's perfectly balanced.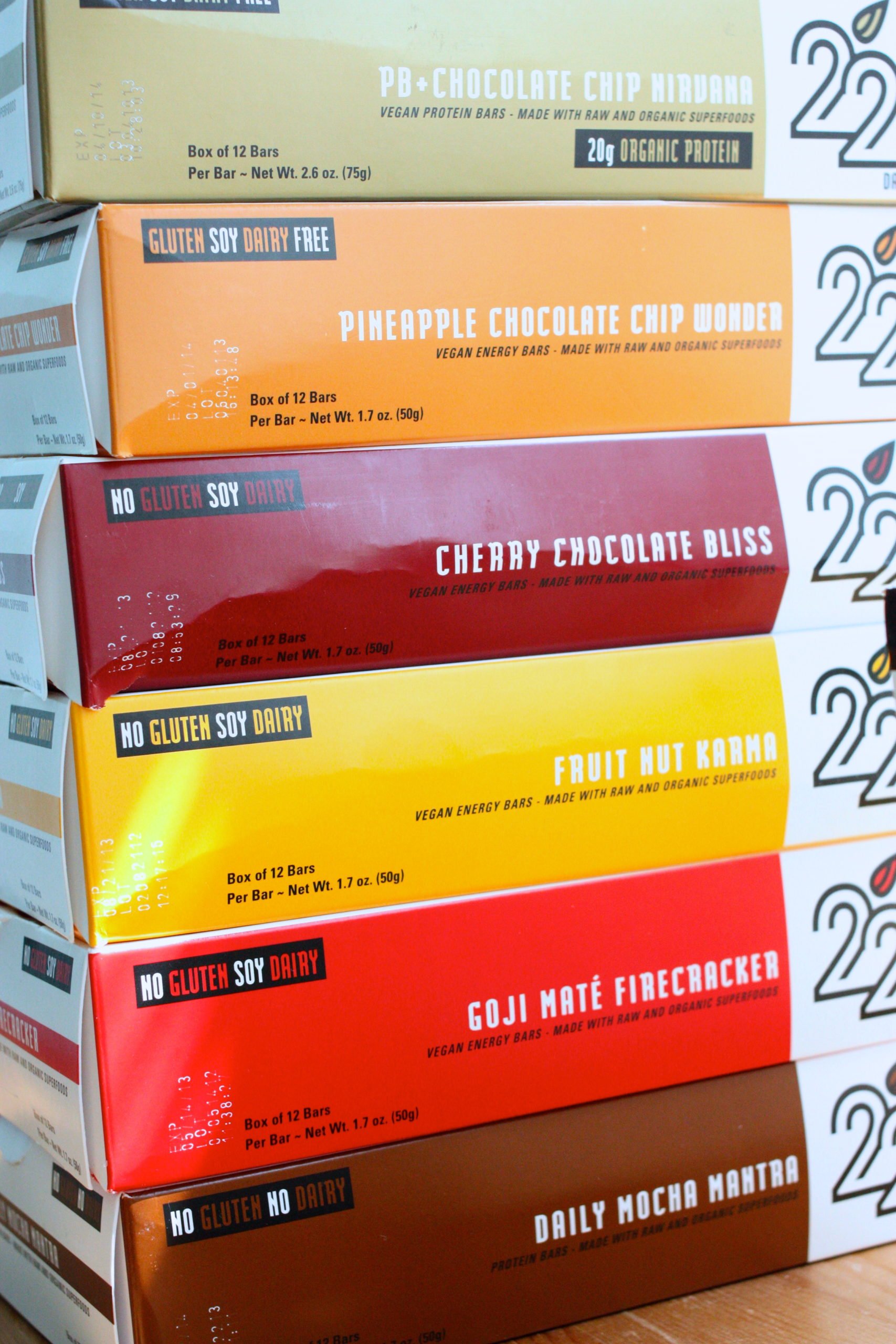 You can check out the ingredients and nutrition facts for the energy bars here. A sample ingredient list (for the Goji Mate Firecracker bar): Organic Raw Cashew Butter, Organic Coconut Nectar, Organic Dates, Organic Gluten-free Oats, Organic Dried Goji Berries, Organic Raw Sunflower Seeds, Organic Yerba Mate, Sea Salt. Not bad!
Energy bar flavors include:
Pineapple chocolate chip wonder
Cherry Chocolate Bliss
Fruit Nut Karma
Goji Mate Firecracker
The protein bars, which boast between 10 and 20 grams of plant protein per bar, include:
PB & Chocolate Chip Nirvana
Nut Butter Buddha
Daily Mocha Mantra
Enlightened Pumpkinseed
The PB & Chocolate Chip Nirvana has 20 grams of plant protein and 20% of your RDA of iron–sourced from brown rice protein and sesame seeds, respectively. That bar, as well as Enlightened Pumpkinseed and Daily Mocha Mantra (which is my personal favorite in terms of taste) fueled me through many, many long afternoons of MCAT study in the library. And it satisfied my chocolate craving, too!
The 22 Days protein powders are simple: brown rice protein, stevia, ground flaxseed, guar gum, sea salt (again, I wish the stevia were coconut sugar instead, but a lot of folks do avoid sugar for various reasons, so this fits everyone). 22 grams of protein per serving, in two tasty flavors: chocolate and vanilla.
My favorite 22 Days smoothie at the moment is a blend of mixed berries, the chocolate protein powder, my homemade hemp milk, and some kale or spinach if I'm in the mood for greens. It's a super easy and delicious drink, and I can't get enough of it!
It's been such fun testing out the 22 Days products–and showing off the super cute t-shirts they sent me!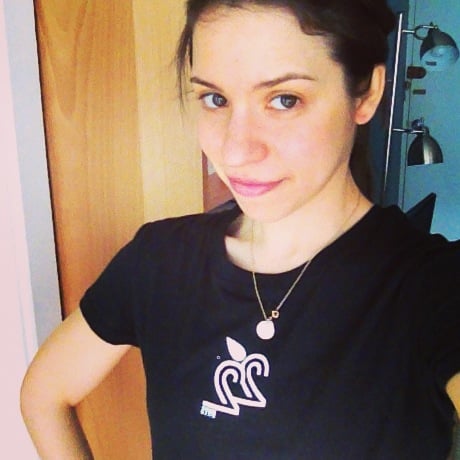 Because the values of 22 Days align so strongly with what CR is about, too, 22 Days is now a Choosing Raw monthly sponsor! Click through the banner to the right to check out all of their delicious products. You can now order 22 Days Nutrition products online or by phone, or you can find them at Whole Foods or the Vitamin Shoppe (check out the company store locator here).
I hope you enjoy 22 Days Nutrition as much as I have. A lot of my readers have already established the happy, healthy habits they're hoping for–but it never hurts to have new inspiration in the form of delicious, nutritious snacks!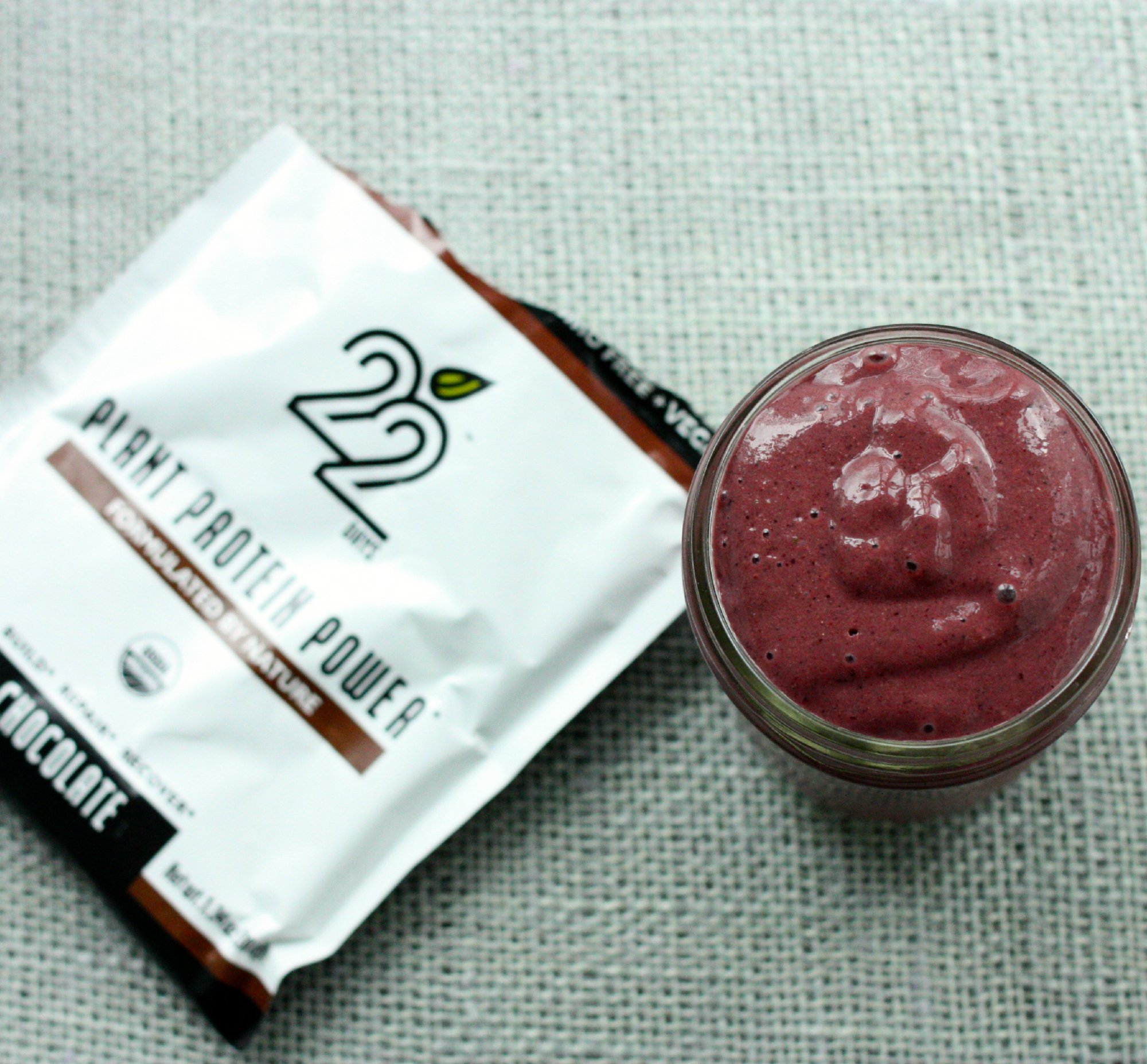 xo