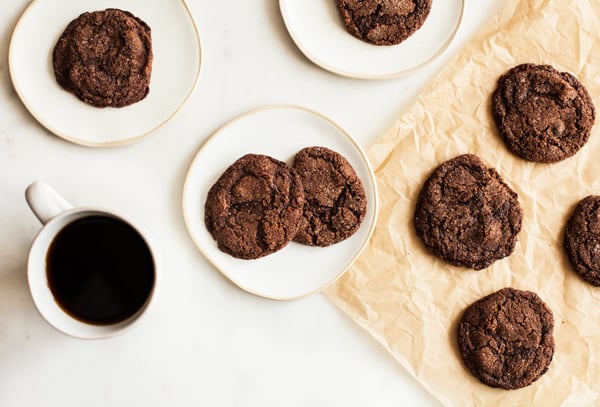 With Valentine's Day around the corner, I would call these sweets for my sweet, but sadly, Steven won't be enjoying these chewy chocolate cherry almond cookies with me. As I think I've mentioned in the past, he's allergic to chocolate, which means that the cookies are essentially my Valentine's Day treat to myself! I'll be sharing a recipe later this week that's my Valentine's Day culinary offering to Steven. In the meantime, what a treat these cookies are: tender, studded with chunks of dark chocolate and chopped dried cherries, and deliciously sweet.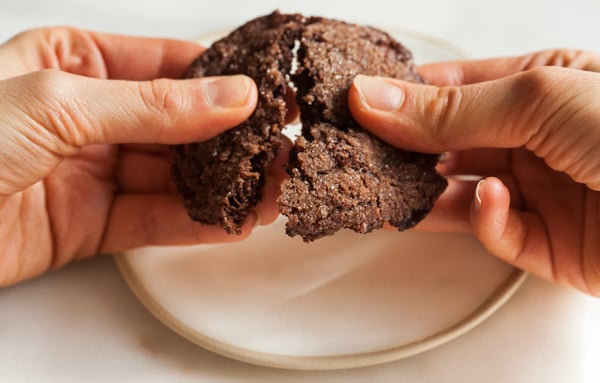 The inspiration for these cookies was Merrill Stubb's soft chocolate cherry almond cookies, which were served at the Food52 Holiday Shop. They looked terrific, and folks were raving about them, so I had the idea to try my hand at a vegan version. It's taken nearly two months, but the recipe was well worth the wait.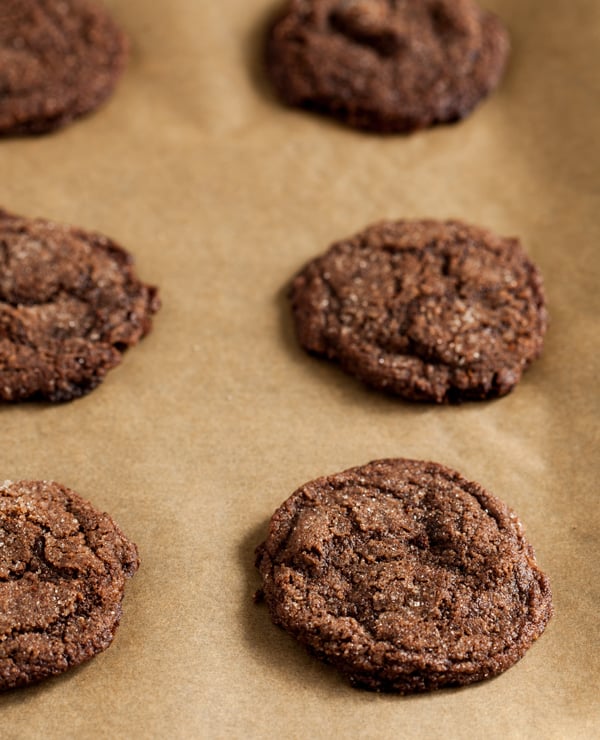 The key to the soft, chewy texture of these cookies is a mixture of almond flour and oat flour, as well as Earth Balance for super authentic, buttery results. I'm sure that a lot of you don't have Earth Balance at home, and with that in mind, I tested the recipe using solid coconut oil, too. The resulting cookies have the same chocolatey flavor, but they're definitely a bit plumper and much crispier than the Earth Balance version, as you can see below (coconut oil version is on the bottom). I'd say that the texture is more biscotti-like.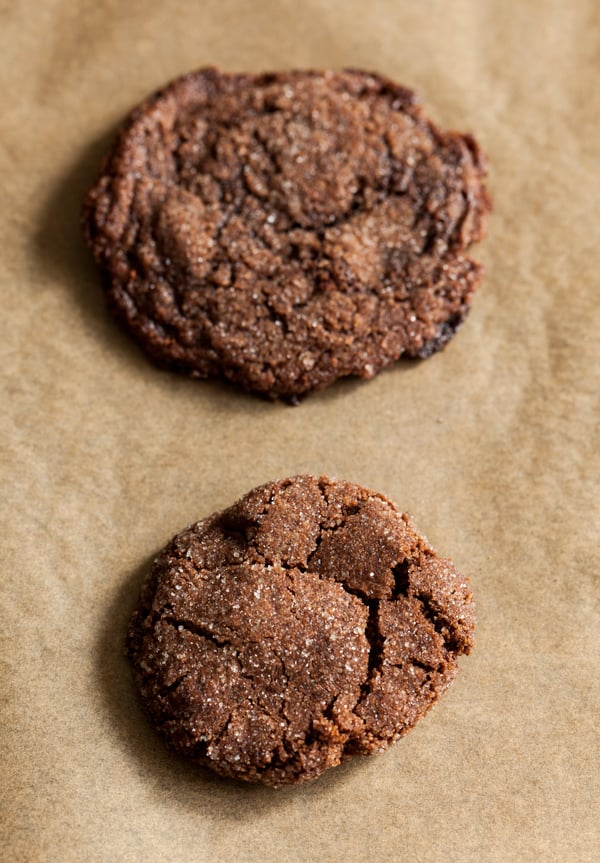 I've given instructions for both versions in the recipe. If you don't have dried cherries, dried cranberries are a perfectly good substitute. Dark chocolate chunks or chips make the recipe a snap, but if you don't have those, you can chop up the equivalent amount of vegan dark chocolate instead: just be sure that the pieces aren't too big.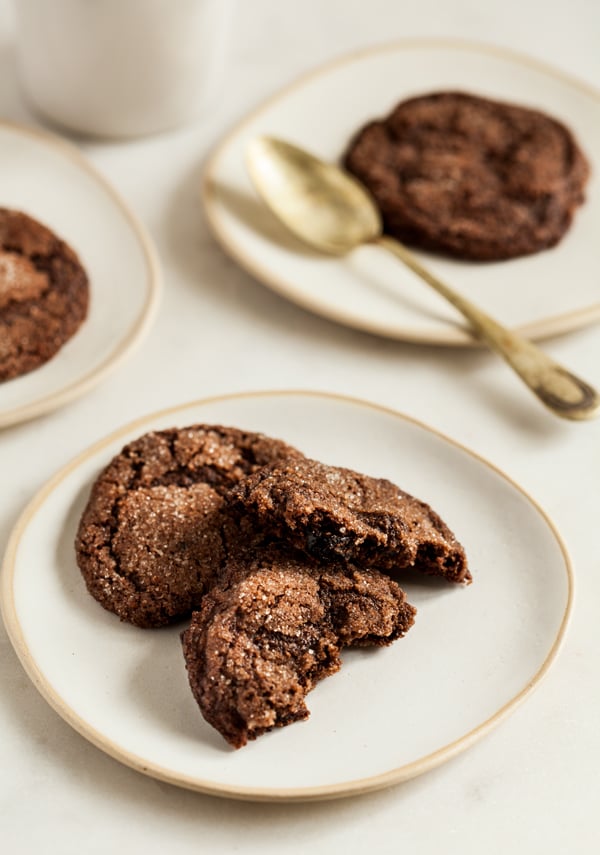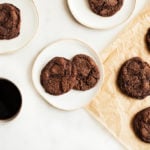 Print Recipe
Vegan, Gluten Free Chocolate Cherry Almond Cookies (Inspired by Merrill Stubb's Soft Chocolate Almond Cherry Cookies for Food52)
Servings:
24
-30 large cookies
Ingredients
1 1/2

teaspoons

Ener-G egg replacer

mixed with 2 tablespoons warm water or 1 flax egg (1 tablespoon ground flax seed mixed with 3 tablespoons warm water)

1 1/4

cups

almond flour

1/2

cup

+ 2 tablespoons oat flour

1/3

cup

cocoa powder

1/2

teaspoon

baking powder

10

tablespoons

Earth Balance buttery sticks at room temperature

or 10 tablespoons solid coconut oil (see note for instructions on using coconut oil)

2/3

cup

light brown sugar

1/4

cup

cane sugar

plus extra for rolling

1/2

teaspoon

coarse sea salt

1

teaspoon

vanilla

2/3

cup

bittersweet or semi-sweet vegan chocolate chunks or chips

1/2

cup

chopped dried cherries

substitute dried cranberries
Instructions
Place the flours, cocoa powder, and baking powder in a mixing bowl and whisk to combine.

Place the Earth Balance in a stand mixer fitted with the paddle attachment (you can also use a handheld mixer on low speed). Beat on medium low speed for one minute. Add the sugars, egg replacer, vanilla, and salt. Beat on low speed for 2 minutes, or until mixture is fluffy. Add half of the flour mixture and beat for another minute. Add the remaining flour and beat to incorporate. Add the cherries and chocolate and beat quickly on low speed, until they're just incorporated.

Place the dough in a bowl and cover. Let it sit in the fridge for 30-60 minutes. Preheat oven to 350F. Line two cookie baking sheets with parchment.

Remove dough from fridge. Place about a half cup of cane sugar into a plate. Roll the dough into 1 1/2 inch balls, then roll them in the sugar. Place them 2 inches apart on your baking sheets. Bake for 12-14 minutes, or until the cookies are still soft in the middle but firm on the edges. Allow them to cool a bit before transferring them to wire racks to cool completely. Enjoy!
Notes
If you use coconut oil in place of earth balance, increase the coarse salt in the recipe to 1 whole teaspoon. In step 2 of the recipe, add the solid coconut oil, egg replacer, sugars, vanilla, and salt to the stand mixer all at once. Beat on medium speed until the mixture is well combined and fluffy, then follow remaining instructions.
Leftover cookies will keep in an airtight container for up to four days.
As an early Valentine's Day treat, I brought some of these cookies to my mom over the weekend. As gracious a recipe tester as she is, my mom usually registers the complaint that my baked goods aren't quite sweet enough. This time, though, all she could say was "they're delicious!"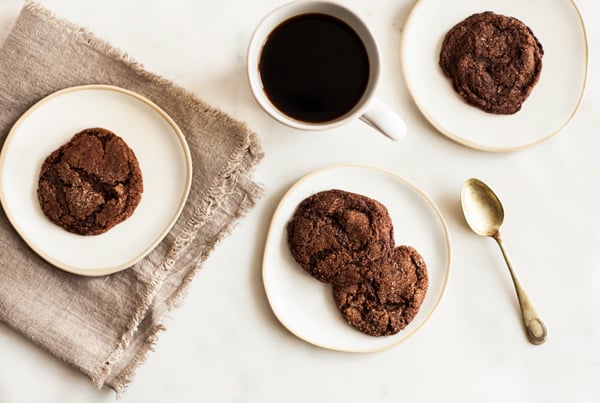 Don't take my word for it, though: give the cookies a try, and see if they satisfy your vegan chocolate fix. I hope you love them, and I'd love to hear how it goes if you try them at home!
In other news, thanks a million for the helpful feedback on my SNAP challenge for Community nutrition, and keep your thoughts coming. I think I will be sharing here on the blog, but I'll be doing my very best to make my reflections as nuanced as I possibly can. I'd also love for readers who use SNAP or grew up using the program to comment and share that week, if they wish to.
More on all of this soon. And I'll be back on Thursday with a dinner recipe that's easy, flavorful, and perfect for a Valentine's Day date night at home. Have a great Tuesday!
xo