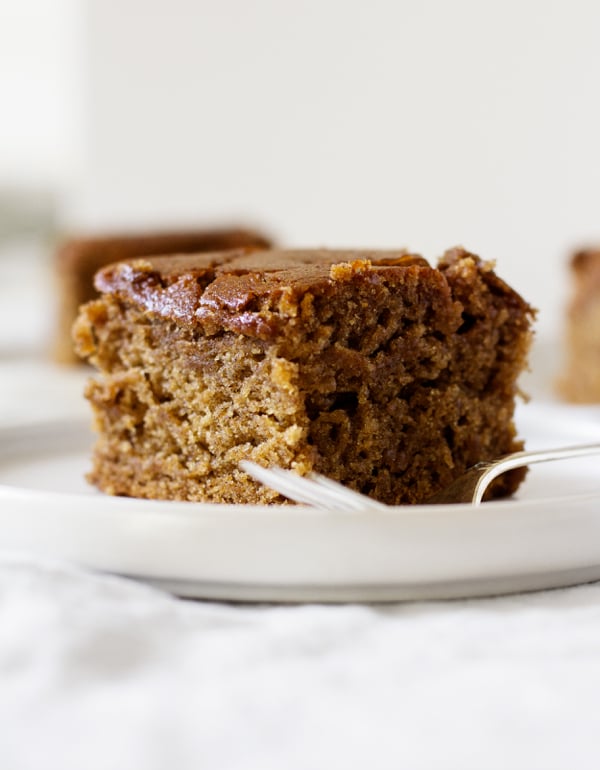 Since I made this vegan, gluten free gingerbread cake last week, I've given it to a couple of loved ones as a pre-holiday treat (no matter how strong our enthusiasm for vegan desserts, Steven and I couldn't successfully polish off the three batches I tested). Everyone has loved it, which means that my couple of not-so-successful tries were worth it, to get to the final result. This holiday cake has it all: it's moist, it's sweet, it's spicy, and it's perfect for a snack, a dessert, or to savor with a cup of coffee or tea.
I admit, I'm a little biased. Gingerbread is probably my favorite holiday dessert; I love the richly spiced fragrance, the depth of flavor, the deep color. I love any excuse to use blackstrap molasses (the most nutritive vegan sweetener, full of iron, calcium, potassium, and trace minerals).
For this cake, I kicked up the ginger taste even more by adding chopped, crystallized ginger to the batter. This is totally optional (I recently made a loaf for my mom, who doesn't care for crystallized ginger, and I omitted it without any issues), but if you love ginger as much as I do, I highly recommend it.
As you can see, the cake can either be baked in a traditional, 8 by 8 inch square baking dish, and then cut into square pieces, or you can bake it in mini-loaves. The baking times will differ depending on your vessel, so I've given instructions for both. I love the traditional, square cake slices, but the mini-loaves are perfect for turning this bread into an edible holiday gift!
I'm positive I'll be making the bread again, mostly likely as my contribution to the end-of-year potluck for my nutritional ecology course in my RD program, and probably for some friends as well.
Most importantly, this bread will soon be featured for a limited time in one of my favorite cafes here in New York, O Cafe on West 10th street. I'll be sharing more details, but the upshot is that I've teamed up with one of my favorite local cafes to promote the eatery's growing vegan menu, and already impressive list of gluten free pastries. The gingerbread will be on the O Cafe's menu for one week, along with signature vegan offerings!
For now, here's the recipe.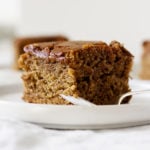 Vegan, Gluten Free Gingerbread Cake
Author -
3/4

cup

chickpea flour

3/4

cup

superfine brown rice flour or sorghum flour

1/2

cup

potato starch

1/4

teaspoon

xanthan gum

1 1/2

teaspoons

powdered ginger

1

teaspoon

cinnamon

1/2

teaspoon

ground nutmeg

1/2

teaspoon

salt

1

teaspoon

baking powder

1/2

teaspoon

baking soda

1/2

cup

neutral vegetable oil, such as safflower or grapeseed

1/3

cup

blackstrap molasses

1

teaspoon

vanilla extract

1 1/4

cups

non-dairy milk of choice

1/2

cup

applesauce

2/3

cup

coconut sugar or cane sugar

1

cup

finely chopped, crystallized ginger (optional)
Preheat oven to 350. Lightly oil and flour your baking dish(es).

In a large mixing bowl, whisk together the flours, starch, xanthan gum, ginger, cinnamon, nutmeg, salt, baking powder, and baking soda.

In a medium sized bowl, whisk together the oil, molasses, vanilla, non-dairy milk, applesauce, and coconut sugar. Add the wet ingredients to the bowl of dry ingredients. Whisk in even, circular motions, until the batter is smooth. Fold in the crystallized ginger.

Pour the batter into your baking dish(es). For mini loaves, bake for 20-30 minutes, testing them with a toothpick at 20 minutes. When a toothpick inserted into the center of a loaf emerges clean, they're ready. For a square cake, bake for 35-45 minutes, testing the cake at 35 minutes. Use a toothpick to check for doneness.

Transfer the cake(s) onto a wire cooling rack. Cool completely before cutting into squares and serving.
In place of the gluten free flours, starch, and xanthan gum, you can use 2 cups all purpose, whole wheat pastry, or spelt flour.
Gingerbread should be tightly wrapped and stored in the fridge. It will keep for up to four days.
Everyone who has tried the bread has commented on how moist and authentic it is. It definitely took a few tries to get the batter just right, but the experimentation was worth it. I hope you'll love the gingerbread, and that it'll add some cheer (and some delicious smells) to your kitchen this holiday season.
Next time, more details on my collaboration with O Cafe, and the cafe's signature roasted veggie toast. It's topped with a creamy pumpkinseed "tahini," roasted veggies, and popped amaranth, and I think you're going to love it.
xo