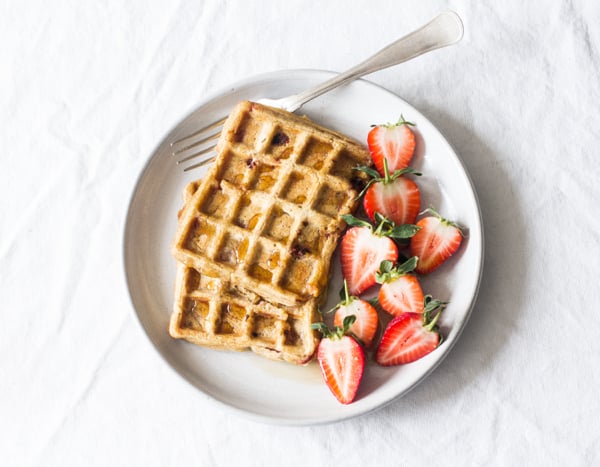 Yesterday morning, it happened: I got my first glimpse of autumn. It wasn't the temperature, because DC was as steamy as ever. It was the quality of light outside when I woke up, just a little dimmer than the blazing sun of July mornings. It was something about the way air smelled.
This happens every August–I catch a glimpse of the fall to come–and I greet it with a mixture of excitement and sadness, because while autumn is my favorite season by far, I also love summer, and I'm sorry to see it go. Especially since I've spent the last two summers in science lab, crunching numbers as the days fly by.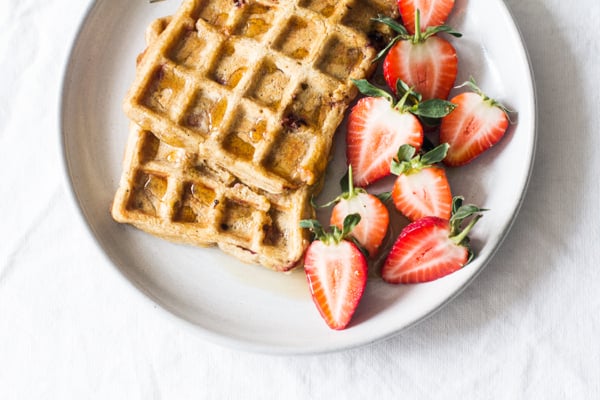 Think of these vegan, gluten free strawberry pumpkin waffles as the perfect crossover for summer and fall. If you, like me, greet the start of pumpkin season with glee, then this recipe is for you. But it also contains tiny pieces of chopped strawberry, which keep memories of summer alive. I know it sounds like a very odd combination, but I promise, it's delicious.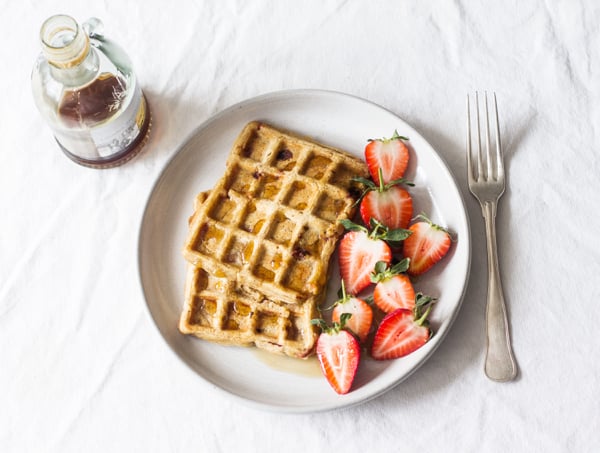 These waffles are fluffy and light, in part because of the gluten free flour and starch mixture. In place of it, you can use whole wheat pastry flour, spelt flour, or gluten-free all-purpose flour–all of which I bake with regularly.
Special nod to Iris for help with this recipe, as her standard universal waffle and pancake template helped to inspire it. I still owe you guys a review of her fantastic GF baking ebook, but suffice is to say for now that it's a tremendous resource for those of us who started off clueless about vegan and GF baking!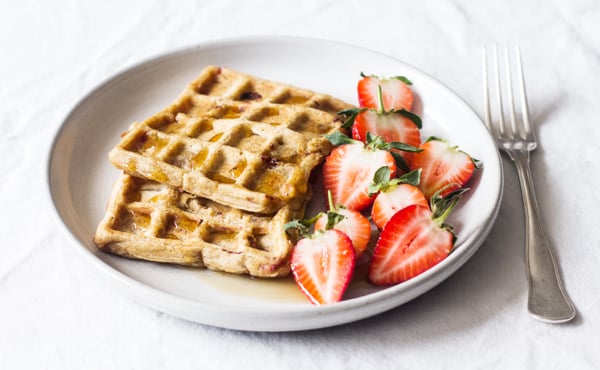 Vegan, Gluten Free Strawberry Pumpkin Waffles
Cuisine:
vegan, gluten free, soy free, nut free optional
Author:
Prep time:
Cook time:
Total time:
2 teaspoons baking powder
1 cup + 2 tablespoons brown rice flour (see below for additional flour options)
1/2 cup + 2 tablespoons potato starch (see below for additional flour options)
1 teaspoon cinnamon
Dash salt
1/2 cup pureed pumpkin
1 cup almond, rice, or soy milk
1 teaspoon apple cider vinegar
1 tablespoon safflower, grapeseed, or canola oil
1 tablespoon maple syrup
1 cup strawberries, cut into small pieces, plus extra for serving
Coconut oil spray
Mix dry ingredients together with a whisk.
Mix together wet ingredients (including pumpkin). Add wet ingredients to dry, mix well, and then fold in the strawberries. If you need to add some almond milk to make the batter appropriately thin, do so (it can vary from try to try). It should resemble any standard waffle or pancake batter, but maybe be slightly thicker.
Spray a waffle iron with olive or vegetable oil spray and make waffles according to manufacturer instructions. I typically pour about 1/2 heaping cup of batter over the surface and wait till it's cooked through. Be absolutely certain to spray the iron between each waffle to ensure the best results.
Serve the waffles with additional strawberries, if desired.
In place of the flour and starch, you can use 1 3/4 cups all purpose flour, whole wheat pastry flour, or spelt flour.[br][br]If you don't have a waffle maker, you can turn this recipe into pancakes and cook accordingly; just be sure to cut the strawberries quite small.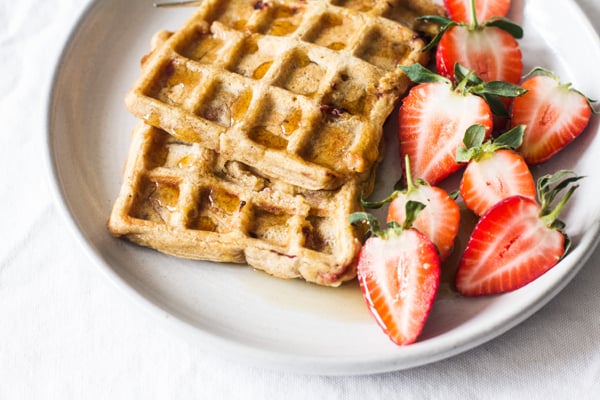 I hope you enjoy this delicious breakfast meal.
Tomorrow, I have a new dip/spread recipe for you, and later this week, further thoughts on the "dedication vs. obsession" theme. Have a good Monday!
xo
Images courtesy of Lighter.