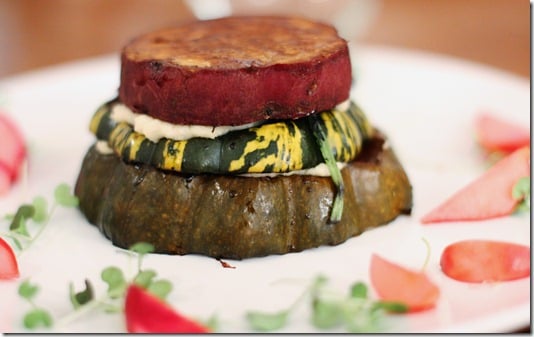 A week or so ago, a longtime local reader named Beth (whose name I recognized right away from comments) emailed me to ask whether I'd like to attend a vegan dinner party she was hosting for Feastly. Feastly is an organization that connects passionate home cooks with local diners who share their tastes. Members can plan meals, post the theme and menu online, and then other members of the site can sign up. The costs stay incredibly reasonable (especially for fine, multi-course meals), and strangers get to know each other over really delicious food. I think it's a great idea, and I'd consider hosting if I had a little more space myself!
Beth's menu was titled "vegan harvest," and she flattered me to death when she told me that many of the recipes were inspired by things she'd seen on Choosing Raw. I must say that all of the food she served seemed absolutely original to me, but of course there was some cashew cheese, almond cream, and lots of root veggies involved—all CR favorites! I told Beth I'd be delighted to attend, so long as she didn't mind my slipping out at some reasonable hour to return to studying.
And so it was that, on Saturday, I made my way over to Beth's and met a really interesting and dynamic group of local diners. Not surprisingly, common interests at the table included health and wellness, yoga, sustainable agriculture, and community gardening. There were eight of us in total, which is a great number for a dinner party. As we connected, Beth prepped our dinner with all the ease of a seasoned hostess. I've done quite a bit of entertaining, but I never manage to pull it off with that kind of grace!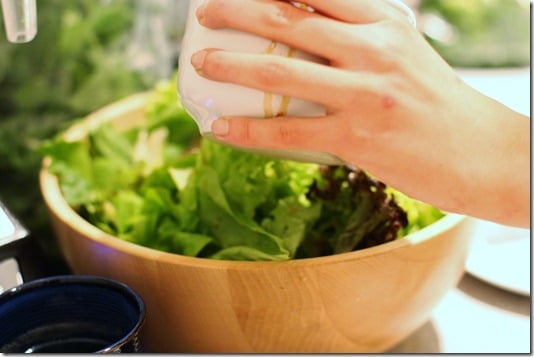 Our first course was a seasonal salad of haricots verts, lettuces, figs, nuts, fennel, and a light vinaigrette.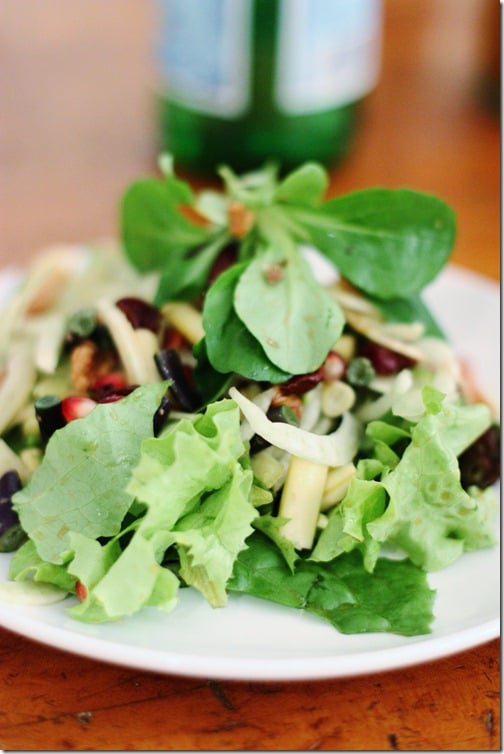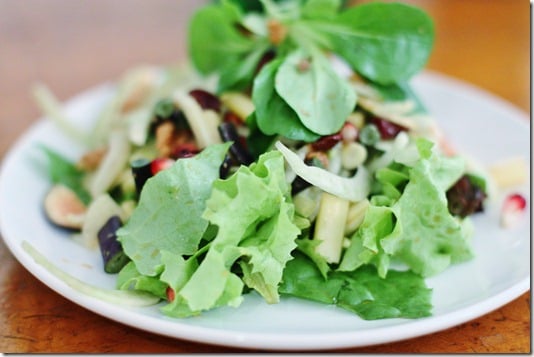 A really ingenious combination of flavors and textures. It was particularly appropriate, given my fig mania these days (and a much nicer way to feature the flavor of figs independently than putting them into a smoothie).
Our second course was a curried red lentil and pumpkin soup, topped with almond, hemp, and sage cream and pumpkin seeds, as well as a dollop of brown rice: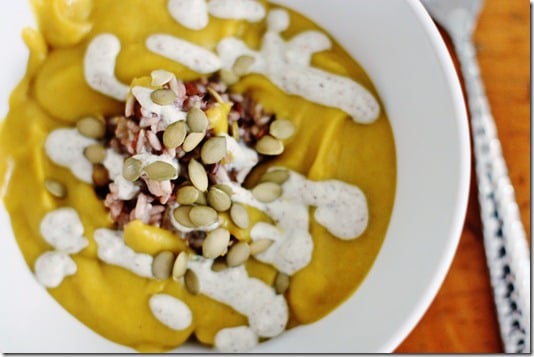 Absolutely delicious! I really loved the sage cream, which, when swirled into the hot soup, lent a delicate, subtle flavor to the whole dish. Really lovely.
As we ate, we talked about topics ranging from Ayurveda to mini kiwis to local farmers' markets to social media and the value of hugging. I was asked how I came to be vegan (you know that story!) and also why I advocate a vegan lifestyle to others. No matter how comfortable I am writing about vegan ethics on CR, I confess that, in social settings, I'm still more comfortable sharing my veganism by way of personal testimony, rather than polemic. That said, I'm learning that part of being an activist is finding respectful ways to make a case for veganism, even when one isn't in the majority (which I wasn't on this evening: though everyone at the dinner enjoyed or was curious about vegan food, there were only three vegans present, me and my hostess included). I started by saying that I don't agree with putting animals in captivity or eating them when it isn't necessary for us to do so. When someone quickly countered that we've historically always eaten meat, I rejoined that the fact that something is traditional or commonplace doesn't make it right, especially given that in this day and age, we—everyone at that table, at least—have access to B-12 supplements and an abundance of plant-based food. We can be both healthy and satisfied without animal foods or products.
One of the other guests said that it may not be healthy for some people (she meant this, I think, in the sense of bio-individualized nutrition). I pointed out that, technically speaking, most people can be healthy with a fully balanced vegan diet and vitamin B-12; oftentimes, when veganism isn't working for someone, some adjustments in diet will yield wonderful and lasting results. I always like to mention that my friend Brendan, now a vegan spokesperson, was chronically hungry and low on energy when he first went vegan. After studying nutrition diligently, experimenting with what worked for him, and maximizing his micronutrient intake, he found his best health ever on a vegan diet. So my point is not to minimize the idea that nutrition and diet vary from person to person, and that we all need to experiment and find what works for our bodies—I couldn't agree more!—but rather to say that there are ways to experiment within the vegan paradigm if it's not working. Some will do better with more grains and legumes, others with more fats, others still with more protein, and so on. Balance looks different for everyone, even among vegans. It's worth doing such experimentation before deciding that veganism doesn't work for you—especially when the stakes are so high for animals.
In any case, it was a really good, interesting conversation between eaters who came from all different philosophical places. I appreciated the candid, respectful, and open sharing of ideas.
And then came our wonderful entrée, which I caught on camera mid-prep: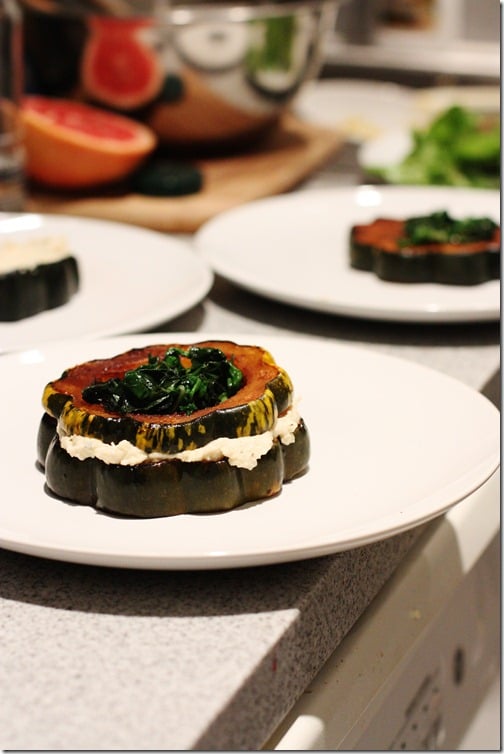 It was a stack of acorn squash, sauteed spinach, yam, and cashew cheese. In other words, it was heaven.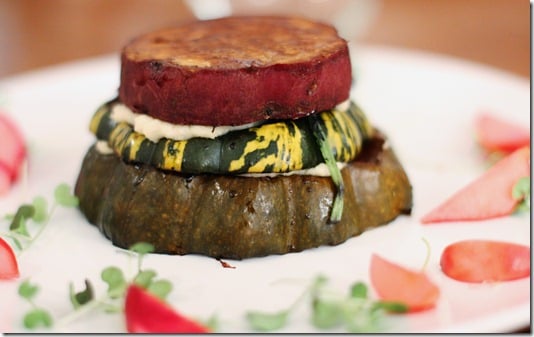 It was exactly the kind of entrée I might make on my own, down to the last detail. Well, almost the last detail: I always claim to hate radishes, but Beth's homemade pickled radishes proved me wrong! Really tasty.
And finally, out came a perfect dessert trio with which to end our meal. Maple ice cream (with a macadamia nut base), a vegan biscotti that tasted a lot like caramel to me, and a raw brownie that was enhanced with coconut. Good gracious—not one scrumptious treat, but three!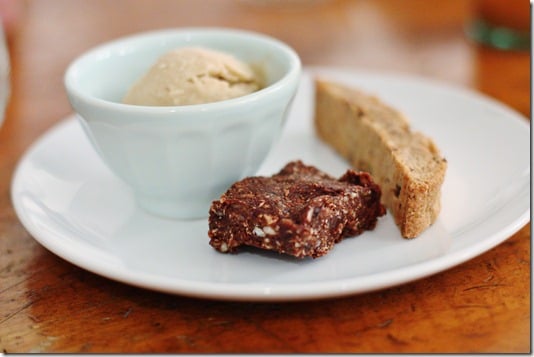 I loved all of the desserts, but I may have swooned a little when I tried the ice cream (and that is saying a lot, because I'm more of a cookie person than ice cream person). It was so delicious—like creamy, cool maple sugar candy.
In all, I couldn't have left the meal feeling more satisfied or impressed. Beth's a fantastic cook, and I look forward to taking a lot of inspiration from this dinner and re-creating some of her recipes at home! For now, I'm just grateful that she included me in the evening, grateful to Feastly for the opportunity, and also grateful to my fellow guests for their company.
Ironically, Beth made brownies for dessert, and I happened to bring her a batch of frosted, high-raw raw brownies as a gift. So we did a raw brownie swap. Tomorrow, I will share both the brownie and the icing with you—this one is a keeper!
xo