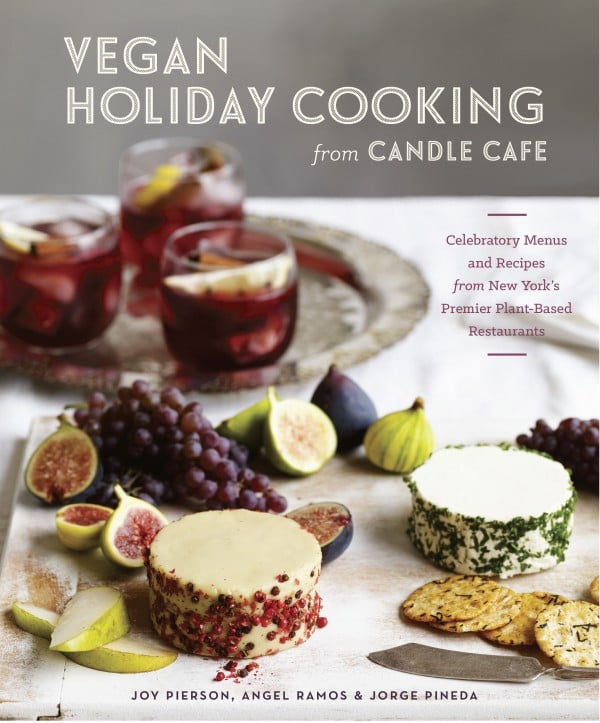 It is no great secret that I am a great big fan of the Candle restaurants here in New York: Candle Cafe, Candle 79, and Candle Cafe West. These three extraordinary dining destinations offer healthful, hearty, and celebratory vegan fare, year in and year out. Candle Cafe has been in business since 1994, serving organic, vegan food that continually wins over plant based eaters and omnis alike. I've taken so many friends and family members to the restaurants, and the food always wins over new diners.
Candle food is a perfect combination of comforting and innovative. Many of the dishes, from the famous sandwiches to the seitan picatta or the spaghetti with wheatballs, evoke familiar textures and tastes and recipes. But they all feature unique and creative twists: a dusting of tapioca or cashew cheese here, a unique poblano tahini dressing there. The seitan is made in house, and it's spectacular. The vegetable dishes are consistently cooked to perfection, never overdone or underdone. The dressings are all amazing (every single one of them). And the desserts? Totally authentic.
It has always seemed to me that the Candle restaurants evoke a spirit of celebration and festivity. It's clear that the restaurants are on a mission to make vegan fare feel special, and of course the restaurant is famous for its holiday meals (check out my post on a Candle 79 Thanksgiving a few years back). So it's wonderful news that the Candle team has finally published a holiday cookbook: Vegan Holiday Cooking from Candle Cafe.
I've had this book for a few months now, and I'm already in love with it. It features so many of the restaurant's classic holiday dishes, like its signature pumpkin cheesecake with apple reduction: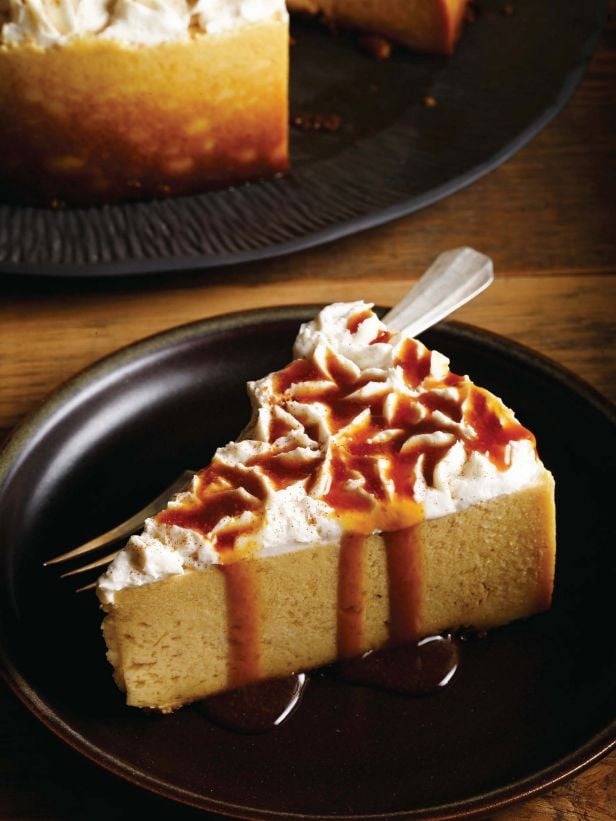 Or its stuffed avocados with chipotle vinaigrette: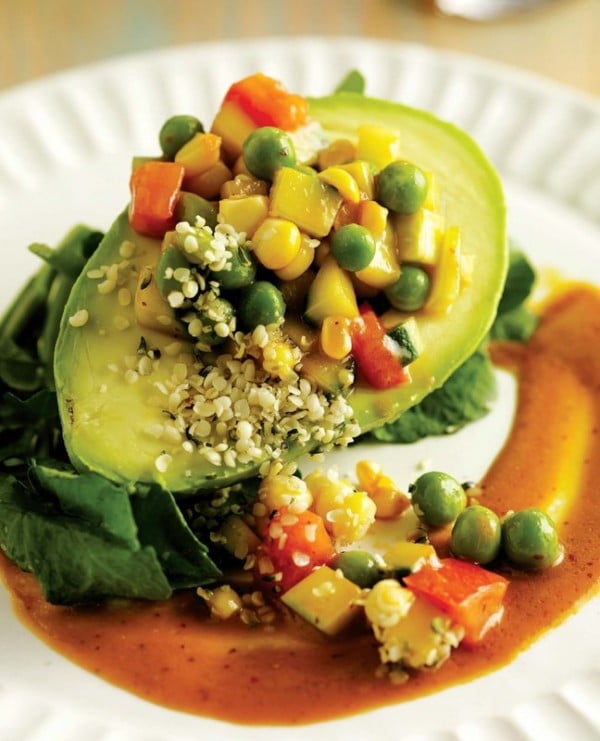 Its wheat ball heroes (presented as a Super Bowl party dish):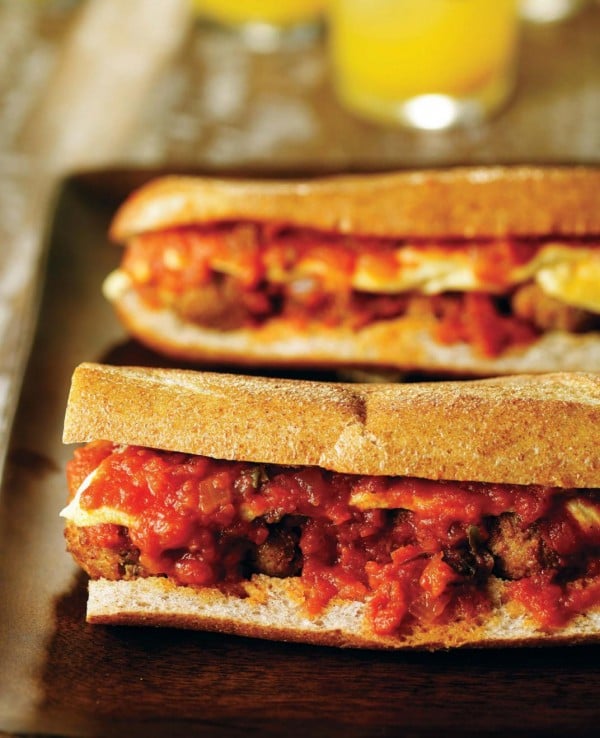 And some of the restaurant's fabulous cocktails. Right now, I'm ogling the Christmas Pomegranate Punch!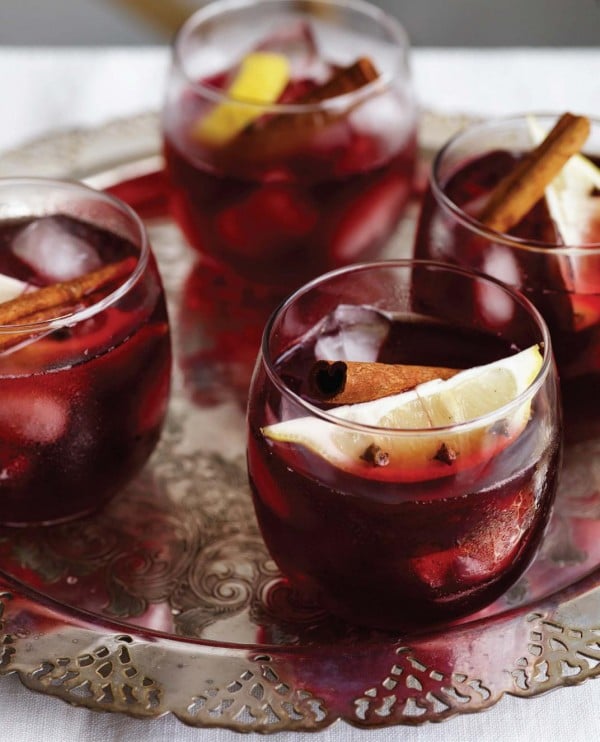 And who could forget indulgent desserts? The molten chocolate cake with raspberry coulis, a Valentine's day option, looks amazing.
One of the best things about the book is the fact that it doesn't only focus on the winter holiday season: it includes Lunar New Year, Valentine's Day, Passover, Easter, Cinco de Mayo, and the 4th of July. Of course Thanksgiving, Christmas, and New Year's Eve are rich chapters, but one doesn't feel that the book is dominated by pumpkin, cranberry, or Hoppin' John, the way that some holiday collections are.
I also appreciate the book's variety. You'll find hearty entrees and rich desserts, but you'll also find side dishes, salads, grain pilafs, and more. The book will walk you through all of the dishes you need to prepare a fulsome, well rounded holiday feast. Or, if you prefer, you can simply dip into its pages to find foolproof, seasonally appropriate recipes that are destined to be crowd pleasers.
There are so many recipes I could have honed in on for this review; the molten chocolate cake was calling my name, as was the kale and polenta casserole (presented as a Christmas recipe). But the cookbook states that Chef Angel Ramos' nut cheeses are works of art, and I took the book at its word. As a nut cheese fanatic, I couldn't resist trying the macadamia nut cheese and cashew cheese (both included as part of a gorgeous spread for Christmas):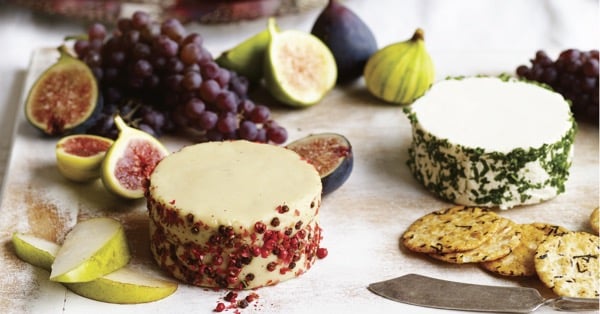 If you'd like to prepare the gorgeous, herbed cashew cheese at home, here is the recipe.
Candle Cafe's Cashew Cheese
Ingredients
2

cups

raw cashews

2

tablespoons

fresh lemon juice

1

tablespoon

nutritional yeast

1

tablespoon

extra-virgin olive oil

1

teaspoon

sea salt

1

tablespoon

chopped

fresh flat leaf parsley

1

tablespoon

chopped fresh chives
Instructions
To make the cashew cheese, the day before serving, put the cashews in a bowl and add enough cold water to cover them. Cover and let soak overnight in the refrigerator.

Drain and rinse the cashews and transfer to a food processor. Add the lemon juice, nutritional yeast, oil, and salt and blend until smooth, 10 to 12 minutes. If you find that there is not enough liquid in the food processor to blend the nuts, add a bit of water [note from Gena: I added a whole half cup].

Transfer the cashew paste to a bowl and refrigerate for 1 hour to firm. Remove and pack the paste into a 4-inch ring mold. Remove the mold and press into the outer edges a mixture of parsley and chives.

To serve, arrange the cheeses on a platter and garnish with your favorite assortment of crackers and fruits.

This recipe is courtesy of Vegan Holiday Cooking from Candle Cafe, (c) 2014 by Candle Family Foods, LLC.
It's a perfect cheese, especially to serve in a mold form: it's dense and thick and is really reminiscent of a goat cheese. Feel free to add garlic, extra nooch, or whatever serves your fancy.
I've had such a fun time exploring this special holiday collection, and in honor of the holiday season, the folks from Candle are offering one lucky US or Canadian CR reader a copy of Vegan Holiday Cooking from Candle Cafe. This giveaway will run for one week–enter below to win!
As always, I wish all of my readers a happy holiday season. See you back here tomorrow with a special Green Recovery post!
xo
All photos copyright (c) 2014 by Jim Franco.