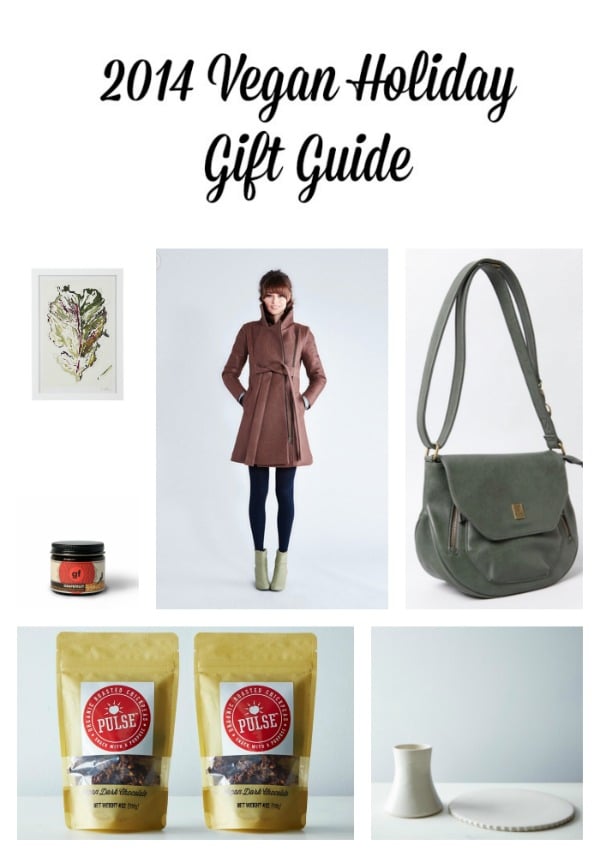 Somehow, when I wasn't paying attention, it became December 1st. This is my favorite season of the year by far, but I often spend it feeling preemptively wistful about how quickly it all passes. This will be a busy holiday season, as always, but I'm determined to savor all of the little moments.
Giving is the best part of the holidays, and each year, I look forward to assembling a gift guide full of unique vegan items, from housewares and serving pieces and kitchen appliances to clothing, shoes, accessories. This year's guide is full of hand-crafted and artisanal items, along with some eco-conscious gifts as well. I love all of these treats, and I hope you'll enjoy browsing through them. Perhaps you'll consider sharing one or a few of them with your loved ones–or with yourself!
CLOTHING, SHOES, ACCESSORIES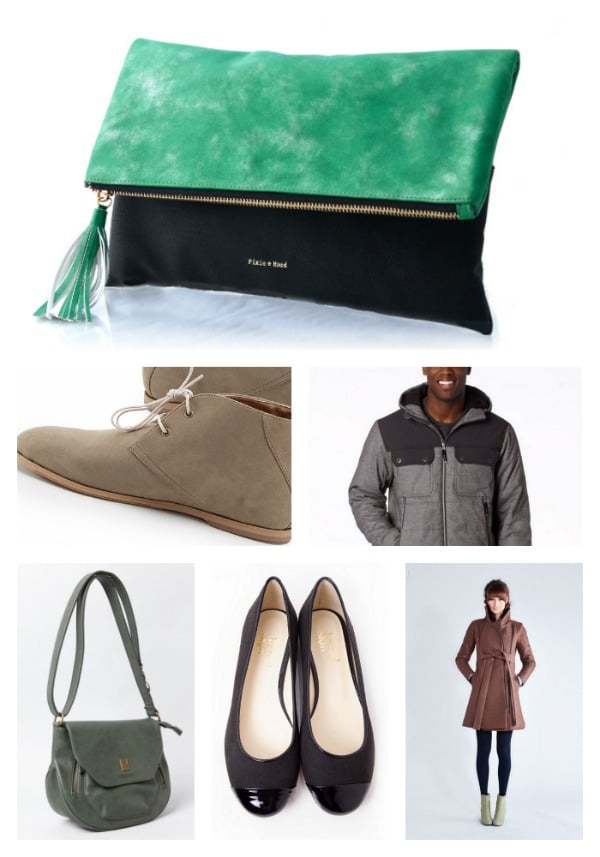 Clockwise, from the top:
1. This foldover clutch from the hip brand Pixie Mood (on sale over at Vegan Cuts) is so fun. I love the contrast of black and electric green.
2. A warm, fashionable, and 100% vegan mens' jacket. (Check out the Prana site for lots of other terrific vegan apparel for women and men!)
3. If you're looking to splurge for a special someone–or for yourself!–the Emily jacket from Vaute Couture is off. the. hook.
4. I have these Beyond Skin flats in a tan/black combo, and I can't tell you how much I wear them. They're perfect for work, for trekking around, for wearing out. They work equally well with tights or with bare feet in the warmer months. Really fantastic, elegant, and cruelty-free shoes.
5. A vegan bag that can work as either a crossbody or a shoulder bag. Versatile and cool.
6. I'm digging these awesomely comfortable and stylish mens' boots from Novacas.
BEAUTY AND PERSONAL CARE
Clockwise, from the top:
1. Vegan Cuts always does a great job with beauty and skincare bundles, and this winter beauty essentials kit–featuring makeup, skincare, and haircare items–is no exception.
2. I discovered Osmia Organics, a Colorado-based, eco friendly brand, this year. Love this cruelty free body soap and body oil gift set.
3. I'm not one to say that a skin product is "life-changing," but seriously. My friend Melanie gifted me with the grapefruit cleanse + hydrate balm from Stark Organics this year, and boy, is it amazing. My (very, very sensitive) skin has never felt more soothed.
4. I never get tired of the ridiculously tasty Hurraw lip balms. Especially in the coffee flavor.
5. A perfect gift for men: vegan beard balm and oil. Made locally in Brooklyn.
6. Cream blush is pretty much the only makeup I wear with any regularity, and I've been super impressed with the natural, light blush from GlamNatural.
KITCHEN
Clockwise, from top left:
1. Do you bring lunch to work or school every day? Then this simple, stylish Waxed Canvas Lunch Bag is for you.
2. I love these beautiful, handcrafted spice jars. I'd probably use mine for keeping sea salt near the stove!
3. I've written recently about the beautiful and eco-friendly acacia wood serving pieces from Pacific Merchants. Give a friend the gift of beautifully presented salad with one of the company's salad sets (and don't forget to enter my giveaway to win a set of your own!).
4. A friend directed me to these lovely kale leaf prints from Crate & Barrel— perfect for hanging in the kitchen!
5. Make tons and tons of delicious raw desserts and treats this holiday season, and then serve them on this gorgeous scalloped zinc dessert tray.
6. I'm absolutely smitten with these cozy, perfectly sized soup mugs from Food52 Provisions.
FOOD
Clockwise, from the top:
1. Give someone the gift of the best cocktail party ever, by sending them one of these raw, artisanal vegan cheese samplers.
2. My toasted pumpkin and cranberry granola makes a wonderful, homemade holiday gift.
3. Treat a friend to endless mornings of deliciously sweet toast. I love this pumpkin pear butter & apple butter set (with pecans).
4. Coffee and chocolate. Who needs anything else?
5. If you're giving to someone who lives nearby, fresh, homemade nut milks are a wonderful, wonderful present. I love giving my vanilla cinnamon pecan milk to friends around the holidays.
6. This vegan dark chocolate chickpea crunch looks totally addictive–a perfect treat to have in the house at all times during the holiday season!
HOUSE AND HOME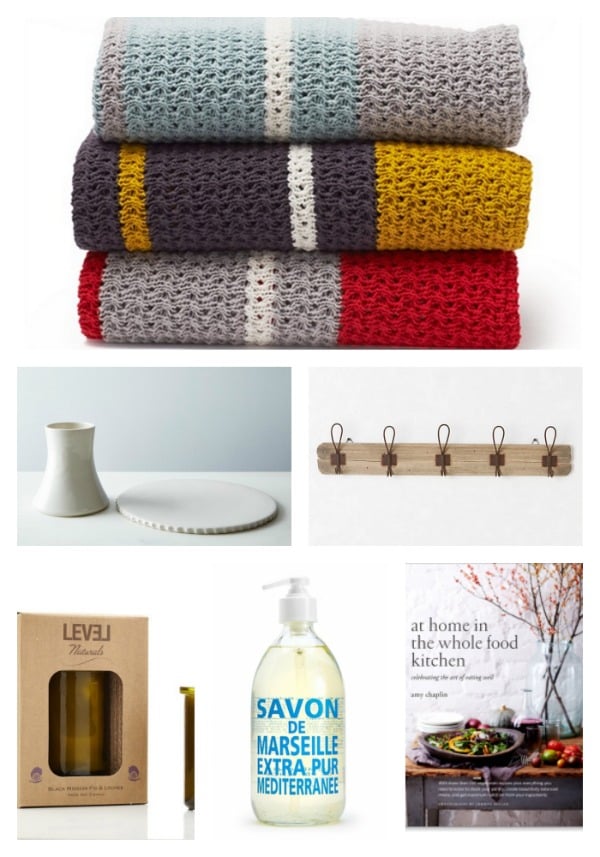 Clockwise, from top:
1. These organic cotton throw blankets are colorful, warm, and big enough for two to snuggle under.
2. This wooden wall rack is great for organizing winter outerwear layers, and it's made with reclaimed wood and industrial wire. Cool!
3. I am only featuring one cookbook in this guide, and it's Amy Chaplin's marvelous At Home in the Whole Food Kitchen. The book will be getting a rave review here on CR very soon, but for now, I'll simply say that it's the most visually stunning, rich, informative, passionate, and enjoyable cookbook I've seen in a long time. I've been reading it little by little, as if it were a novel, and savoring each page. I highly recommend it as a coffee table book gift.
4. Savon de Marseille smells amazing, feels amazing (it contains a minimum of 72% vegetable oil, so it leaves skin silky soft), and makes a lovely gift for the home.
5. There are tons of wonderful vegan candles out there, but lately I'm loving soy candles from Level Naturals, which are fragrant and long lasting. This black mission fig and lychee scent is my personal fave.
6. How ingenious is this? A gorgeous, porcelain cake stand that doubles as a vase.
STOCKING STUFFERS
Clockwise, from top left:
1. Raaka dark chocolate with Himalayan pink sea salt is totally divine. I'd sure love to find a bar in my stocking!
2. Lush vegan soaps feature unusual, luscious scents and skin softening superpowers.
3. Bungalow 360 makes the most adorable products (I have one of their wallets), and this cotton canvas wristlet makes a perfect, stocking-sized gift.
4. Hand crafted, tender, chewy vegan jerky, manufactured in small batches with Kentucky sorghum syrup. I'm impressed (and hopefully Steven will be, too, when this shows up in his stocking!).
5. Gorgeous, hand painted small ceramic ornaments.
6. Stickers, buttons, and magnets from Herbivore clothing make my favorite stocking stuffers. Gifts with a compassionate message!
And, of course, I'd be a terrible cookbook author if I didn't mention that my book, Choosing Raw, makes an awesome holiday gift.
21 days of vegan + raw food meal plans, tons of vegan lifestyle information, myth-busting, FAQs, and 125 delicious vegan and raw recipes–all of them easy and accessible. Examples include:
Peachy Keen Smoothie
Chocolate Raw-nola
Easy Berry Breakfast Pizza
Hummus Kale Chips
Creamy Basil and Ginger Noodles
Apricot, Quinoa and Mint Salad
Raw Corn Chowder
Raw Lasagna
Portobello "Steak" and Rosemary Cauliflower Mashed Potatoes
Raw Peach Cobbler
Banana Soft Serve
Cherry Vanilla Tahini Ice Cream
I hope you'll consider it, and if you have it already, thank you for supporting the book.
That's it for today, friends. Happy, happy holidays to you!
xo