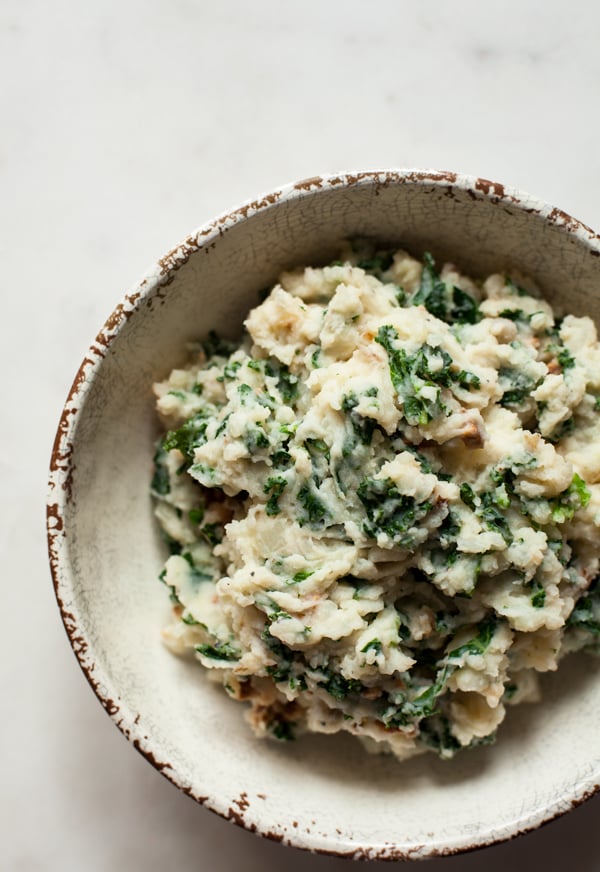 Today's dish is clearly in honor of St. Patrick's Day. Since I'll be traveling tomorrow, I whipped up some festive food two nights early this week. The meal was appropriately potato themed, and this vegan kale colcannon was the star.
Colcannon is an example of simple, rustic food at its best. It's a mashed potato dish made with cabbage or kale, though the cabbage variety is more traditional. Depending on how fancy you want to be, you can add chives, sour cream, butter, leeks, bacon, or ham to the dish. I tend to like it on the simple side, and as you'll see, this version is pretty fuss-free. What makes it unusual is the substitution of one brassica (kale) for another (cabbage).
Don't get me wrong: I think the cabbage version is delicious. But curly kale adds wonderful texture, not to mention a hefty dose of nutrition and bright spots of color. You can leave it very simple–just potatoes, salt, pepper, a splash of soy or almond milk, a touch of Earth Balance, and the steamed kale–or you can add some smokiness and protein in the form of crumbled tempeh, vegan sausage, or another vegan meat. If you'd prefer to use something homemade, my lentil walnut taco meat would be wonderful in the dish (though I'd omit the cumin and chili powder, just to keep the flavors consistent). Smoked tofu would be great, too.
As far as the vegetable goes, feel free to use kale or any other leafy green here–beet greens, chard, spinach, or mustard greens. Red and green cabbage will keep it traditional, and chopped cauliflower or broccoli florets would be wonderful, too.
Vegan Kale Colcannon
Recipe Type
:
Side dish, small plate
Cuisine:
vegan, gluten free optional, soy free optional
Author:
Prep time:
Cook time:
Total time:
Serves:
5 cups, or 4-5 servings
4 medium sized russet potatoes, peeled and cut into large chunks
3/4 cup unsweetened soy or almond milk
3 tablespoons Earth Balance or melted coconut oil
1/2 teaspoon salt (more to taste)
1/4 teaspoon freshly ground black pepper
1/2 teaspoon garlic powder
3 cups washed and finely diced kale, tightly packed
[i]Optional[/i]: 1 cup chopped [url href="https://lightlife.com/products/organic-fakin-bacon-tempeh-strips" target="_blank"]Fakin Bacon[/url], [url href="http://fieldroast.com/product/field-roast-sausages/" target="_blank"]Field Roast sausage[/url], or another vegan sausage/meat substitute of choice; my [url href="https://www.thefullhelping.com/heat-free-lentil-and-walnut-tacos-plus-choosing-raw-giveaway-winners/" target="_blank"]lentil walnut "meat"[/url] would also be great (adjust seasonings as needed)
Bring a pot of salted water to boil. Add the potatoes. Boil till tender (about 15 minutes). Drain and return potatoes to the cooking pot.
While the potatoes cook, bring a small pot of water to boil and steam the kale lightly. Set kale aside.
Add the plant milk, Earth Balance of coconut oil, salt, pepper, and garlic powder to the potatoes. Mash evenly, leaving just a bit of texture in the mixture. Stir in the kale and the vegan "meat," if you're using it. Mix everything well, adding extra plant milk as needed, and adjust seasonings to taste. Serve. Leftovers will keep in an airtight container in the fridge for up to 3 days.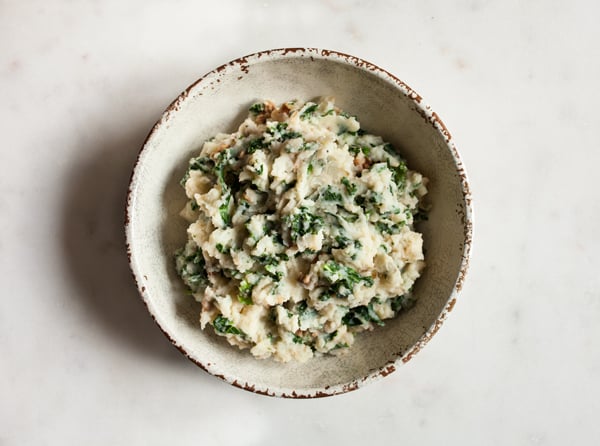 The real challenge of this recipe is to prepare it without eating half of it, as it's totally irresistible. The combination of creamy potatoes, fresh and zesty kale, and smoky tempeh (or whatever other protein you decide to use) is such a winner. This is an ideal vegan recipe for St. Patrick's Day, but frankly, it's also perfect vegan comfort food for any time of the year. I hope you enjoy it!
I'll be checking in tomorrow from the Big Easy. Night, friends.
xo