A few days ago, I blogged about vegan Caesar salad dressing. Once upon a time, I thought that Caesar dressing would be impossible to veganize. Nowadays I know that pretty much nothing is impossible to veganize, which is one of the happy and exciting discoveries of transitioning into plant-based cooking.
Now that I have a vegan Caesar dressing, I figure it's time for a vegan Caesar salad, which is of course how this kale and white bean salad with Caesar dressing came to be. The salad is inspired not only be Caesar salad, but also by Tuscan kale and white bean soup; you could say that it's an Italian hybrid of sorts. The salad is both fresh and also hearty, a perfect mixture of bitter greens, tangy sun-dried tomatoes, creamy white beans and dressing. It's a new favorite for me; pair it with some toasted garlic bread for dinner, or enjoy it as a light lunch.
Kale and White Bean Salad with Caesar Dressing
Recipe Type
:
vegan, gluten free, soy free, no oil
Author:
Prep time:
Cook time:
Total time:
1 head dinosaur (lacinato) kale, stems removed and sliced into thin ribbons
8 sun-dried tomatoes, sliced into narrow strips (you can use oil-packed or dry pack, but if you use dry-pack, be sure to hydrate as needed)
1 1/2 cups cooked navy, cannellini, or great northern beans (1 can beans, drained and rinsed)
1 batch [url href="https://www.thefullhelping.com/raw-vegan-caesar-salad-dressing/" target="_blank"]raw, vegan Caesar salad dressing[/url]
Pour about 1/2 cup of the dressing over the kale and "massage" it with your hands, until the kale has gotten a bit soft and wilted in texture.
Add the sun-dried tomatoes and beans to the kale and mix well. Add additional Caesar dressing as needed (you may use the whole batch, or you may only need 2/3-3/4 cup — use your judgment). Enjoy!
Leftover portions of salad can be stored in an airtight container in the fridge overnight.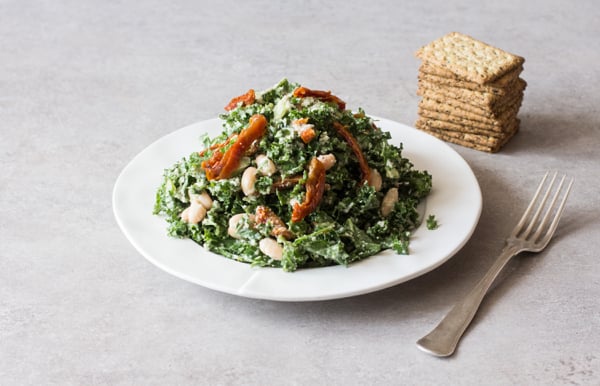 This salad was a perfect reward for the exertion of decorating my little tree:
Every Christmas eve, my mother and I sit across from each other at her kitchen table, and she stares with suspicion at the heaping plate of curly greens that I'm about to devour. I may offer her some quintessential vegan "comfort food" this year, but no matter what, kale salad will be on the menu. If it tastes this good, I'm willing to bet even she will love it.
And I hope you will, too!
xo
Images courtesy of Lighter