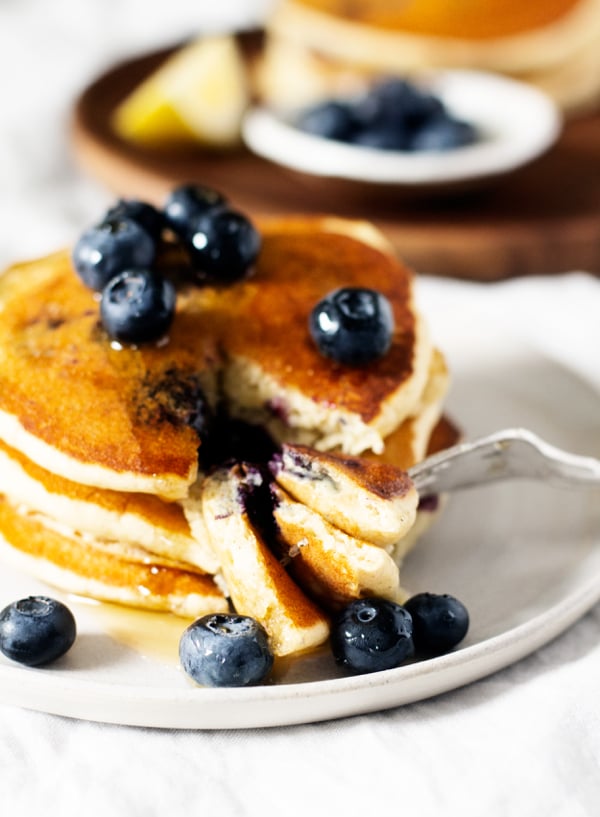 Most days of my short break from school have gone the same way: my mom and I rise at around the same time (early), and she goes off to work (my mom is an artist and an art teacher), while I stay at home to work on my blog/business, and to see friends. This means we haven't shared too many breakfasts together, so it was a real treat for us both to sleep in a little today and eat a "fancy" meal together in the morning. On my way to the gym, I asked my mom how cornmeal pancakes sounded; she said they sounded great. So upon my return, I set about whipping up this plate of fluffy lemon blueberry cornmeal pancake deliciousness. 20 minutes later, breakfast was served.
One of the first cornmeal pancakes I ever tried were cornmeal and raspberry pancakes from my friend Dreena's Eat, Drink and Be Vegan (a book I highly, highly recommend). It was love at first bite; I appreciated the unusual texture of the pancakes, which were someplace in between a very light bit of cornbread, and a traditional breakfast treat. I subsequently learned that cornmeal pancakes are actually a classic breakfast dish (though vegan varieties are a newer invention). Popular combinations seem to be blueberry cornmeal, raspberry cornmeal, and lemon cornmeal. Lemon fanatic that I am, I figured I had to try a lemon variety sooner or later. My mom, however, is a blueberry pancake fan, and so I decided to try my hand at a hybrid of the two recipes this morning.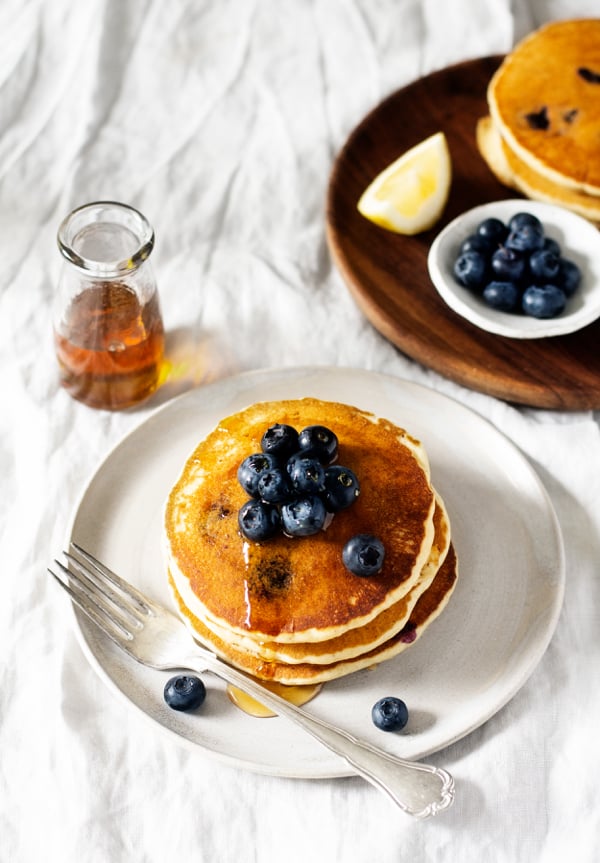 You can definitely omit the blueberries from this recipe, or you can replace them with raspberries, chopped strawberries, dried cherries, or any other fruit you fancy.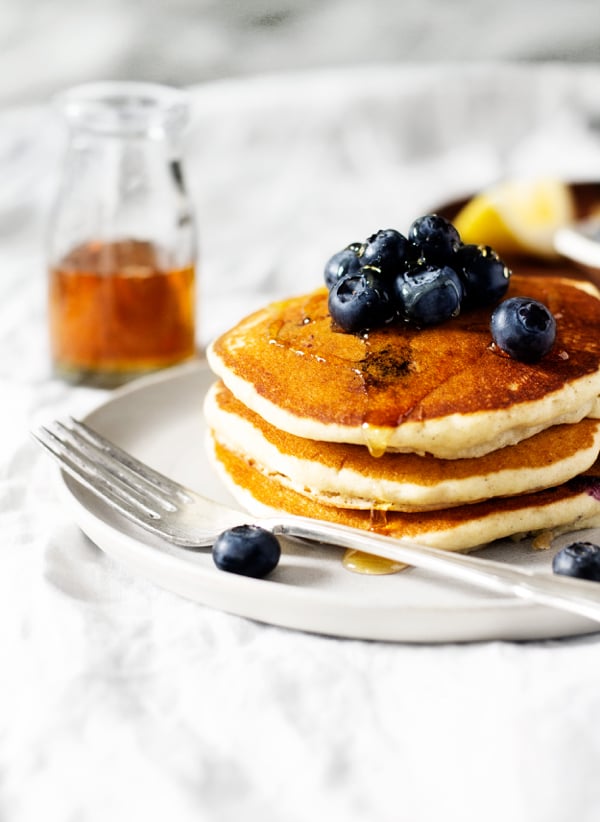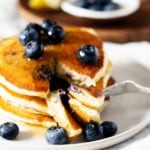 Vegan Lemon Cornmeal Blueberry Pancakes
Author -
1

tablespoon

ground flax meal + 3 tablespoons warm water (a flax "egg")

1

cup

unbleached, all-purpose flour or a gluten-free, all-purpose flour blend

1/2

cup

yellow cornmeal

1 1/2

teaspoons

baking powder

1/4

teaspoon

sea salt

2

tablespoons

lemon juice

1

tablespoon

lemon zest

3/4

cup

non-dairy milk of choice

2

tablespoons

maple syrup

1

tablespoon

vegetable oil of choice (such as canola, safflower, or melted coconut), plus a little extra for coating the pan/skillet

1/3

cup

blueberries
Heat an oiled cast-iron skillet or wide, nonstick frying pan over medium low heat.

Whisk together flour, cornmeal, baking powder, and salt in a large mixing bowl.

In a small bowl, whisk together the lemon juice and zest, along with the milk. Add the flax meal + water, the maple syrup, and the oil.

Add wet ingredients to the dry ingredients and mix till just combined evenly.

Heat a skillet and add the batter by 1/3 cup amounts. Dot each pancake with a few blueberries. Wait until bubbles form on the pancake top, and then gingerly flip over. Cook another two minutes, or until the pancakes are cooked through. Repeat with remaining batter, spraying or lightly coating the pan with oil as you go. Keep the pancakes warm in an oven on a low setting till all of the pancakes are ready.

Serve with fresh berries, vegan butter, maple syrup, or other toppings of choice!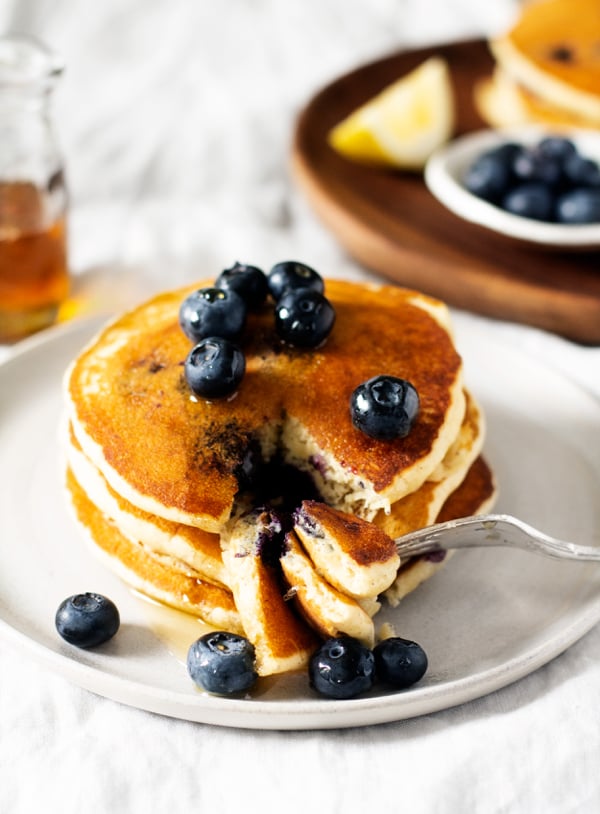 Homestyle, comforting pancakes, touched with the elegance of a hint of lemon? Winning combination. and so perfectly fresh and light for summertime.
Hope you and yours will enjoy these as much as my mom and I did. And more importantly, hope you're enjoying a lovely memorial day! I'd love to hear what you're up to. I'm working away at CR stuff before I head back to school, but I definitely plan on clearing away some hours to finally (finally!) dig into Freedom—the last novel I worked on, if only for a moment, before I left FSG.
xo