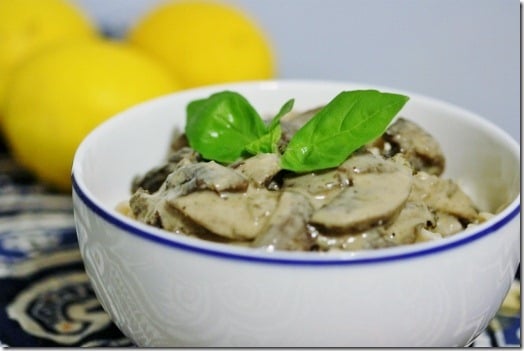 First of all: wow. That vaccine discussion was one of the best we've recently had, wasn't it? I was blown away by the comments: the ones in favor of vaccines, the ones opposed to them, and the ones that expressed my own bag of mixed feelings. If you're behind on posts, please check this important conversation out!
I'm back today with the usual: food. Dinner food, to be precise. Last week, a strange impulse overtook me at whole foods: I wanted mushrooms. Lots of them. I have nothing against mushrooms, mind you, but they've never been a food that I tend to gravitate toward. I know that portobellos can be great stand-ins for "meatiness" in some vegan dishes (I'm thinking of my raw "steak and potatoes) but the wider world of mushrooms—morels, hens of the woods, porcinis, and even shitakes—I have yet to explore.
The following recipe didn't exactly ask me to break out my compass: it's about as traditional as recipes get, and the mushrooms I used (shitake, portobello, and baby bellas) are all very common. But the recipe was quick, easy, and very delicious, and I think it would make for a wonderful weeknight supper for vegans and omnis alike. Though traditional stroganoff is made with beef, mushroom stroganoff is also a dinner classic, and the latter is naturally veg-friendly. If you're cooking for meat-and-potatoes friends and family, you can rest assured that this dish will keep them squarely in their comfort zones.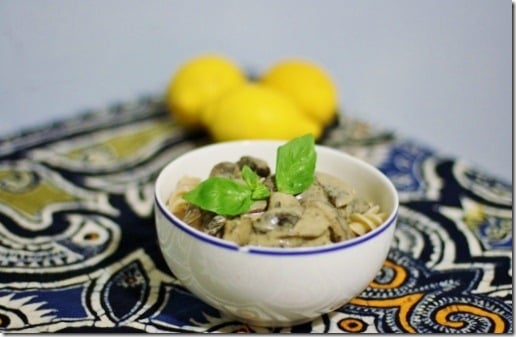 Vegan Mushroom Stroganoff (vegan, gluten free depending on the pasta you use, soy free if you use coconut oil)
Serves 4
2 portabello mushroom caps, sliced
8 oz shitake mushrooms, sliced
8 oz baby bella mushrooms (or more portobellos, or button mushrooms) stemmed and sliced
2 tbsp water or vegetable broth
1 clove garlic, minced
1/2 yellow onion, chopped
3 tbsp Earth Balance or Coconut Oil
3 tbsp flour of choice (I used whole wheat pastry flour, but a gluten free mix would also work)
1 cup almond milk
3/4 cup vegetable broth
1/4 cup dry white wine
1/4 cup nutritional yeast
1 tsp thyme or herbes de provence
1 tsp dried rosemary, chopped
Salt and pepper to taste
Optional: 2 tbsp full fat coconut milk or coconut milk creamer
Optional: Handful chopped chives
4 servings pasta of choice (I love the Tinkyada brown rice pastas!)
1) Sautee mushrooms, garlic, and onion in water or broth till they're tender and the onions are starting to get brown. Season with salt and pepper (enough so that they'd taste good if you wanted to eat them right now).
2) Melt coconut oil or Earth Balance (the former is more wholesome, the latter will taste more traditional) in a large skiller or a pot. Whisking constantly, add the flour, tablespoon by tablespoon. Keep whisking till you have a thick mixture that's nevertheless melted and starting to brown.
3) Add the almond milk, broth, wine, nutritional yeast, thyme, and rosemary to the mixture. Bring to a boil and allow mixture to thicken well. Add the cooked mushroom mixture, and keep stirring till all is bubbly. Season to taste with salt and pepper, and, if you want to make sauce extra creamy, add the coconut creamer.
4) While sauce cooks, prepare pasta according to package instructions. Ladle sauce evenly over pasta and garnish with chives. serve!
This pasta dish is rich, creamy, and buttery. Without the animal products, and without the saturated fat. It's a dream come true for healthy chefs who still want to treat their families to a decadent meal:
And I happen to know that it makes terrific leftovers: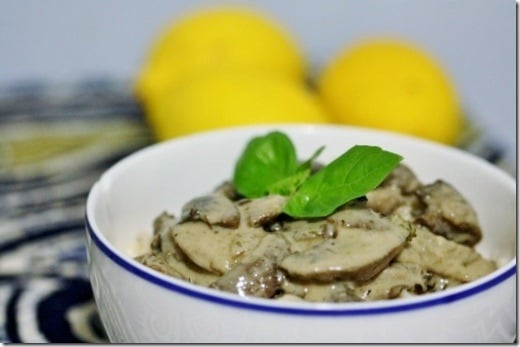 Though they tend not to last for long.
OK. Hope you all try it soon!
Speaking of quick, easy, and fantastic recipes, I have a winner of the 30 Day Vegan Challenge! Thanks to everyone who entered. The random.org generated winner is (drumroll) #225, Angelique, who said:
I love Colleen's podcasts and have learned so much! The one on colors in regard to food/animals was enlightening (i.e. the tidbit about lobster never being red in the natural world, only after cooked, yet red is the stereotypical color in cartoons, etc.) and also the one on sheep…just learning the history of how sheep are handled and the details of the sheering process and more was interesting and moving.
Angelique, please email me at [email protected] to claim your prize!
With that, happy weekend.
xo