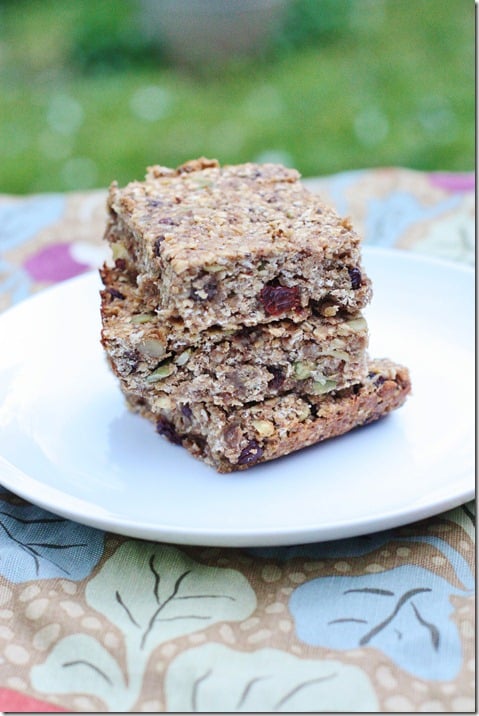 Thank you for your kind thoughts on my post on oils in plant based diet, and making healthier pasta dishes with my Mom! If you're interested in some of the controversy over oils in plant based diets (a little? a lot? none at all?) it's worth scrolling through the comments.
A lot of you also commented to say that it's nice that my Mom and I have such a good rapport when it comes to talking about healthy eating. The truth is that my Mom and I have a healthy rapport when it comes to talking about most anything—we have great communication—but our dialogs about food have also developed through trial and error. Mom has always told me when and if I was being to forceful with my opinions or statements about food; "this doesn't help me to change," she'd say. And I, in turn, realize that patience is key. I also realize that, when it comes to humane and healthy eating, it's a lot more effective to inspire change, rather than force it upon someone.
So, how do we inspire change in others' eating habits?
By setting an example. You don't have to rattle off facts and figures about the associations between plant-based diets and disease. You can if you think it'll help, but a lot of people can hear these statistics without feeling any emotional impact. What they will notice is if you seem to be a whole, happy, and energetic embodiment of the happiness and nourishment that the lifestyle is supposed to provide.
By sharing delicious food. Hardly anyone, in my experience, is capable of overhauling his or her diet solely for health reasons. There has to be some guarantee that eating healthily will also afford pleasure and joy; food feeds the spirit and the body both. So cook some wonderful food for your loved ones as a means of advocating for veganism.
By remembering to be gentle. Because food nourishes both body and spirit, dietary change is hard, and giving up beloved foods—even when it's necessary—can be painful. Be sympathetic, and remember that, to quote my friend Colleen, "before you were vegan [or before you ate a healthy, conscious diet], you weren't." Be compassionate, and encourage baby steps.
On saturday, my Mom asked me what I thought of her new snack bars from Kashi.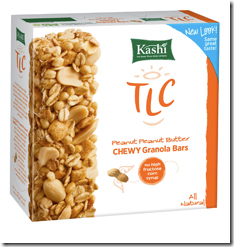 I asked to take a peek at the ingredient label. From an energy standpoint, the macronutrients looked pretty good, and I was really on board with only 5 grams of sugar: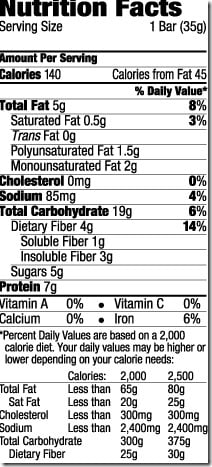 But then I took a peek at the ingredients in the bar: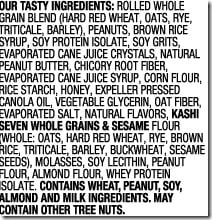 Rolled whole grain blend, peanuts, brown rice syrup, soy protein isolate, soy grits, evaporated cane juice crystals, natural peanut butter, chicory root fiber, evaporated cane juice syrup, corn flour, rice starch, honey, expeller pressed canola oil, vegetable glycerin, oat fiber, evaporated salt, natural flavors, kashi seven whole grains + sesame flour, molasses, soy lecithin, peanut flour, almond flour, whey protein isolate. (And that's actually a slightly abridged version.)
Whey protein (a milk derivative), numerous processed soy byproducts, several common allergens, no Omega-3 fatty acids, and tons of Omega-6 fatty acids, to say nothing of the fact that there are 33 ingredients in just one of these tiny bars?
To make a long story short? We can do better.
I told Mom that, while these bars are way better than many out there, I'd be happy to do a taste testing with her for some healthier bar options. We settled on Larabars, 18 Rabbits, Bobo's Oat Bars, and the new Larabar "Uberbars."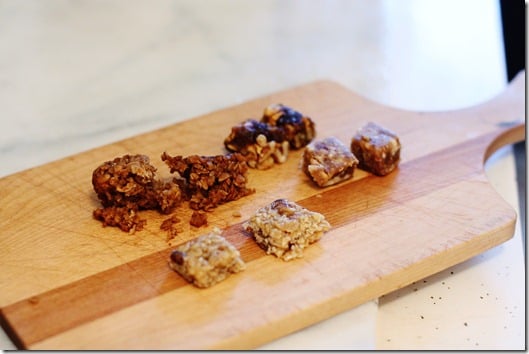 In the end, her faves were Larabars (hip hip hooray!) and the 18 Rabbits bars (higher in sugar than her Kashi bars, but far more wholesome). She actually spat out the Larabar Uberbar, and I have to say, I didn't blame her: have you tried them? So different from regular Larabars! And she really loved the idea of an oat bar, which was what she originally wanted, but found the Bobo's bar a little crumbly.
This week, in honor of my Mom, I'm bringing you two slightly more wholesome, healthified vegan snack bars. Today, I'll share the kind of oat bar my Mom wanted in the first place: moist, dense, chewy. Later this week, I'll share a crisper, crunchier bar—more like the 18 Rabbits bar she liked. With both recipes, I hope to show you that making homemade energy bars is super fun, super easy, and super wise if you want some control over the quality of your food, and the length of its ingredient list. Both recipes are 100% kid friendly and (Gena's) mom-approved.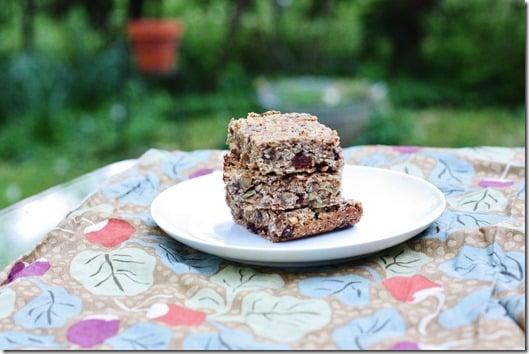 My favorite surprise about these bars? The fact that I snuck chickpeas into the mix—an idea I got from my friend Matt's sister, Christine Frazier, who has some fabulous ideas on making vegan energy bars! Check them out. I also added chia seeds for healthy Omega-3 fatty acids, plenty of nuts and seeds for texture and crunch, and I used date paste as my sweetener, so these are all fruit sweetened. (You can definitely use agave or maple syrup instead.) The bars are dense, filling, and really chewy and delicious.
One of my favorite features is that they'd work just as well for breakfast as for a snack; for that reason, I suggest in the recipe that they make 8 breakfast portions, or 16 snack portions (or you can make it something in between).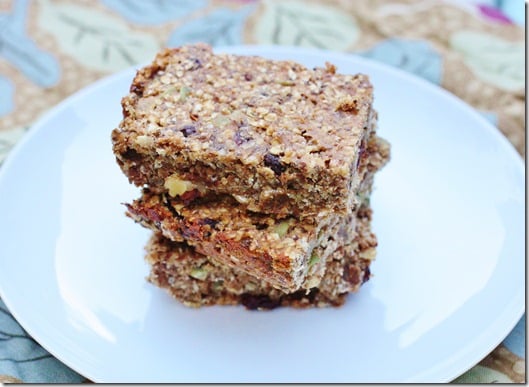 Vegan Oatmeal Raisin Snack Bars (vegan, gluten free with appropriate choice of grains, soy free)
Serves 8-10 as breakfast bars; 14-16 as snack bars
1 3/4 cups quick oats (GF if desired)
1/3 cup oat flour (GF if desired)
1 cup raisins
1/3 cup pumpkin seeds
1/3 cup chopped walnuts
3 tbsp chia seeds
1 tsp cinnamon
1/4 tsp sea salt
2 tbsp flax meal +  6 tbsp warm water
1/2 cup almond butter or peanut butter
1/2 – 2/3 cup date paste, agave, or maple syrup
1 cup cooked chickpeas
1) Preheat oven to 350 degrees.
2) Mix the flax meal with the warm water and set aside to "gel."
3) Mix oats, oat flour, raisins, pumpkin seeds, chopped walnuts, chia seeds, cinnamon, and salt in a large bowl.
4) In a blender or food processor, mix the flax + water, almond butter, date paste (or agave / syrup), and chickpeas.
5) Mix wet ingredients into dry. Pour into a rectangular baking dish and bake until golden brown, about 15-18 minutes. Allow to cool, and cut into bar shapes.
I hope the picture shows you how dense and moist these are! They pack a ton of nutrient density into a small shape, and they're fantastic on the go.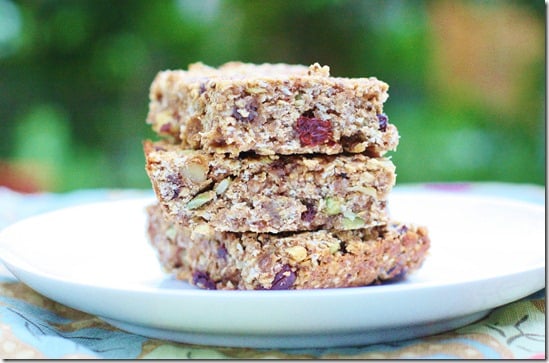 One important chef's note: I found that 1/2 cup sweetener was just right for me: it made the bars sweet, but not sugary, which I don't like in a snack. 2/3 will be more appropriate if you want a sweeter bar—a good idea if you want this to be workout fuel. Simple sugars are our first energy source!
I can't wait to make these for my Mom when I get back to NYC. And in some exciting news, Mom has allowed me to conduct a fun culinary experiment with her as my partner: for 3 days in May, when I'm on break, my mom will allow me to cook all of her food—3 whole days of breakfast, lunch, dinner, and snacks! I want her to see how inspiring vegan food is. I think it'll be super fun, and am already open to suggestions for what to make!!
Have a great night, guys.
xo