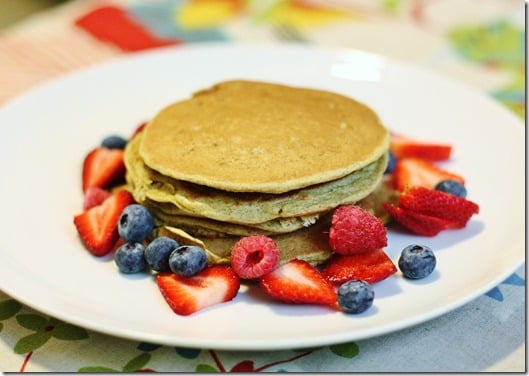 Before we get to protein pancakes: great comments yesterday! I'm too stressed with tonight's exam to respond, but I intend to do so tomorrow or on Wednesday. I look forward to it.
Sometimes I'm slightly ahead of the blogosphere trend curve (see: banana soft serve). Sometimes I'm way behind. It took me about two years of blogging to try kabocha squash (which was, of course, life changing), a full four years to really get into green smoothies, and for a raw foodie, it took me quite a long time to finally make raw macaroons. Let's add protein pancakes to the list of things that have I've been late to the party with. But now that I've found a recipe I really love, I'm hooked!
As you have probably gathered from my recipes, I have a moderate approach to the question of protein. On the one hand, I'm not the sort of person who dumps Sun Warrior/Vega into anything and everything, and I don't typically track my protein unless I suspect I haven't been getting enough for some reason or another (for example, if I'm traveling and vegan food is hard to come by, I'll keep track and possibly use more than the usual Vega shake and go). On the other hand, I don't think, as some plant-based eaters seem to, that the question of getting protein in a vegan diet is a trivial one, and that we should all shut up and eat some spinach like the great apes: protein is important, and if you're brand new to veganism, it can be helpful to keep loose track of how much protein you're eating and how varied it is, simply so that you fall into good, permanent lifestyle habits.
Anyway, the point of all this is to say that, while I don't create too many recipes specifically to be high protein, I do create some that fall into that category. Oftentimes, they're breakfast ideas, since breakfast foods (smoothies, for instance, or chia puddings) are a good vehicle for a scoop or two of hemp protein powder or the like. But what I love most about these pancakes–aside from the wonderful taste, the fact that they're suitable for people with wheat and gluten allergies, and the fact that they're fairly simple–is that, while I did add two tbsp hemp protein powder, the majority of protein in the recipe comes from the chickpea/almond flour mix. Even without hemp protein powder, they pack in 8 grams of protein per serving, which is decent for a pancake.
And did I mention that they're delicious? I love cooking with chickpea flour; it lends a slightly savory taste to ostensibly sweet quickbreads, and I really dig the texture, too. This recipe is no exception: the pancakes are mildly sweet, but contain no added sugar of any sort (there's a little stevia in there) so that you can derive your morning sweetness from fruit, rather than a syrup or crystal. They also have a savory undertone that makes them special, and a nutty flavor from the almond flour. They're simple to make, and unlike 95% of the protein pancakes I've seen, they are free of eggs and egg whites–and any suffering that might come along with those foods.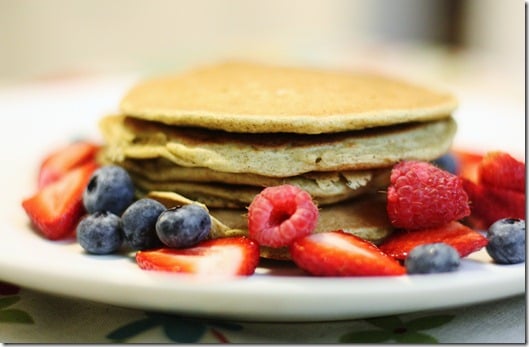 Gena's Vegan Protein Pancakes (gluten free, soy free, vegan)
Makes 8-10 large pancakes
2/3 cup chickpea flour
1/2 cup almond flour
2 tbsp hemp protein powder (optional)
Dash salt
2 tsp baking powder
1/2 packet stevia, or a few drops (sweeten to taste)
1 1/4 cups almond milk
1 tbsp flax meal + 4 tbsp warm water
1) Mix together flax meal and warm water, and set aside for a second.
2) Mix together the flours, salt, baking powder, hemp, and stevia (if you're using dry stevia) in a mixing bowl.
3) Heat a skillet on medium heat, and allow it to warm up.
4) Whisk together the almond milk and flax "egg," and add to dry ingredients.
5) Pour pancakes out by 1/4 cup measurements onto the skillet. When you see bubbles form on top, gingerly flip them, and cook till the bottom is golden brown. Serve!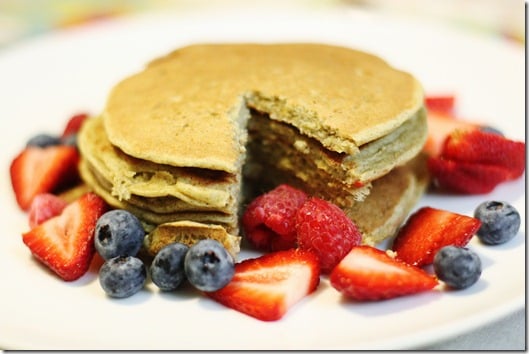 I like the taste of these pancakes so much I serve them plain, with fruit, but a little maple syrup, date paste, or some of my beet and berry syrup would be nice, too!!
I hope you love 'em. Important disclaimer: these pancakes are made from no grain flour, and in my experience, these kinds of recipes can be a little fickle, You may need more almond milk, you may find you wish you had used a little less. They may take a minute or two of cooling to feel firm; they're definitely softer than some other pancakes of mine. Still, I think they're pretty painless, and I've had repeated success with them as is.
And as I said, I'm a little late to the protein pancake party. For other vegan (or easily veganizable) versions, check out:
Ricki's amazing single serving protein pancake
Gina's "perfect protein pancakes" (veganizable)
Nada's lemon protein pancakes
Anna's pumpkin protein pancakes
Wish me luck tonight, folks!
xo