This vegan pumpkin carrot cake is a mashup of traditional carrot cake and spiced pumpkin bread. It's the ultimate autumn treat!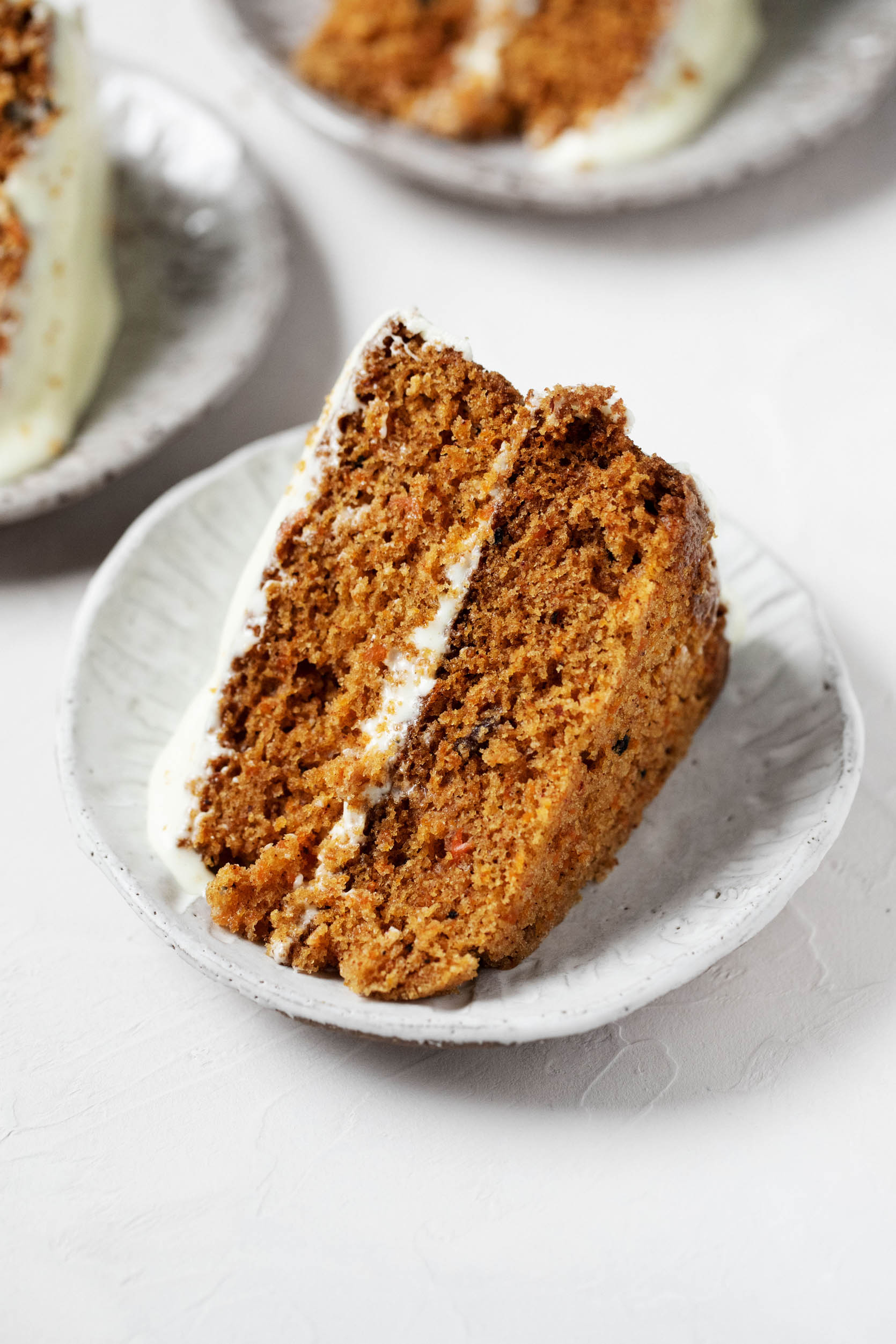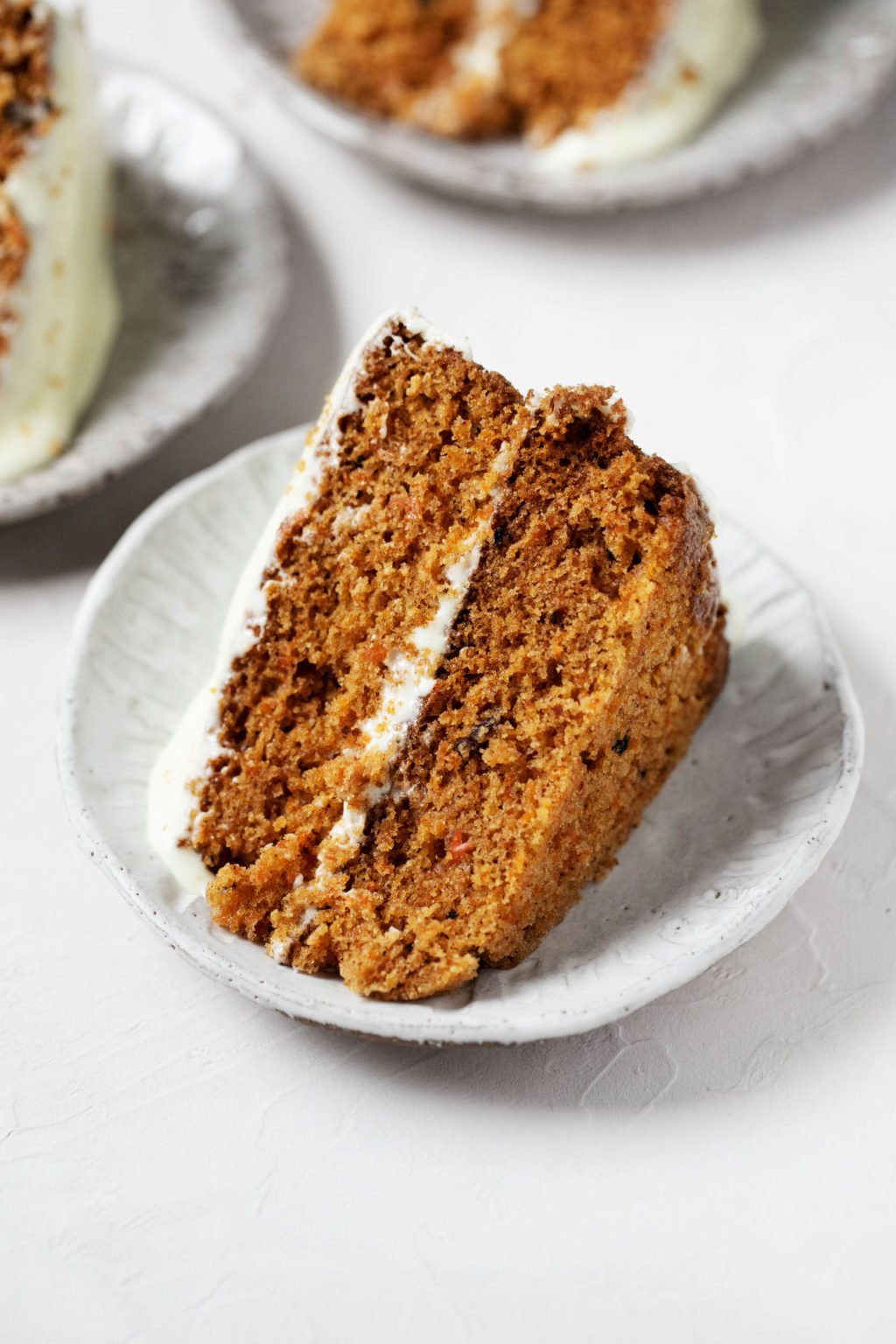 A couple weeks ago, I found myself at a vegan restaurant looking at dessert options. They had it all: a vegan soufflé, pie, a chocolate blackout cake, a sundae, and more. And the thing I wanted most of all was the carrot cake.
It was he most homey dessert on the menu. And that's why I wanted it so much. I love classic, comforting treats. Cakes are my favorite dessert. And there's no cake I love more than carrot cake.
A love letter to carrot cake
It took me a long time to put a carrot cake recipe on the blog. It's such an iconic dessert. People tend to have strong feelings about carrot cake: the texture, the sweetness, the concentration of carrots vs. raisins vs. nuts.
I've learned that I like carrot cake dense, but not with pieces of carrots and nuts so large that it starts to eat like a salad. Raisins are a must, but I don't add so many of them that the cake itself gets weighted down.
I like cream cheese frosting, always. But I don't always need to frost the whole cake. In this recipe, I just frost the top and center, with a light coat on the side. It makes the carrot and pumpkin infused cake itself shine.
This vegan pumpkin carrot cake isn't an ultra traditional carrot cake. For that, I turn to my favorite vegan carrot cake recipe.
It is, however, an incredible carrot cake for fall. Why? Because pumpkin.
Why pumpkin is a perfect addition to carrot cake
Pumpkin is a game changer for carrot cake for a lot of reasons.
First, pumpkin adds moisture to the cake. This is good for its texture, and it also helps to reduce the amount of fat that's necessary for the recipe.
Second, pumpkin adds subtle sweetness, along with a beautiful, vibrant orange color.
I love pumpkin bread in all of its various forms: classic pumpkin bread, pumpkin chocolate swirl, pumpkin cranberry, pumpkin gingerbread. So it's no surprise that I love pumpkin carrot cake. The nuts and carrots are a perfect match for pumpkin and its traditional baking spices of ginger, nutmeg and cloves.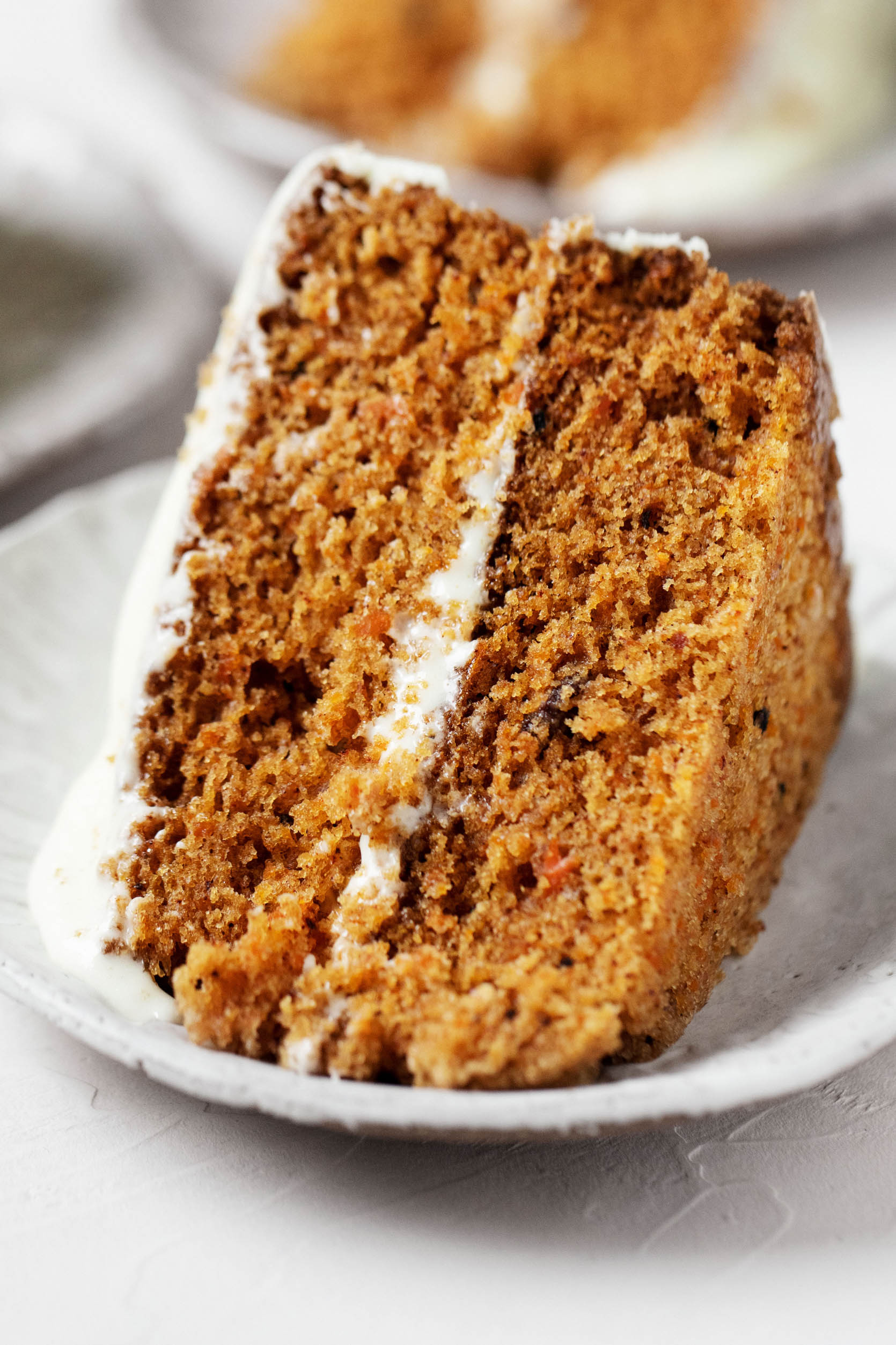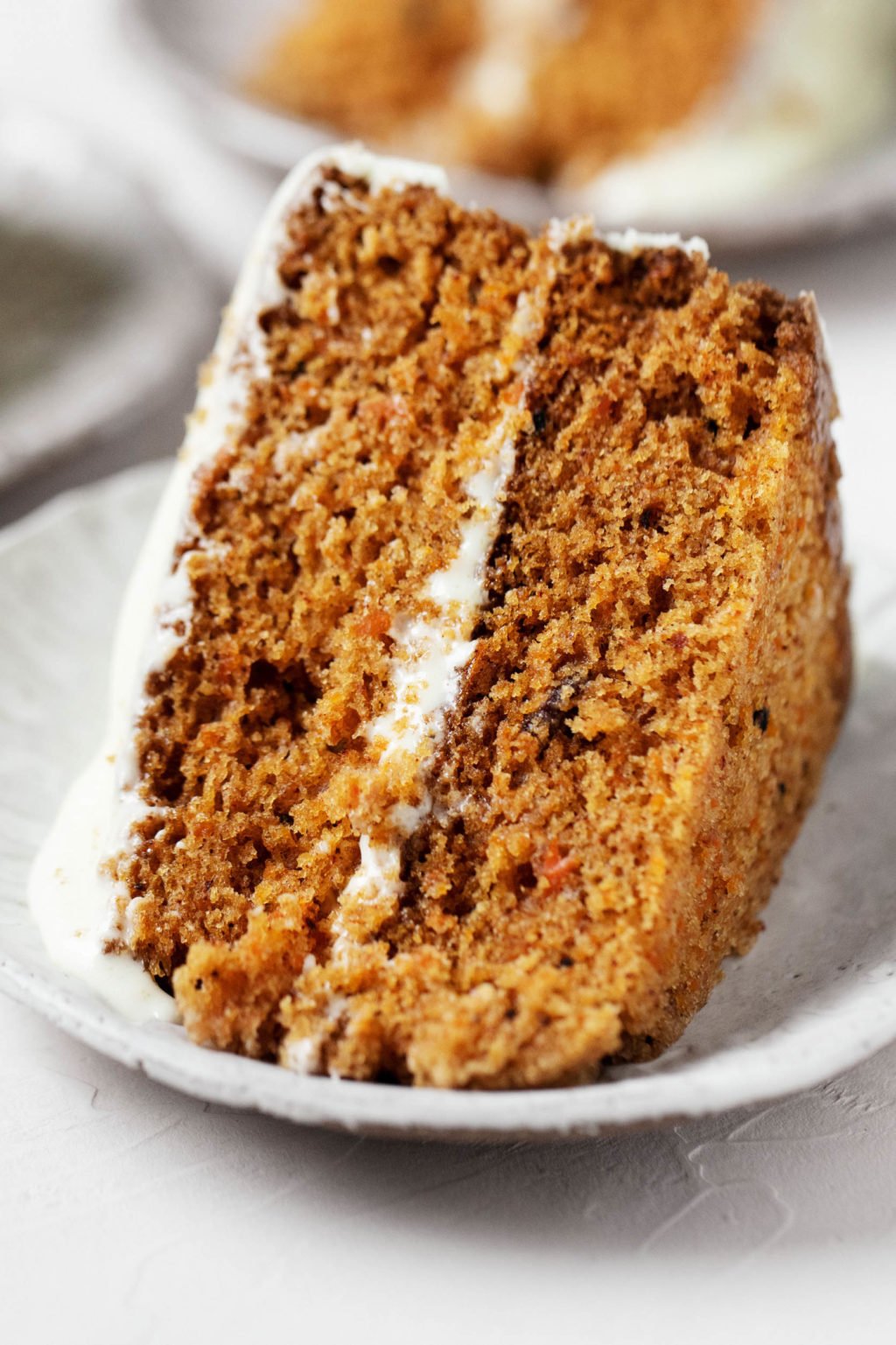 The cloves in this recipe are courtesy of the folks at Nuts.com. Nuts.com is one of my go-to destinations for restocking the pantry. It's a wonderful place to purchase quality nuts, legumes, grains, and pasta.
But the site also has a huge selection herbs and spices. It's perfect for stocking up on spices I use often. The cloves in this recipe have a deep, distinctive flavor, and even a little pinch made the cake so much richer.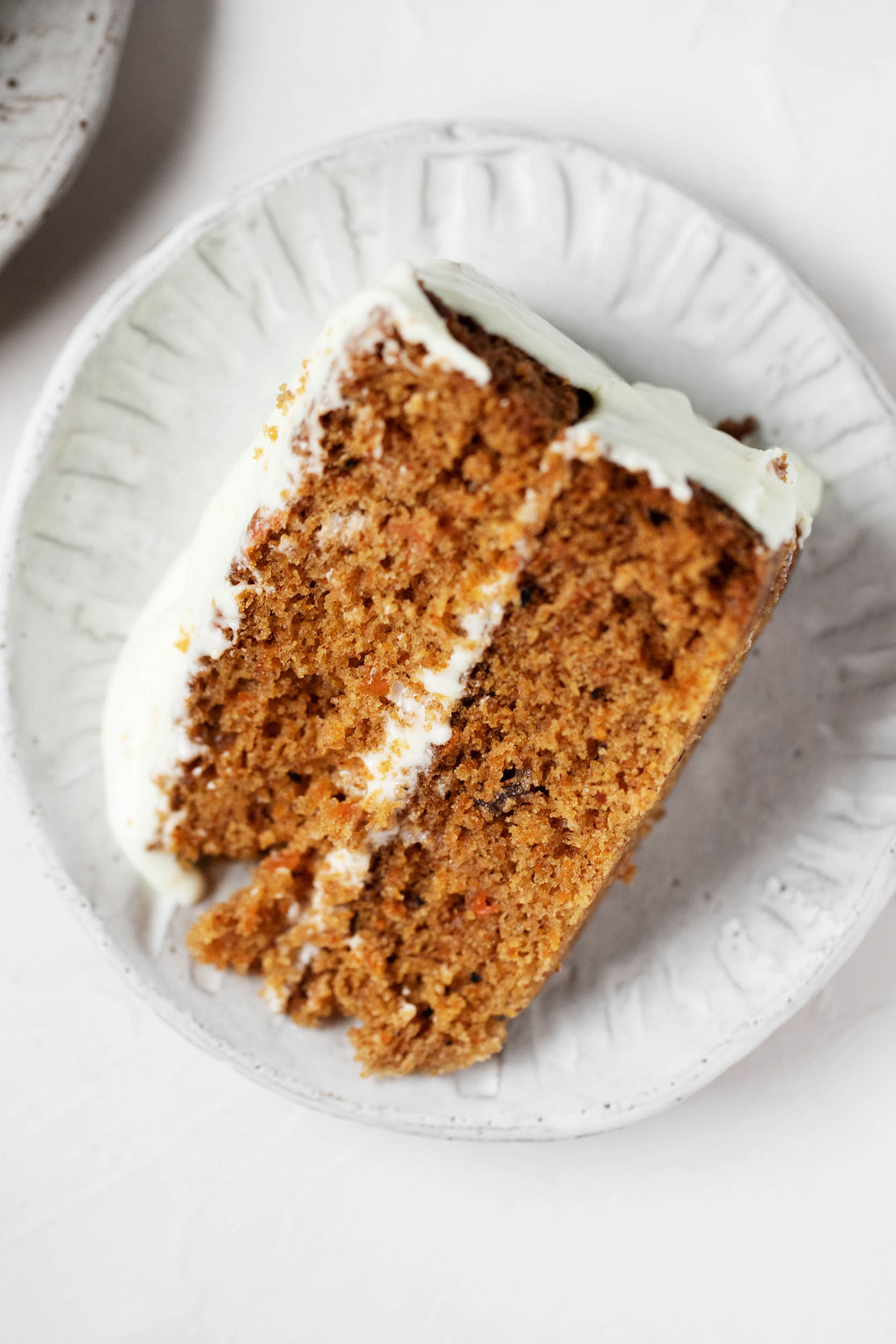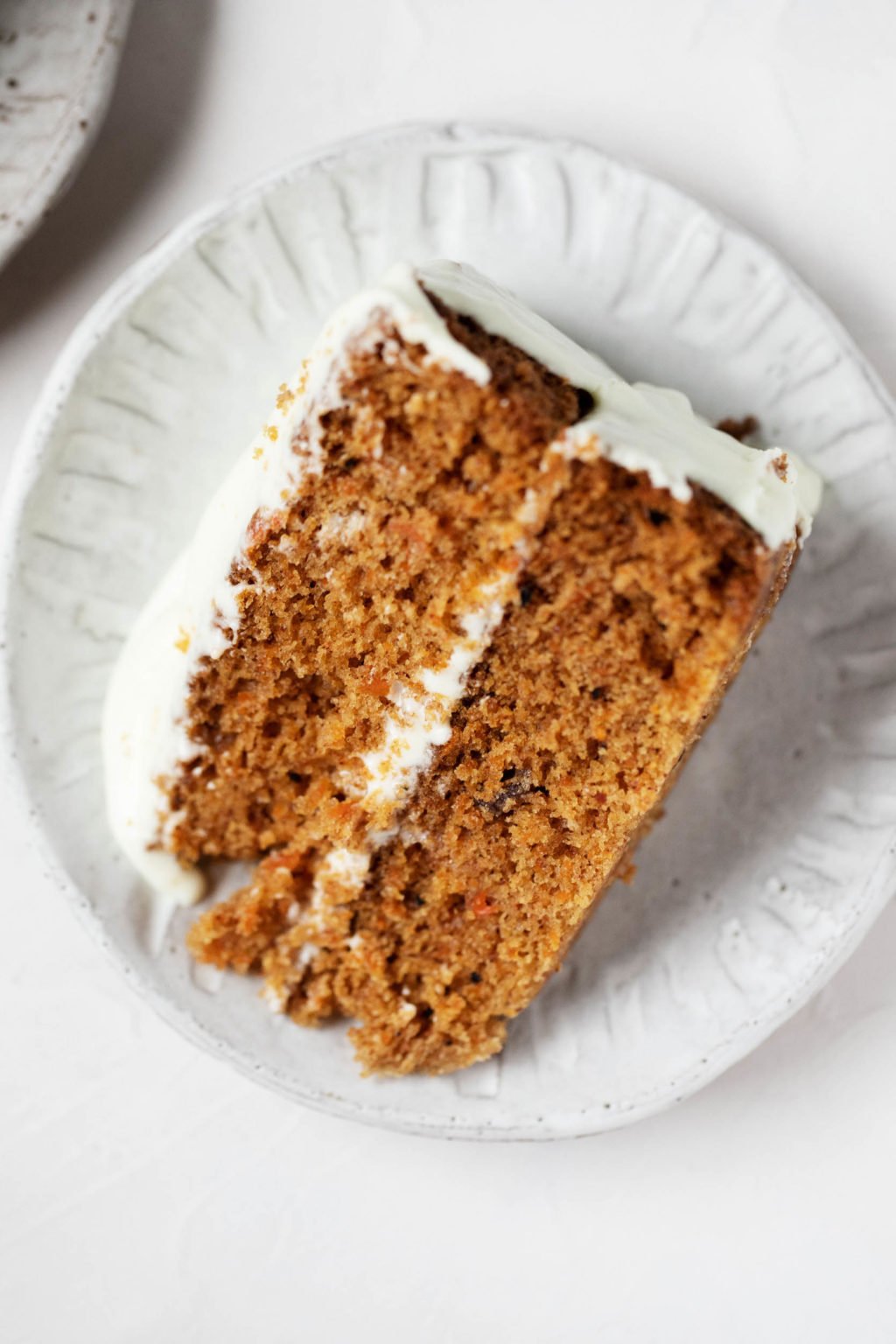 Decorating vegan pumpkin carrot cake
As you can see, this isn't the most elaborately decorated carrot cake in town. I pretty much left the sides of the cake naked, focusing on the interior and top of the cake. (For more how-to on frosting the whole thing, this post is helpful!)
But if you ask me, carrot cake was meant to be homey and rustic.
I loved cream cheese frosting as a kid. Licking the spatula after I made this batch of dairy-free cream cheese frosting brought me back in time. It's pretty rich. So, if you prefer something lighter and less sweet, you can try my creamy cashew frosting instead!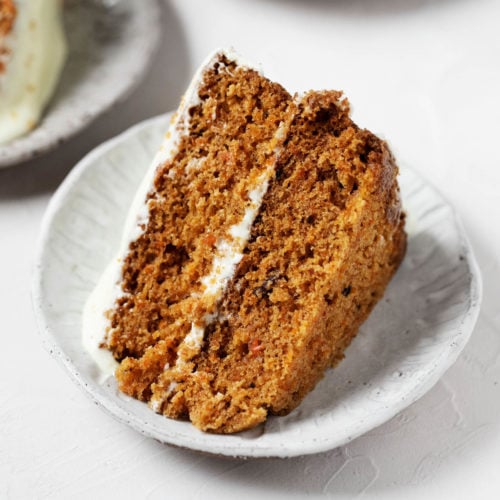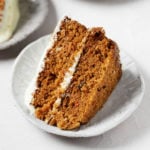 Vegan Pumpkin Spice Carrot Cake with Cream Cheese Frosting
Author -
For the cake:
2 1/2

cups

unbleached, all-purpose flour

2

teaspoons

baking powder

1 1/2

teaspoons

baking soda

1

teaspoon

kosher salt

1 1/2

teaspoons

cinnamon

3/4

teaspoon

ginger

1/4

teaspoon

nutmeg

1/4

teaspoon

cloves

3/4

cup

non-dairy milk

1

teaspoon

apple cider vinegar

1

cup

pumpkin puree

1/2

cup

neutral vegetable oil, such as refined avocado or grapeseed

3/4

cup

light brown sugar

1/2

cup

granulated sugar

2

cups

grated carrots

1/2

cup

finely chopped walnuts or pecans

1/2

cup

raisins
For the frosting:
8

ounces

room temperature vegan cream cheese

(Toffuti is my favorite for frosting)

6

tablespoons

room temperature vegan butter

1/2

teaspoon

vanilla extract

2 1/2-3

cups

confectioners' sugar
Preheat the oven to 350F. Oil two round, 8 or 9-inch, springform cake pans and line the bottoms with a circle of parchment.

In a large mixing bowl, whisk together the flour, baking soda, baking powder, salt, cinnamon, ginger, nutmeg, and cloves.

In a medium sized mixing bowl, briskly whisk together the non-dairy milk and apple cider vinegar. Stir in the pumpkin, oil, and the two sugars. Mix till the ingredients are combined.

Add the wet ingredients to the dry ingredients and fold them together till they're evenly combined (a few lumps is fine). Fold in the carrots, nuts, and raisins. The batter will be quite thick. Divide the batter into the two cake pans and transfer them to the oven. Bake for 35 minutes, or until the tops are firm and a toothpick comes out clean. Release the cakes from the pans and allow them to cool completely.

To make the frosting, place the cream cheese and butter in a stand mixer fitted with the paddle attachment (alternately, you can use a handheld mixer). Beat the butter and cream cheese together till smooth. Add the vanilla, then add the confectioners' sugar, a half cup at a time. When the frosting has a thick, spreadable consistency, transfer it to an airtight container. Allow it to cool in the fridge for at least 30 minutes.

To assemble the cake, top one round with 3/4-1 cup frosting, spreading the frosting evenly. Top this layer with the other round of cake, and frost the top layer with another 3/4-1 cup frosting. Cut and serve right away, or keep the cake chilled till serving (the frosting gets soft when it's left out).
If you like, you can leave the two frosted cakes separate, or you can make one large, 9 x 13 sheet cake.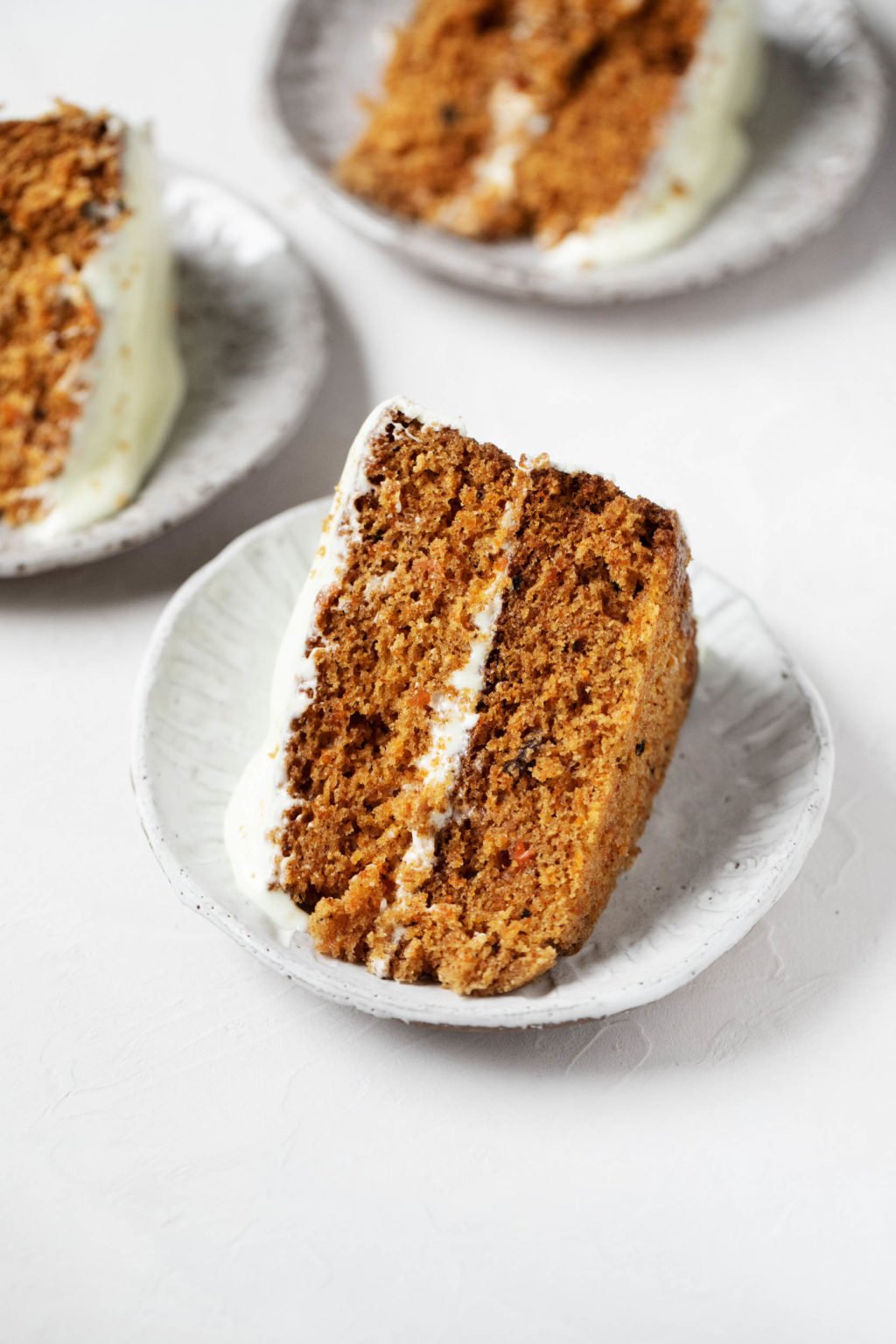 As October-friendly as this recipe is, it would make a wonderful birthday cake or anytime cake (snack cake, dessert cake, tea cake, etc.) at any time of year. I think it would also be a great addition to any Thanksgiving or holiday table.
I hope you'll find it as comforting and satisfying as I have. See you soon, for another weekend roundup.
xo
This post is sponsored by Nuts.com. All opinions are my own, and I love this family-owned and operated business! Thanks for your support.