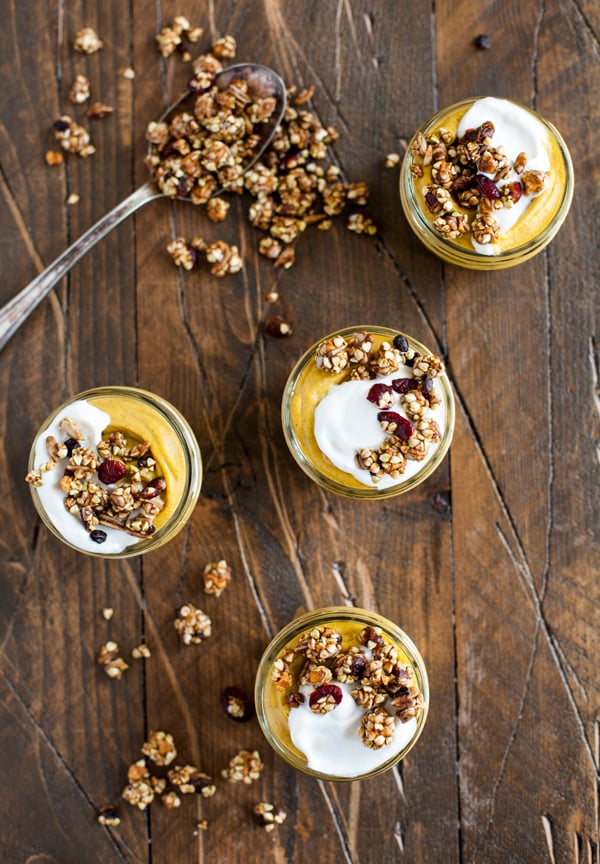 Though I may not identify with the raw food label anymore, I still find myself using techniques and ingredient combinations I learned from my exploration of raw food on a regular basis. This is especially true when it comes to desserts. What I love about raw (or raw-ish) desserts is that they're so simple; with such plain ingredients as nuts and dried fruit, you can create a whole spectrum of remarkably creative and satisfying treats. And there's often less guess work, prep time, and precision involved than there would be with, say, a cake or a tart. During the holiday season, when so many of us have so much cooking to do, an easy dessert can feel like a serious boon.
This easy pumpkin cashew pudding isn't raw, but it is inspired by a lot of the puddings I experimented with in my raw food days. The base is a simple combination of raw cashews, pumpkins, a little melted coconut oil, and maple syrup–along with complementary spices, like cinnamon and nutmeg.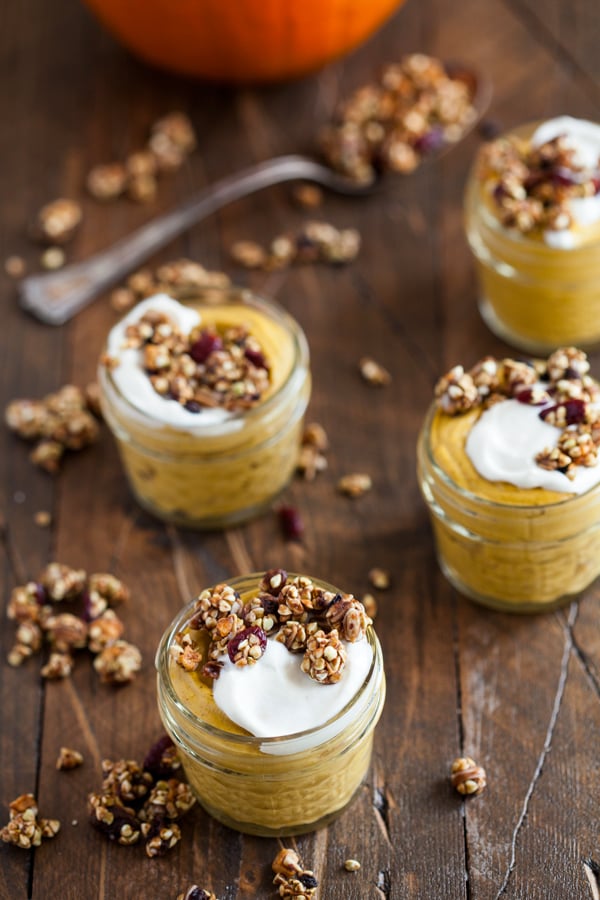 I made the pudding a few weeks ago, with a nutrition client of mine. I was doing a private cooking lesson for her, and I wanted to demo a dessert that would feel decadent without requiring any complex technique or previous experience. She had warned me that she's new to homemade desserts, and I could see she was a little nervous. I assured her that, if you can operate a blender, you can make this pudding. It was such a treat to watch her eyes light up upon tasting the creamy finished product!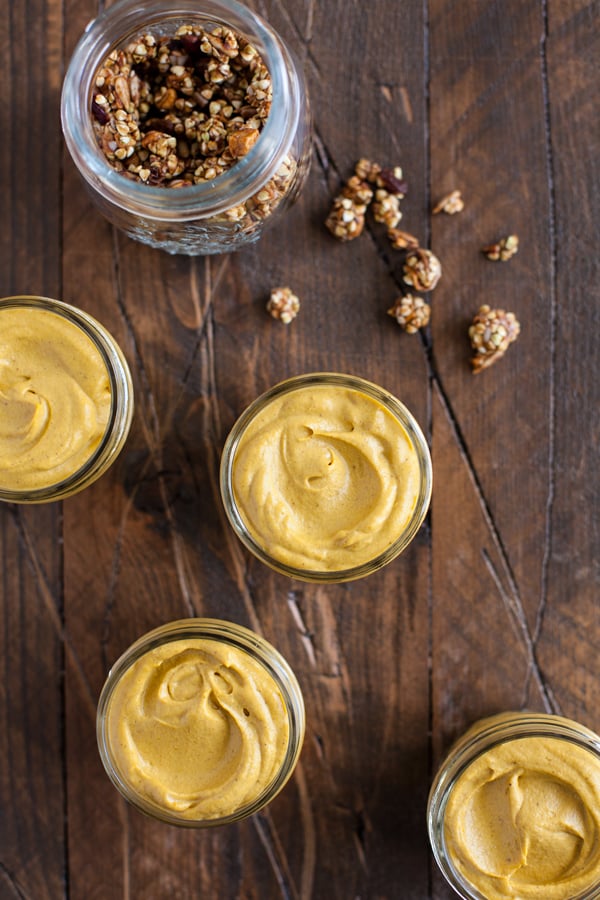 The pumpkin pudding is perfect on its own, silky and sweet. But in order to show my client yet another easy vegan dessert idea, I created a little parfait, using coconut whipped cream as the topping.
I'm sure that most of you have seen this technique in other recipes, so I won't say too much about it, but the idea is that, if you whip up the solid part of coconut milk (what rises to the top and solidifies in a can of the full fat milk) with a little sugar, you can create a simple and delicious vegan version of traditional whipped cream. If you haven't tried it yet, this is great time of year to experiment, since whipped cream is such a good accompaniment for pies, tarts, creamy hot cocoa, and other holiday treats.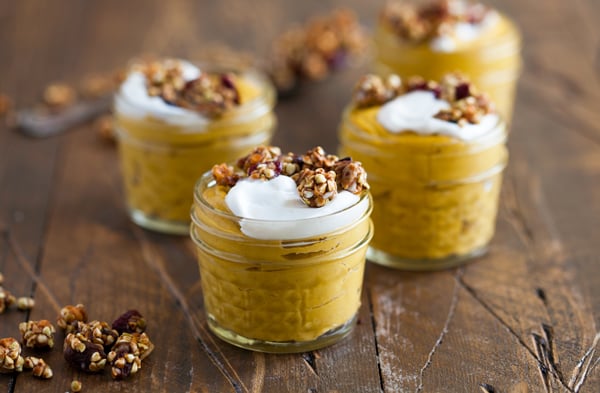 Finally, I made the parfait extra special–and gave it some nice texture–by adding a bit of my favorite buckwheat granola to the top. You could add any granola you like–homemade or store-bought–to this recipe. You could also sprinkle on toasted nuts, plain toasted buckwheat, dried fruit, or some chopped dark chocolate. Get creative–anything sweet and crunchy will work!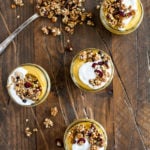 Vegan Pumpkin Cashew Pudding
Author -
For the pudding
1

cup

cashews

soaked

3/4

cup

pumpkin puree

homemade or canned

1/2

teaspoon

ground cinnamon

1/4

ground nutmeg

Dash cloves

1/8

teaspoon

salt

1/4

cup

maple syrup

1/2

cup

almond milk

1

tablespoon

melted coconut oil
For the whipped cream:
1

can full-fat coconut milk

3

tablespoons

organic powdered sugar

use a little less if you like

1

teaspoon

vanilla extract
For the parfait:
1

cup

of your favorite granola

toasted nuts, chopped dried fruit, toasted buckwheat groats, or chopped chocolate
To prepare the whipped cream, place your can of coconut milk in the fridge overnight. The next day, open it up and scoop out the solidified coconut cream on top. (You can save the liquid for smoothies, or discard it). Place the cream topping in a medium sized mixing bowl, and use a hand beater to beat the cream on high till fluffy, about 3-4 minutes, or until it's creamy and smooth and forms very soft peaks. Add the powdered sugar and vanilla and beat for another minute or so. Refrigerate the whipped cream till you're ready to use (it will harden a bit).

To prepare the pudding, place all pudding ingredients into a high speed blender or a food processor. Blend till smooth (about 2-3 minutes), stopping as needed to scrape the container down with a spatula. Transfer the pudding to the fridge until you're ready to use.

To assemble the parfaits, simply scoop the pudding by the half cup into serving bowls, top with a spoonful of whipped cream, and then sprinkle with two tablespoons of your crunchy topping. Serve!
Leftover pudding will keep in an airtight container for up to six days in the fridge.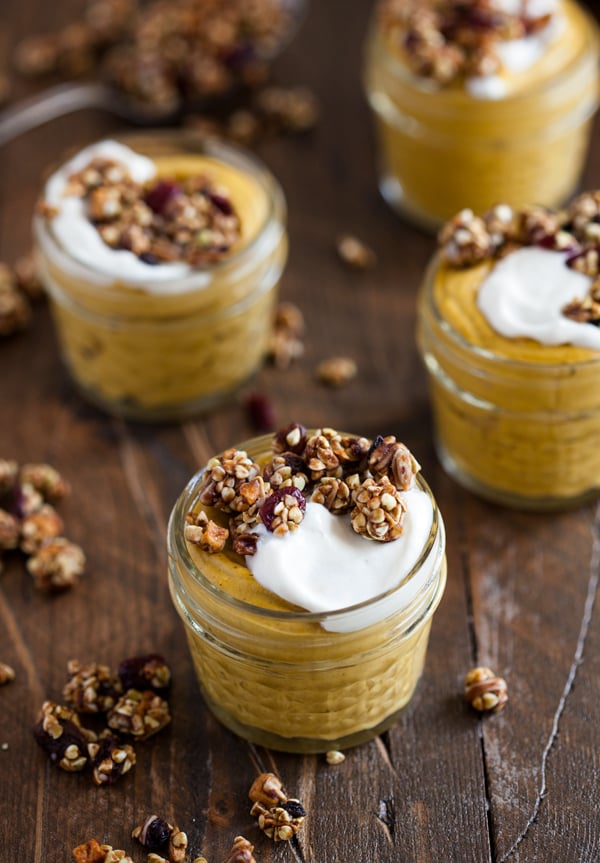 This isn't a light dessert, and it won't please those of you who don't care for cashews! The finished product is very rich and sumptuous, as you can see. But isn't that what dessert is all about?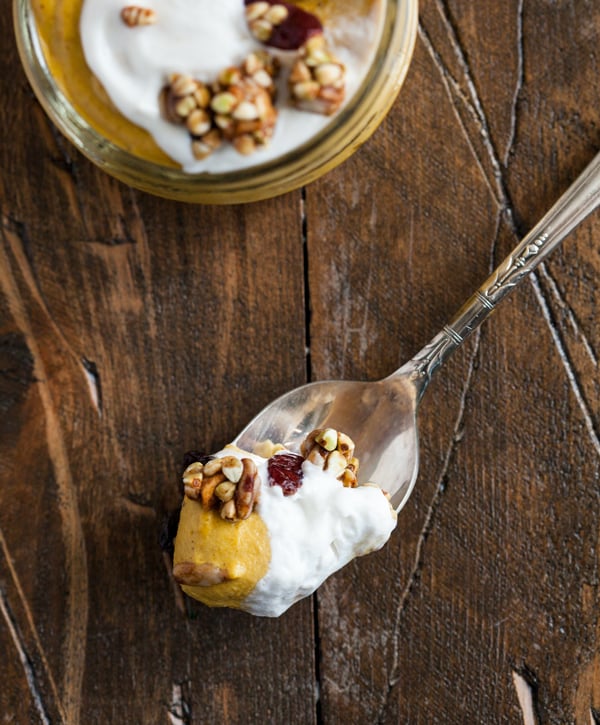 One final and practical note: both the pudding and the whipped cream can be prepared in advance; the coconut whipped cream will keep for a whole week, and the pudding will keep for up to six days. This means that you can enjoy any leftovers you have in a leisurely fashion, and it also means that this is an ideal dessert for preparing ahead of time, if you're planning a holiday get-together. It's nice when the dessert portion of a meal takes care of itself so easily.
On this sweet note, I wish you all a great night!
xo