This vegan pumpkin bread with dark chocolate swirls is the perfect festive October treat. Looks fancy, but it's easy to make!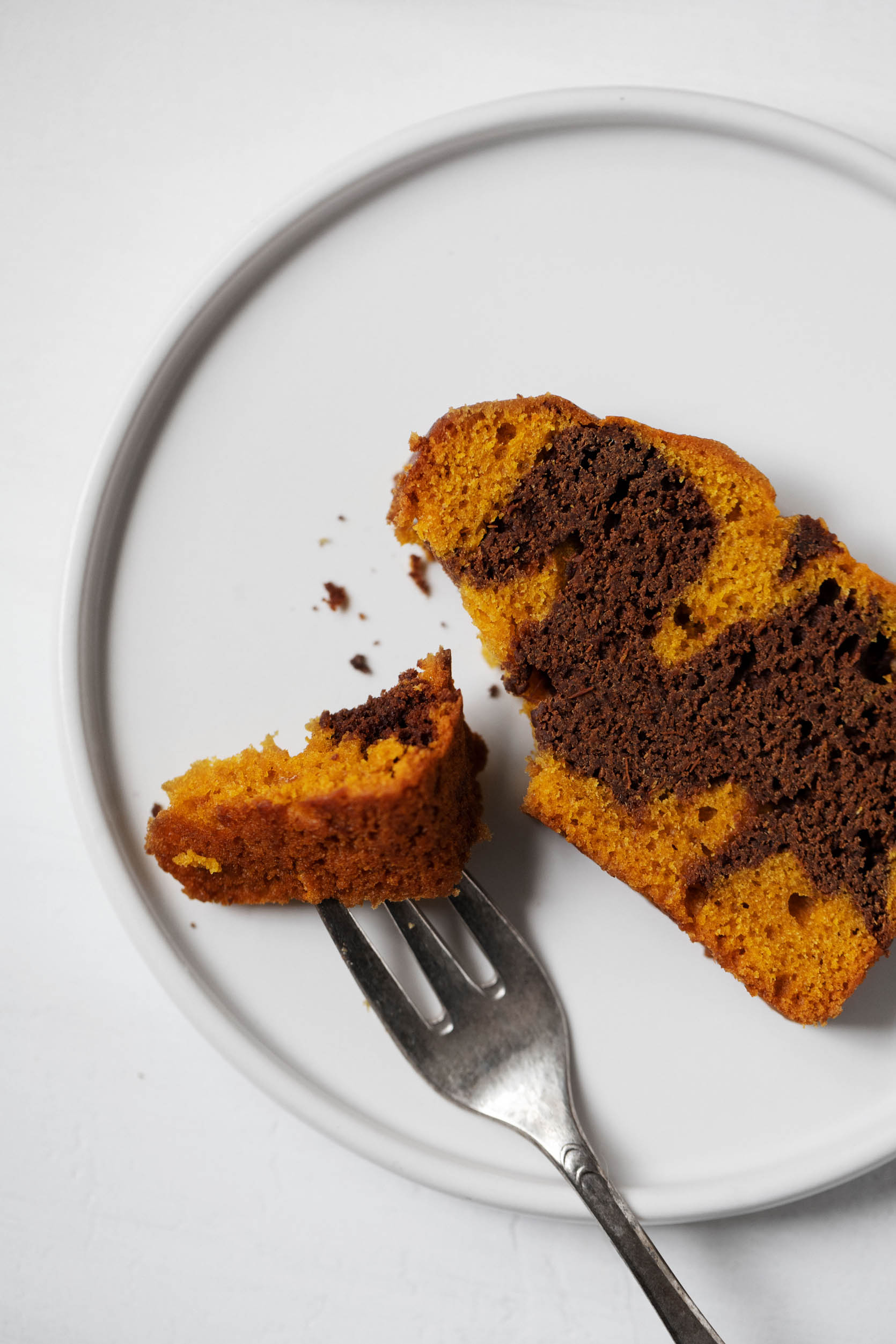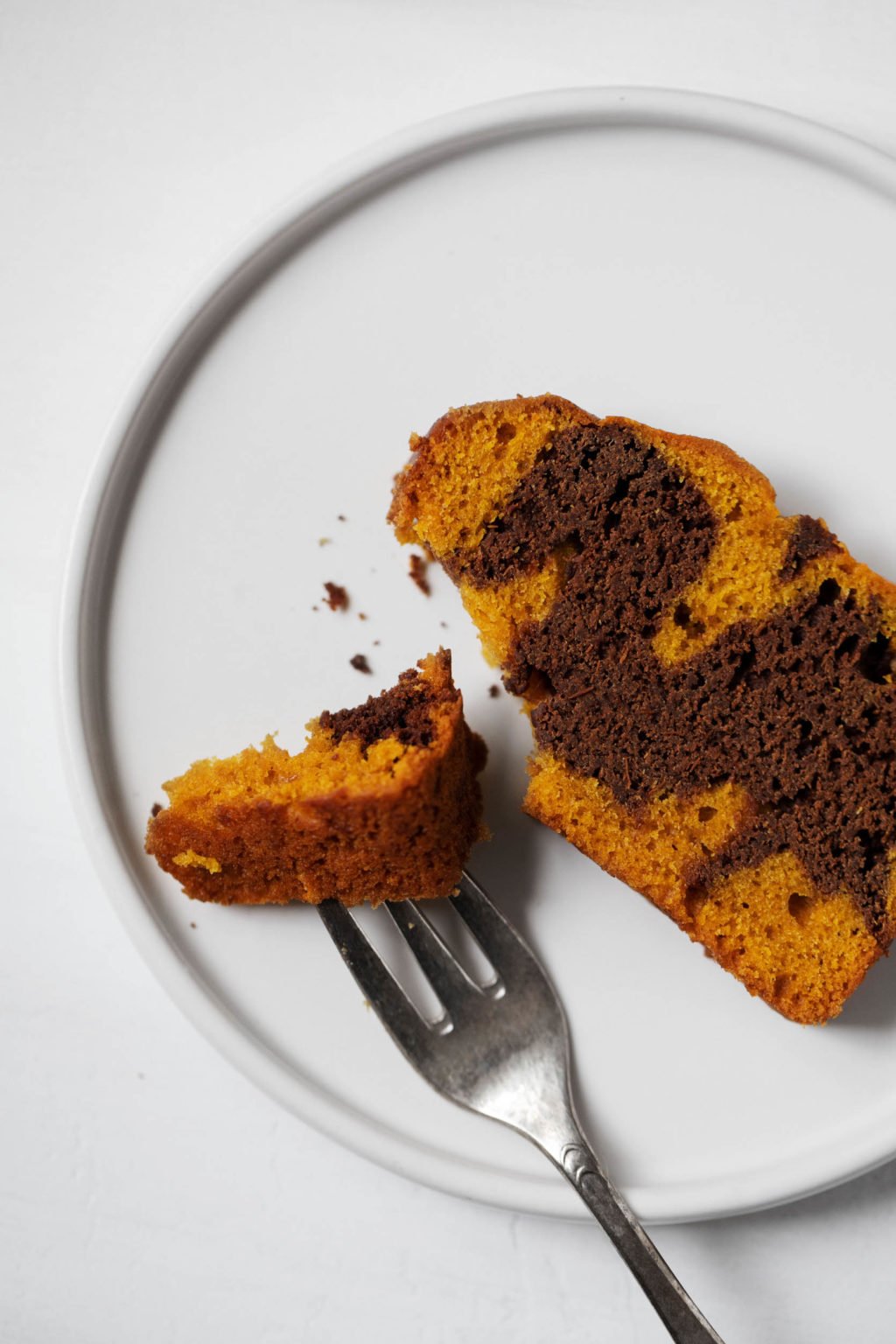 Fall is here, and there's no better way to celebrate than with this vegan pumpkin chocolate marble loaf!
I bake more than usual when autumn rolls around. But my first forays into cooking actually took the form of baking. There were sugar cookies each year during the holidays, a multitude of tea loaves, and the outlandish pride I felt as a high-schooler when I baked my first apple pie. Years later, I became so interested in regular cooking that baking took a backseat. For a while it felt overly scientific and precise, less interesting and creative than cooking.
Life is cyclical. I'm now returning to baking in a way that feels pleasurable and right. At the moment, baking is an antidote to testing cookbook recipes. That work is unpredictable and creatively exhausting. Baking can be unpredictable, too, but it involves surrender to a recipe, which is a relief.
Having lots of delicious, homemade treats to sip with warm drinks is pretty nice, too 🙂
My first attempt at a marble loaf
This pumpkin chocolate marble loaf combines two favorite things, chocolate and pumpkin. More importantly, it's my first ever attempt to "marble," or swirl, anything! The process of swirling two batters together was a lot easier than I thought it would be. 
If you're considering making this bread, the marbled bit is nothing to fear. Here's a recap of what you'll do:
Make your pumpkin bread batter
The base of this recipe is similar to my classic vegan pumpkin bread. It's pretty straightforward!
Melt chocolate + mix
After you make the batter, you'll melt some dark chocolate and combine it with a cup of the pumpkin bread batter. This is the chocolate batter that you'll use for marbling.
Layer and swirl
To make the pumpkin chocolate marble loaf, you'll layer one cup of plain pumpkin batter in an oiled baking dish. Then, you'll cover it with the chocolate batter. Top the loaf bread with the remaining pumpkin batter.
The next step is the fun part: run a knife through the loaf in a zig zag pattern. That's about all you need to do for a good swirl! If you try to swirl things too much, you'll make the batter muddy, rather than neatly swirled. This means that there's not much to getting the desired effect. Swirling and marbling really are easier than they look.
Pumpkin chocolate marble loaf ingredients
The ingredients for this autumn quick bread are relatively straightforward. Here are the important ones:
Pumpkin purée
Be sure to use canned pumpkin purée, rather than pumpkin pie filling, for the recipe. Homemade purée is great, if you'd like to make your own.
All purpose flour
I use unbleached, all purpose flour, which is my go-to for baking, in the recipe. If you only have bread flour, that will work, too. Other options are whole wheat pastry flour and white whole wheat flour. I don't recommend a 100% whole grain flour for the loaf. This is a moist loaf as it is, and whole grain flour may make it overly dense.
If there's a gluten-free flour blend that you trust for baking, that's also good! I love King Arthur's Measure for Measure flour.
Chocolate
The recipe calls for melted vegan chocolate, rather than cocoa powder, for the chocolate layer. I use cocoa powder in vegan baked goods, like my dark chocolate pear cake, double chocolate muffins, and chocolate bundt cake, often. But there's something undeniably rich and wonderful about using melted chocolate instead.
Many semi-sweet and bittersweet chocolate chips and morsels are already vegan. Just check labels to be sure that the product doesn't contain milk. My favorites for baking are the chocolate morsels from Enjoy Life, or—for a splurge—the ones from Hu Kitchen.
To melt the chocolate, you can either use a double boiler method or in the microwave. I almost always microwave mine in a Pyrex bowl, taking care to work in small time intervals. This helps me to avoid burning my chocolate.
Sugar(s)
I use a mix of cane and brown sugar in the recipe. You can use a full cup of either, but I find that the brown sugar adds moisture to the recipe. However, using 100% brown sugar makes for a slightly denser loaf. A mix of two makes for my perfect quick bread texture: moist, but light.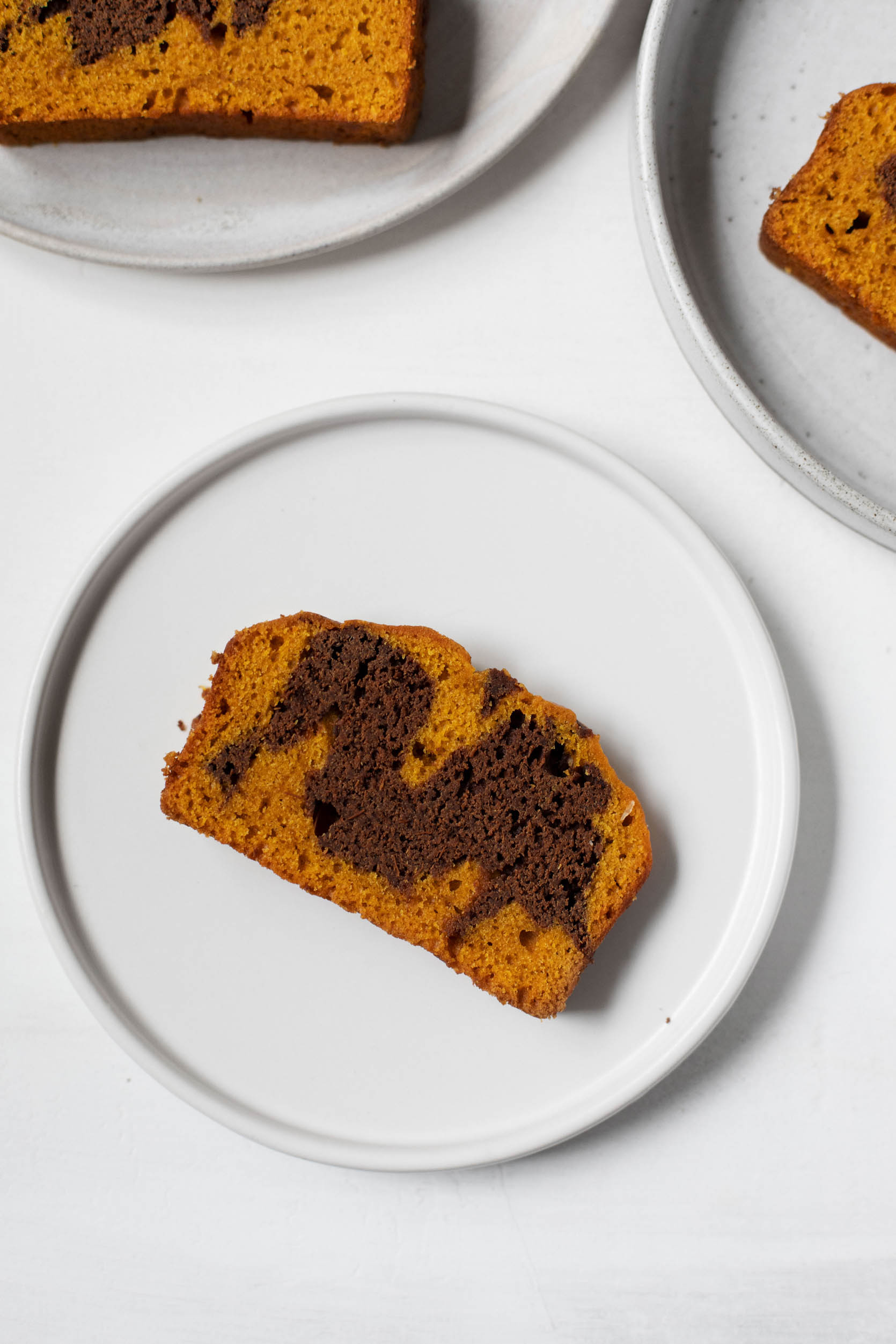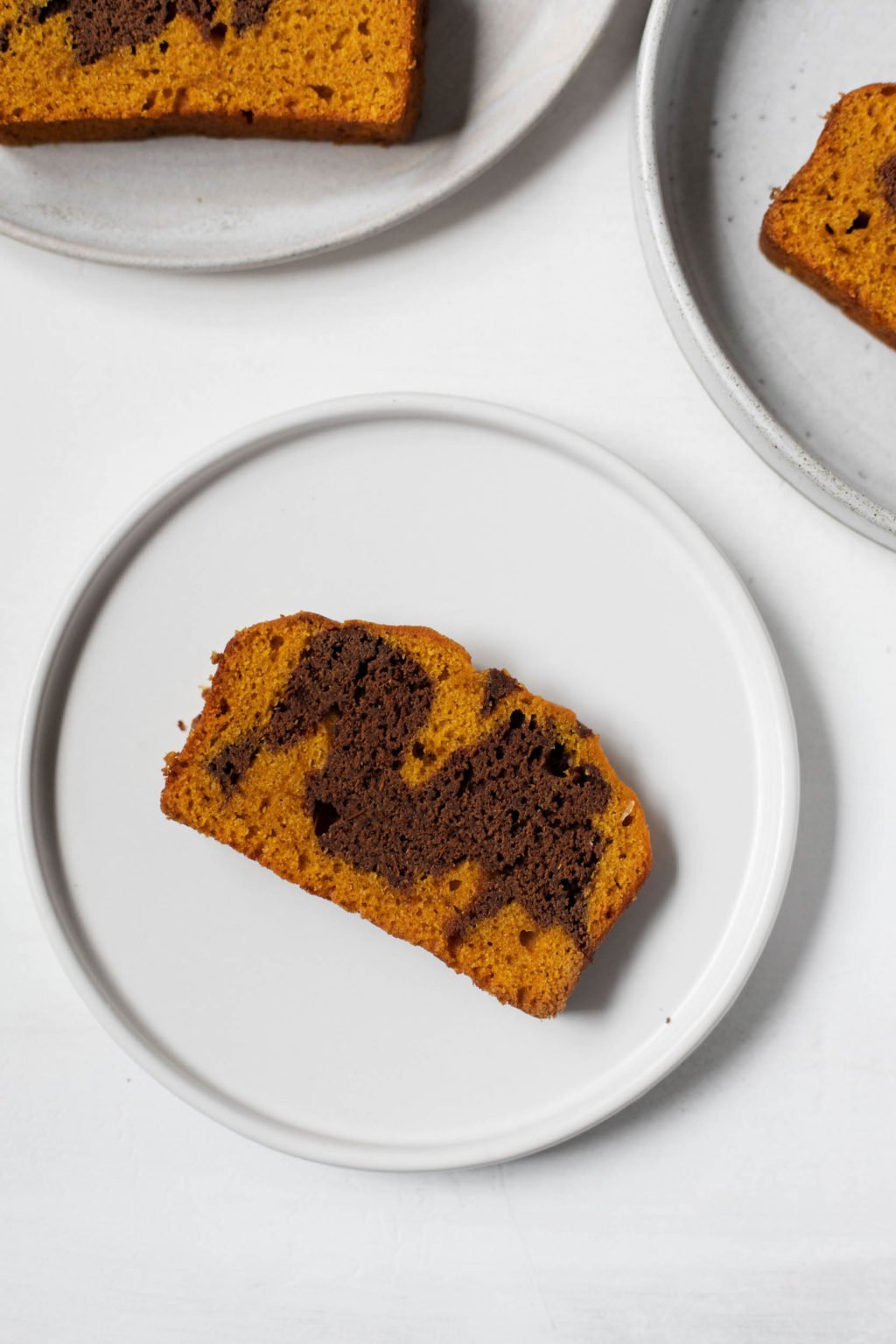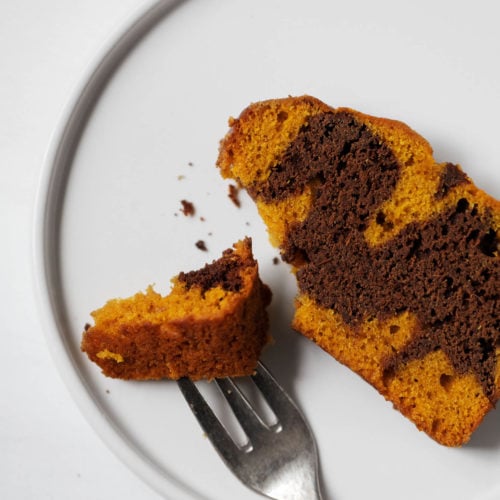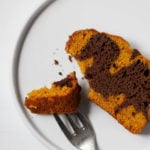 Vegan Pumpkin Chocolate Marble Loaf
Author -
2

cups

(240 g) unbleached, all-purpose flour

1/2

teaspoon

baking soda

1 1/2

teaspoons

baking powder

1

teaspoon

ground cinnamon

1/2

teaspoon

ground nutmeg

1/2

teaspoon

ground cloves

1/2

teaspoon

salt

1/2

cup

(125 mL) non-dairy milk

1

teaspoon

white or apple cider vinegar

1/2

cup

(96 g) light brown sugar

1/2

cup

(96 g) granulated sugar

1 1/4

cups

(315 g) unsweetened pumpkin puree

6

tablespoons

(89 mL) vegetable oil, such as refined avocado, grapeseed, or safflower

1/2

cup

(3 ounces/85 g) vegan semisweet chocolate morsels or roughly chopped dark chocolate
Preheat your oven to 350F and oil a 8.5 x 4.5 x 2.75 inch loaf pan.

In a large mixing bowl, combine the flour, baking soda, baking powder, cinnamon, nutmeg, cloves, and salt.

Combine the non-dairy milk and the vinegar in another mixing bowl. Stir to combine and allow it to sit for a few minutes. Then, add the sugars, pumpkin puree, and oil. Mix to combine. Pour the wet ingredients into the dry ingredients. Fold them together until no visible streaks of flour remain (some small lumps are OK).

Melt the dark chocolate in a non-reactive bowl over a double boiler or by microwaving it in 25-second intervals, stirring in between. The chocolate should be smooth and glossy. Add a cup of pumpkin batter to the chocolate and whisk to combine.

Pour about half of the plain pumpkin batter batter into the loaf pan. Pour the chocolate batter on top, then pour the rest of the regular batter on top of that. Take and knife and swirl it through the loaf. A few zig-zag motions are fine. Don't overdo it, or the whole loaf will be start to look muddy, rather than marbled.

Bake the loaf for 45 minutes, or until the top is set and a toothpick emerges mostly clean. Allow the loaf to cool for ten minutes, then remove it from the pan, transfer it to a cooling rack, and allow it to cool completely. Slice and serve.
Freezing and storing pumpkin chocolate marble loaf
Yes, this lovely loaf can be frozen! For up to six weeks. This means that you can make it, freeze half, and help yourself to a slice at a later time. For me, there's nothing nicer than forgetting that I'd frozen a baked treat that I really love. It makes for a quick, welcome pick-me-up on a hard day.
If you don't wish to freeze the bread, simply store it in an airtight container in the fridge for up to 5 days. If you and yours don't enjoy it before then.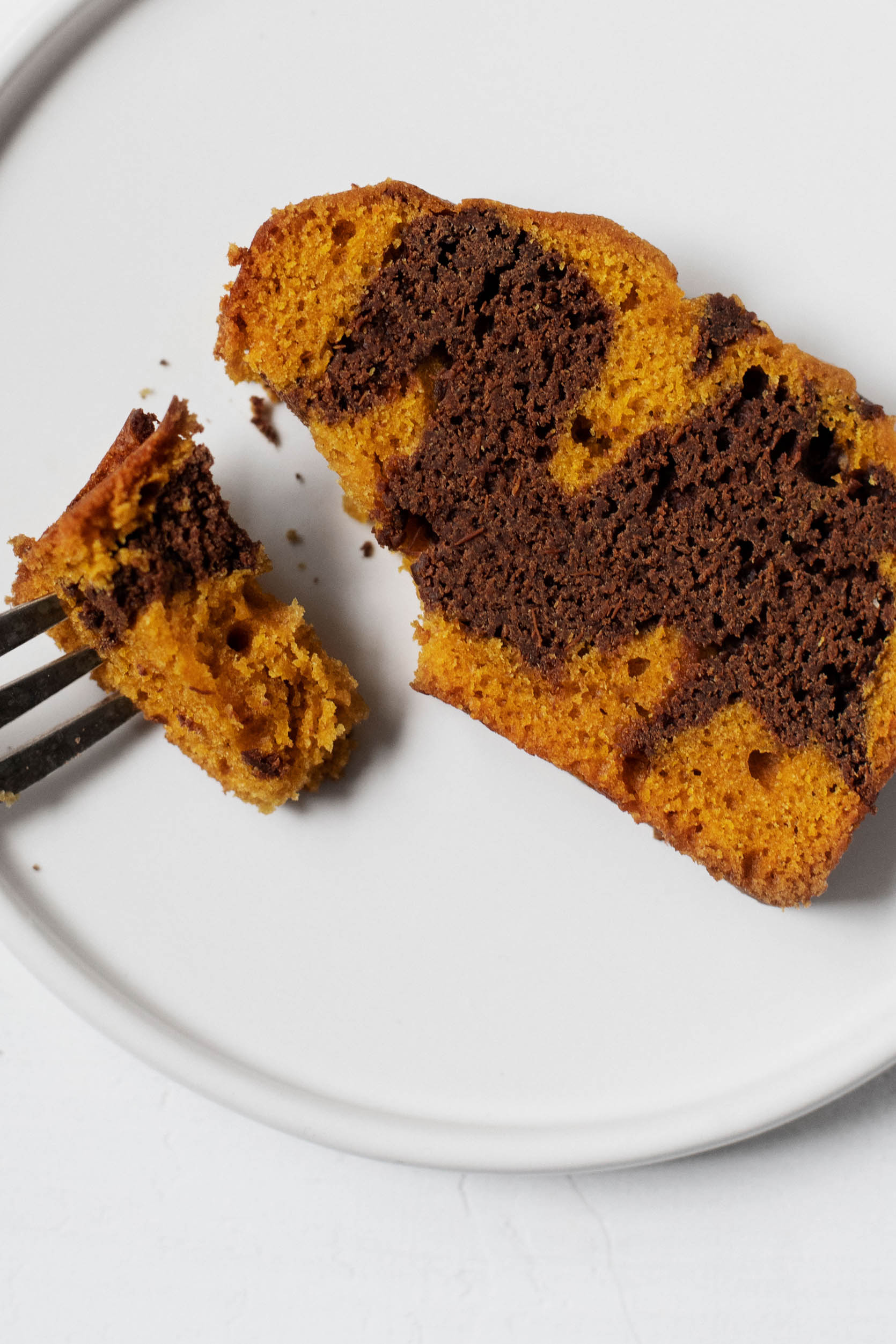 If you give the bread a try, don't worry too much about getting the marbling right. It's easy to fret over technique when it comes to baking, because technique is important. But I always have the best baking experiences when I simply proceed with confidence and humor. Maybe my cookies are misshapen and my marbling looks like blobs. But so long as my home smells great and I like what I taste, it's all good.
And if I don't like what I taste, there's always another baking project for another day.
I hope you'll enjoy this very seasonal loaf; it would make a pretty great gift for Halloween giving, whether to neighbors or friends! And I'll see you all soon.
xo