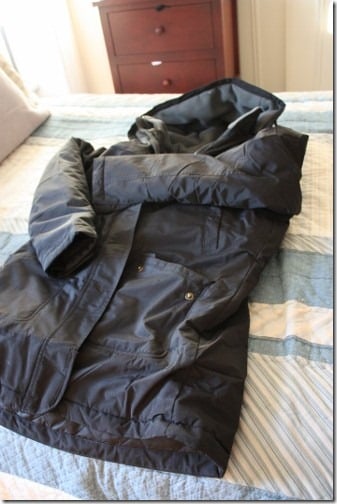 A few weeks ago, my trusty old winter parka of 5+ years gave out on me. Or at least, its zipper gave out on me. Heartbroken, I asked a few tailors how much it would be to replace the zipper, and they all gave me predictably high estimates. I know I could have talked to a few friends who are handy with a needle and thread (you'll notice that sewing is not on the list of my own domestic skills), but the truth is that the coat was also pretty worn down from five NYC winters—a tear here, a frayed edge there, and so on. It was time for me to replace it.
Years ago, when I bought that coat, I was eating a vegan diet, but I wasn't (at least not by my own definition) living a vegan life. I still bought whatever leather and wool I wanted, whichever shampoo was cheapest and smelled the best, and generally failed to be conscious of animal suffering in my small, everyday decisions. Today, my veganism has evolved from a diet to a lifestyle—a world view, really—and my choices as a consumer are shifting as a result. I've written about this before—here and here, notably—but it's a constant process of growth and adjustment.
Case in point: my first winter parka shopping expedition as a vegan. I, like most people, have always worn winter coats stuffed with goose down. Goose down is by definition not vegan, but if you're wondering—as my mother innocently did—what sorts of suffering are involved in its production, you can check out this link or this video. At the least, they'll show you that you may know far less about the practices behind your favorite winter coat than you think. So I knew I wasn't buying a down coat again. What I wasn't sure of was how to go about finding a vegan parka that would be cruelty-free and slightly warmer than my beautiful Vaute Couture parka. That's where things got complicated: it's remarkably difficult to find winter coats that offer heavy insulation without down. Difficult, but not impossible. Here's what I learned from a few helpful internet resources, including this invaluable article.
The main synthetic materials that are substituted for down are Primaloft (used by Patagonia, Eddie Bauer, and The North Face), Thermal R (used by Marmot), and Omniheat (used by Columbia Sportswear). Of those, Primaloft is easiest to find and search for: I had the best luck by simply going on various company websites and doing a search for it. You should get a bunch of results, and within those you can search for a jacket that suits your taste and needs. Some of my favorites as I was browsing included:
Columbia Women's Black Diamond Dash Parka
Columbia Women's Frosty Forest Parka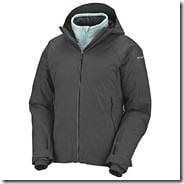 The North Face Redpoint Jacket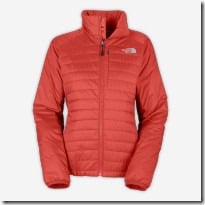 The North Face Women's Quimby Insulated Jacket
Patagonia Women's Nano Puff Jacket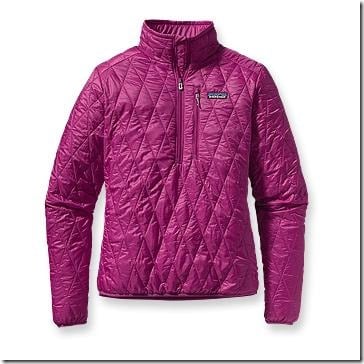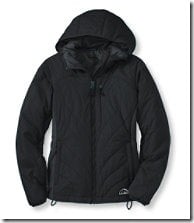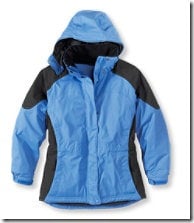 Eddie Bauer WeatherEdge Girl on the Go Trench
All of these are labeled as having been made with synthetic down, but I do strongly recommend you call the company before you purchase to ensure that there's no leather or down anywhere—that's what I did as I was exploring. (And vegans, if I'm wrong about any of the coats above, forgive me—I may have missed or misread something here or there, but again, I'd have called the maker before pressing "buy.")
After a lot of price comparison, the jacket I settled on was this: the Land's End Insulated Squall Parka: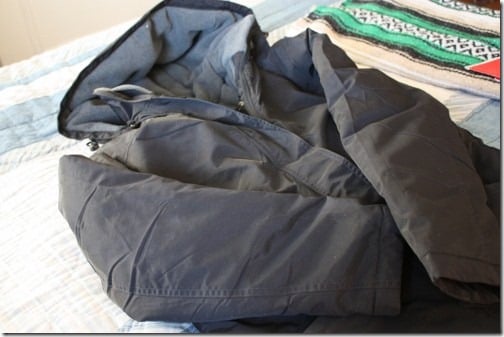 So far, it's keeping me safe from NYC's chilly winter winds, but without the cost of animal suffering. I'm so glad I bought it.
This shopping experience was a very good example of how being a vegan consumer isn't always the easiest route. To be honest, I could have found a parka that was slightly more fashionable than the one I got, and for a lower price (though Land's End's sale prices are really reasonable). It would have looked a little more like the other sleek black "poofer" coats that fashion savvy NYC women count as their late January uniforms. It would have been easier to find, and I would have had many more options. But in my experience, being a conscious consumer is usually a little tougher than not. Organic produce is more costly than conventional; high quality vegan supplements are more expensive than regular ones. Vegan apparel is often less fashion forward than regular women's apparel, and few of my favorite clothing designers are particularly attuned to animal suffering, so I often have to forgo buying their clothing nowadays. Vegan leather is shiny looking, and not always to my taste.
But guess what? Sometimes these little hassles are a part of being vegan, and that's fine. When I became vegan, I knew that there were certain foods that I would temporarily miss; I knew that there would be dinner parties and cocktail parties where I had very little to eat; I knew that I'd face social situations that felt awkward, or wherein I'd run the risk of being perceived as "high-maintenance." This all turned out to be true, and it didn't matter at all. Being vegan allows me to live in harmony with things I believe, and that makes any little nuisance worth it. And just the way I no longer miss Greek yogurt or cream in my coffee, it's also becoming increasingly simple for me to wear pleather without cringing, or forgo a new wool hat in favor of a synthetic one, or rock my imitation Uggs rather than the "real thing." I just don't care about those little details of fashion savvy anymore; knowing that animals aren't being harmed for the sake of my wardrobe matters a whole lot more. Keeping in step with the values we care about—be they vegan values or any others—isn't always simple. But it's always worth it by a huge margin.
And now, I know a heck of a lot about synthetic insulation. If you, my readers, have more tips to share about winter wear, please do! I'd love to hear about how you all stay toasty in the winter while also showing compassion for geese, sheep, and other animal friends.
Finally: I've mentioned already that tomorrow and Thursday will bring my first set of post-bacc midterms. To save myself a little stress, and to treat you all to some great content, I'm having two fabulous CR guest posts. Tomorrow, my friend Matt—vegetarian marathon runner, blogger, and health enthusiast extraordinaire—will treat you to a post on vegetarian athletic performance. I am not an educated athlete and don't much write about fueling on a vegan diet, so I can't wait for you all to hear some of his wisdom.
And on Thursday, my friend Elise, who is a cardiac nurse, will share some thoughts on medicine, diet, and "magic" cures that I asked her for a long time ago. I love discussing intersections and tensions between diet, lifestyle, science, and the medical world, obviously, so I'm really looking forward to this.
And I'll see you all on Friday!
xo