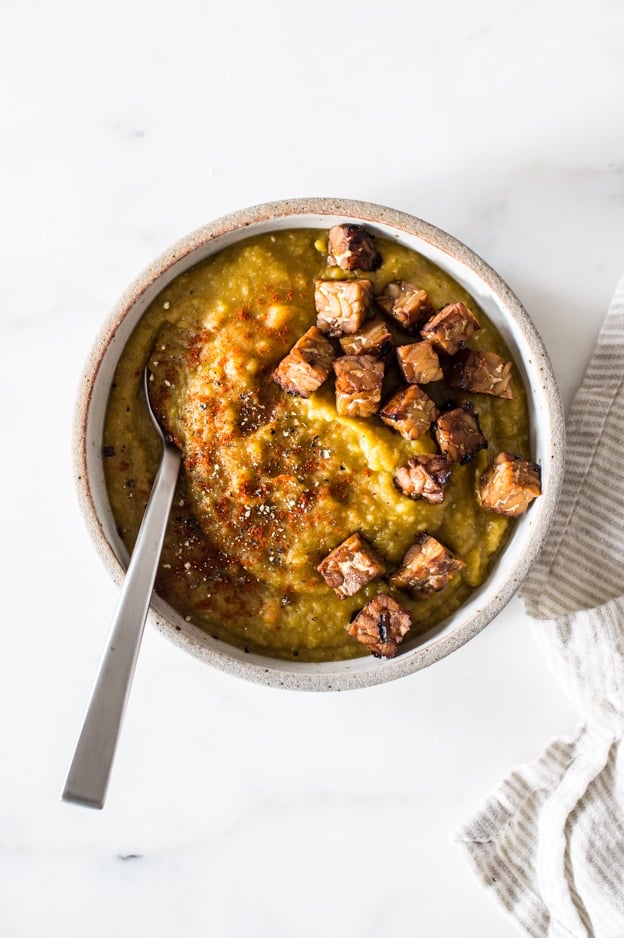 I shared a few of my winter cooking goals last week, and high on the list was getting back into the habit of making big batches of simple food–enough to enjoy as leftovers, freeze, and defrost as needed. Soups are an obvious candidate for this kind of cooking, and this vegan split pea soup with smoky tempeh croutons is a great place to start. Last night, after a long day of chilly drizzle and relentless wind, Steven and I dug our spoons into two piping hot bowls of it. We scooped up the last bits with toast, and we agreed that nothing could have hit the spot better.
I originally intended for this soup to end up in the cookbook that'll come to life next year–hence Ashley's beautiful photographs in this post. It won't appear in the book after all, but I loved the recipe enough that I wanted to find a home for it here.
Failed recipes are an inevitable part of cookbook writing, and this project was no exception. Sometimes I got carried away with my pet flavor preferences and didn't think hard enough about balance or variety. Sometimes I fell in love with the idea of a finished dish, but I underestimated how complicated it would be to make. Sometimes I liked how a recipe turned out, but none of my testers did. I never expect unanimous positive feedback on a recipe–tastes are just too varied. But when all of my testers had the same critical feedback, it was time to go back to the drawing board.
Those were the castoffs. Then there were the recipes that I (and my testers) really loved, but which didn't fit into the finished recipe list for whatever reason. Usually this happened when two recipes felt overly similar, and I had to choose between them; sometimes it happened when a recipe featured an ingredient that was already well-represented in the book (ahem, chickpeas).
Deb Perelman calls this category of recipes "displacements," to distinguish them from "rejections," and I like that name. It's a reminder that these are good recipes–they just weren't recipes that belonged in the final cut. They might still become cherished favorites at home, and I have a feeling that this will be my go-to split pea soup recipe from now on.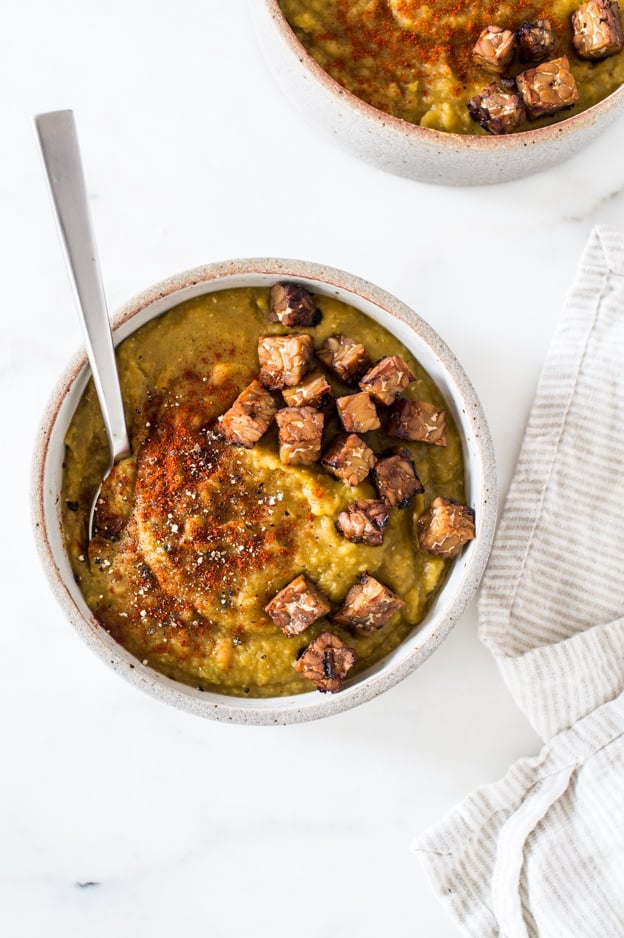 I have a weakness for really thick soups–the kind that you can stand a spoon in. Texture is a personal thing, though, so feel free to add more liquid to this soup as you like. I suggest starting with 6-8 cups of broth (or a combination of broth and water) and adding extra as needed.
Lately I've started soaking split peas before cooking them, because I find that their cooking time can vary widely (some of my recipe testers said that this soup took an hour to simmer, others said that it took 90 minutes). Even a 1-2 hour soak can make a big difference, and soaking overnight will definitely reduce cooking time to an hour at most. If you do soak the peas, you'll probably need only 6-7 cups broth. If you don't have time or don't remember to soak them, no worries–just be aware that you may need more than an hour of simmering for them to be tender.
With pureed or partially pureed soups like this, I like to add a little something for texture. In this cold weather, I invite that "something" to be more hearty than usual–hence the tempeh croutons. Regular, rustic bread croutons would be great, but I really love what tempeh adds to the dish: not only an earthy flavor, but also protein, fiber, and iron. The cubes here are very similar to my favorite lemon pepper baked tempeh cubes, but with the addition of smoked paprika. They're easy to make, and if you have any leftover after your soup, you can toss them into a salad or bowl.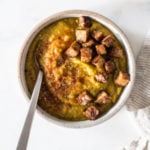 Vegan Split Pea Soup with Smoky Tempeh Croutons
Author -
1

tablespoon

olive oil

1

large white or yellow onion

chopped

3

carrots

peeled and chopped

2

stalks celery

chopped

4

cloves

garlic

minced

2

teaspoons

dried thyme

1/2

teaspoon

smoked paprika

1

teaspoon

salt

1/4

teaspoon

freshly ground black pepper

more to taste

1

pound

2 1/4 cups green split peas, soaked for few hours (or overnight) and drained, if possible

2

medium sized yukon gold potatoes

peeled and diced (about 3/4 lb)

6-8

cups

low sodium vegetable broth

1-2

tablespoons

lemon juice

to taste
For the tempeh croutons:
8

ounces

tempeh

cut into small cubes

1/4

cup

lemon juice

2

tablespoons

tamari

2

teaspoons

maple syrup

2

teaspoons

olive or vegetable oil

1/2

teaspoon

smoked paprika

Black pepper
To prepare the tempeh croutons, whisk together the lemon juice, tamari, syrup, oil, smoked paprika, and a generous pinch of black pepper. Place the tempeh cubes in a glasslock container. Pour the marinade over the cubes, cover, and shake a bit to coat. Refrigerate the cubes and allow them to marinate for at least an hour, or up to 12 hours. When the cubes are ready to bake, preheat the oven to 350F. Remove the cubes from the marinade (discarding the marinade) and transfer them to a lined baking sheet. Bake for 15-20 minutes, or until crispy at the edges. The cubes will keep for up to 5 days in an airtight container in the fridge.

To prepare the soup, heat the olive oil in a large soup pot over medium heat. Add the onion, carrots, and celery. Saute for 5-7 minutes, or until the onions are soft and clear. Add the garlic, thyme, and paprika. Saute for another minute, or until the garlic is fragrant.

Add the salt, pepper, split peas, potato, and 6 cups broth to the pot. Bring mixture to a boil, reduce heat to low, and cover. Simmer for 1 hour, or until the split peas are very tender. Stir the soup every now and then. If it seems too thick for your liking after 40 minutes or so, add the remaining broth as needed.

Use an immersion blender to puree the soup partially or entirely, if you like (you can also transfer a portion of it to a standing blender, blend, then return the puree to the soup pot). Taste the soup and adjust seasonings as needed. Finally, stir in the lemon juice.

To serve, divide the soup into bowls and top each bowl with a few tempeh croutons. You can also crumble the tempeh over the soup if you prefer!
Leftover soup will keep for up to five days in an airtight container in the fridge and can be frozen for up to 1 month.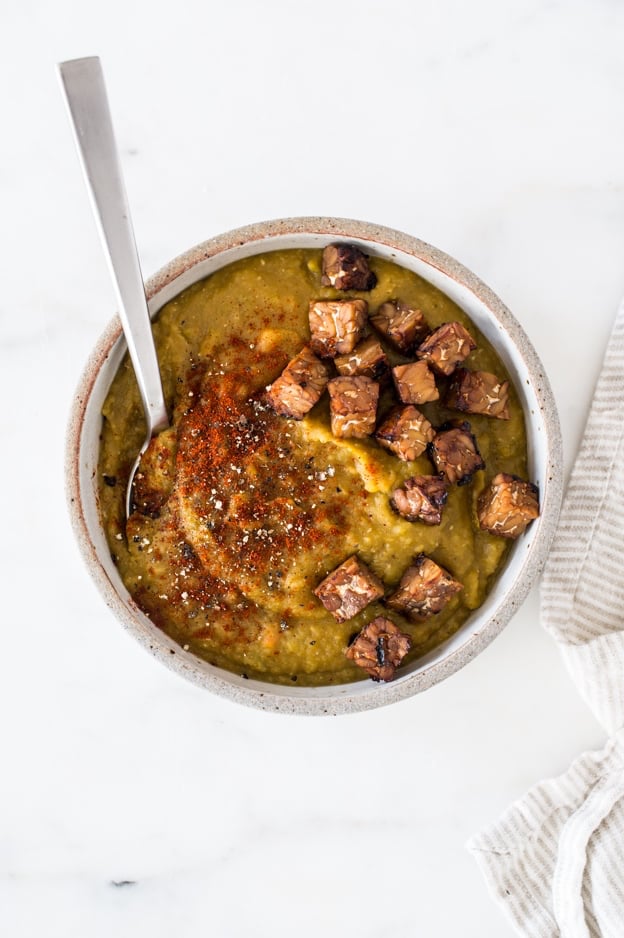 This soup is generous enough that I've got two portions in the freezer and another few to keep me going till the end of this week. Batch cooking is back in action, and I couldn't be happier about it.
Hope you'll enjoy this satisfying, smoky, protein-packed bowl of goodness–and I'll be back on Friday with a cookbook review and giveaway.
xo
All images in this post courtesy of Ashley McLaughlin.